Since I just returned from my Carnival cruise last week, I thought you all would enjoy seeing what I packed and wore on the cruise.  Hopefully this will help some of you who may be going on a cruise yourself.  This was my 3rd cruise and things do change over the course of time.  The formal nights on the first cruise I went on were a little bit more formal than they are today.  My friend, Beth, who went with me is a cruise veteran and has been on about 18 cruises, so she has seen formal nights scale down to more cocktail attire instead of full blown black tie.  We didn't see any black tie this time except for some of the cruise staff.  But, it's still fun to get dressed up for dinner every night and feel elegant on a cruise.  We made a point to pack some dresses and we did dress nice for dinner every night.
I'll talk more in a future post about how I packed and what all I took, but you can get an idea from these pictures the variety of clothes on a cruise.  Most of these clothes, you've already seen, but they were perfect for my trip.
Leaving Atlanta that Saturday morning, it was a bit chilly, so I wore my skinny Rock and Republic jeans and a white sweater from Target and blue cardigan from C Wonder, along with this pretty lightweight scarf from PinkHouse Style.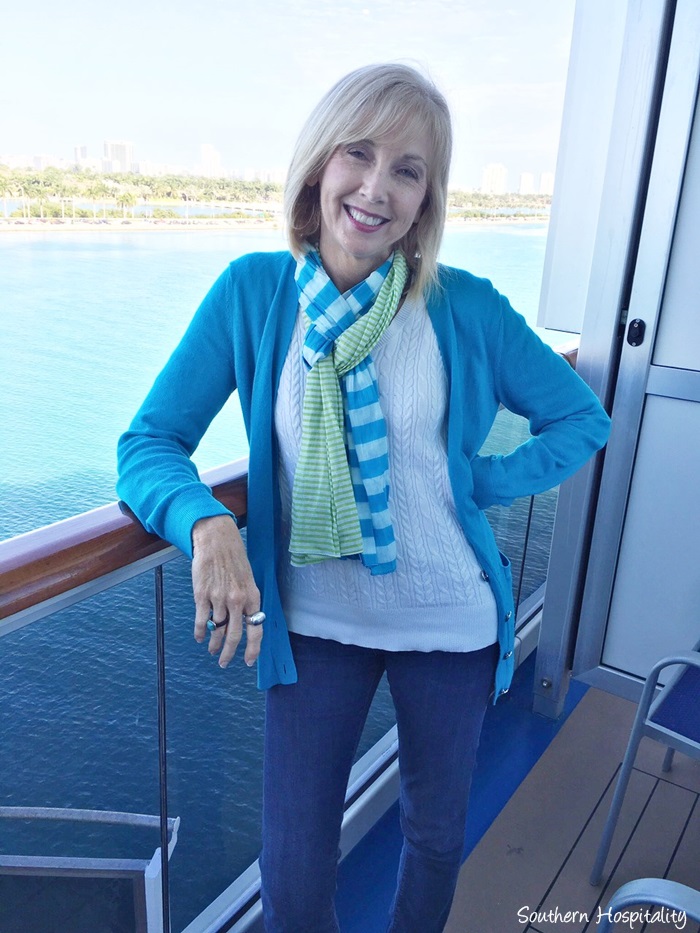 Rock and Republic jeans from Kohls (affiliate link)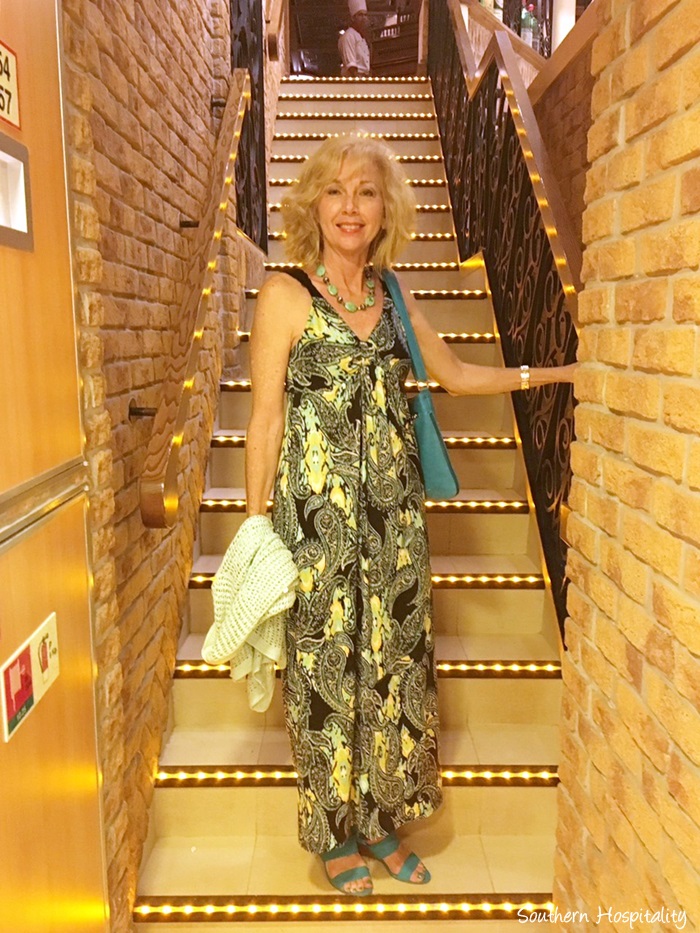 I wore this sundress to dinner one night. It's very comfortable and packs nicely.  Finally got some wear out of these cute shoes from Nine West.
Nine West shoes (affiliate link)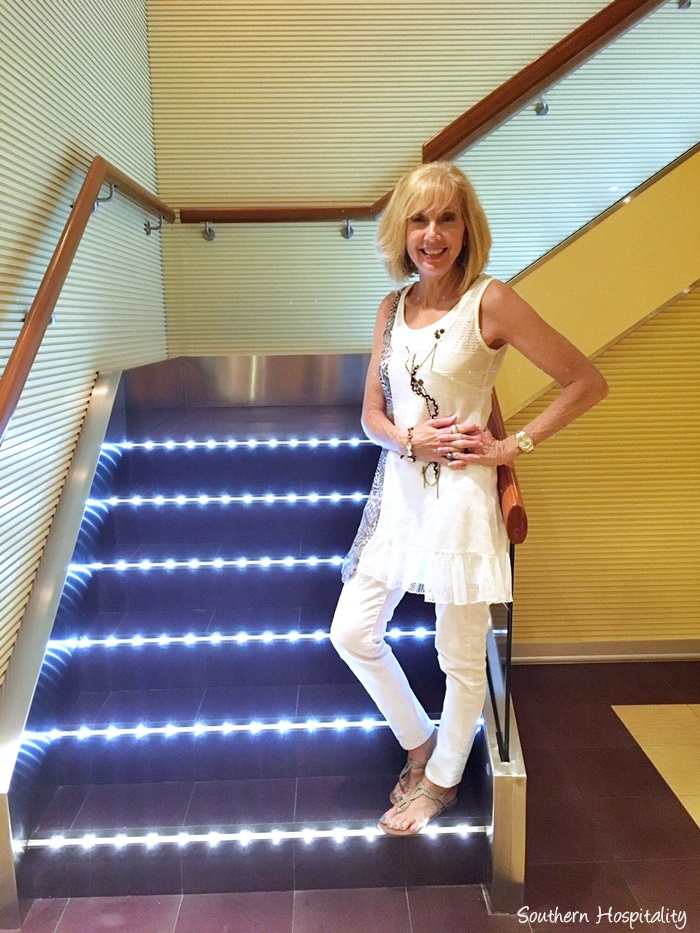 One night I wore my white skinny jeans with this top I found at a boutique here in Woodstock.
White jeans, Kut from the Kloth. These are not in stock right now, I guess since it's Winter.
One more outfit I wore to dinner, black skinny jeans by Calvin Klein, a White House Black Market top I found at the thriftstore last year and a white jacket I got at the mart last year.  Shoes from Target.
A casual look for a day outing. I wear longer shorts now and these are comfortable for me. I think these are from Old Navy and the top is an athletic top I got at the mart.  Picked up that straw hat for $5 at the mart before I left for the cruise and it was fun to wear.  Yellow Box polka dot flip flops have served me well for a few years.
Yellow box polka dot flip flops (affiliate link)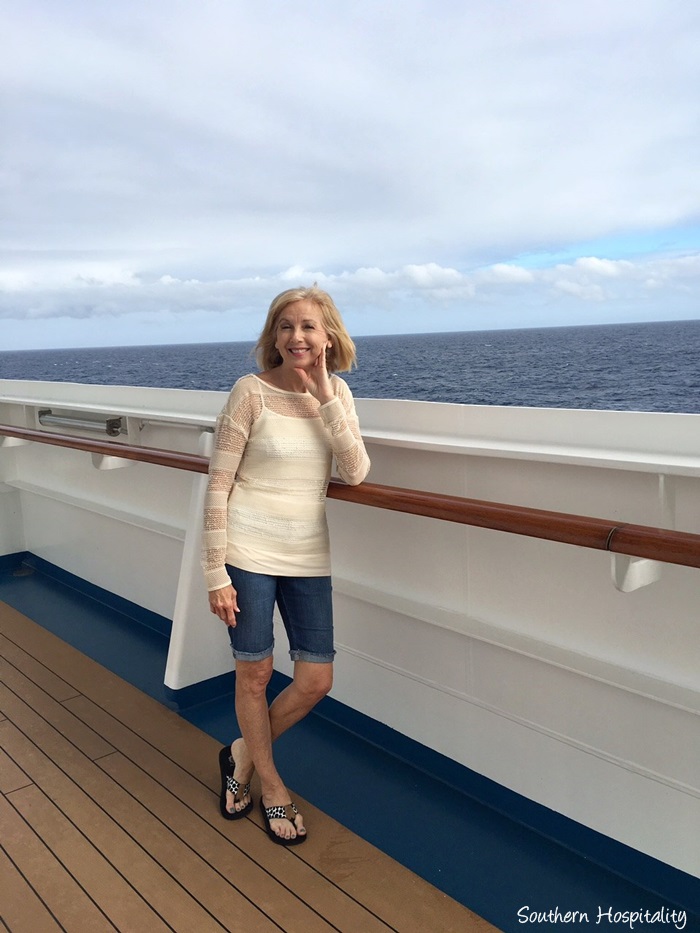 This sheer mesh-type top and camisole, I picked up at the mart too and will wear it later with pants or skirts.  I wore it on the cruise for a little bit of sleeves in the air conditioning, which can be quite chilly.
We had a spa day our first day at sea and that was a treat. I'll talk more about all of this later.  I love my long white shorts and have had this top for a few years.
Liverpool Bae Bermuda (affiliate link)  I bought these last September and they were cheaper then, but they are a nice fit for me.
Another casual shorts outfit for an outing day.  We found swings on Aruba and had fun being little girls again.  These shorts are from Lee in a cream color and the top is by Cabi, found it in a consignment store last year.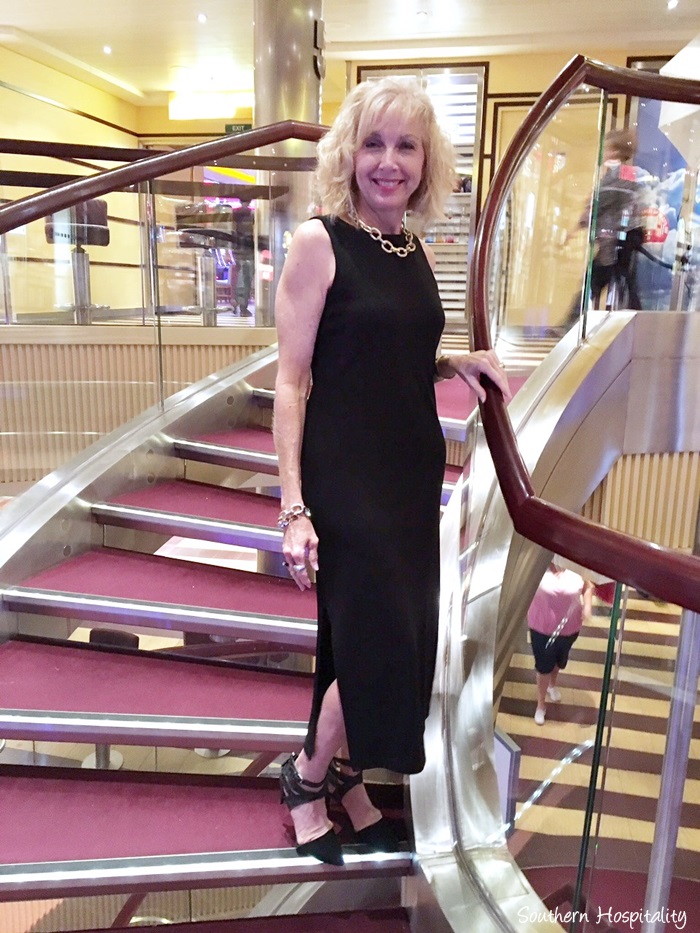 On one of the formal nights, I made an appearance in my thriftstore little black dress, which I showed you New Years Eve.  along with those strappy TJ Maxx sexy shoes, it's a great outfit, paired with my gold jewelry.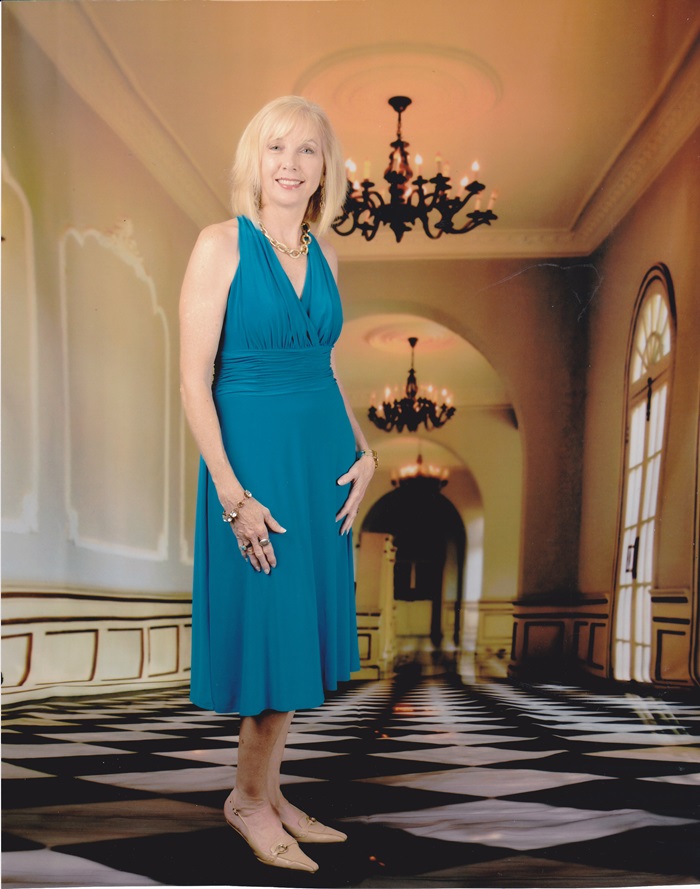 The ship has photographers all over the place and they are constantly taking pictures, I took the time to do some professional pics.  It was fun to go around to the different backdrops and see how they would turn out. You are under no obligation to buy the pictures, but of course, it's tempting.  I went ahead and bought several of the 8×10's and they will be fun to look at later on and remember this trip.  When I get 80, I'll look back and think how young I looked at 59. Isn't that what we do?
This dress I picked up at TJ Maxx awhile back for a great price and have only worn it a few times.  It's by Evan Picone and I paired it with tan slingbacks from Target that I've had a long time.
The photographers walk around in the dining room and take pics. Beth and I had our own little table for 2 in the dining room, which we chose to do and we could go in pretty much anytime we wanted to and sit at our table. We had the best waiter, Cesar, who took great care of us for dinner.  They really do treat you like royalty on a cruise and it's fun to banter with them and get to know the staff.  The dining room manager was also a great guy, Goran, and we talked to him most every night.
You've seen this dress before, but it's one I picked up at TJ Maxx last year and I finally got to wear it.  It's by Nine West. The colors are so spring-like and tropical.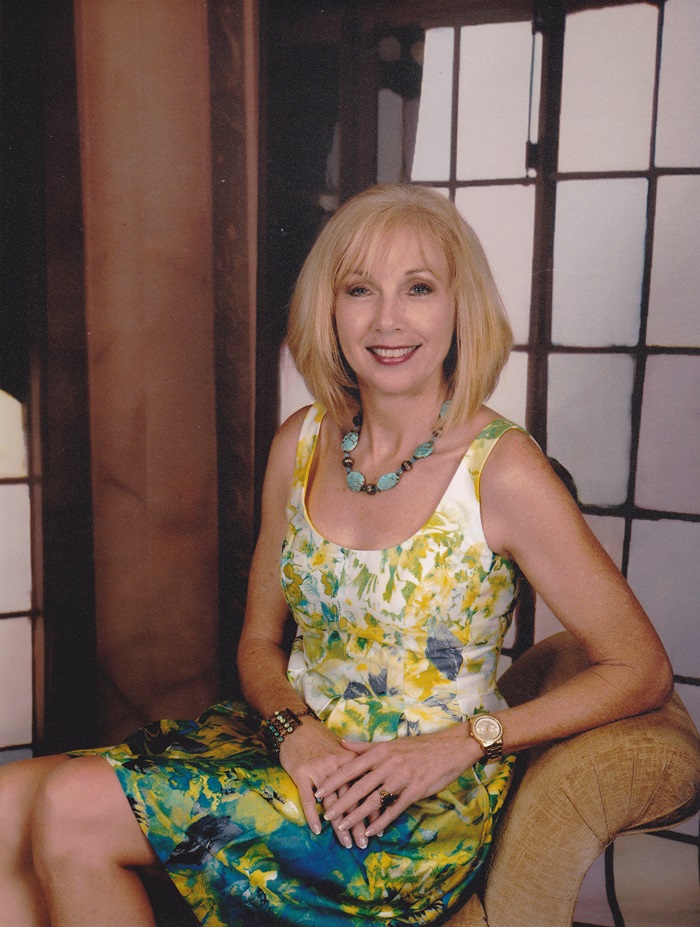 I love how these photos turned out and will be very happy I got them.
Another sea backdrop for this outfit of white jeans and my Covered Perfectly top.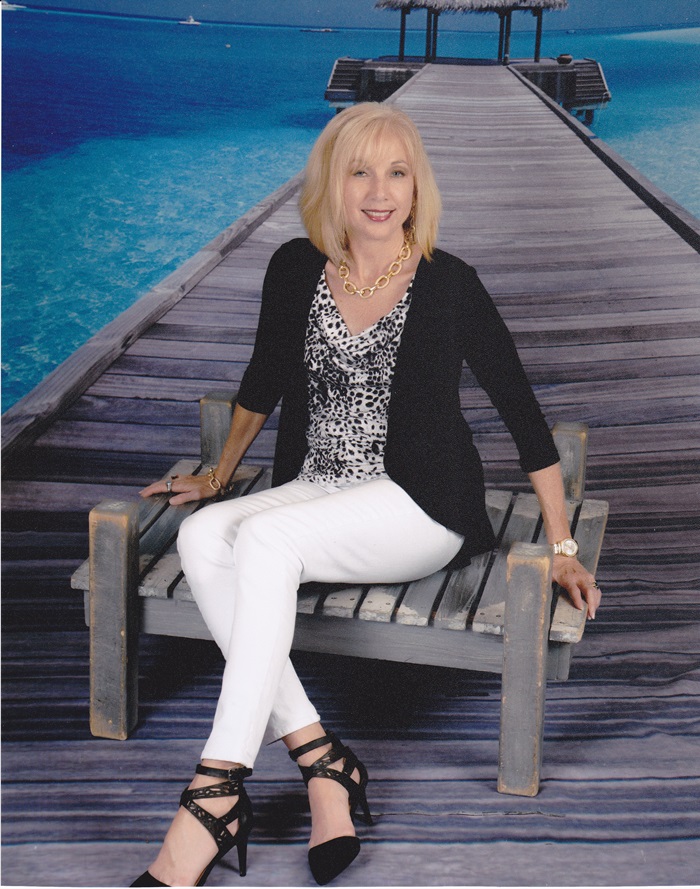 This backdrop was really pretty and doesn't it look like this is a real dock?  My strappy shoes looked nice with the jeans, I thought.  I love my black and white and I really love this top, which is all one piece. Perfect when you just need a little sleeve.
Covered Perfectly, TwoFer top (affiliate link)
Another pose on the dock.
And one more by the sea.
I'll be sharing more about packing for the cruise and what all to expect, if you've never been on a cruise. I truly love cruising and hope to do more of it!
Don't Miss a Post, join my list!