We're just over 2 weeks away from our 16 day cruise to Hawaii and Alaska and I'm thinking about what all I'm going to take. I was reading about the cruise and there are a few nights that are dress up if you want to occasions, so I'm taking a couple of outfits that are a little more dressy than casual. I have a feeling most of our time on the ship will be pretty casual, but it's fun to get dressed up a little in a snazzy new outfit. Enter Clara Sunwoo.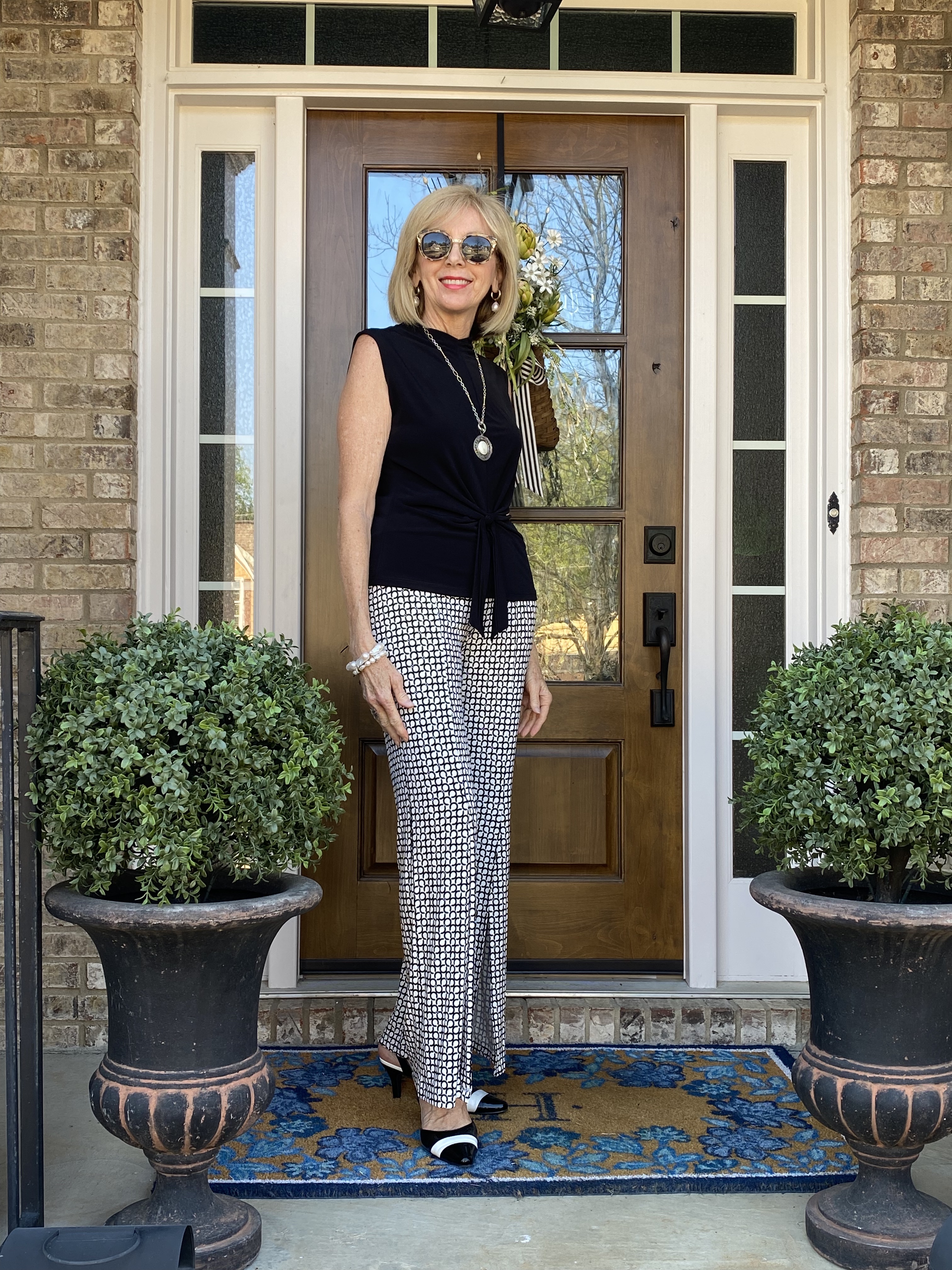 I've bought a few things from the mother/daughter team of Clara Sunwoo in the past, mostly tops. I love their fabrics and how packable they are for travel. Soft knit fabrics that don't wrinkle and drape so well, that's what they are known for. When they reached out to see if I'd like to try one of their new outfits, of course I said yes, so I chose this pretty top and pants, which I knew would be perfect for a dressy dinner on the cruise.
You can find both pieces on this page, which is an affiliate link and you can get 10% off sitewide with code RHODA10. Their sizing is a little different. I'm wearing an XS in both pieces, which is a 4/6 size.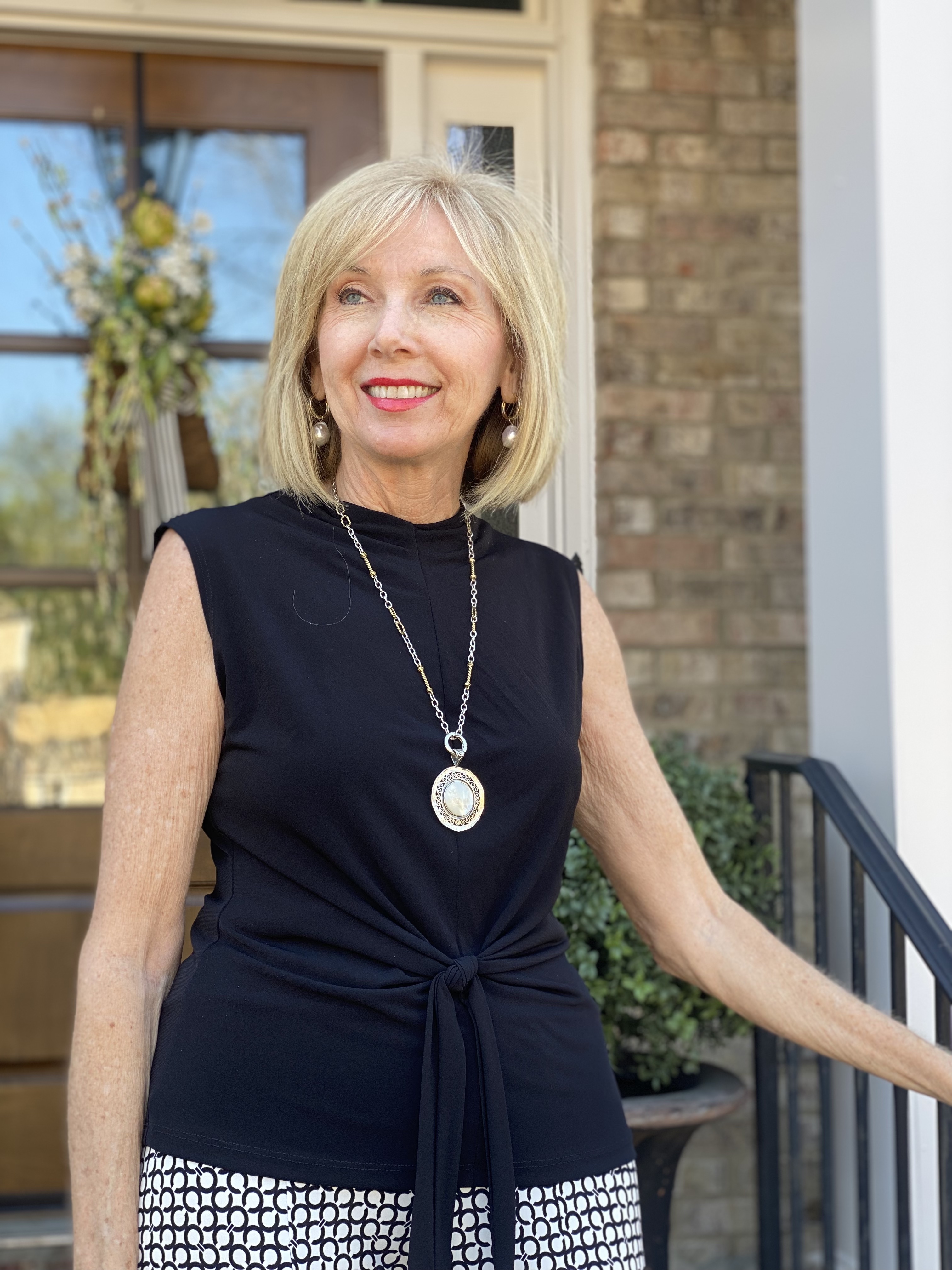 The tie front black top is really cute and versatile with so many things.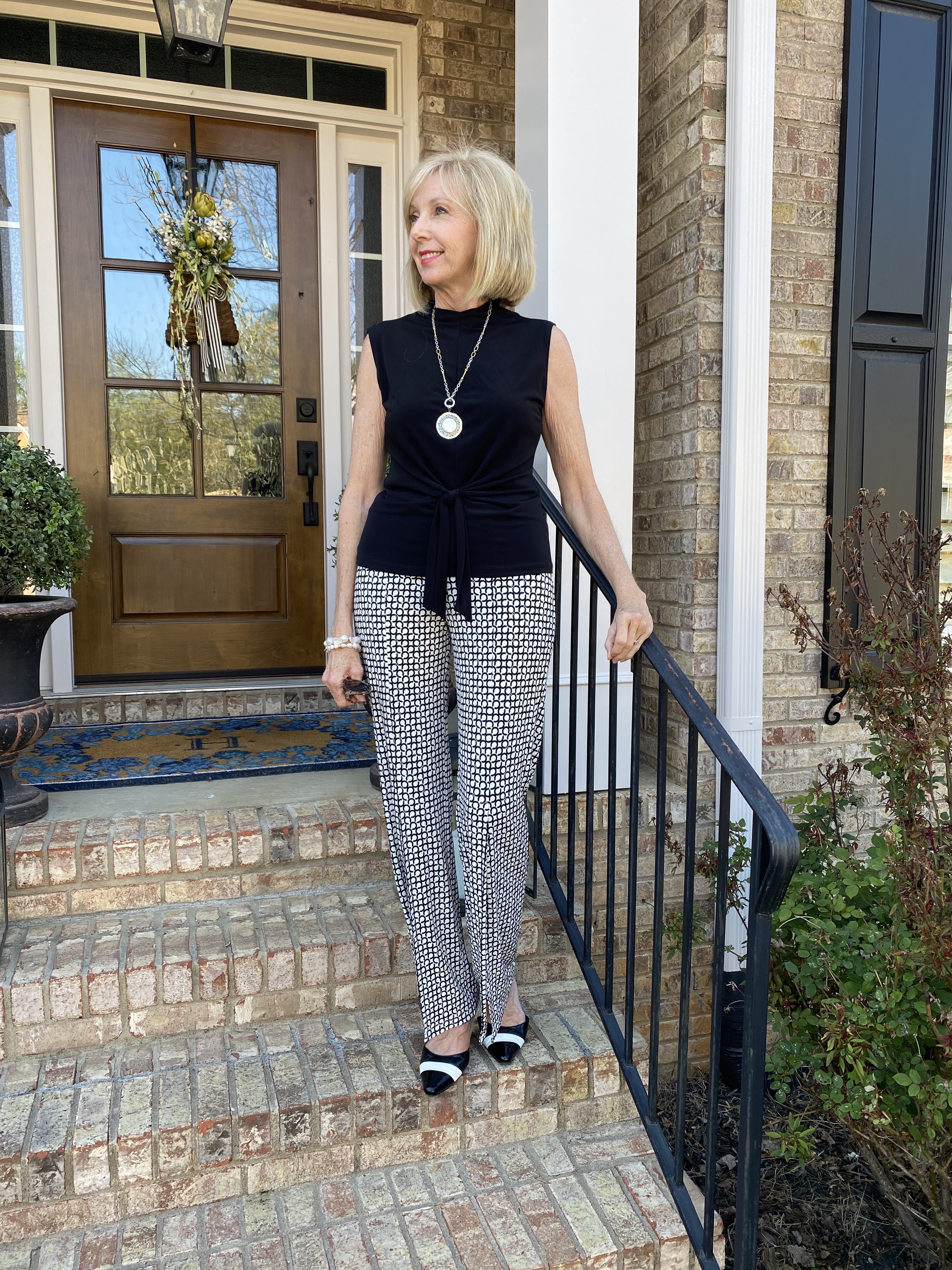 These flirty pants are unlike any I've ever had before and I'll show you the unique detail in another picture below. They are slit in the front from the knee down creating a flowy pant that are sassy cute!
Here you can see the slit and it really shows when you walk creating that flow back and forth of the fabric moving. I don't have a lot of wide leg pants, but these palazzo pants are just my style. I'll have so much fun wearing them out to dinner on the cruise! I thank Clara Sunwoo for gifting them to me. Those are some fun perks of being a blogger.
Of course, I'll be sharing all the cruise details with you. I might even do a packing post if you're interested. Packing for Hawaii and Alaska is going to be tricky, but I think we will be fine. My plan is for Mark and I to pack one big suitcase together for Alaska, which will require more layers and jackets. Then we will each pack a roll-on carry on with our Hawaii clothes that can be stowed above in the plane, as well as our personal piece under the seat. I think we will have plenty packing this way and I plan to wear pants and some pieces more than one day to create more outfits. I'll take plenty of tops and jackets to layer and pants to mix and match, along with a few dresses. \
Don't Miss a Post, join my list!