I'm back today with another fun and new top from Covered Perfectly (affiliate link).  I've enjoyed working with this women's clothing line (made in the USA) out of beautiful fabrics in longer length for women who want to be a bit more covered up.  They really do have a great selection of tops and I have loved every piece I've gotten from them.
This top is called the TwoFer and it's all one piece, not a jacket and top like it appears. It is soft and drapes well, made out of MicroModal fabric which is soft and washes well too.  This is the Black and Snow Leopard, which of course I love, because a little animal print is just fun.
I wanted to get a good shot of the back so you can see how it dips down in back and covers the posterior.
As always, I love black and white and it just always looks fresh and classic.  I paired this with my Vince Camuto wedge suede heels and love this combo.
Jeans – Kut from the Kloth (affiliate link)
You can see how the neckline drapes softly and makes a great looking outfit, with this combo top that looks like 2 pieces.
I've shared the Fit and Flare before too, in the same Snow Leopard fabric and love how it looks with white jeans.
These longer lengths are great on women over 50.  Check out Covered Perfectly (affiliate link) for lots of fun tops for the more mature woman.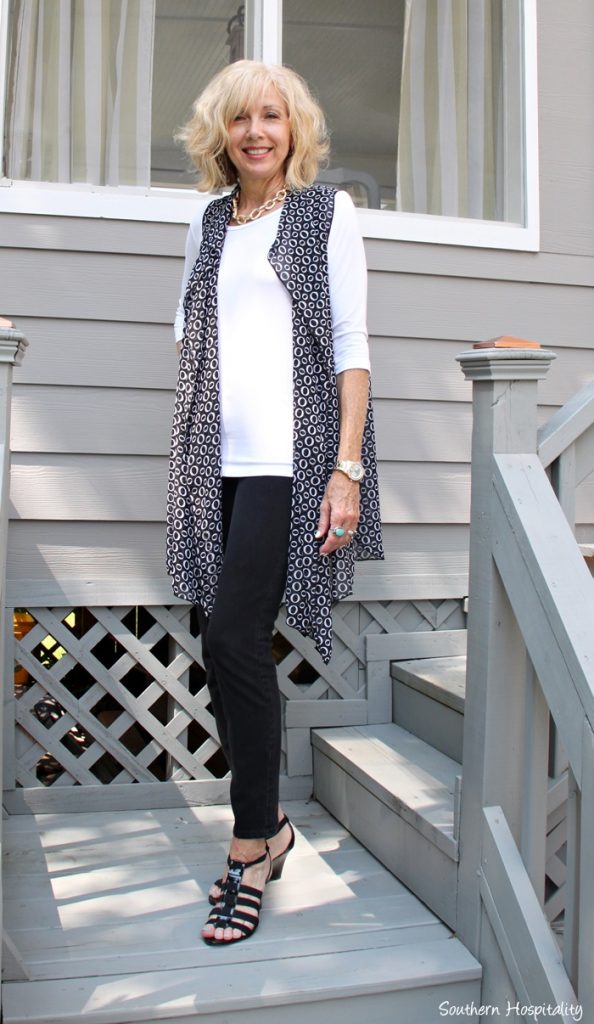 Their cascading vest  (affiliate link) is still one of my faves too, along with the Simple Fit top which comes in several colors.
This is not a sponsored post, but I do receive commissions on anything sold through my affiliate link, so thank you for that!
Southern Hospitality subscribers receive a 20% discount on up to two items! Use the discount code SH20 when you check out at Covered Perfectly. There are several styles to choose from and the discount will apply on up to two items, or, you can take advantage of the buy 2 get 1 FREE special! Only one discount per order. Start Shopping!
Here are my jewelry selections for those top 2 outfits. Necklace and Black/gold fancy bracelet from Wrist Soiree.  Black bangle from C Wonder.  Watch from the Atlanta Mart.  Earrings from Country Living Fair.
Hope you enjoyed this Fashion over 50!  Being stylish is fun and I'm going to grow older doing all I can to keep looking good, no matter the age.
Don't Miss a Post, join my list!