Welcome to Fashion over 50!  This week I'm sharing an outfit I wore out to our ballroom dance place last weekend.  You've seen me wear this top before, but it's a fun one, so I'm sharing again.  These cold shoulder tops are fun and a little sexy (but not too!) and great for a night out. I like that they are cool and comfortable and have a little sleeve if you're indoors in the air conditioning.
The color is a pretty deep pink/red shade and dips down on either side.  The material is a soft drapey jersey type knit that's very comfortable.  I paired it with my Old Navy Rockstar white skinny jeans.
Clara Sunwoo Peekaboo Top (affiliate link)
Old Navy Rockstar White Skinny jeans (affiliate link)
I added some gold jewelry and my leopard bracelet and tan Sam Edelman wedge shoes with a little leopard trim.  I got these shoes a couple years ago at TJ Maxx, wish I could still link to them, since I love them.
Leopard Bracelet – Accessory Concierge (affiliate link)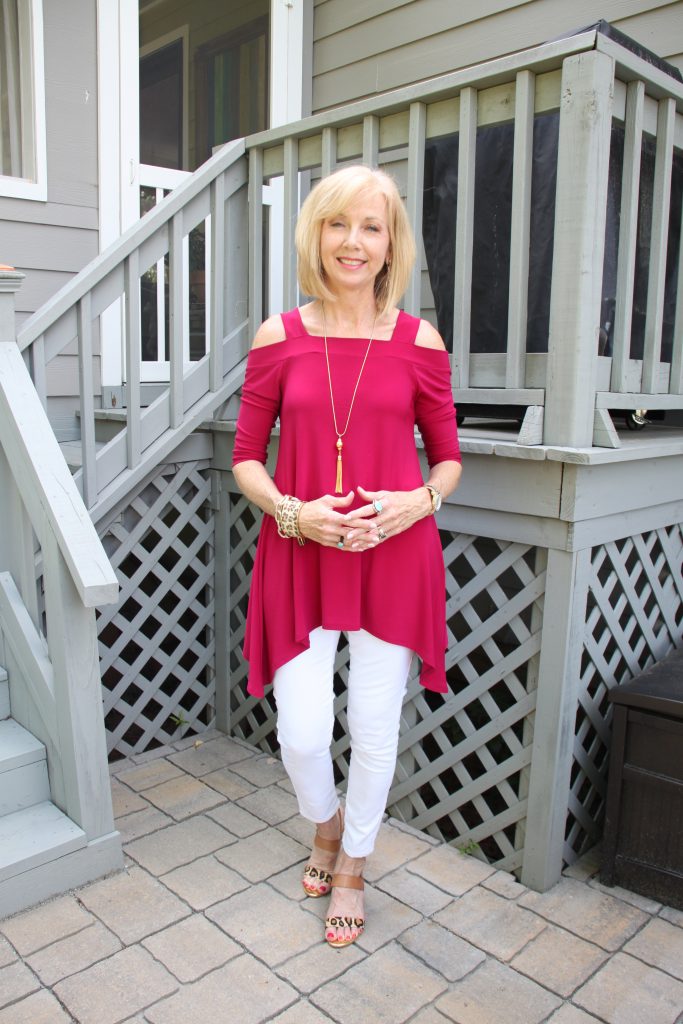 Gold tassel necklace is about 20 years old from Premier Jewelry.  Tassels are back in again in a big way.
Tassel necklace (similar, affiliate link)
Target Tassel necklace (affiliate link)
Lulu Frost Tassel necklace (affiliate link)
I have really enjoyed these wedge shoes by Sam Edelman, but sadly they are past seasons.
These are not the same, but are really cute with a  leopard accent:
Dolce Vita leopard wedge (affiliate link)
And that's Fashion over 50 today, thanks for stopping by!
Don't Miss a Post, join my list!