I've got a couple more outfits for you today for Fashion over 50 that I've worn recently.  One more new top from Anthropologie that I found on the sale rack and some comfort booties that I'm sharing today. Thank you all for coming by and reading.  I love that y'all are into fashion too and want to keep your style going.
I've shared this sweater dress with you before, but I got it at TJ Maxx a few years ago.  I really enjoy sweater dresses and boots during the winter months.  They are so comfortable and look good too.
Franco Sarto boots (affiliate link)
When I wore this dress before, I wore my black boots because I didn't have brown yet, but the brown looks so much better. I paired them with brown tights and that pretty teal and gold scarf.
Here's a video I did on that particular way to tie a scarf:
I recently bought this leopard cuff bracelet after I saw it on a friend's blog (Cassie, Hi Sugarplum). She has great style.
Leopard Bracelet:  Accessory Concierge (affiliate link) 
Those are a few fashion over 50 ideas for this week.  And you might get some ideas for Christmas gifts for yourself or a friend!
Here are a few sweater dresses I spotted that would look great with boots: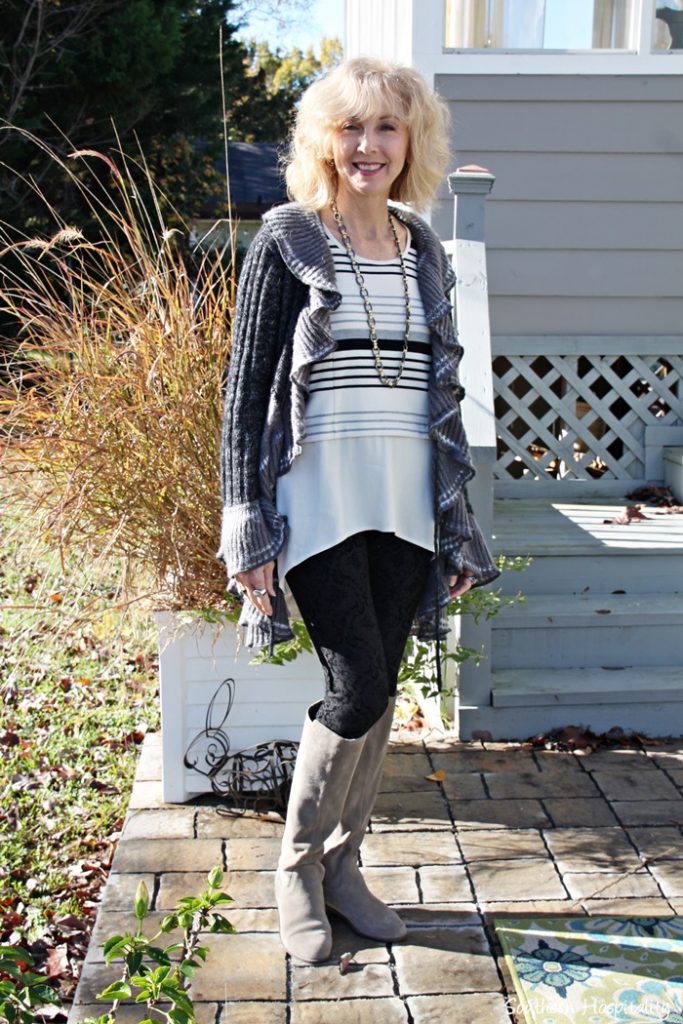 This long gray/black sweater I picked up at the Atlanta Mart earlier this year.  The top, cream black and gray, is from Anthropologie sale rack. The leggings are Hue that I've showed before in a damask pattern.  Those suede boots are no longer available.
I really like this top from Anthropologie, as the back is longer than the front.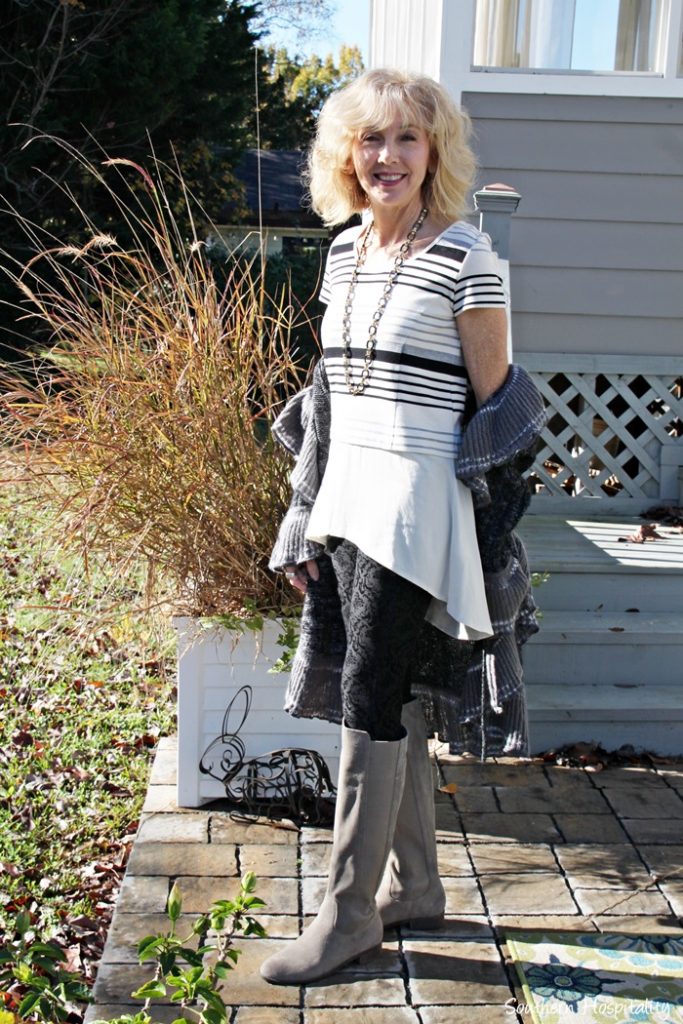 See that here?  The back swoops down longer which is good with leggings.
Anthropologie top (affiliate link)
Leggings and boots.
Today, I'm sharing a new pair of booties with you. I got an email from Dansko, a company I didn't know anything about until I looked at their website.  I loved how they got started 20 years ago, when a husband and wife bought clogs at a tiny store in Europe.  Their friends wanted more, so they shared with more and more people and Dansko was born.  Clogs were all the rage back in the 70's and I haven't seen many of them in the last few years, but these shoes are very comfortable.
These are the Markie, by the way!
I read that the company is completely employee owned and located in the rolling hills of Pennsylvania.  They have all types of shoes with their signature all-day comfort and support.  I can definitely see that, as I wore these out to a dance for the first time and they never hurt my feet.  The soles are wooden and even though they feel a little stiff and clog-like, they cushion your feet and the toe box is really spread out for toe comfort.  No pinching at all.  I noticed that it felt like I was wearing flats when I had them on, because of the way they support the foot, even though there is a heel on them.
If you are looking for comfortable shoes that give your feet support, I think Dansko fits the bill.  They are more stylish than most comfort shoes and these booties could go all day long.
Footwear Plus Magazine is voting on Dansko as a favorite, go here to vote!
So, you might want to put these on your Christmas wish list and check out the rest of their shoe items at Dansko, including flats, wedges, and boots.  They aren't inexpensive, but I'm pretty sure these would last many years.  They use top quality materials and meet high standards for comfort, support, durability, fit and performance.  Check them out if you need comfort shoes!
And great news, Dansko is giving away a pair of their shoes to one of my readers! 
All you have to do is check out Dansko and tell me which style shoe you would try out if you win!  Yes, the winner can choose any shoe or boot on the Dansko site!  Sign up on the Rafflecopter widget and I'll choose a random winner in one week.  
Winner must be US resident and 18 or older. 
Follow Dansko on Facebook, Twitter, Instagram, and Pinterest.
Note:  This is a sponsored post from Dansko. 
The winner of the Scripted Simplicity giveaway has been posted and the winner emailed! 
Don't Miss a Post, join my list!