We had the best Easter Sunday and saw both our families. After a wonderful uplifting church service with some wonderful moving music, we spent the rest of the days with family. It was a gorgeous sunny Easter Sunday and we were all grateful for that. It's so weird how the weather changes in an instant this time of year The day before was rainy and cold.
I've got two new outfits to share with you today. The first is a dress I found at Ross, a pretty coral color with coral jacket and I wore it to church for Easter. It's not something I'll wear all the time, but I thought it was a smart looking dress to have in my closet for several occasions.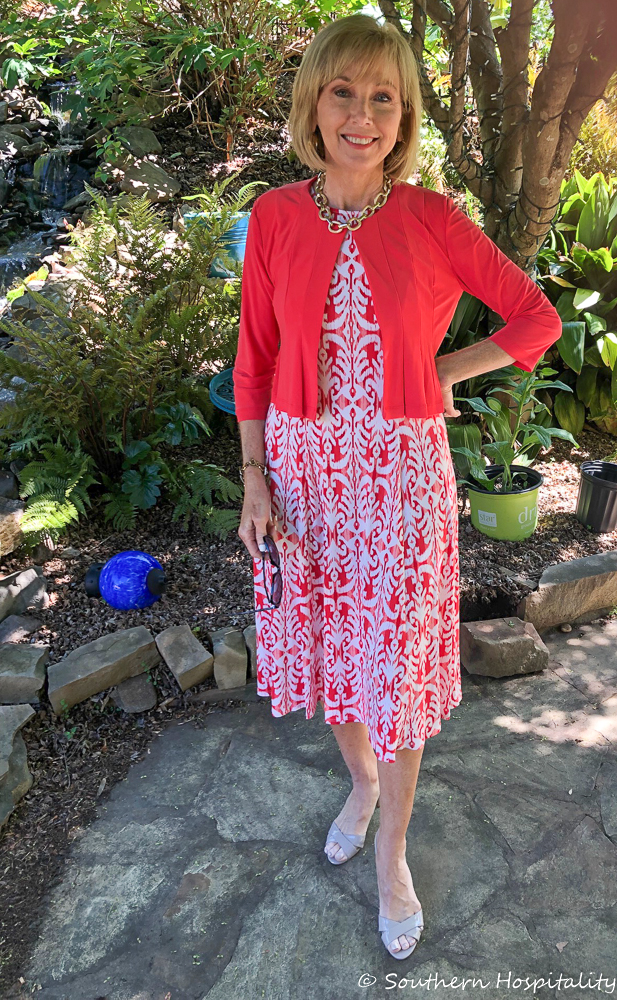 It's a knit fabric in coral and white Ikat print with a coral jacket. I also have a longer coral sweater jacket I can wear with this dress too which is nice. I paired it with gray slingback heels.
These pics were taken at my sister's house and Baily, her cute doggie was trying to get in the photoshoot. The jacket is short and has little pleats on the front. The brand is Julian Taylor and I've found a few of that same brand to link below. And there's a green dress and jacket in the same style as this one linked below.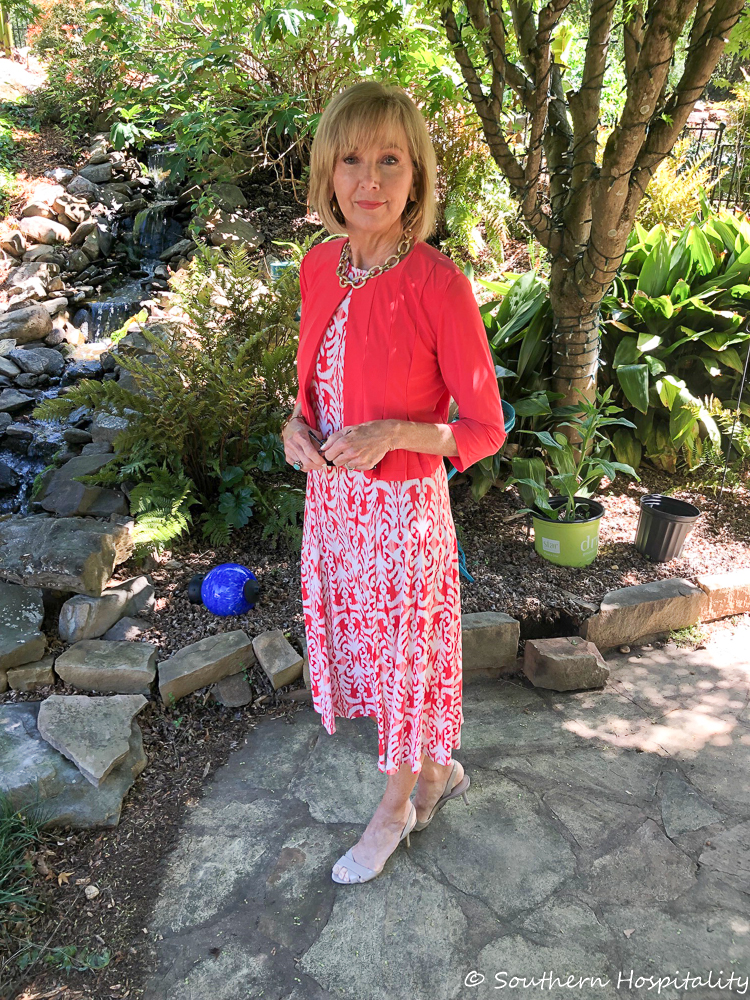 I felt pretty in this dress.
I paired it with simple gold jewelry.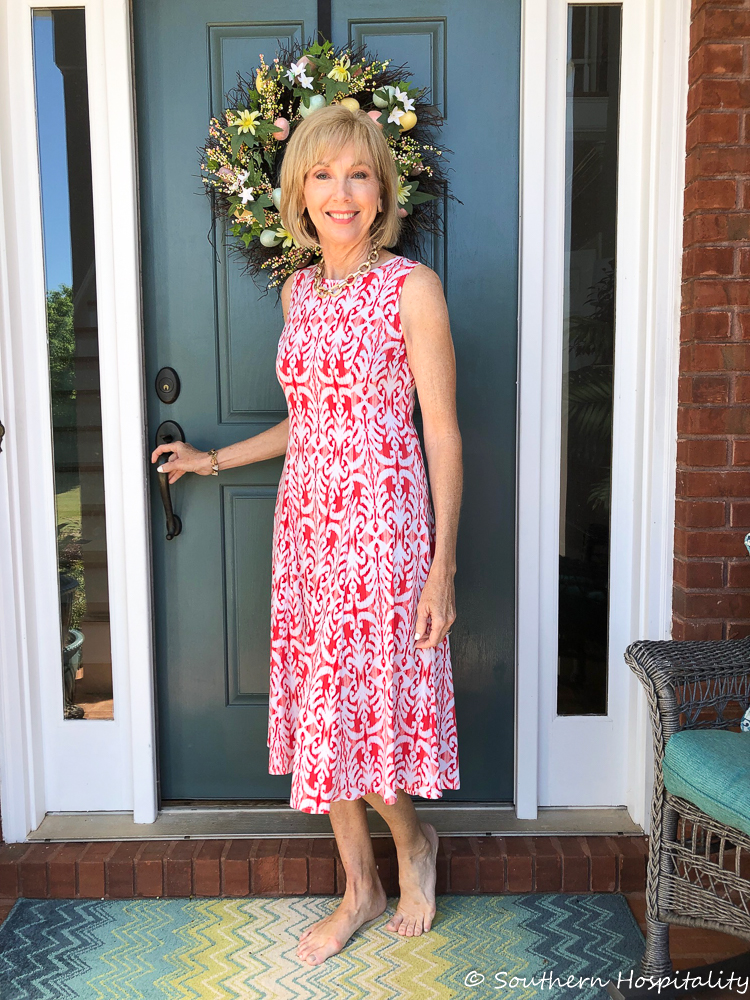 Here it is without the jacket and I love that I have another longer sweater jacket that I can wear with it too. It will be versatile. I had never heard of Julian Taylor, but was impressed with this one. Again, I found it at Ross and it was $30, so a good deal.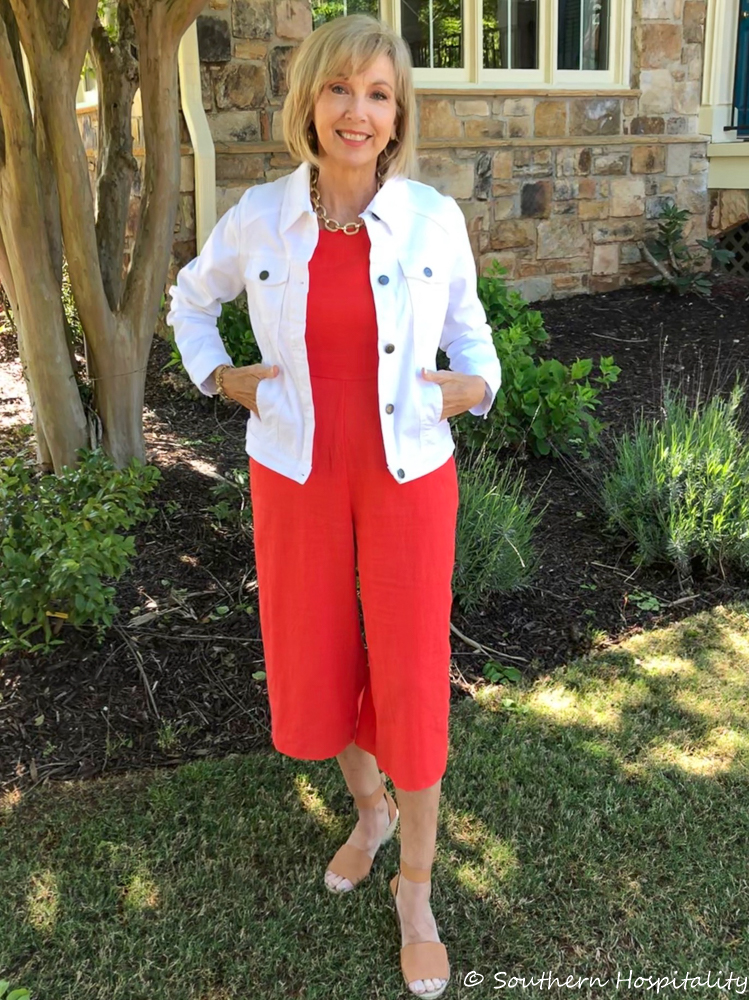 Next is this jumpsuit I picked up from Old Navy recently. I saw a one day sale announced on their jumpsuits/cullotes for $12 and grabbed this one. It's a pretty deep coral color, great for summer. I'm wearing a Small. I also recently found this white denim jacket (Lee brand) on Amazon, since I've been wanting a new white jacket. This will be great with so many things. Both of these are linked at the bottom.
This jumpsuit will be fun for summer months. I can wear it with flat sandals or espadrilles or maybe even sneakers for a real casual look. It's stretchy in the back and pulls down without a zipper. I like that it comes up high in the front, so not too revealing. I am wearing it with a strapless bra.
It was a gorgeous day on Easter, again I kept the simple gold jewelry.
I felt really cute in this outfit as well. I've had these natural leather espadrilles for a few years, but I've linked some similar shoes below.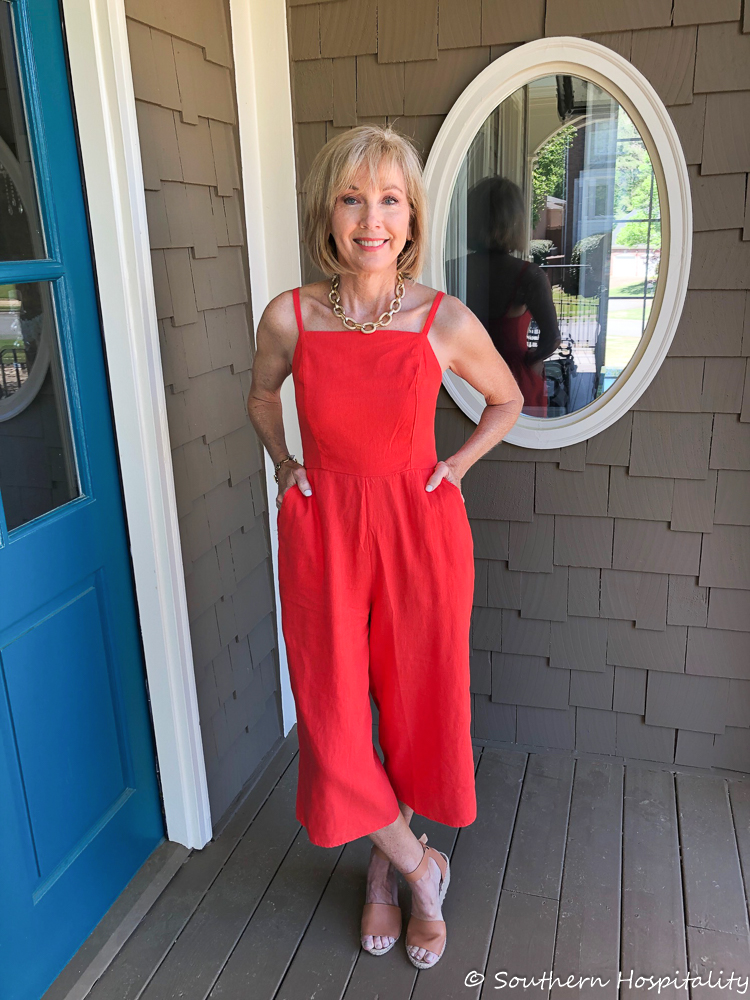 It's sporty with pockets.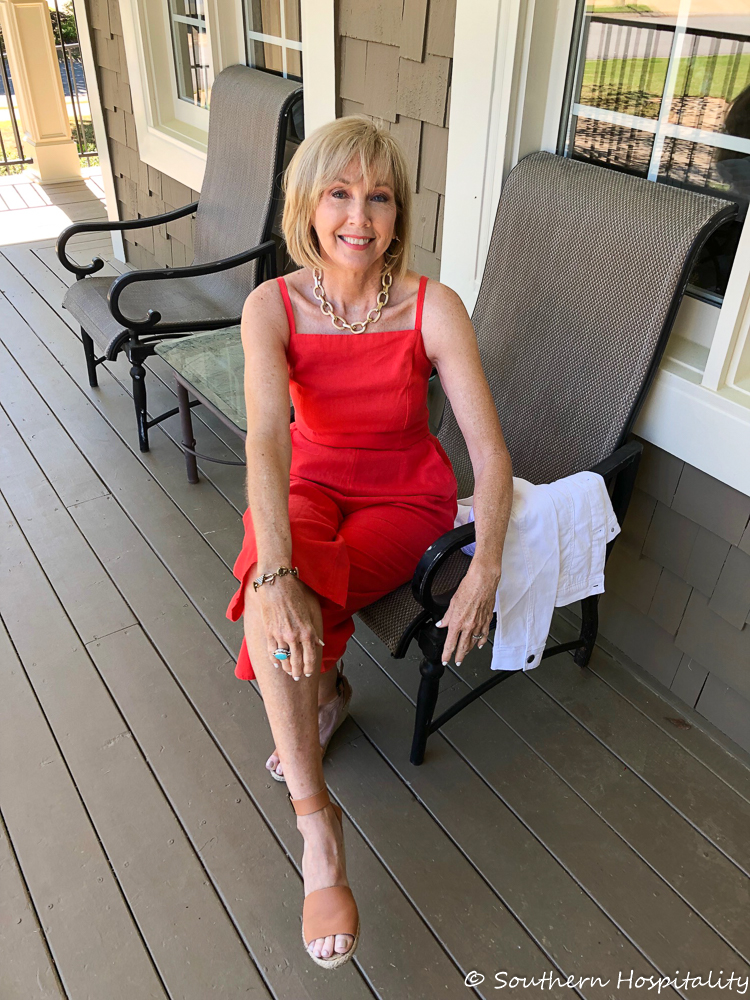 When I sit down it comes just over my knees. By the way, I used to be 5'8″, but I've shrunk about an inch according to my doctor's office. I do have long legs. The fabric on this is sort of a linen cotton blend.
Here's a look at the back and you can see the stretchy elastic band that hugs to the waist. I really like this piece and will definitely wear it a lot this summer. It's going on the cruise with me!
Here are some Julian Taylor dresses you might like. There's a green one that's exactly like my coral dress and jacket, so check that out if you like my dress. I love wedge espadrille shoes for summer and there are a few of those too, so cute! Affiliate links below!
Thanks as always for stopping by Fashion over 50/60. I enjoy sharing my finds with you all in case you want to check out what I have found. I don't shop all the time, but it's fun to add a few new things for summer.
Don't Miss a Post, join my list!