My friend, Vicki, is back today with another fashion guest post so I'm letting her chime in and do her thing. You all enjoyed her last post so much that I want to get her back at least once a month.  I know that many of you relate to Vicki and her weight loss journey.
Take it away Vicki…….
When Rhoda posted pics of me last time, many of you responded with such sweet comments that just really blessed me! Thank you!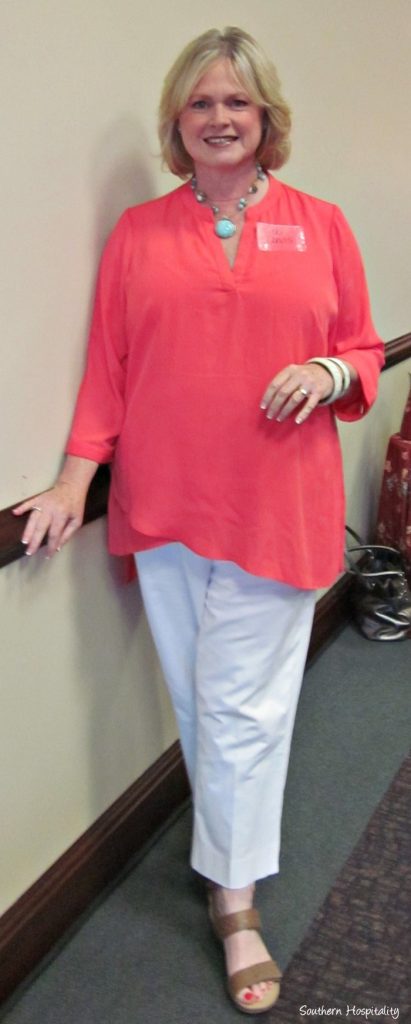 Today's Fashion Over 50 post features me in a pair of white cropped pants. I probably wouldn't go out shopping for a pair of "cropped" pants but these are Rafaella brand I bought at Goodwill and were practically new and a great price so I bought them. For me as a full figured woman (for now) and over 50, I prefer full length pants to capris. Now I know in my mind this is totally crazy, but I don't like my legs! I have knocked knees! Really! I get them from my grandmother! And I have freckles that have miraculously morphed into age spots! Imagine that! And I have really dry, extremely white skin, well, except for the age spots. Did I mention varicose veins! So…even when I reach a healthy weight you probably won't find me in a pair of Bermuda shorts or a just-above-the-knee sundress or even capris. This goes back to my first article where I suggest we focus on our best features. I prefer to focus on my face and bring color up to highlight my hair and eyes.
Rhoda and I have similar coloring and both love to wear coral. She has mentioned how aqua and turquoise compliment coral so while there is no aqua in my coral tunic, I tried it and think it works. Seriously, every single time I wear the aqua necklace, I receive complimentary comments on it. Thrift store!!!
The royal purple tunic is Lauren brand I bought at Belk and I love to wear it but it wrinkles terribly. Just riding in the car to church wrinkled it for these pics. I did not buy the colorful beaded necklace at the thrift store! But it was definitely worth the splurge as I wear it with a lot.
Funny, the grocery store courtesy clerk, a teenage boy, commented on my "awesome" necklace just last night! That's the beauty of thrift store shopping! We save so much money purchasing wardrobe basics like black, white or khaki pants, white blouses and jeans that we can occasionally splurge on accessories…or pedicures! The necklace makes a statement and matches a lot in my wardrobe so I will enjoy it for years to come.
Wooden bangles from the thriftstore. 
Dance!
Please know I am very comfortable sharing my weight loss struggles and successes with you and really appreciate Rhoda giving me this forum to share my heart. As a writer, I am called to use my writing to encourage others and if I can say one simple thing that might encourage someone in their life struggles, then I'm a happy girl. Earlier this year I began a weight loss journey and experienced rapid success. I lost 15 pounds in a little less than a month. Naturally I was thrilled and perhaps became over confident which can be detrimental to my best efforts.
Short story…I haven't gained all the weight back. I've lost 5 more pounds for a total of 20 pounds lost, but have gone up and down about 4 pounds from my lowest weight. Meanwhile, a wonderful lady in my weight loss circle has lost twice as much weight working the same program! She has truly "worked" the program and has reaped the rewards of her commitment to a plan. While I applaud her, I must admit it has been intimidating. So what am I to do? Do I watch her losing weight and think "woe is me" and wallow around in self pity and self-defeatism? If I allow myself to become discouraged I will just give up and gain back the 20 pounds! Or do I watch her, learn from her, and do my best, start over today, and love myself enough to get healthy? I choose love! I'm starting over! Again! Today!
Yes, I've lost 20 pounds! Let me tell you, 20 pounds is a lot of weight! Last weekend I enjoyed dancing with our son at my niece's wedding! I could've danced all night! I truly felt much lighter on my feet having lost 20 pounds! Do you want to lose a few extra pounds? Now is the time! It's never too late to do the right thing, like get healthy! Love yourself enough to take care of yourself. Find a plan that you can work consistently. Do it for you, for your loved ones, for God!
Dance!!!
Thanks for listening!
You can find Vicki at her blog, Mother Mom's Musings. 
I'd love for you to check out my guide on adding color without painting, with fabric and textiles.  
- Rhoda