I was sent these Gibson clothing pieces to share with my readers, all opinions are my own.
Hey there! I'm back to share a few fun Holiday inspired clothing options with you all today. I'm excited to be joining Cassie with Hi Sugarplum on the launch of her new Gibson Holiday collection. I wasn't able to share this last week on Fashion over 50, but I have a new additional piece in that I didn't share on Instagram last week. If you were following me on Instagram, you saw the black and red outfit already, but I'm sharing it all here today. I have 2 more pieces yet to come in and can't wait to see those too.
It's a beautiful collection and it's no wonder that a lot of it is sold out already. If you do end up shopping, please use my links on the picture links at the bottom of the post. I earn a small commission for any sales through me.
This is the first launch I've joined with Cassie and I have to say, I'm very impressed with the quality of these Gibson pieces. They are very well made and I love the fabrics. These Brigitte pants have unfortunately sold out, but they are so cute and comfy for a Holiday party this year. I can't wait to wear this out.
And the red satin top is very festive and perfect for the upcoming Christmas season of parties and Holiday festiveness. The top has a cute tie in the back which gives the collar such a nice detail. I'm not sure what sizes are still available in any of these, but if you're interested in grabbing some, I'd say to go ahead and jump on it. It's selling out fast!
I just got a new floor length mirror (from Kirkland's if you're interested) in our bedroom, so now I can more easily share outfit ideas. I love having a full length mirror to help me get dressed and I had a tiny one in my closet behind the door that is not much help.
I love this one, but can't find it on the Kirkland's site so check your store if you're interested. It's a simple black metal frame and I got it for 30% off, for just over $100.
This next piece is a tank from the Hi Sugarplum Gibson collection. It's hard to convey the fabric, but it's soft chiffon with a sparkly dot on the leopard. Again, the pants are sold out, but check back there if you're interested because they do get returns in and restocked.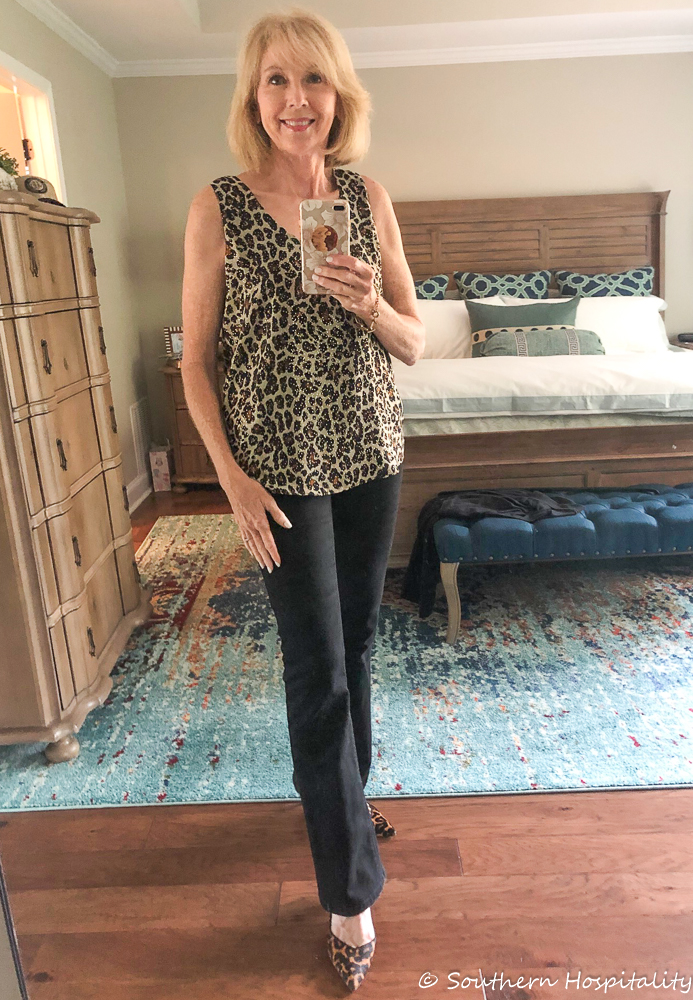 I  love the top out with White House Black Market black flared jeans I've had for awhile! Such a cute festive top with so many things, can be dressed up or down.
Here are the same items I have (below affiliate links) and similar leopard shoes. My leopard shoes I'm wearing are Sam Edelman but they are a couple years old. I loved those block heel leopard shoes that I linked so much I bought them too! Many of the Hi Sugarplum Gibson items are sold out, but there should be some pieces left in stock.

Don't Miss a Post, join my list!