Hi, friends! You probably thought I skipped Fashion over 50 this week, but I delayed it a day with all the Christmas tours going on. Today I've got something else fun I want to share with you! I've thought about something that I could add to my blog for awhile now and have wanted to find something that I could add to my blog that might be another stream of income. I figured if I found a product that I really really love that it would be a natural fit and extension here on my blog.
I think I've found that product! It's jewelry and I can't wait to share it with you today. I met a gal last month at the Blissdom conference. There were all sorts of business women there with all kinds of businesses from blogging, to pod casting, to mompreneurs and more. She introduced me to a new to me direct sales company called Grace and Heart jewelry. I immediately noticed the bracelet she was wearing because it was bold and turquoise, which I love.
We chatted when I returned home and she told me how to get signed up as a Jewelry Consultant for Grace and Heart and so I jumped in with both feet and bought the biggest kit they have. You all know I love jewelry anyway, so this is a good fit for me and I figure if I love it, you all will love it too.
What I really like about the company is that it is all sterling silver jewelry, so it's very good quality statement jewelry. When I first glanced at the prices, I thought oh it's a little high, not sure how that will go over. But when I heard that it's all sterling silver, brass accents, semi-precious gemstones and Swarovski crystals mixed with leather, I thought that was a really good mix of jewelry materials. So, if you love sterling silver, you are going to love this jewelry. It looks even better in person than it does in the catalog, so I'm going to show you all the pieces I have so far and share what I like about them.
The jewelry is not inexpensive, but I believe it is very fairly priced for the quality and type jewelry it is.
Classic with an on-trend sensibility is how the Grace & Heart website describes the jewelry.
I'd say that's very accurate!
I got in my jewelry order and loved all the pieces. My kit came with some set pieces that came with the kit and then I got to choose many of the pieces for myself, so I made sure to get the ones that I really loved.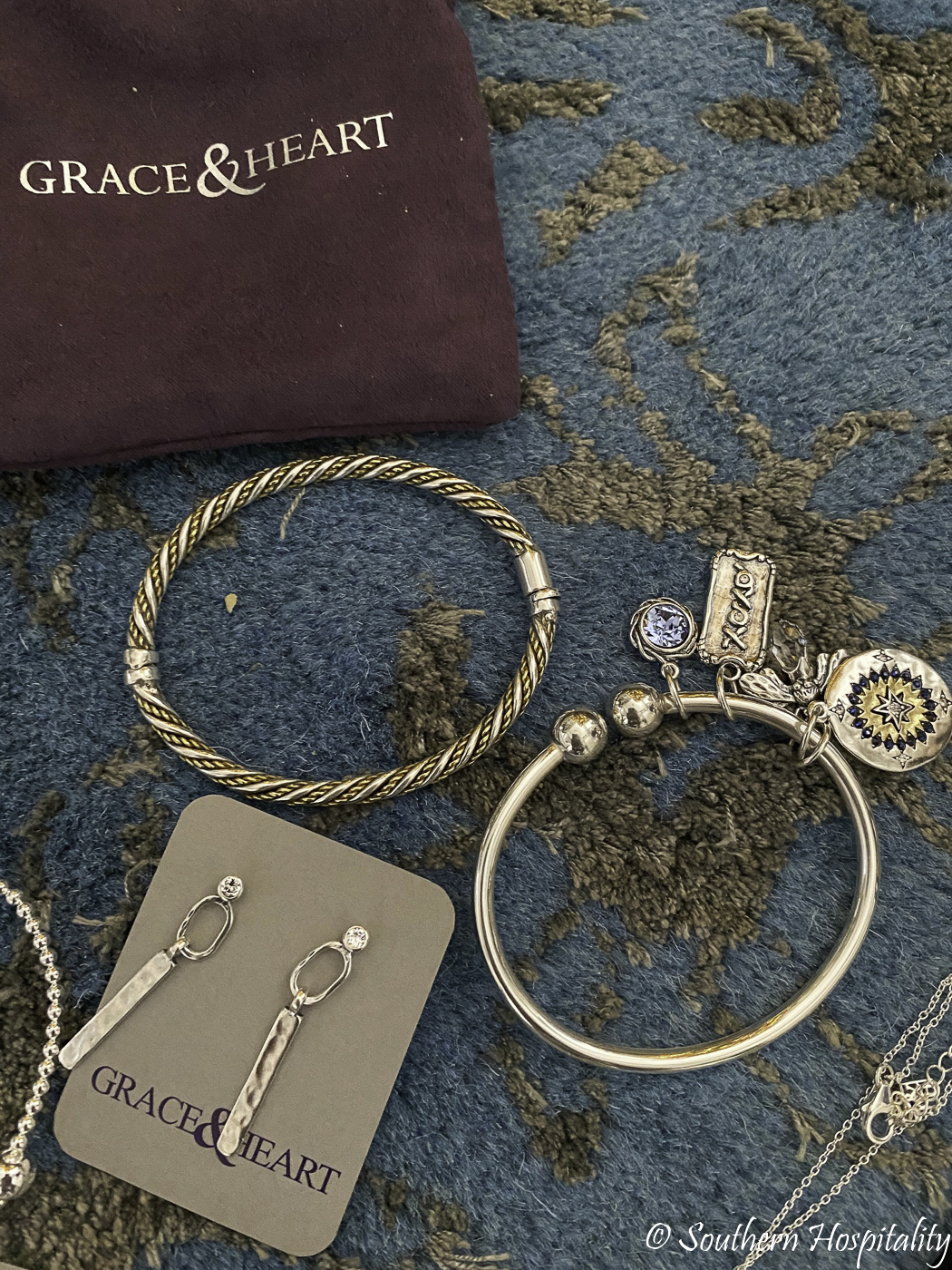 As everything came in, I was super impressed with the quality of every single piece. I will wear it proudly! I love that Curve Ball bangle bracelet with the balls on the end. You can unscrew one of those and keep adding charms. The 3 charms on the right came with my kit and I ordered the gemstone blue one which is my birthstone. I love that bangle to the left of it too, in silver and brass, the Twist & Shout bangle.
I also love that Shimmy necklace on the left with the hoops. It's a beautiful piece! Those black and silver earrings are gorgeous. And I got 4 rings with my order and love them all. I love that they are bold and I plan to wear them on my index finger, middle finger and ring finger to mix things up. There are dainty silver chains and bolder silver chains and bracelets. The great thing is you can mix it all up, get a chain and then add several pendants to mix it up. Layering the chains is a good look too. I plan to mix them up a lot!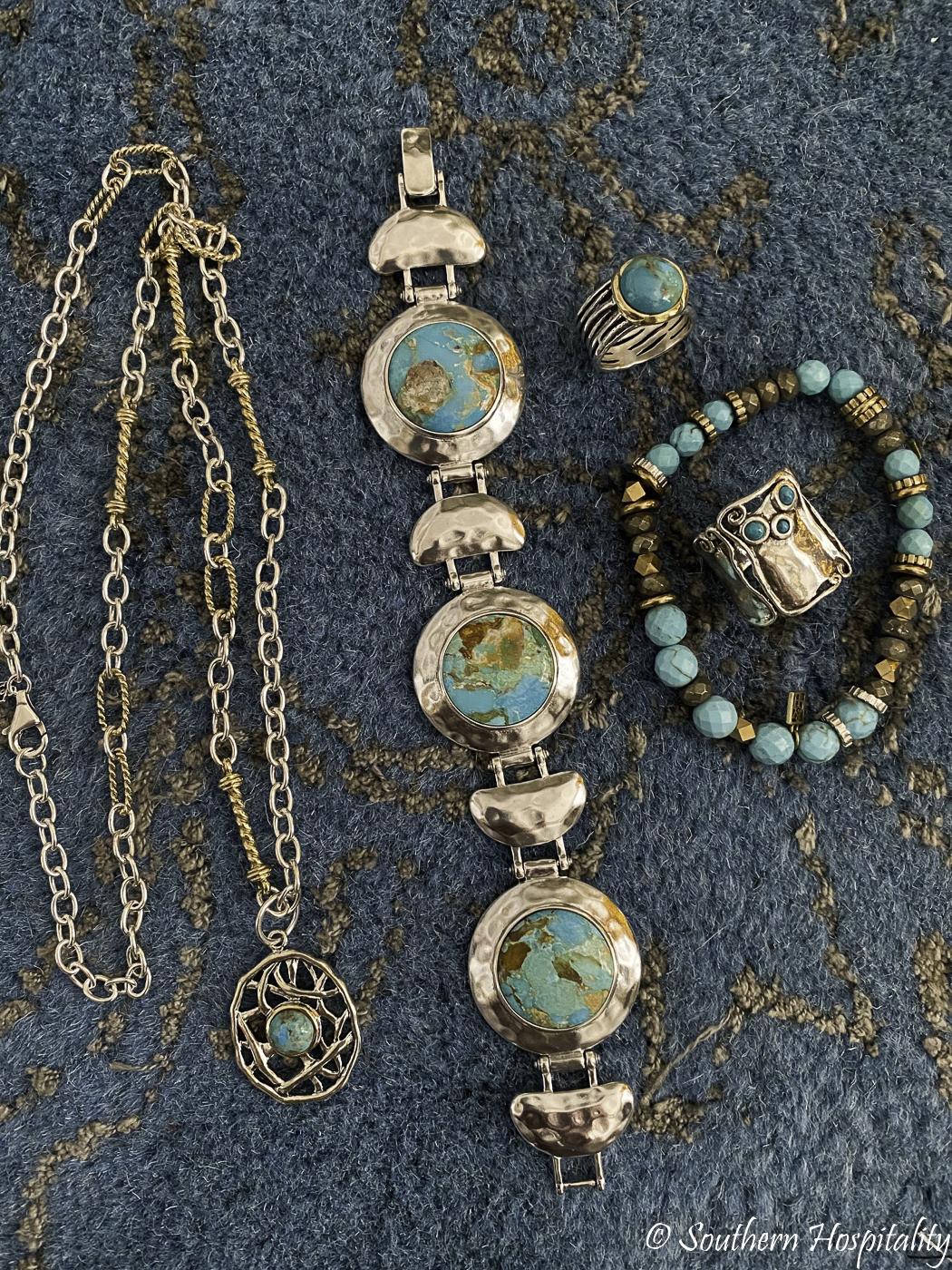 This bold Santa Fe bracelet is the one that caught my eye. Lucky for me it was on sale this month at $159 and so I bought it with my order. That was a win-win because it was one of my favorite pieces! That's an example of pricing. The bracelet is normally $199, no not inexpensive, but this is a piece I will keep forever! That's the way I look at this type jewelry. It's investment pieces that you can pass down to family members, like heirlooms.
I also love that chain to the left in brass and silver and the turquoise pendant that I got for it. The stretch turquoise bracelet will mix with my other pieces and I will enjoy stacking it with so many things. Those rings are so bold and pretty, love them both!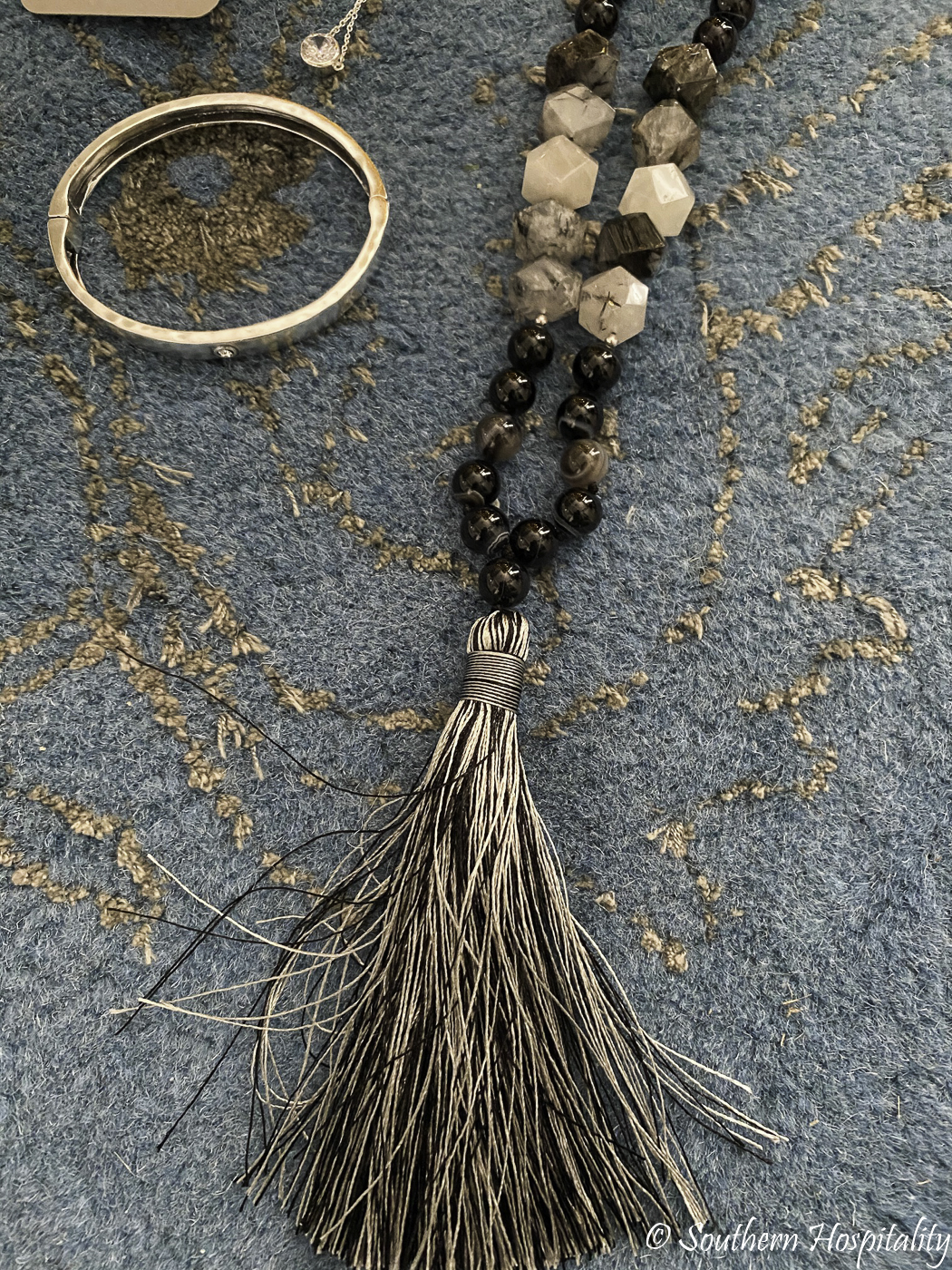 This tassel necklace of chunky, organically shaped rutilated quartz and smooth, polished agate beads features a silky, swingy tassel at the end. 32" long with 5" tassel. The stones are gorgeous!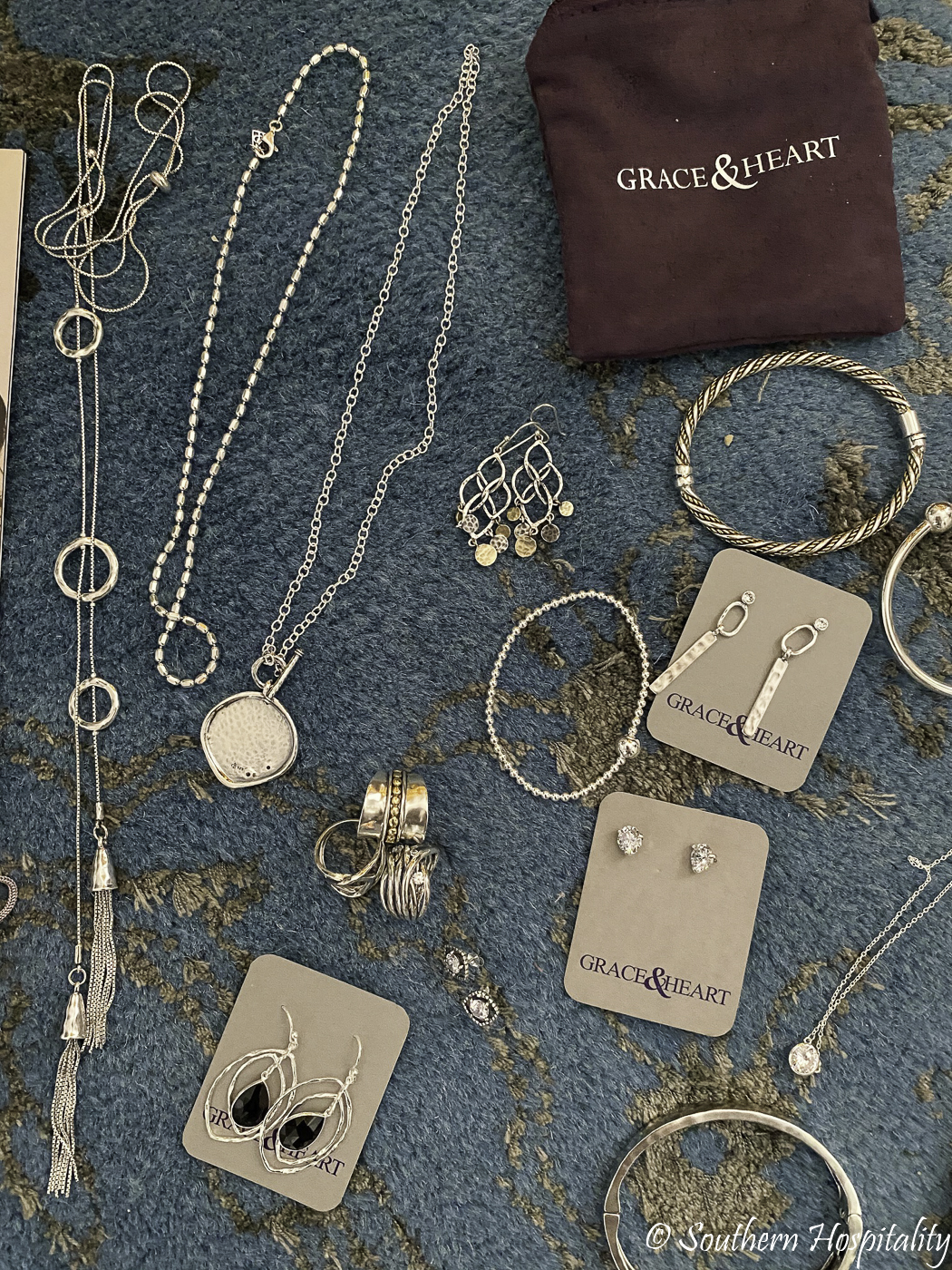 There are lots of chains to choose from, dainty to bold. I tend to like bold jewelry the best, but as I mentioned I think these pieces will be fun to layer. Add pendants, mix them up. As you will see in the catalog, the possibilities are endless.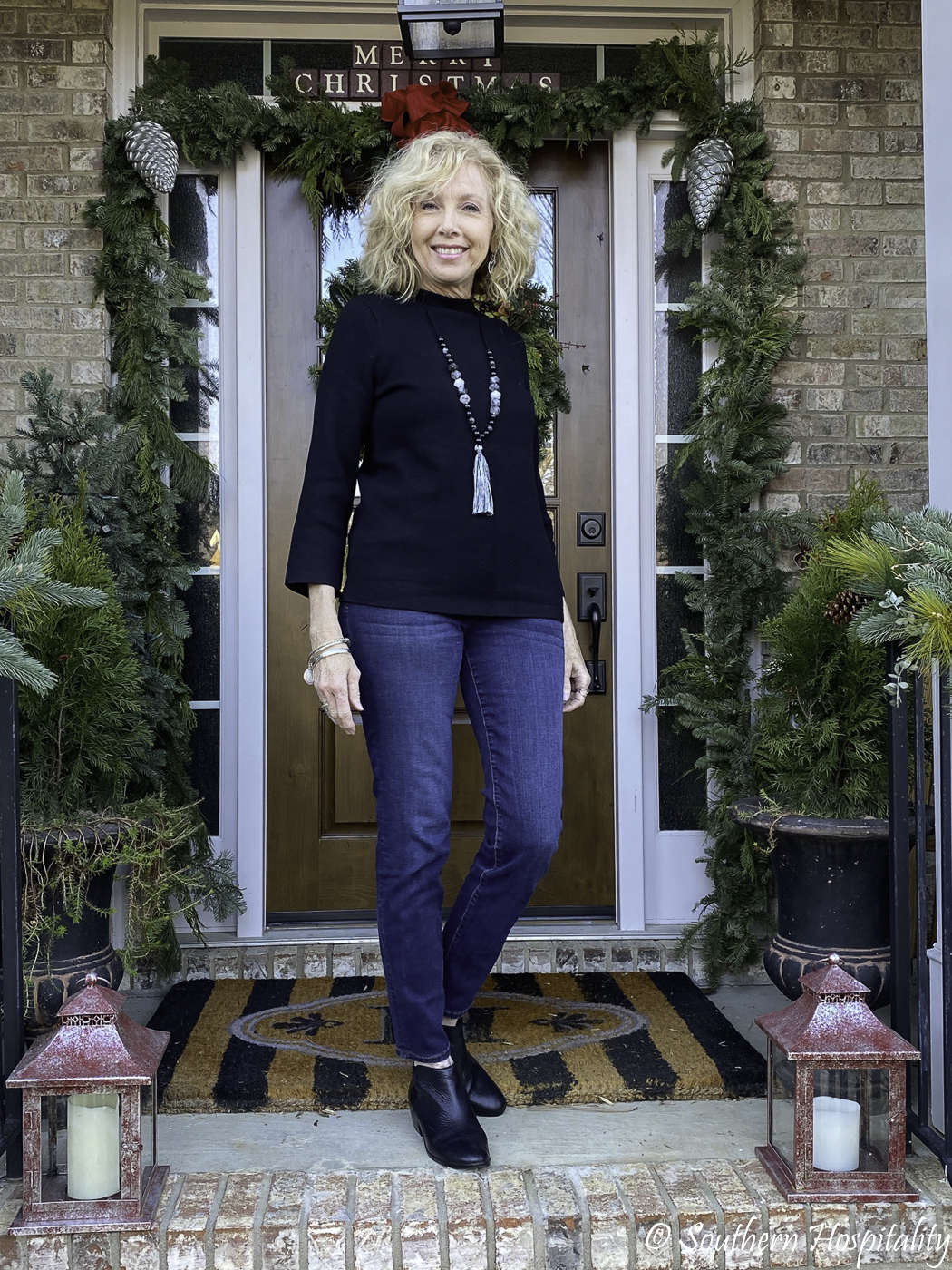 I'm trying on a few pieces for you so you can see how they look.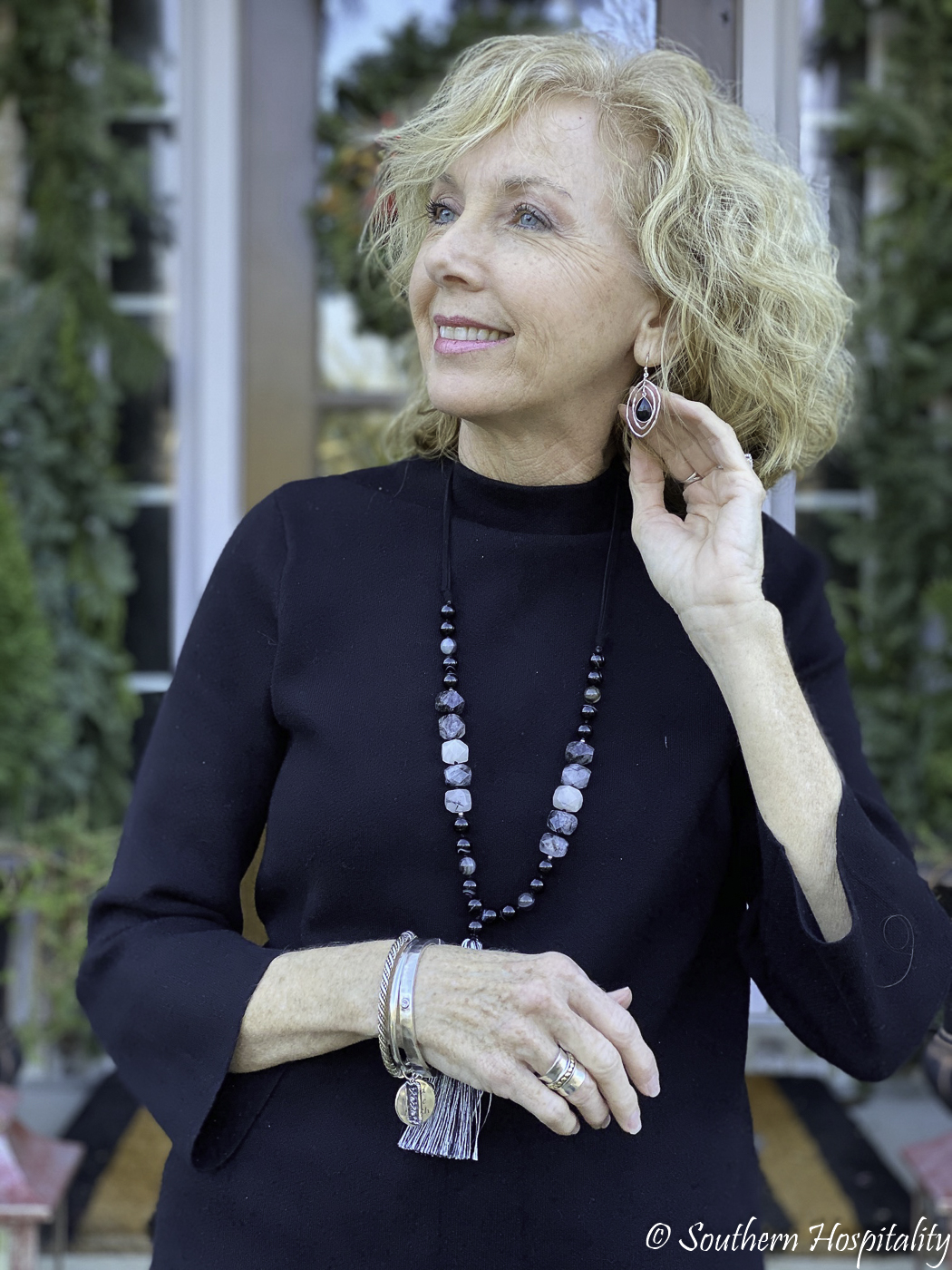 I love that chunky quartz necklace with the tassel, looks great with black. All these pieces mix so well together and I'll definitely be layering these bracelets, I have 3 on here.
I'm loving the rings too and will wear them on different fingers.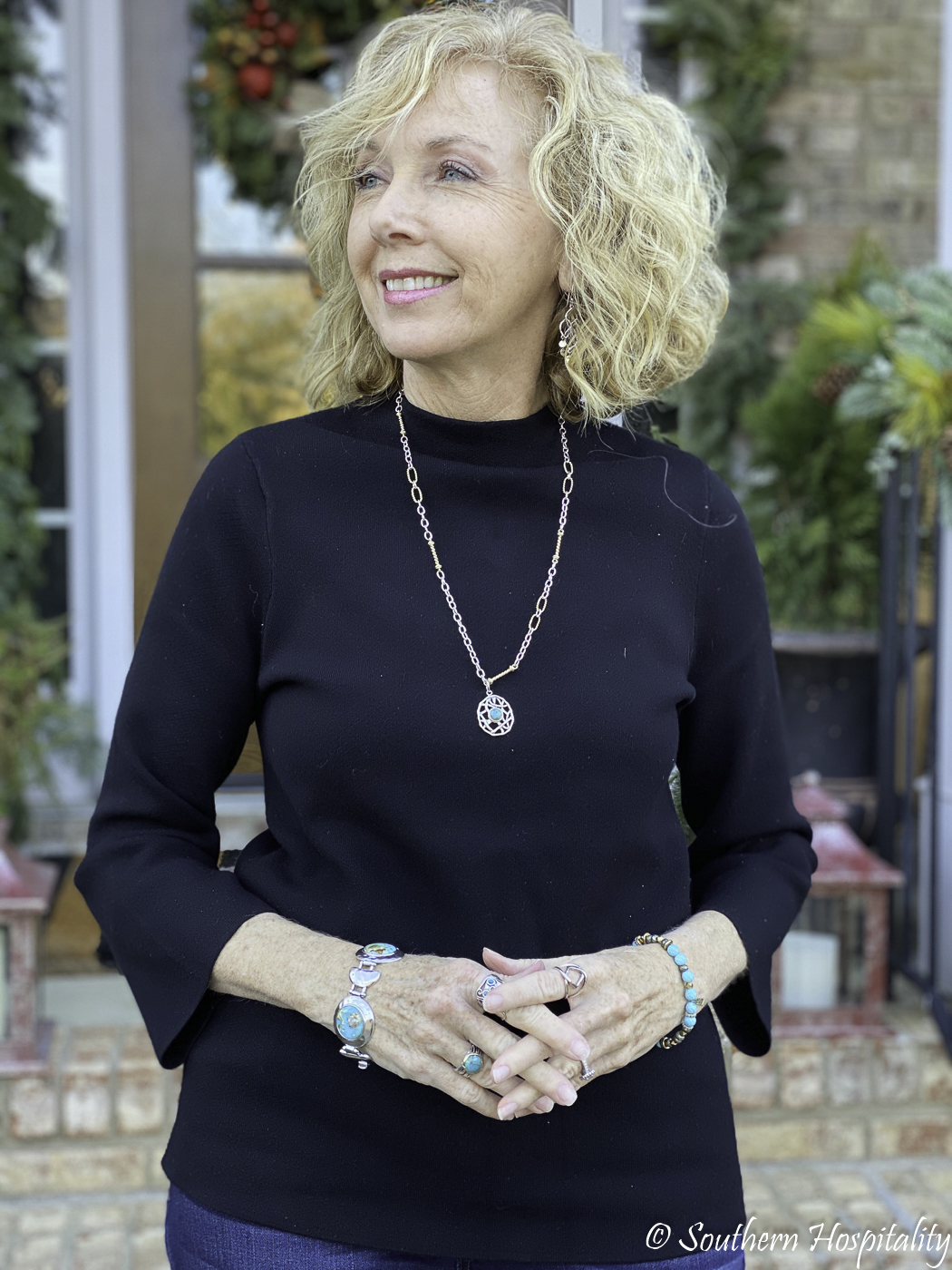 I had to try on all the turquoise together, you know I love me some turquoise and these pieces are beautiful. This jewelry is all hand crafted and all beautiful pieces.
I know I will enjoy all of these pieces for years to come and of course, will be adding more to my collection.
I also picked up this cute moto jacket this week at Steinmart. I was Christmas shopping in there and happened to spot this jacket on sale. The brand is Lena Gabrielle and I found this one online at Steinmart as well as a couple others, faux leather. They have size 6 left online.

If you're in the market for Christmas gifts or something for yourself, I'll be adding Grace & Heart to my blog and you you can order at any time, so here's my direct link so that you can look at the catalog and order right online. If you have any questions at all, let me know! I really love this jewelry and think  you will too.
Find my Grace & Heart shop here! I'm going to add the shop to my sidebar too so you can go there anytime. Just click Our Catalog to see everything in there and then you can click Shop if you want to order something. It should bring up all jewelry items and you can find Item #'s in the catalog if you need to look them up individually. The holiday shipment deadline for ordering and getting it in time for Christmas is December 18th.
I think this is going to be a fun new venture for me! It's definitely something I can be passionate about.
Here are the special promotions for December, happy shopping! I do not think you will be disappointed with the quality of this Grace & Heart jewelry.
Don't Miss a Post, join my list!