I think I'm finally getting back to normal after the New Year and I have a Fashion over 50 post for you today. I don't have a lot of new things to share, so I may be resharing things I already have and put them together in different ways. I will try to keep you updated on sales as I see them. I love shopping sales and never pay retail on clothing if I can help it.
Today's outfit is from Chico's. I've really enjoyed working with Chico's the last 6 months and I have been fortunate to add a few things to my closet from them and I love their clothes. This is a dark wash jegging and a new striped top.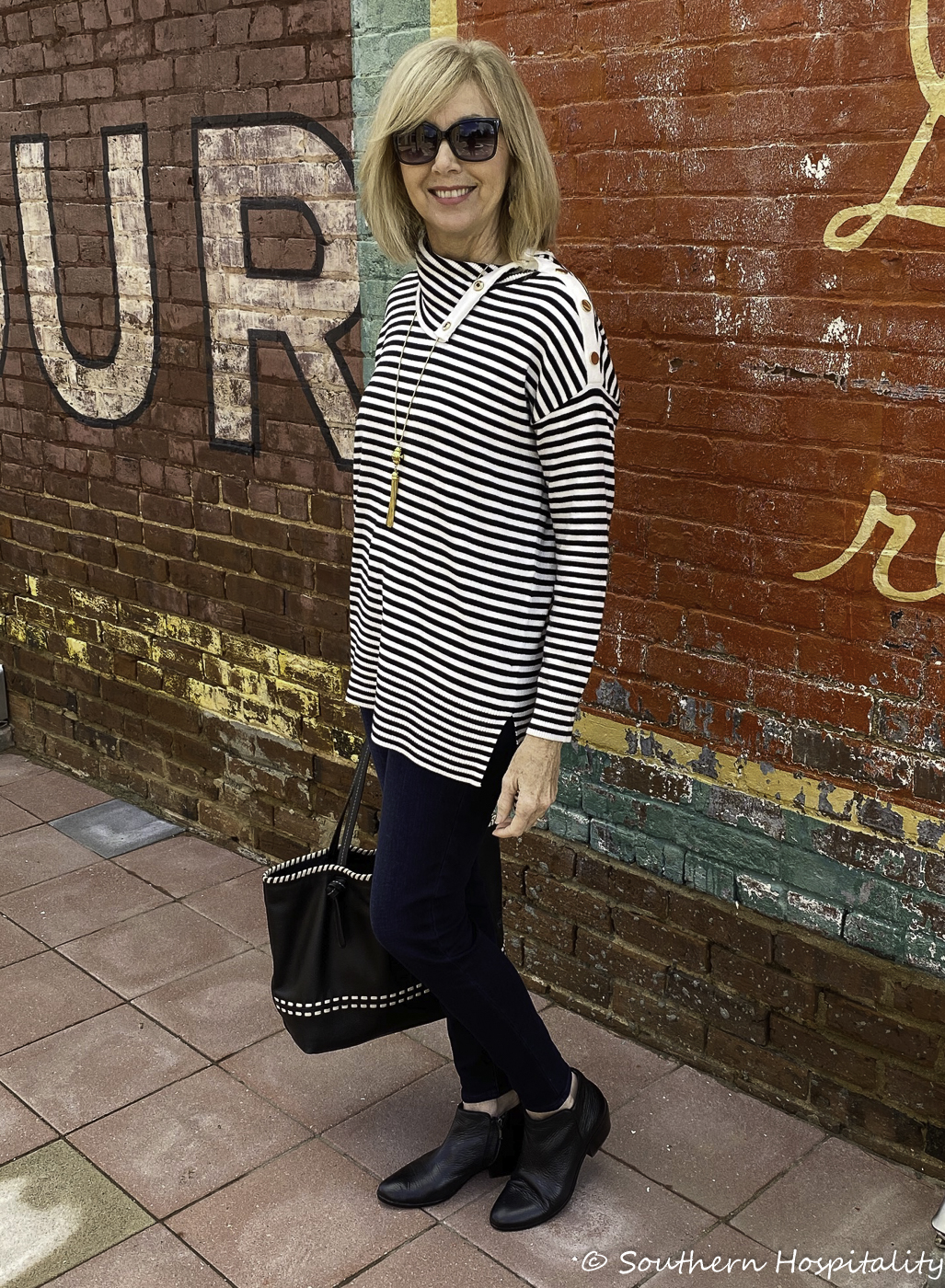 I got a size .5/6 in these jeggings. They fit a little tighter than their other pants do and I normally get a size 0/4 in their pants. These are also Tall, which I need sometimes for length. I like jeggings to be fairly long and not cropped on me. These are very comfortable and stretchy. I love this top too with the fold down collar and gold buttons, it's very sporty and cute.
The striped tunic is a lightweight knit fabric, longer in the back than the front and a very versatile piece to add to the wardrobe.
With the gold buttons, I wore gold jewelry with it. The tassel necklace is a piece I've had for years from Premier, earrings from Chico's (love them!) and that pretty beaded bracelet I bought during the holidays from Victoria Emerson when they had a 1/2 price sale. I love this bracelet! It has a magnetic clasp and it's like having 6 stacking bracelets but all are joined together. It's so cute on and they have so many different colors and styles. The sale was so good and I got this one for $25, so keep an eye out and get one on sale later if you love these. I'd like to have another color too.
Here are the things I'm wearing, affiliate links provided, which means I earn a small commission if you buy through my links.
SALE ALERT: Victoria Emerson has another BOGO sale going on right now on the bracelets, so a great time to snag 2 for the price of one!