Happy Wednesday to you all!  I'm back today to share a couple of things that I got recently that I've shared before, but haven't tried on for you yet.  I'm getting ready for Fall and cooler weather, although the weather isn't quite cooperating yet.  I do love boots and sweater weather, do you?  I enjoy layering  when those cooler temps show up with cardigans and jackets.  It's just a fun time to dress in all the Fall stuff!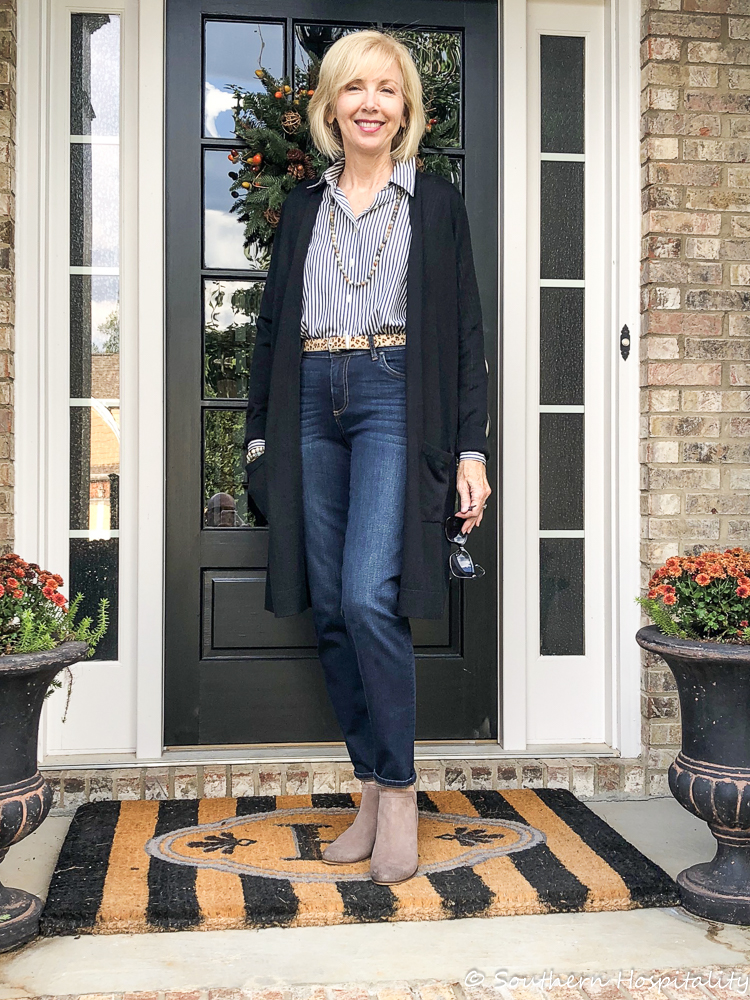 Today, I'm sharing those new jeans I got, from Kut from the Cloth.  I really do love them. They are high waisted and stretchy, not too tight, but form fitting.  These are a dark wash and feel great on.  I like that I can tuck in a shirt and wear a belt too because they are higher waisted than most.
I got this top from Goodwill, a Lands End in a charcoal stripe. I love a stripe! The cardigan is from Nordstrom Rack and I love it too. It's a lightweight knit with pockets and I got a Medium in this one, because they were out of Smalls.  But that gives me room to layer thicker things underneath and still be comfortable. This will be a fun piece to take with me to Cape Cod when we go in a few weeks.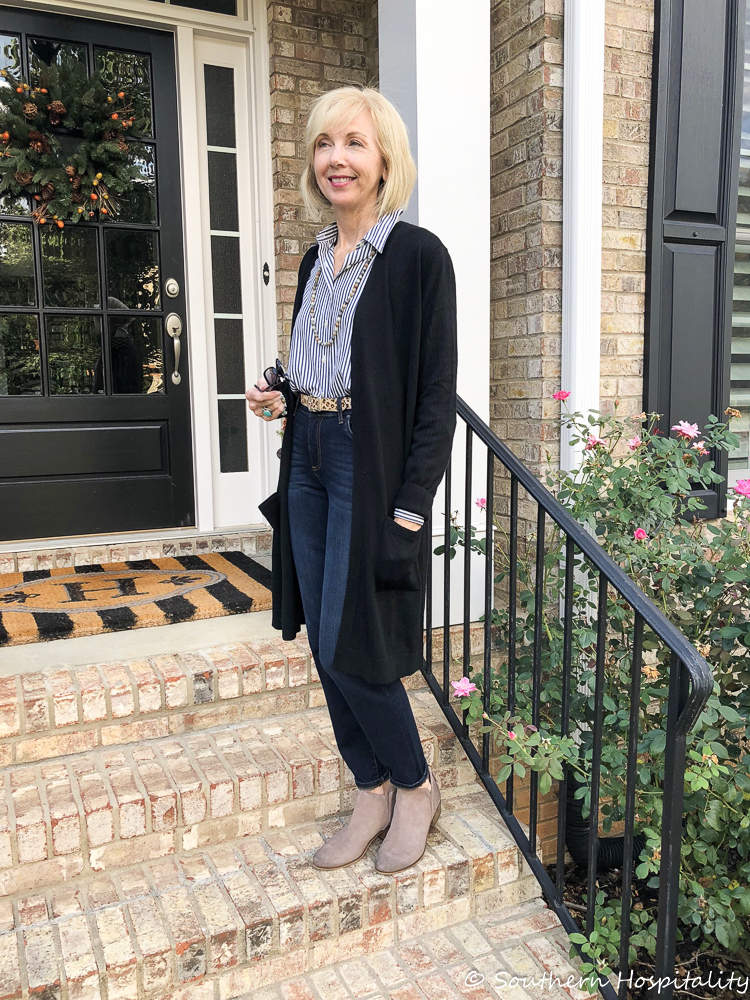 I added a leopard belt I've had for ages and that just gives it a little bit of spice.
Simple jewelry and that's an outfit.
Let's talk about these booties.  I love them!  So far they are comfortable and I love the neutral color which will go with anything.  These are suede so I did spray them with some suede protector and hopefully that will help in keeping them clean.  Booties are so much fun this time of year.  I probably won't ever wear higher socks with these, but will wear the no-see socks which make shoes more comfortable.
I'm heading out on a little adventure tomorrow and going to Las Vegas on a brand event for 2 days. I'll probably share a little of what I see when I get back, since I've never been to Las Vegas.  I won't be there long enough to really sightsee much, but it should be fun. Did I mention I love my job?  I think I have, at least a thousand times.  So grateful I get to do so many things like this!
So, here's a look at the jeans, cardigan and shoes I have as well as a couple of other similar items.

Don't Miss a Post, join my list!