Today's fashion post is a flashback to the 70's.  I happen to like long dresses and happy that maxi dresses are back.  I remember wearing these back in the 70's and since I'm tall, I've always like long skirts and dresses with heels.  It was hard to find skirts long enough back then, but now maxi dresses are really long.  In fact, this one would probably drag the ground on a shorter person.
I found this pretty striped maxi dress recently at Ross for $23.  Yes, a great deal for a summer dress. Even if it doesn't last for years, it's a good deal.   I stand corrected.  I thought Ross was in the same group with TJ Maxx and Marshalls, but that is not factual.   I enjoy shopping at every one of these stores and they all have good buys if you get in there and look.
This striped maxi dress is by Beige by ECI and I found a sleeveless version at Macys.
Beige by ECI maxi dress (affiliate link).
Here's a short version of the same dress:
Another Beige one from JC Penney, same brand (affiliate link). This one looks same colors as mine, black/beige.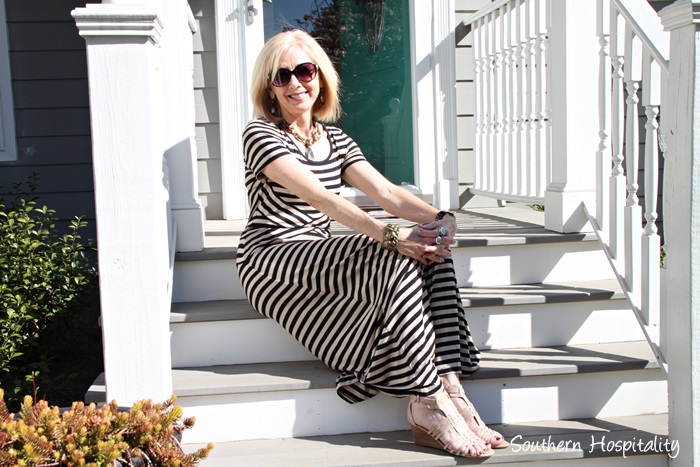 For summer clothes, I definitely don't spend a lot of money and I enjoy buying a few things for my closet that are fun and trendy.  This striped black and tan dress will be a nice addition to the wardrobe for summer.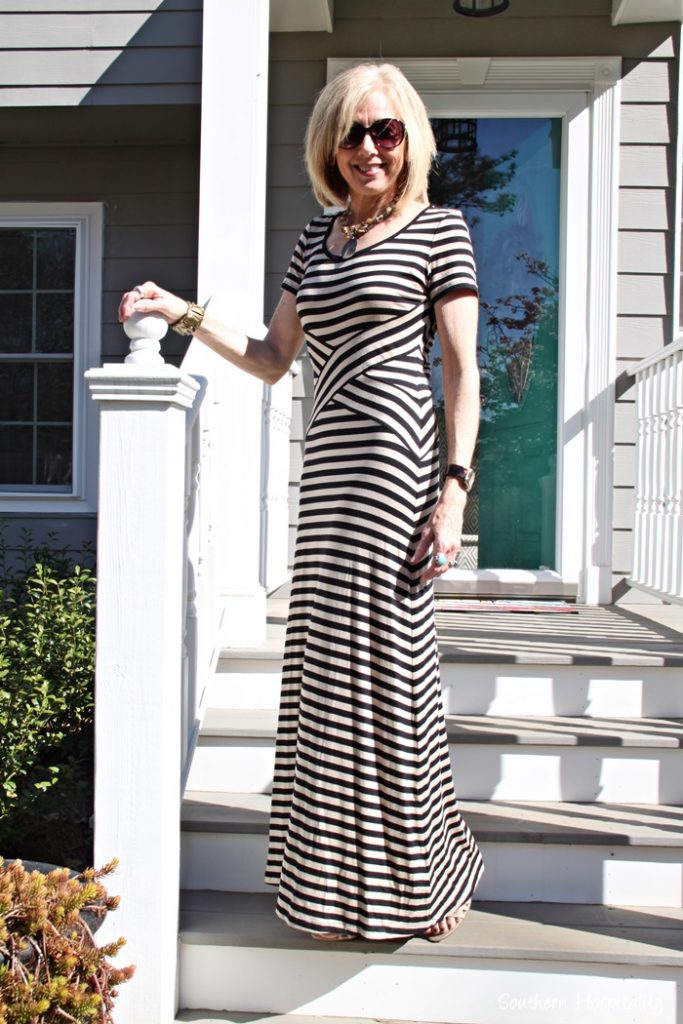 I wore it with some chunky jewelry and my new sandals by Franco Sarto.
Now, let's talk about under garments for this type dress.  I have a few pair of those long shaper things (think Spanx).  I got mine at TJ Maxx and there are many versions out there.  They really come in handy when you don't want panty lines and panty lines in a dress like this would ruin it.  So, be sure to put on a smoothing shaper when you're wearing something like this.  I wear these with tight pants too when I absolutely don't want a panty line.  Panty lines are a big no-no and I really try to avoid them.  If I'm wearing a long top, I don't worry about it so much, but if you want a smooth line, go with a shaper (or thongs, I have those too for summer).  But, I wear my shapers in the summer too, there are lightweight ones that are not hot.
This Spanx pair (affiliate link) is very similar to what I have.  Many are lightweight spandex and very comfortable to wear.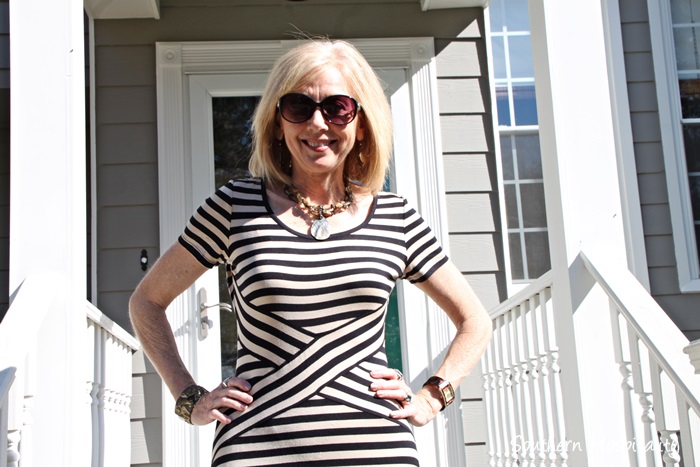 I love the detailing of the waistline, with the X accenting the waist making this dress very slenderizing.
Simple jewelry is all that is needed to add a little flair.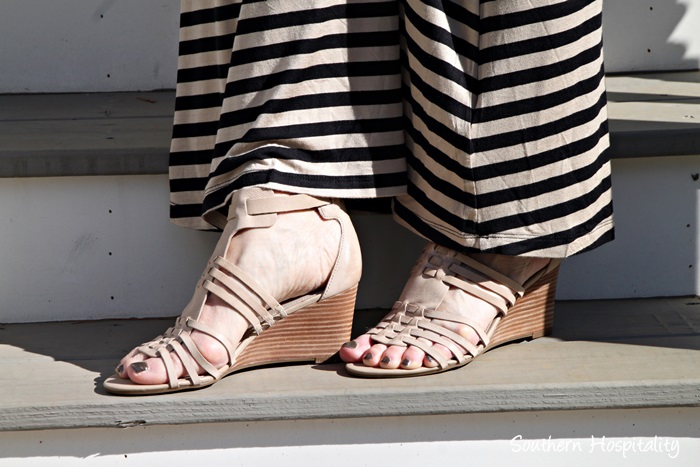 These tan leather sandals will be a summer staple for me as well.  By Franco Sarto, they are called the Keller style.  I have searched online and cannot find them anywhere, so since I got them at TJ Maxx they might be discontinued now.  They were $40 and I'll be wearing them plenty this summer.  Instead of wearing white shoes, I'll wear these with lots of things, like white jeans and blue jeans.
Franco Sarto Ulysses shoes (not the same, but a similar look) (affiliate link).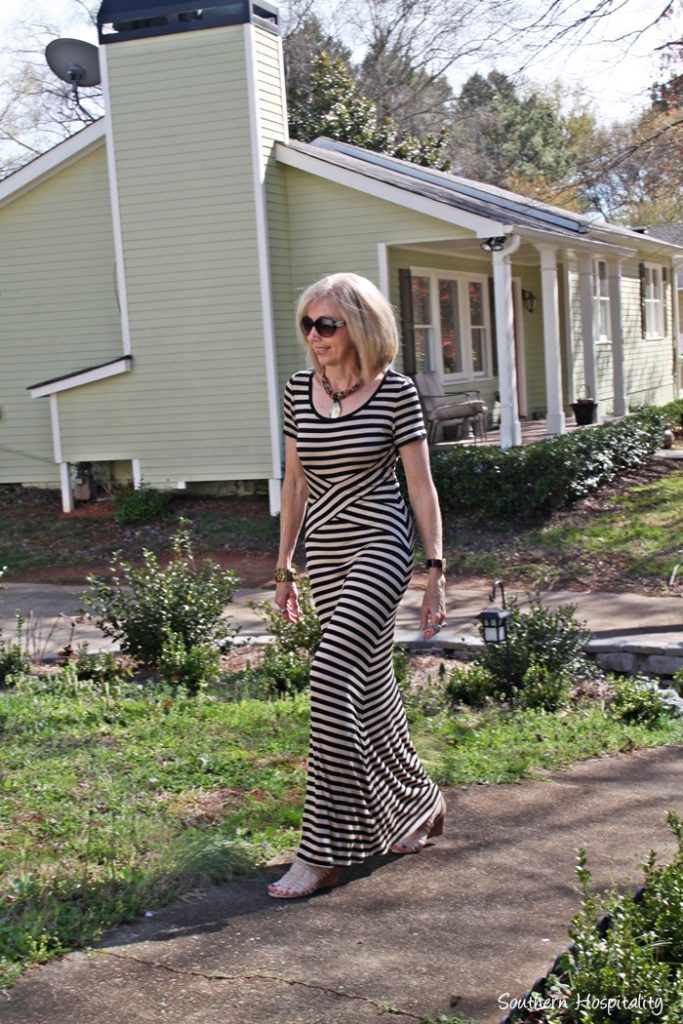 I do love maxi dresses and they definitely make you look taller and leaner.  Some folks don't like to wear horizontal stripes, but I think most of us can do that.  If you are shorter, I think you could still get away with a maxi dress and heels.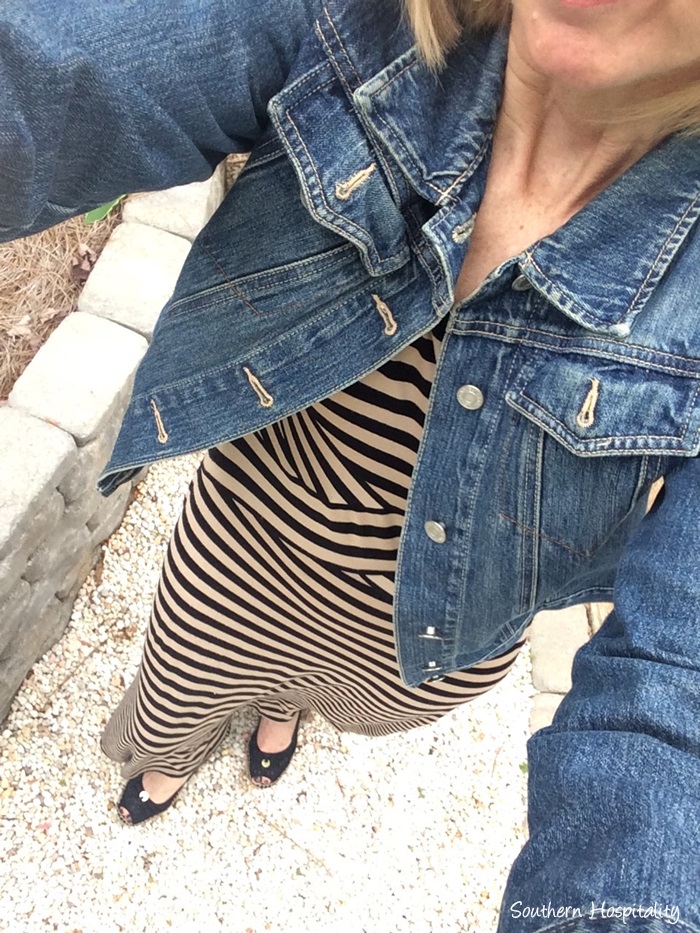 I wore it to church last Sunday and paired it with my black wedge shoes, which I also got at TJ Maxx. Add a jeans jacket to a maxi dress for a casual look.  My jeans jacket is Gap brand and I found it years ago at a yardsale.
Gap Jeans Jacket (affiliate link)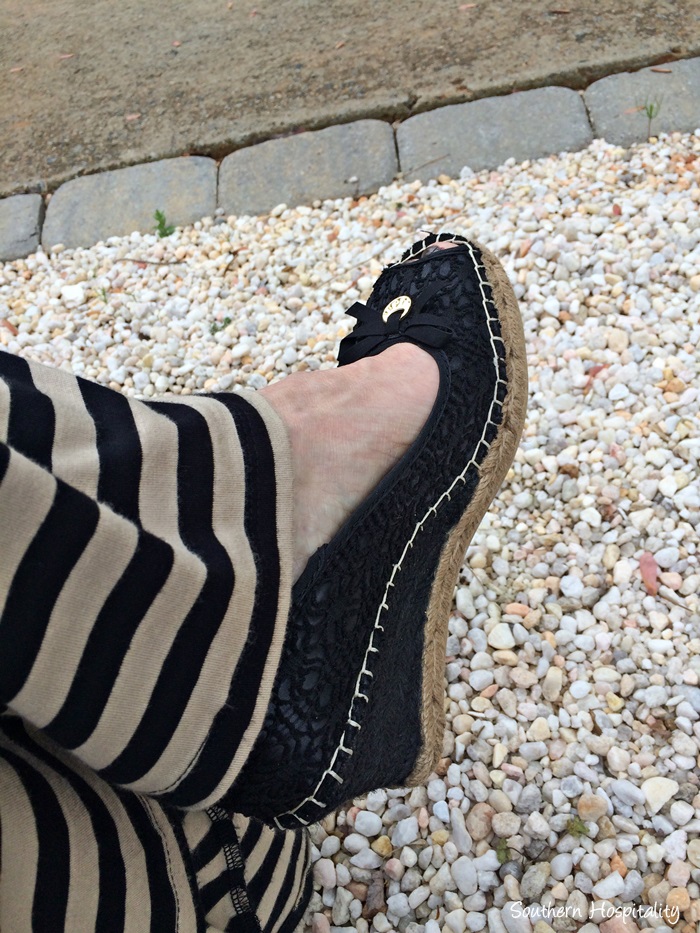 These black wedge fabric shoes are from TJ Maxx and the brand is White Mountain.
White Mountain Lakefront black wedge shoes (affiliate link).
Let me introduce you to another fashionista friend of mine.  Judy and I have been longtime friends for more than 25 years.  I have several Godly women in my life who are so dear to me and Judy is right up there at the top of my friends list.  We also go to church together, so when I saw what she was wearing last Sunday, I said let me put you on the blog. This outfit is so cute and perfect for my maxi dress post.
Judy, at 66, wears a size 6/8 and enjoys dressing stylishly.  I love her long striped skirt, white top and jeans jacket with a pretty floral/stripe scarf.  Judy always looks very put together and is a classic dresser.
She said the scarf came from Old Navy and the jeans jacket is also Gap.
Here's a pretty scarf I found, which would look good with a jeans jacket. It has some great colors and is a super deal, so I bought one too!   Scarf (affiliate link)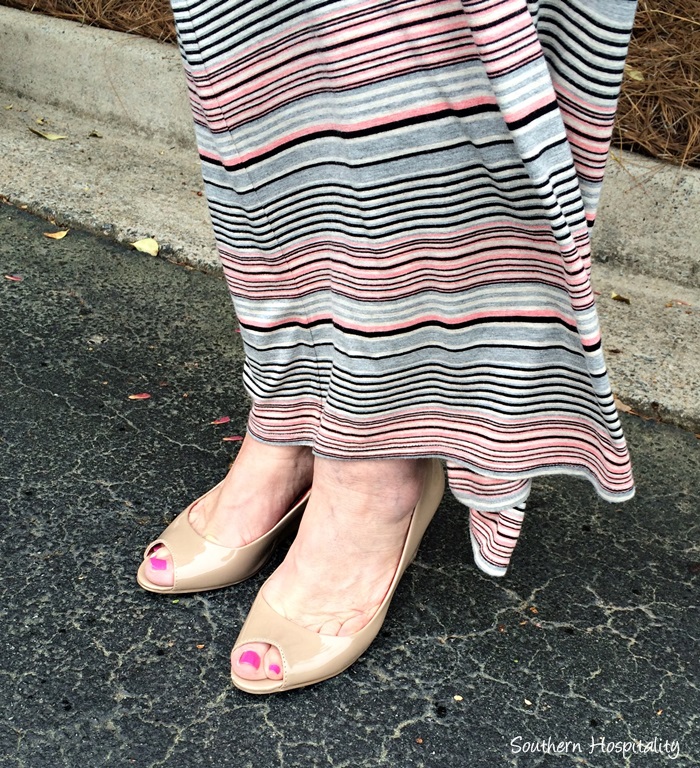 She paired the outfit with a pair of tan wedge shoes and it looks great.  Skirt is from Steinmart.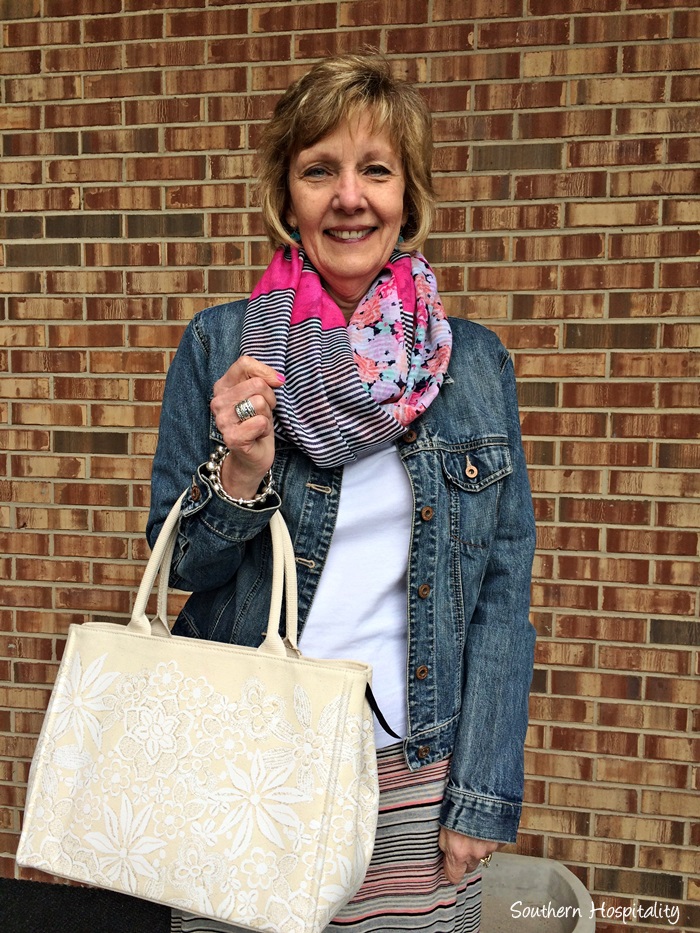 With her summer purse, Judy is looking like a style maven.  So, I wanted to show her off and give you more ideas on dressing stylishly in your mid-60's.  Judy has it going on and always looks great! She likes jewelry too and always has her toes and nails polished. That makes a statement too, so don't forget those extras, which make a big difference in your look.
Super excited to be off on another adventure this week!  Headed to Mobile, AL today to see a wonderful historic home renovation in person by Phantom Screens CEO, Esther.  She took on this house in historic Mobile and invited a group of bloggers to come down and experience it all in person, up close and personal. I'll be reporting in on all the fun when I return!  I love a Southern Romance, don't you?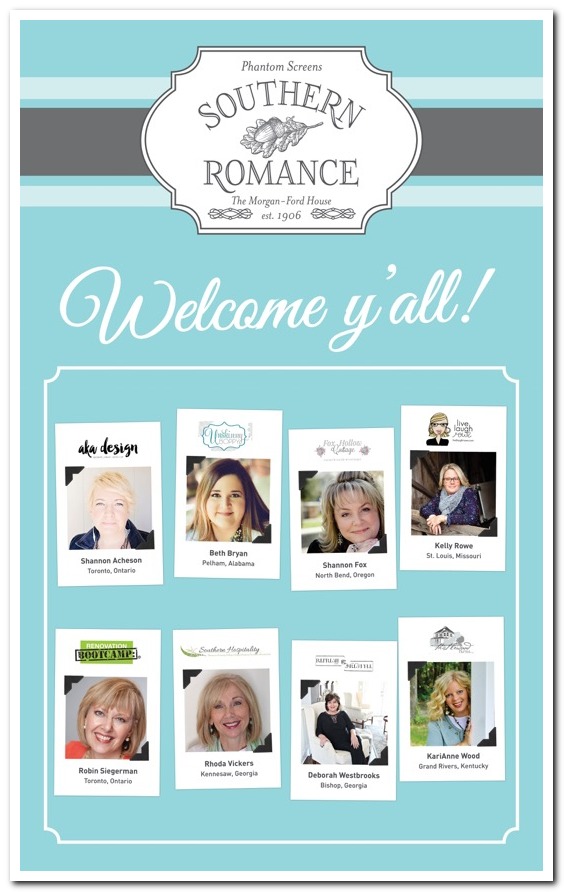 Don't Miss a Post, join my list!