This post is sponsored by Chico's. 
Hi friends! I'm back with another Fashion over 50 featuring some fun mix and match clothing items from Chico's. You've heard of a capsule wardrobe right? It's been so fun to work with Chico's and they have so many new Fall items that are mix and match, meaning you can make several outfits out of only 10 pieces of clothing. I'm sharing a few things today to show you how I love to mix and match things in my closet, changing things up to make several different outfits.
This beautiful Fall paisley knee length jacket has such gorgeous autumn hues and is a perfect pairing with jeans. These jean jeggings are not just any jeans, they have some bling on them, which I love!
The front is covered in these blingy starbursts and I love the design! Adds a little sparkle to plain jeans.
This whole outfit feels so Fallish and would be perfect for a day out. The soft knit ivory sweater top is a great layering piece as well and comes in lots of colors.
Chico's has some beautiful jewelry for Fall as well with these rich jewel tones that pair so well with the colors of autumn. I love this chunky tassel necklace with stone like colorful accents and gold tones. The Art Deco ring is a bold beauty too and I'll enjoy wearing it this season. The bracelet trio is also rich and colorful and a perfect pairing to the necklace.
Those earrings that I chose are so pretty too with the same colors as the necklace. I'm loving these rich jewel tones for Fall. This deep burgundy shade seems to be everywhere these days and it's perfect for this time of year.
The backdrops in town sure make my outfit look good, don't they? I feel really good in this Chico's outfit and can't wait to wear it again.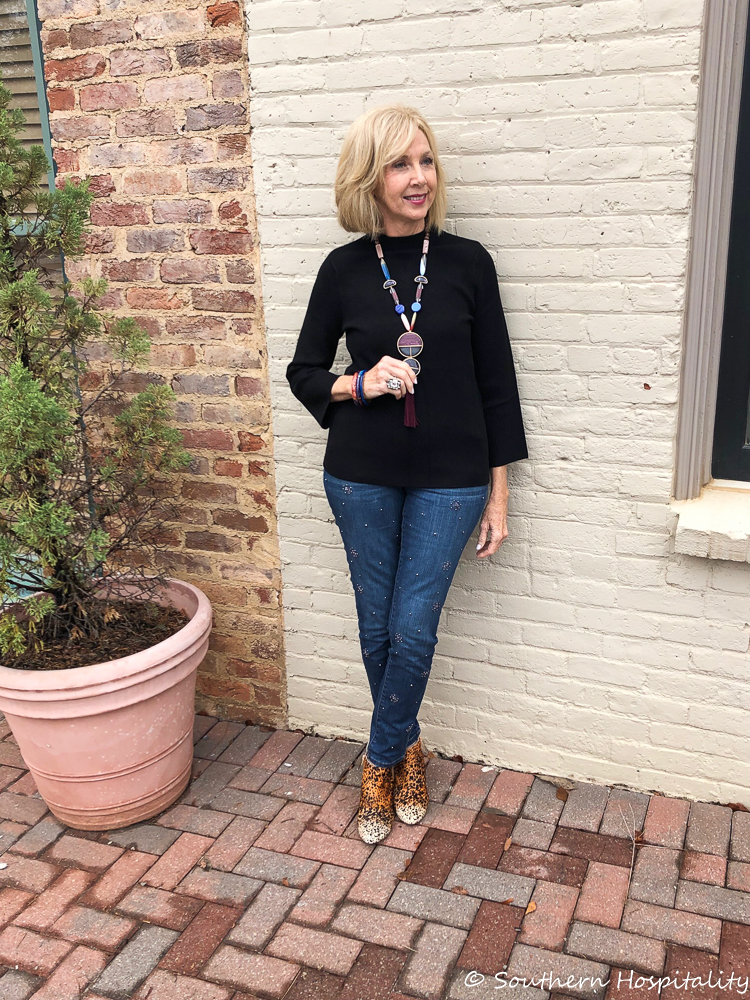 About those mix and match ideas, here are the same blingy jeans paired with a Chico's black sweater. I love black and blue jeans mixed together and I had to add these bold leopard shoes that I have in my closet. They are the perfect accent with this black and blue combo.
I kept on the same jewelry but the outfit looks completely new with the black sweater and stylish leopard shoes.
I love the pretty gold zipper detail in this sweater and the 3/4 length sleeves are so comfortable this time of year.
Here's what I'm wearing:

Out and about sporting our Fall fashion, we can finally start wearing our sweaters and booties since the temps are cooperating at last.
Stop over to Chico's and see all the new mix and match items they have for Fall. I think you'll love them too. Their clothing items are so well made and will last many seasons. I'll share with you how the sizing works for me at Chico's. I have to size down in pants. I normally wear a 6, but get a 0/4 at Chicos. In tops, I get a size 0/4-6 and those work well for me. Hope that helps as you shop at Chico's!
Happy Fall Shopping!
Don't Miss a Post, join my list!