I just can't seem to help being attracted to black and white fashions and my wardrobe has plenty of it, with another new addition recently.  Black and white just makes a statement and I happen to love that fashion flair.
Today, I'm sharing a couple of outfits I wore recently.  I've been on the lookout for a flannel shirt or 2 to add to my wardrobe for Fall.
I walked into Old Navy and spotted this pretty black and white buffalo check shirt and it was perfect for layering with my white furry vest that I got at the mart earlier in January.  I have really enjoyed this sweater vest with all sorts of things.   Jeans are the Vintage Soho black Nine West Jeans that I've shared before, but I don't really have a source for them now, as they were from last year.
Black and White Buffalo Check flannel shirt from Old Navy (affiliate link)
Black Ralph Lauren riding boots from DSW (not an affiliate link, but a good price, less than I paid last year at DSW!)
Here are a few options I found for white faux fur vests.  Mine is sweater material in the back and soft faux fur in the front.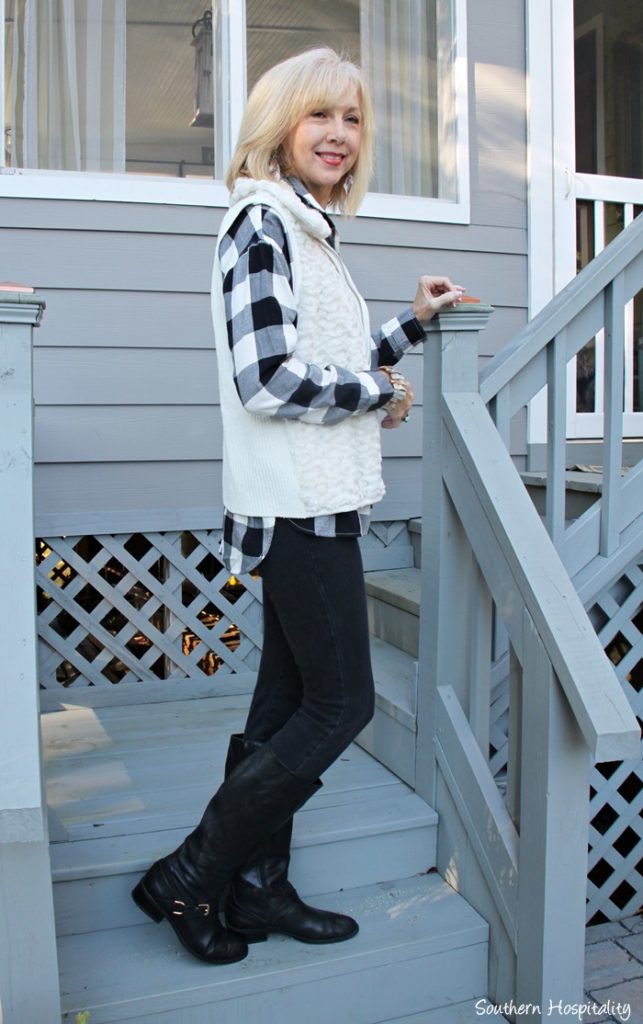 This is a fun casual look for Fall, perfect for an outing of shopping and doing something outside.  I love the longer tail in the back of the shirt.  I got a Small shirt, by the way, from Old Navy.
Very comfortable and casual, but put together.
Next, for a day out shopping and lunching, I wore these Levis flare leg jeans with a black and white sweater set. I got this sweater set last year on my shopping trip to the now closed store, C Wonder. Darn, I wish that store at the outlet mall hadn't closed.  I really got some great deals there.
Here's a similar Dolce & Gabbana Sweater Set (affiliate link – although not a fantastic deal).  
Shoes I bought online last year and they are funky and fun leopard fur booties.  I think they look best with neutrals and add a bit of punch to this outfit.  They were a bit pricey, but it's fun to splurge sometimes on shoes.
Booties – Matisse Nugent (affiliate link – here's a similar pair from Matisse)
Matisse Teddy (these are identical shoes, this one from DSW, not an affiliate link). I've seen them called Teddy and Nugent, but they look the same. 
Here they are from Nordstrom (affiliate link)
This is a classic look with gold jewelry and my leather bag from Calvin Klein that I got last year at TJ Maxx.
Layered on my gold jewelry and this is a fun little classic outfit with flared jeans. I'm a classic dresser most of all, but do like to mix things up sometimes with some funky pieces.
These stacking bracelets are from my friend at Wrist Soiree.  She has great inexpensive pieces of costume jewelry.
With flared jeans.
A look at the shoes closeup.
Here's another little fashion tidbit I wanted to share with you all. I've discovered a site called Thredup, which is like an online consignment store!  It is loaded with lots of clothes, in all styles and sizes and it's amazing what you can find over there.  They don't know me at all, but I do have an affiliate link from a site I work with, so I can share the link over and let you check it out. I'd love it if you buy through my link if you do purchase.
I was doing some clothes browsing online and landed on their site a few times and realized what it is.  You can read the descriptions and see what you are getting, so after I signed up, I got a coupon in my inbox for 40% off my first order.  Well OK then, that made me look even more!  I found these 2 long flowy sweaters in designer labels for a really good price (especially after the 40% off!).  I got both of these for $70 and they are like new. Not quite as good as yardsale or thriftstore prices, but I like the descriptions that tell you exactly what you are getting.  They only accept really nice clothing and the brands are higher end for the most part. They also have shoes, purses, and other accessories.
Labels are the green sweater, Alberto Makali and the coral one is Eileen Fisher, which I think are both designer labels.  These will both be sweaters I'll wear in the spring, but I thought the prices were really reasonable, because they truly do look new and if you look at the description, it will tell you the condition of items before you buy.  You can even send them your used clothes to add to the site. I might have to try that too!  Check out Thredup for some fun online shopping!
Be careful, I can see that being addictive!
Note: This post contains affiliate links, which means I earn a small commission if you buy through my links. 
Don't Miss a Post, join my list!