Hey there friends! I'm back with a couple of new things to share on Fashion over 50 today. I love jeans and am always up for trying a new pair, so when I was recently contacted by a new to me company called Mott and Bow asking if I'd like to try out a pair of their jeans, I said yes. I do enjoy a good pair of skinny jeans. I know they're not for everyone and many of you many not wear skinnies, but I think many of you probably do.
These are very comfortable, form fitting and very stretchy. There's a lot that goes into making these jeans.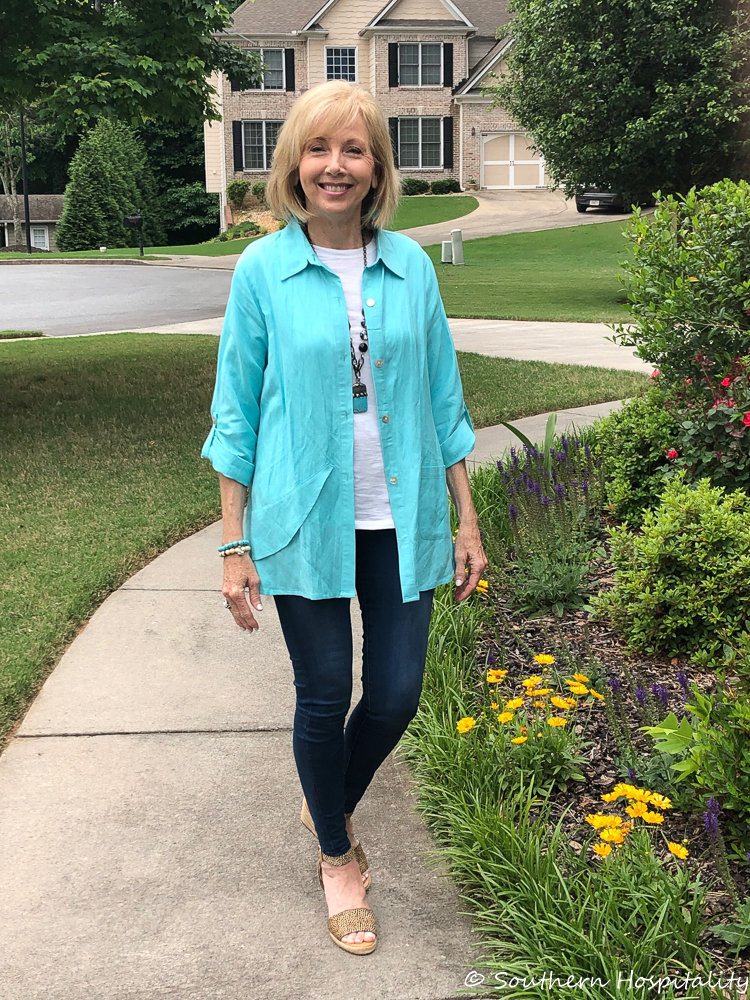 Here's more about Mott and Bow from their website:
Mott & Bow was born out of a simple question: how can we get people premium grade jeans at a reasonable price? Using the finest denim fabrics from the best mills in the world and applying the manually intensive artistic processes in the laundry we transform the denim and make it look effortless. We stick to simplicity as our core design philosophy. With a 32-year denim heritage, our experience is second to none.
Now, their jeans are not inexpensive, but they aren't the most expensive either at a little over $100.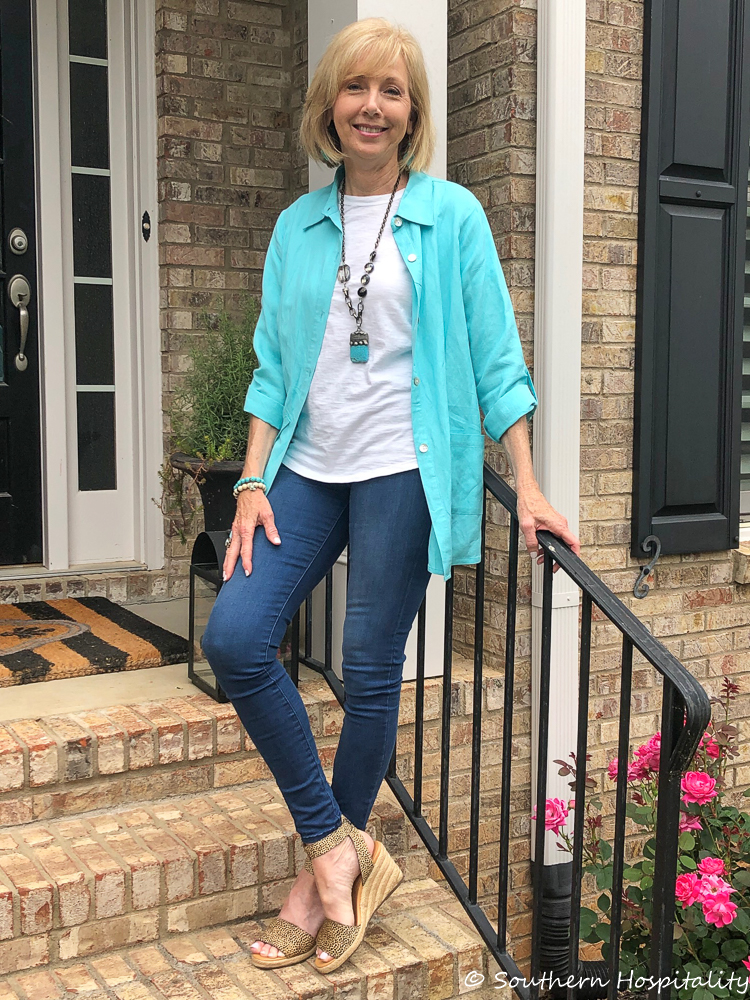 I like the fact they these are high-rise, the Mott and Bow Ann medium wash high rise. They feel so much better to me to have them waist high. They are stretchy so have a lot of give, definitely like jeggings.
Mott and Bow is offering a 10% discount for my readers with the code SOUTHERN, it will expire the first week of July.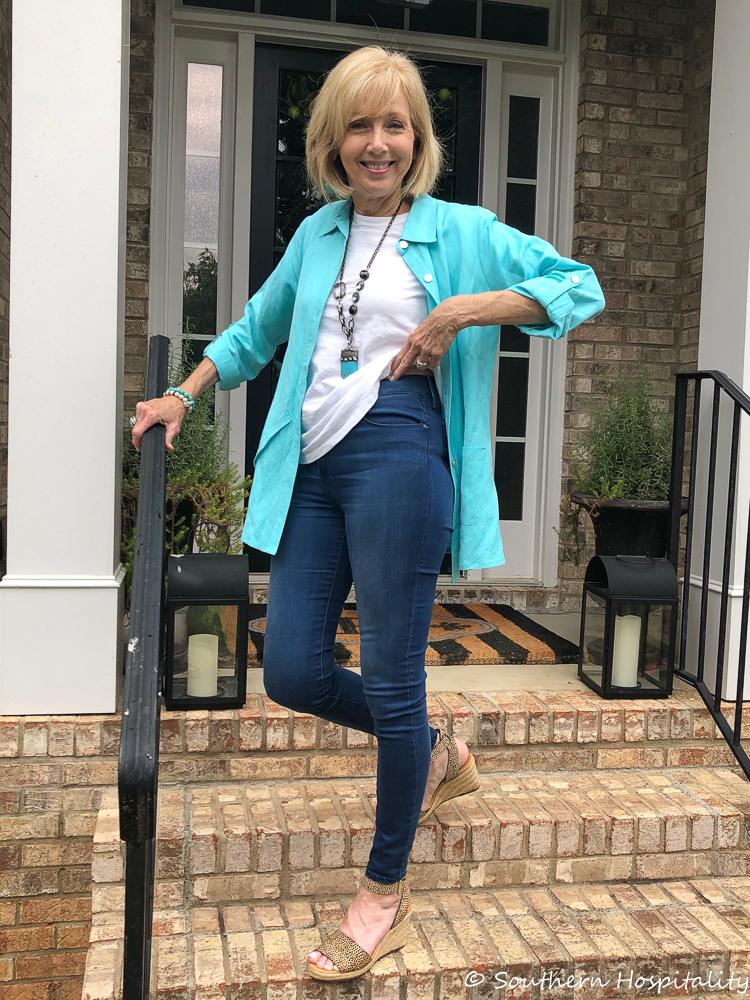 See how high the waist is? These are the Ann high-rise jeans in a medium wash and a 30″ inseam.
I paired them with a simple white T-shirt from Old Navy and this blue linen shirt jacket I got last year.
It's a little more dressed up than regular jeans and I also got a new pair of wedge shoes that I'm just crazy about. They are from J. Crew and I've already worn them a couple times and love them.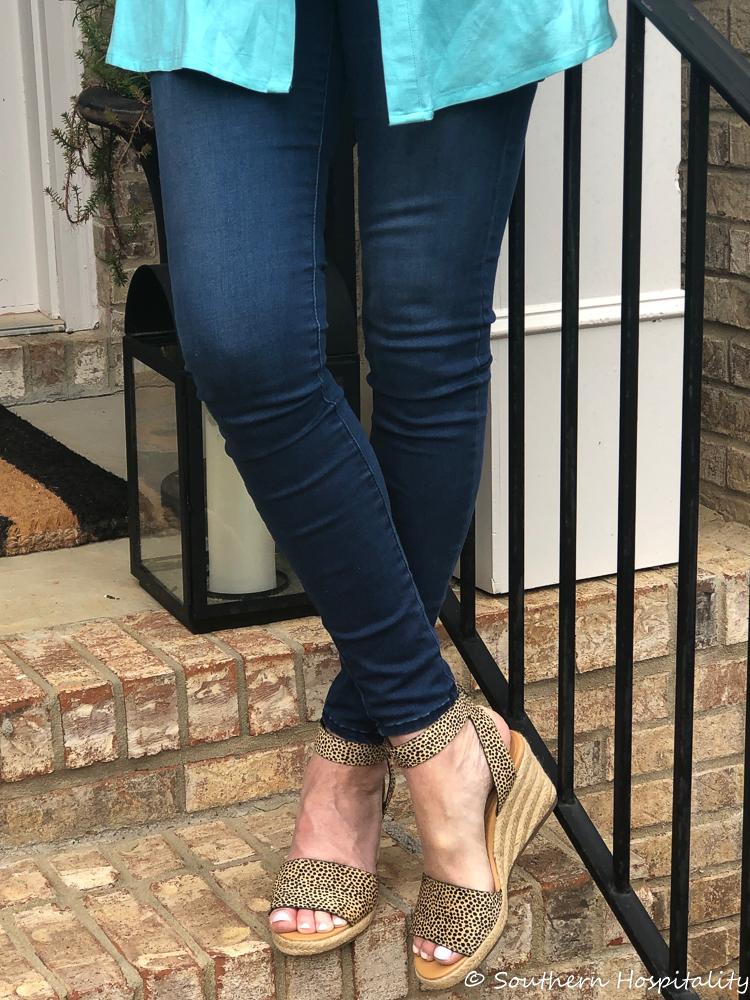 I shared them last week and now I've had a chance to wear them and they are going to be my favorite new shoes of the summer. I think they will go with everything.
So that's a casual jeans and linen shirt look with animal print wedge shoes. Another thing about these jeans is they are lighter weight for summer if you want to wear jeans but not put up with heavy and thick fabric. These are much more lightweight and better suited for summer.
Don't Miss a Post, join my list!