Fall is still not here yet in Georgia. It's back to the 90's this week with no end in sight and no rain in sight, but I'm holding out hope that the Fall temps will soon join us in spite of how the weather feels at the moment. I mean, October is just around the corner! Come on already Fall weather!
Just a disclaimer, when I put on these clothes to photograph, I was SO hot. It's entirely too hot to be wearing sweaters yet, but in case it's cooled off where you are, you might like this too.
I love long cardigans and have enjoyed having them in my wardrobe over the years. This one caught my eye when I was shopping in Target recently and it was a great deal at $30, so I bought it.
It's got a great nubby texture, I love that it's knee length and it has pockets. Always a plus!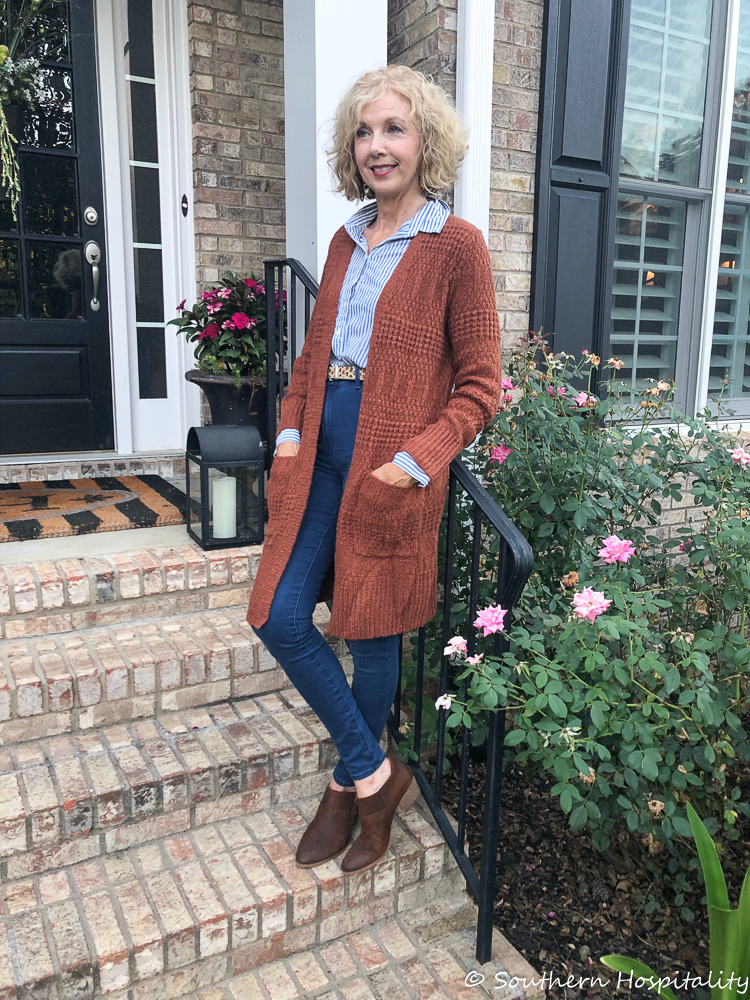 This rusty color is a good on for my complexion, so it will be a fun addition to mix with what I already have. The striped blue top is an old J Crew piece, very versatile for the seasons and classic.
With skinny jeans and booties, it's a winner of an outfit for a cooler Fall day (yes, one day please!).
I've had this leopard print belt for a long time too, but I'll link some similar. Jeans are from Mott and Bow.
That's a look at one new Fall cardigan I've picked up and thought you all might like it too. I'm linking it below as well as some similar things to what I'm wearing.
I love outfits like this and this rusty color is a perfect Autumn hue for mixing in your closet.
Here's the sweater linked below and some similar tops and booties: (affiliate links used):
Don't Miss a Post, join my list!