Since I started my Fashion over 50 posts, they have been really popular and recently I got a message from Debbie, another blogger friend I know who lives here in the Atlanta area.  She asked me if I'd go shopping with her and help her pick out some new spring fashions.  She said she is not good about getting outside her comfort zone and trying new things, so would I PLEASE go shopping with her.  I said, sure….let's go shopping!
I can't go shopping with everyone though, just sayin'! 🙂
We met up at TJ Maxx in Roswell for some retail therapy and had fun choosing some fun new spring clothes for Debbie to try on. I went around the store, looking in her size and chose several tops and pants for her to try on.
Debbie is a size 14 and she is well endowed (busty) as well.  Not a problem I've ever had to deal with (I wish!), but I know many of you do have to be aware of how tops fit you.  We went around the store picking out a few things from the rack and then headed to the dressing room.
We found 3 pair of pants that I thought would be great for mixing things up, in white, dark denim and dark gray jean.   Keep that in mind when you are shopping. If you have a basic wardrobe  of black, white and gray (and even khaki) you can mix so many things with these basic pants.
And I found several tops that could be mixed with the pants too.  We had fun in the dressing room taking pics and seeing what worked the best.  Debbie will be ready to tackle any summer event with these cute clothes!
I grabbed several pairs of shoes too for trying on with the outfits and she found 2 that she loved.  These white cropped pants were a winner and this v-striped top was too.  Debbie has plenty of jewelry and this will be a great outfit with the right jewelry.  She bought these tan wedge leather sandals  and so did I.  Loved them and they aren't too high!  Brand is Franco Sarto.  I would wear turquoise jewelry with this outfit and it will be just enough.
The next top is turquoise and white and it was a winner too.
Another pairing with the white cropped pants, this white and gray linen top is really cute too. Anything that comes over the hips definitely helps to slenderize, as long as it's not too tight. And these are not.
This black and white striped top is also a winner. There is just something about stripes that I love and black and white always draws me in.  I think this one looks great on Debbie and she loved it too.  With some black strappy wedges, this is a cute one! Again, adding jewelry or a lightweight scarf to all of these outfits will really take them up a notch.
This sleeveless blue and white top is also cute with the white pants.  She tried on the gold wedge shoes, but only got the tan and black ones. She can mix up all of these pieces for a lot of different outfits.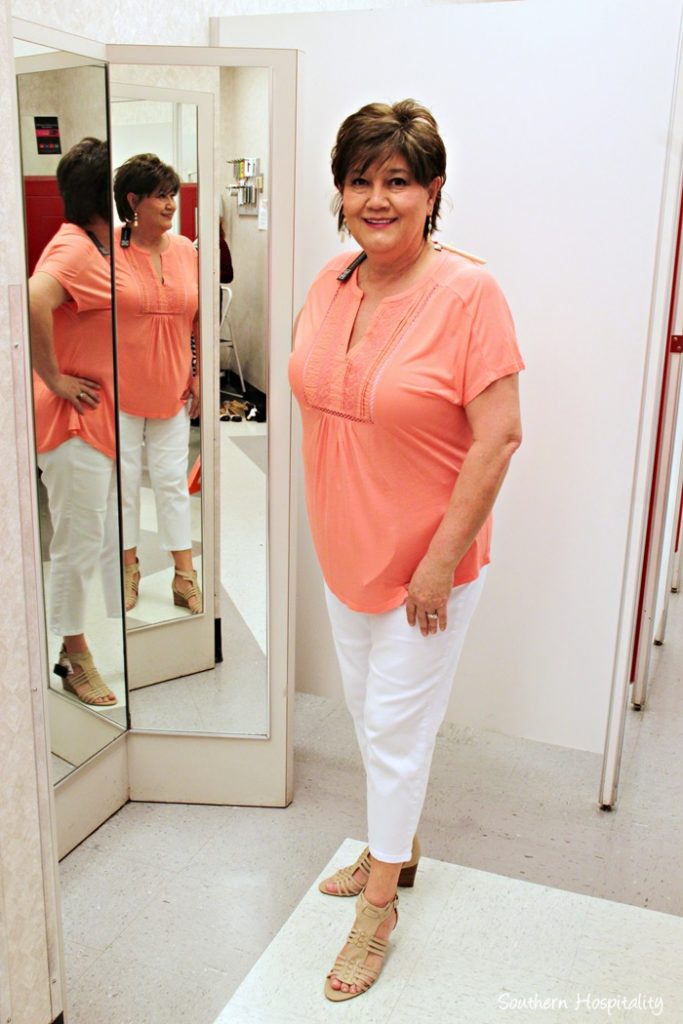 This coral top is a good color on Debbie and will look great for summer.  Notice the tan leather wedge shoes again, love them! Imagine this outfit with turquoise jewelry too.  Turquoise and coral are a great combo.
These are dark wash skinny jeans and Debbie loved these.  They look great on her and are definitely slenderizing.  The long white top flows over the hips for an elongated look.
Another sleeveless top in navy and white looks great with the dark wash jeans too. She can also wear this with the white pants. It skims the hips just right.
This pink blush linen type top is really cute too and Debbie loved it.  It can mix with white, dark denim and the gray pants.  Dress it up with some jewelry and she's ready for a night out.
I spotted this jacket right at the end of our shopping spree and had Debbie try it on. With dark gray straight leg jeans and the white top from above, it's a great looking casual outfit.  Looks great with the strappy black wedge shoes.
Debbie got all of these pieces for around $300 at TJ Maxx.  They really do have such great clothes and brands and I have shopped there for years.  I know I can count on them to have a variety of nice things and we really found some good things for Debbie to take home. She bought all of these pieces and she will have so much fun this spring and summer mixing them all up.
When you start trying on some new clothes that maybe you wouldn't have before, you can really look in the mirror and figure out if it's working or not.  We both determined that all of these were working and Debbie was a happy girl.  She and I are both going on a brand trip mid-April and I know I'll get to see some of these on her.  It was fun going shopping and helping her pick out some fresh new clothes!
So, don't be afraid to get out of your normal routine and try on some clothes that you might not normally look at.  Debbie wanted ME to pick things out and then she tried them all on and loved them.
Don't Miss a Post, join my list!