Hope you're having a good week! Today I'm joining a fabulous group of stylish over 50 ladies and we are sharing some spring outfits and ideas for you, so hope you will visit all of them, so read to the bottom of the post. I haven't been getting dressed everyday, there's not that much going on that we have to go to, so most of my days are spent in very casual workout clothing, going to the gym and riding bikes or walking.
This is a fave outfit recently, Chico's jeans, J Crew checked green shirt and a white jeans jacket from Amazon. I'll link everything that is still available.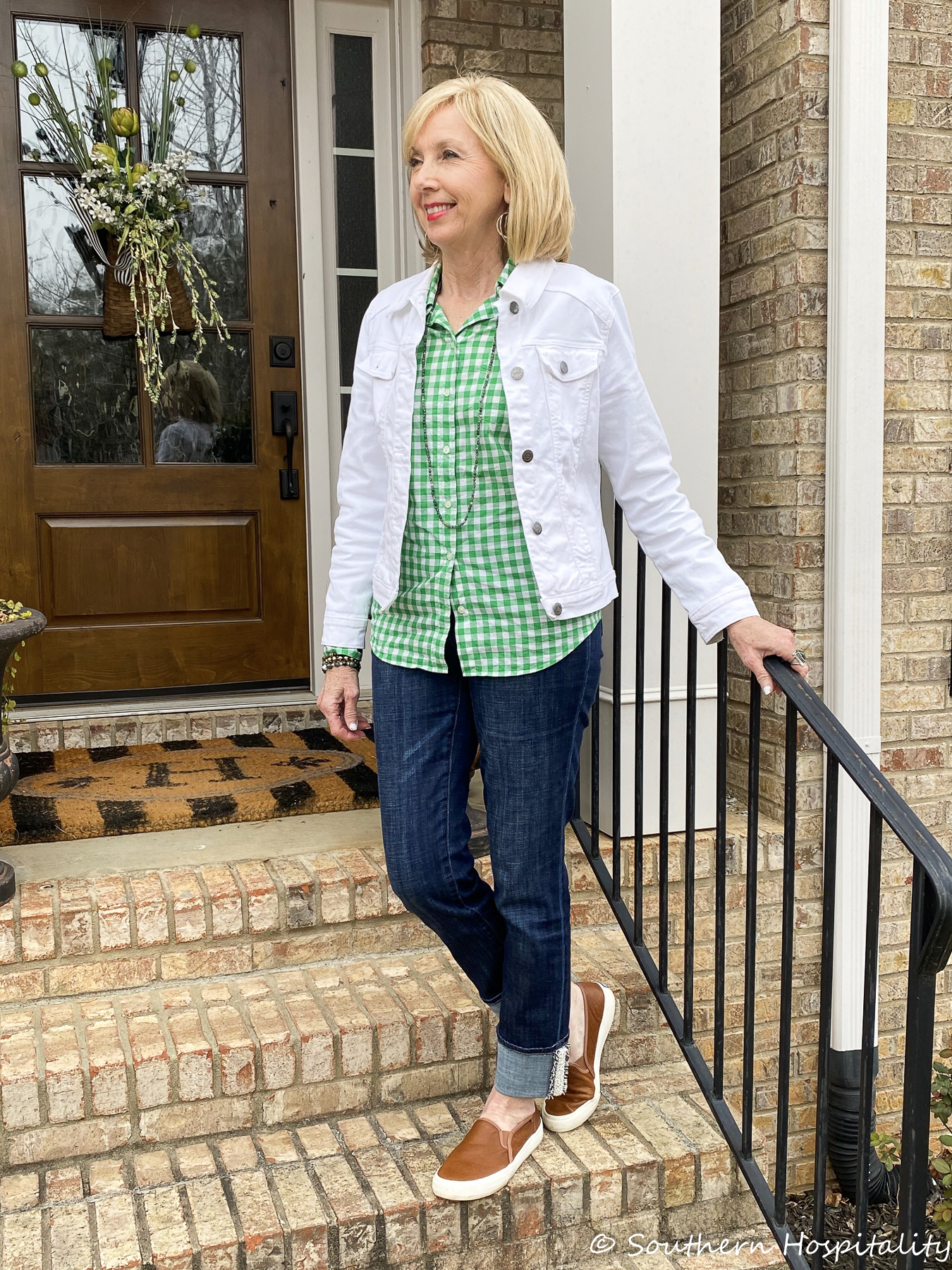 I love casual outfits like this that are smart looking, but comfy. These girlfriend jeans are very comfortable, not as form fitting as skinny jeans and I really like them. These have a decorative pearl detail on the hem.
Chico's recently sent me a couple of new things so I thought I'd share those as well. This crisp white tunic top is so cute and perfect for spring.
I also love these Chico's girlfriend jeans with that pretty pearl detail on the cuff.
I like the back of it too, easy fitting and comfy. These shoes I've had a couple of years but they are still available and I'll link them.
Chico's sent me the cutest raincoat perfect for spring. Isn't it adorable? And it has a hood too. I'll definitely be taking it with me when it rains. It's lightweight and so colorful. Perfect for April showers!
My little sidekick, Daisy, posing with me. You'll see her more, I promise. She's such a little doll and we are so glad to have her. She's definitely livened up our little family. She's sleeping all night, doing well and growing. She has the best personality!
You can find most everything I'm wearing below. The green checked shirt from J Crew is similar to the one I have on (affiliate links):
Soma has some good sales coming up too:
Bralettes: 4/1-4/6 $25 Bralettes + up to 50% off markdown prices. 
PJ Sets: 4/7 – 5/9 – $59 Cool Night & Cozy Sets
Panty Event: 4/9 – 4/12 – 5/$39 Vanishing Edge Panties (excludes $24+)
I'm joining a stylish group of ladies today for Fashion over 50 and I hope you'll check out all these gals for more style fun. There are so many fashion gals my age in blogging and Instagram now, so you can get so many ideas.
Again, don't miss all the ladies pictured above, I know you'll enjoy seeing their fresh spring inspiration for fashion over 50:
Don't Miss a Post, join my list!