Hello and welcome to another Fashion over 50. If you're new here today, visiting from some of my over 50 fashion friends, welcome! I blog about fashion once a week or so (and the rest of the time, it's a lot about decorating and home projects) and today I'm sharing a few dresses from Amazon that are tried and true. I hope you get some inspiration and be sure and visit my blog friends at the bottom for extra fashion inspiration. There are so many over 50 fashion bloggers now and it's fun to see how we all are different, but trying to look our best as we age gracefully. Isn't that what it's all about, trying our best to age gracefully? I'm definitely trying!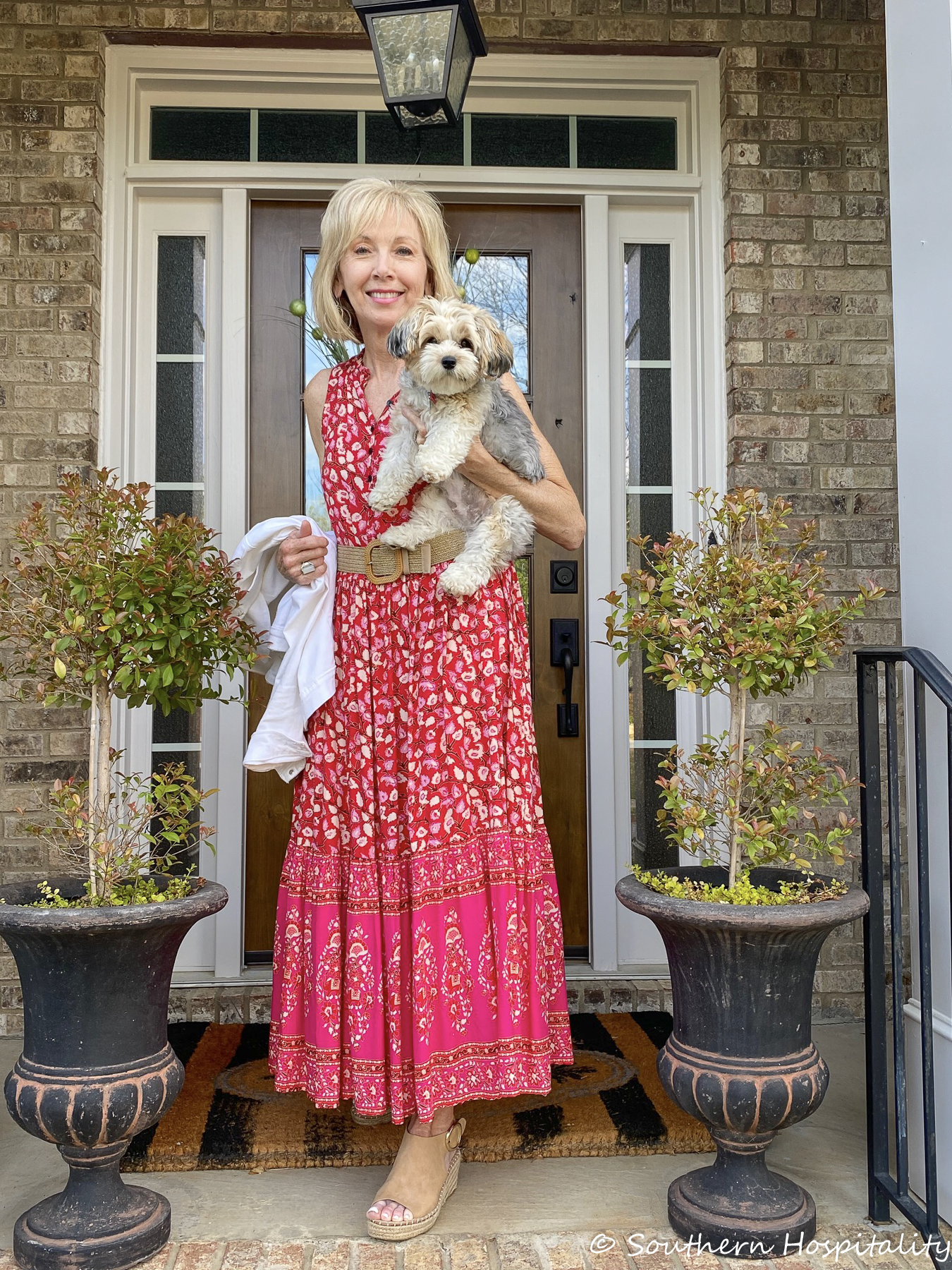 Today's dresses are repeats from last year's fashion, but they are still available on Amazon so I wanted to bring them out again and do a refresh. I've found a new belt I want to share with you!  Affiliate links used below. My sidekick, Daisy, came out on the porch to pose with me.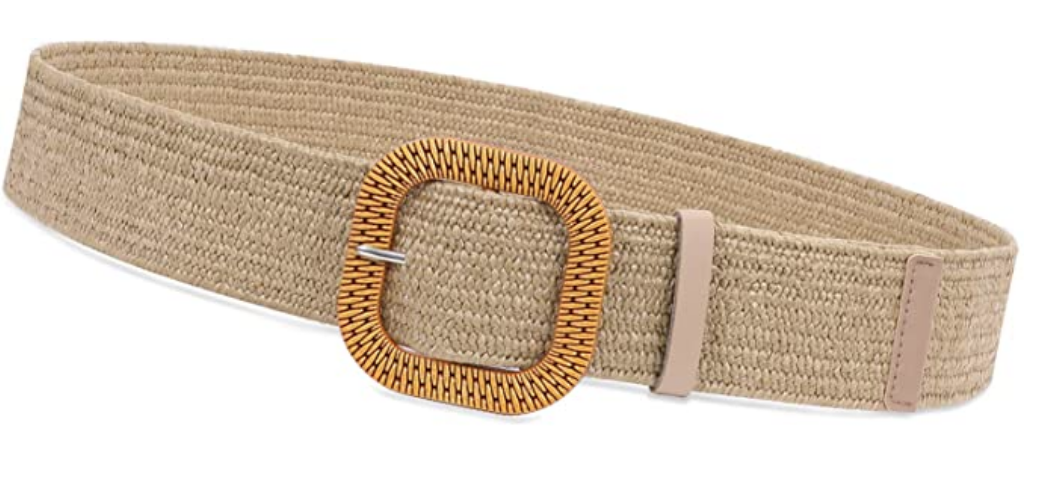 One of my other fashion friends, Cyndy Spivey, shared this cute stretch belt from Amazon awhile back and I went online and bought it right away. It's such a cute stretchy belt and can be worn with many things. She had paired it with this same dress I'm wearing, so my wheels were turning too.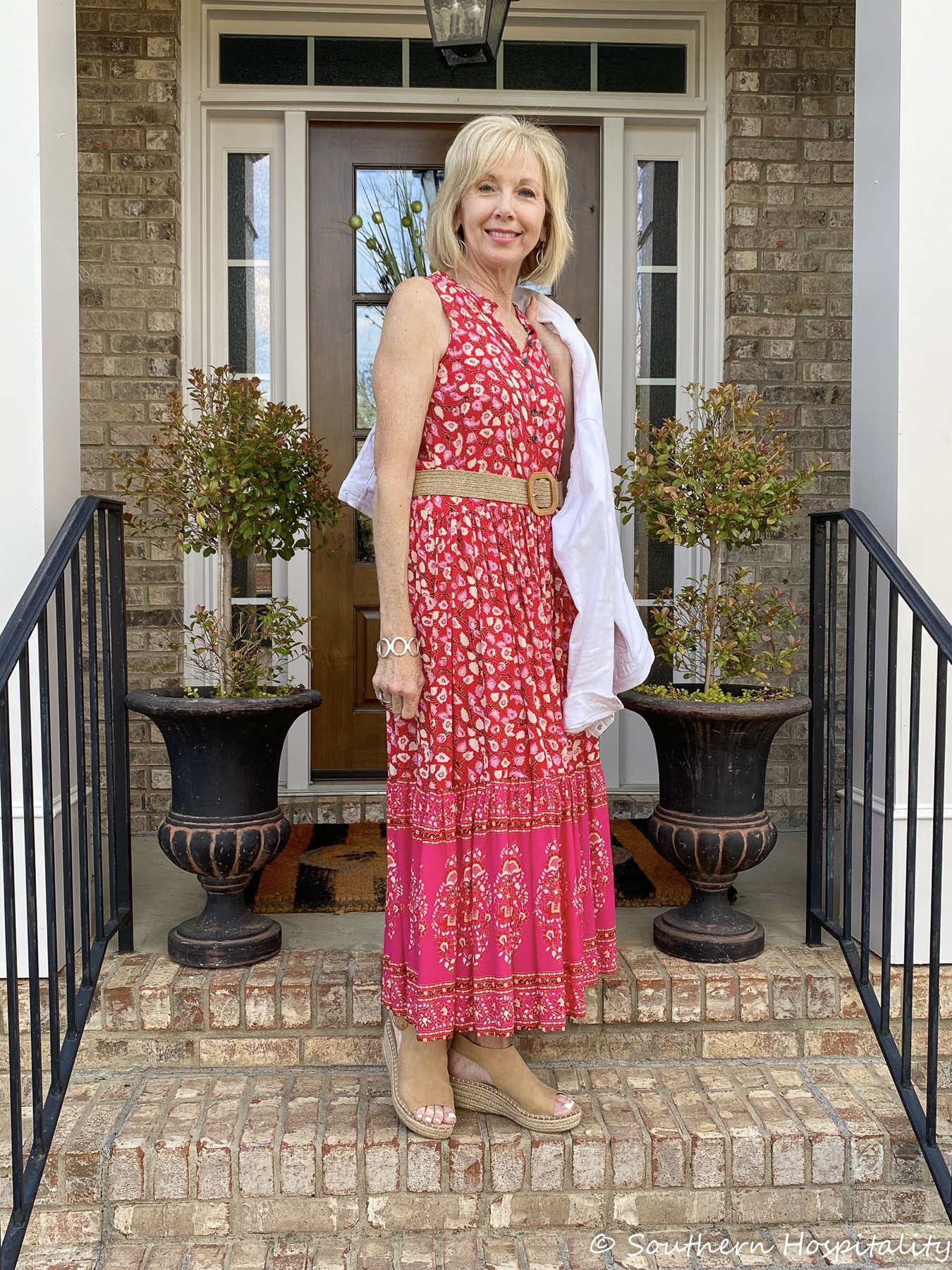 This dress is somewhat fitted in the waistline, but the stretchy belt helps to accent the waist even more. The best thing about this belt is that it doesn't have belt holes, you just put the prong through the belt where ever you want it to go and it goes right through the material with no problem. I got the size Medium.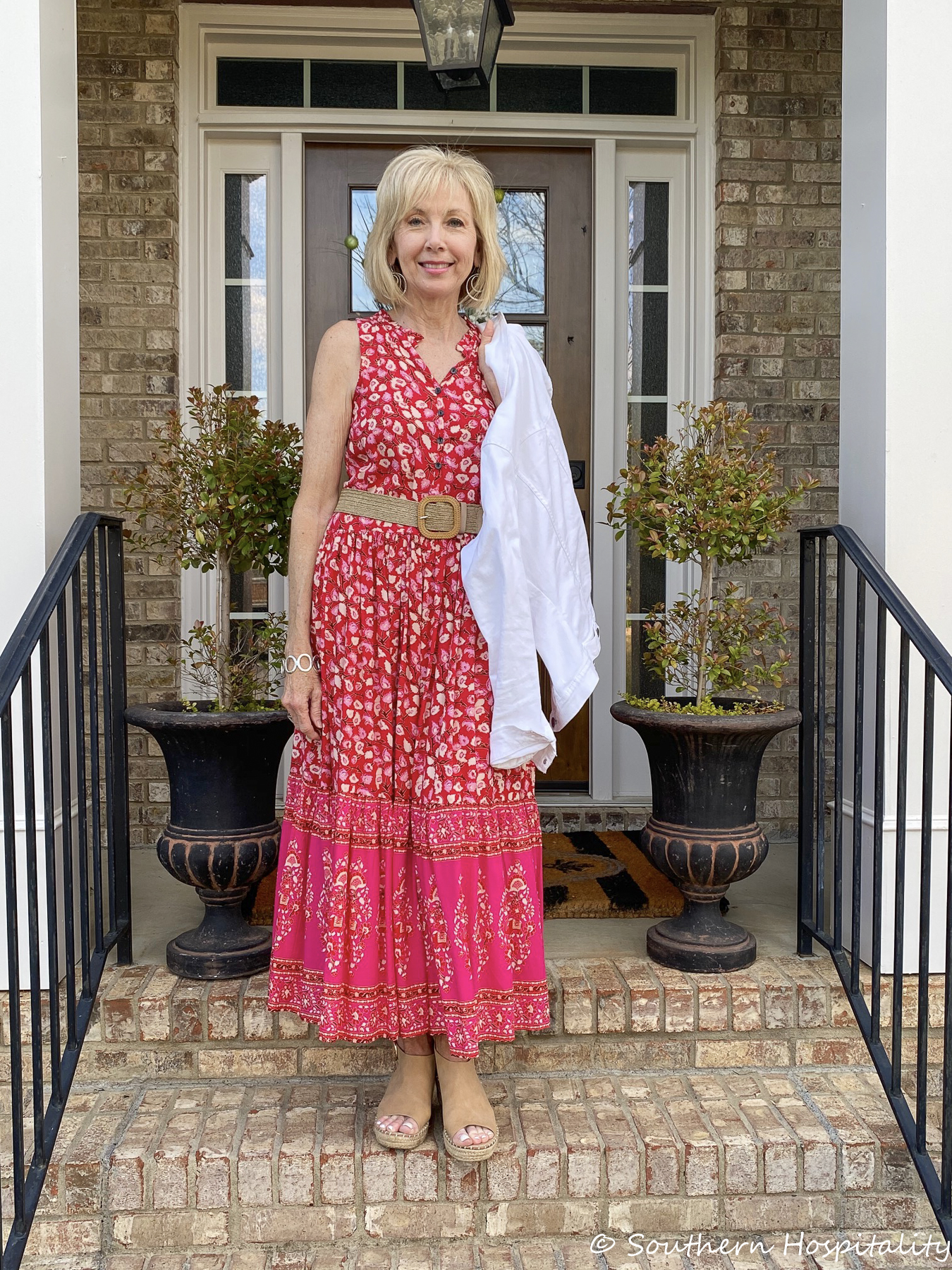 Of course, I also love that it's a rattan look and has that summer feel to it. I like to wear the red version of this dress during spring and summer and the gold color is perfect for fall.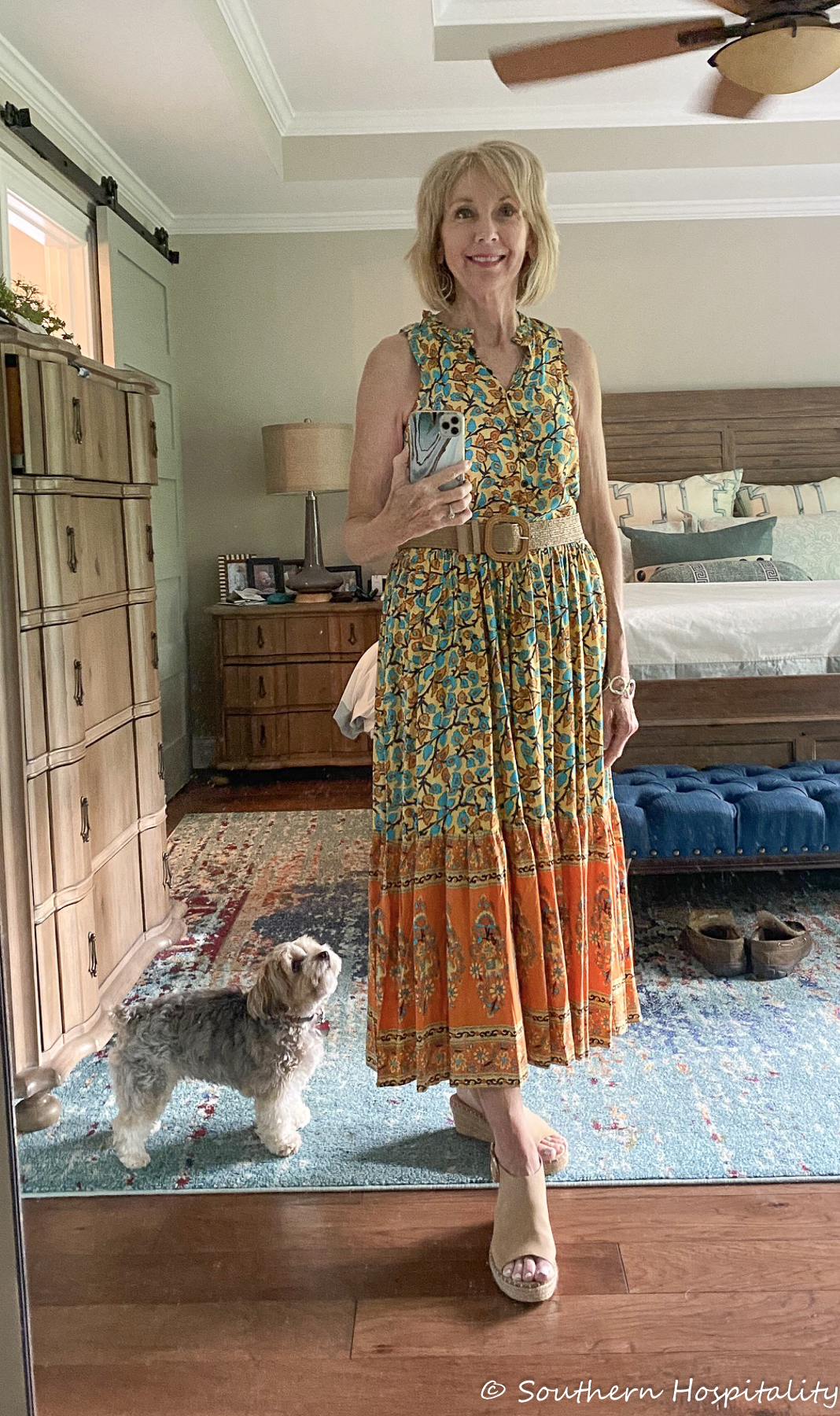 Here's that one too with shades of gold and turquoise. I love wearing turquoise jewelry with this one. It's so easy to add a jacket with these dresses for whatever occasion you have. I love a neutral wedge with both of them. This shoe is past season, so I can't link it anymore.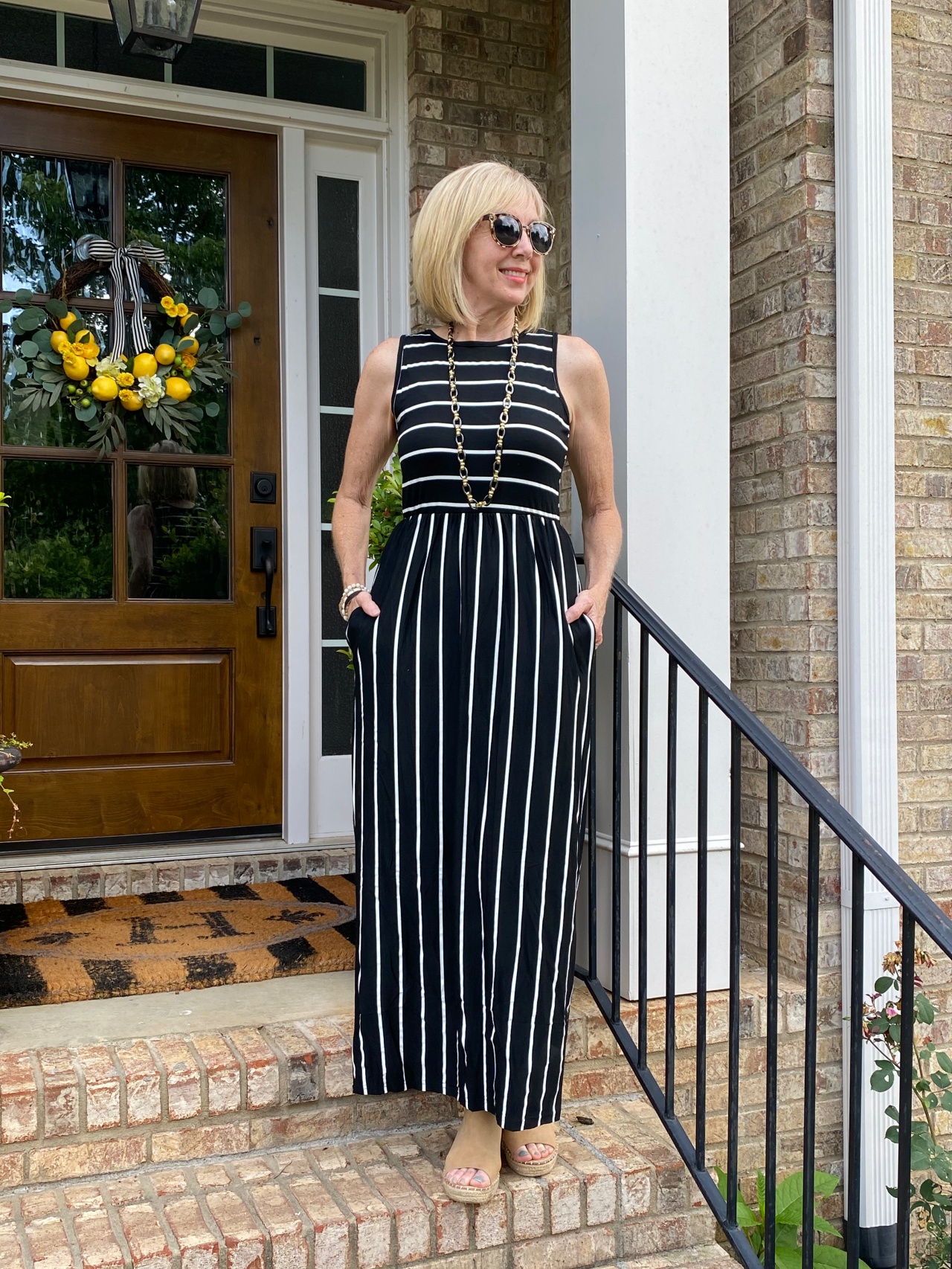 This black and white striped dress is also an Amazon find from last year, still available. I think I could also add the stretchy belt to this dress too if I chose to. It will be fun to play around with the belt and see what all I can do with it. I can see it with a long white top and jeans too.
For all 3 of the dresses, as well as the white jacket and belt, you can check out my Amazon fashion page for all of them! Thanks for stopping by and please visit my friends below. They are all such stylish ladies and i know you'll enjoy them.
Don't forget to visit my friends, they are all inspiring stylish fashion gals and you will enjoy them all!
Don't Miss a Post, join my list!