Hey, friends, this time of year is about staying cool in this hot Georgia heat.  The temps are way up and the humidity is even higher, making it feel like you're just going to melt out there. So, my solution is to dress casually yet comfortably cool.  I tend to wear my white jeans a lot during summer even though they can be a little bit hot, Mark and I had a date night out to one of our favorite Thai/sushi places last weekend, Thai Coon, on the Marietta Square and I wore this light casual top I got from thredUP (affiliate link) recently.
This is a very lightweight and sheer top from DKNY I found on there and it was sheer enough I layred it over a spandex white camisole.
It's in a pretty coral and white print and I liked the pattern. And it's longer in the back than the front.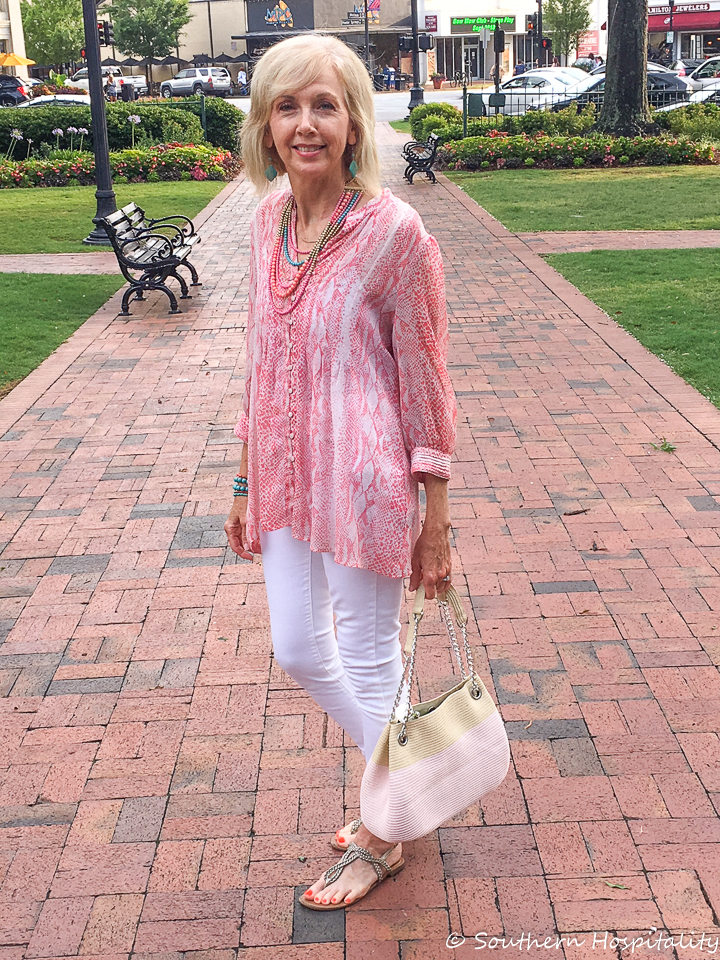 I just added my gold sandals from Target that I've had for awhile and a new purse I found at TJ Maxx recently.
Turquoise goes so well with coral and I tend to mix those up a lot.
I have plenty of turquoise and coral jewelry and they add a lot to an outfit.
My hair is definitely feeling the humdity that summer brings, although I had just gotten a keratin treatment that day and it had just rained. We will see if it helps in the long run, it's been a couple of years since I've gotten one and they usually help with the frizzies and limp hair.  But with the humidity we have here in Georgia, it's hard to combat that.  I'm hoping this keratin treatment helps more!
That's it for today, hope you have a great week!
I did find a couple of new things I wanted to share with y'all.  I tried out a new bra that I really love. Found it at Walmart and the brand is Warner's, Blissfull Benefits.  I was so tired of underwire bras and determined to find something that wasn't so hot and binding for summer.  This one is very stretchy and has lots of spandex and no underwire.  If you are big chested, this might not be the bra for you, but for me (not big), it works great.  I'm linking it below if you're interested!
I also tried out a fiber mascara by Loreal that I like so I'm linking it too, Voluminous Superstar. Made my lashes much longer than normal, it has a primer on one end and mascara on the other end.  Just be careful on the bottom lashes, because I got a little raccoon eyes going on under my eyes after wearing it for a few hours.  It might be the heat!
Loft has a great 40% off everything sale right now and I've added a few things from there that caught my eye:

SaveSave
SaveSave
SaveSave
Don't Miss a Post, join my list!