Hey, friends!  You all sure left some sweet comments yesterday on the garden post. I told dad that he has fans all over the country and he still can hardly believe that so many people like seeing what he's up to in the garden and seeing pictures of them.  But, I read him some of your comments along the way and it makes him smile, so thanks for that!
Today's Fashion over 50 is all about the maxi dress. During summer months when it gets so hot here, a maxi dress feels so cool and comfortable when nothing else will do.  I like shorts, but shorts aren't appropriate for all occasions, so I find myself gravitating more and more to maxi dresses in the summer.
I've shared this one before briefly last year, but got it out again to wear, so it's worth sharing again.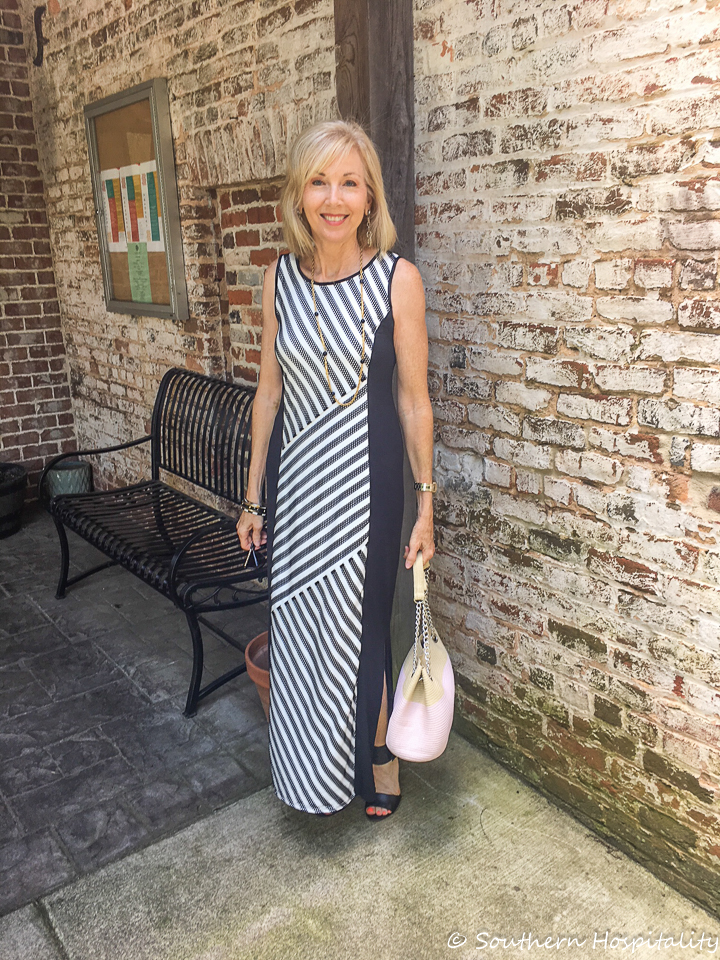 This is a Chico's dress that I got last year at thredUP (affiliate link), the online consigment shop. I have found so many great things there and of course, this was a fraction of retail.
The purse is a recent find from TJ Maxx, great for summer.
I love this black and white pattern and the fabric is a jersey knit, very comfortable and forgiving. It's actually 2 layers of fabric, but very cool for summer. Wish I could link it for you!
There are slits on both sides, which makes it easy to walk in. I just love these longer dresses for summer. You can wear them with heels or weges or with flats/sandals.  These shoes I have had for a couple of summers from Sam Edelman, they're called Susanna, but they are no longer available.
I try to find similar things when I share, but these shoes are 2 seasons ago and I don't replace my shoes every year, as I'm sure you don't either. My shoes last me for several seasons and there's no need to buy new ones all the time.
I will be sporting maxi dresses more this year, so I'm sure you'll be seeing more.  How about you, do you like maxi dresses too?
I checked out some maxi dresses online and found a few that look like a great deal.
Eddie Bauer (affiliate link) has several on sale that look really cute!
And here are a few more similar items, also affiliate links:

Don't Miss a Post, join my list!