Happy Wednesday and Fashion over 50 day! I haven't mentioned what I'm up to this week, but I've been on a media trip to Athens, GA since Monday and also am attending a travel show here in Atlanta the rest of the week. Mark and I are going to be traveling more once he retires, so I'm getting more involved in the travel industry as a blogger. I'll be sharing everything I saw and did in Athens and when we travel in the future, of course I'll be taking you all with me too. Travel is something I am very passionate about and we hope to do more of it in the future!
I recently saw a dress that just grabbed me and I had to check it out. My new friend, Tania who I recently introduced to you, with 50 is Not Old, shared this dress on her blog and I clicked over to Loft and decided to buy it on the spot! It's a great summer dress and is on sale too. You can see the dress on her at the link above.
I ordered it in my usual size 6, but then had to return it and size down to a 4, so I'm not sure how it will fit on others, whether or not to buy your regular size. Tania said she bought her regular size. I do not have a big bust, so if you do, your regular size will probably work.
It's all cotton and perfect for summer. You could dress it up or down and we were going out to dinner, so I just wore it with my casual Guess white flats.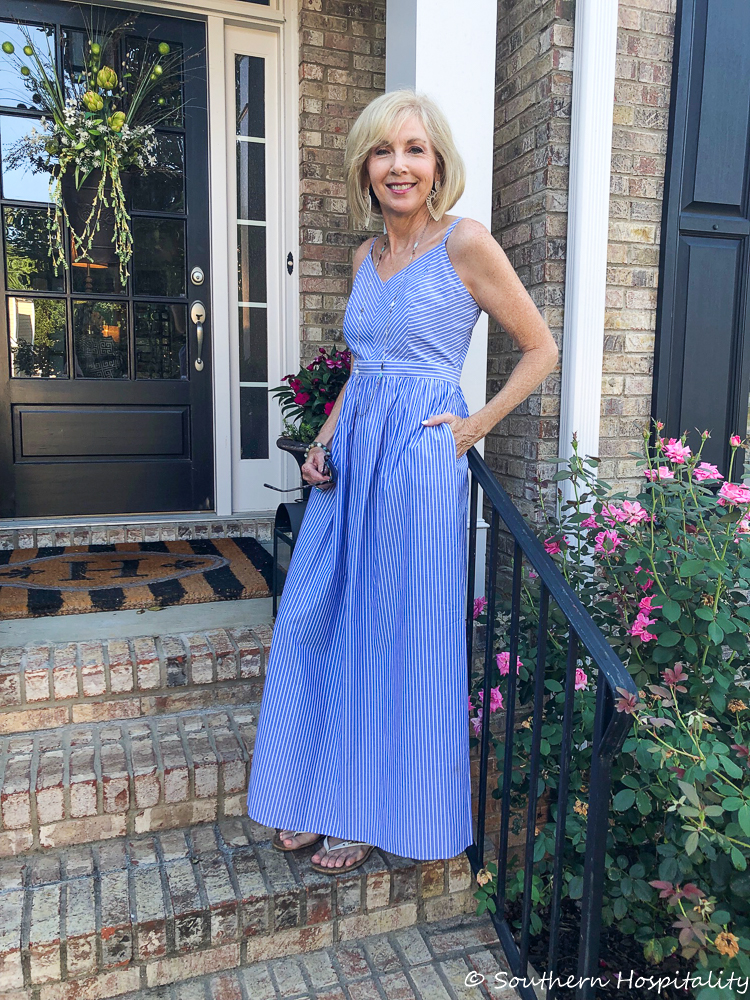 I'm wearing a strapless bra with it. The dress has adjustable straps which is great because you can get it to fit better by adjusting those. It's cut straight across in the back so not too bare and is cut high under the arms.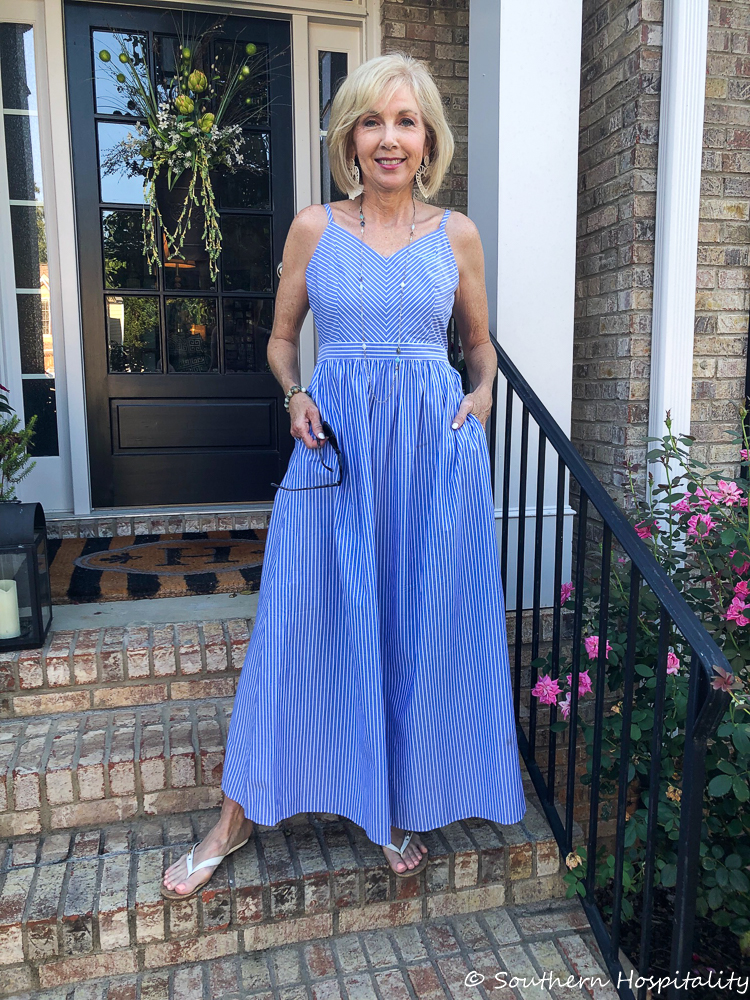 It's slightly high waisted on me which I think is flattering and the pleats cover any tummy issues. It zips up the back and I love that it has pockets.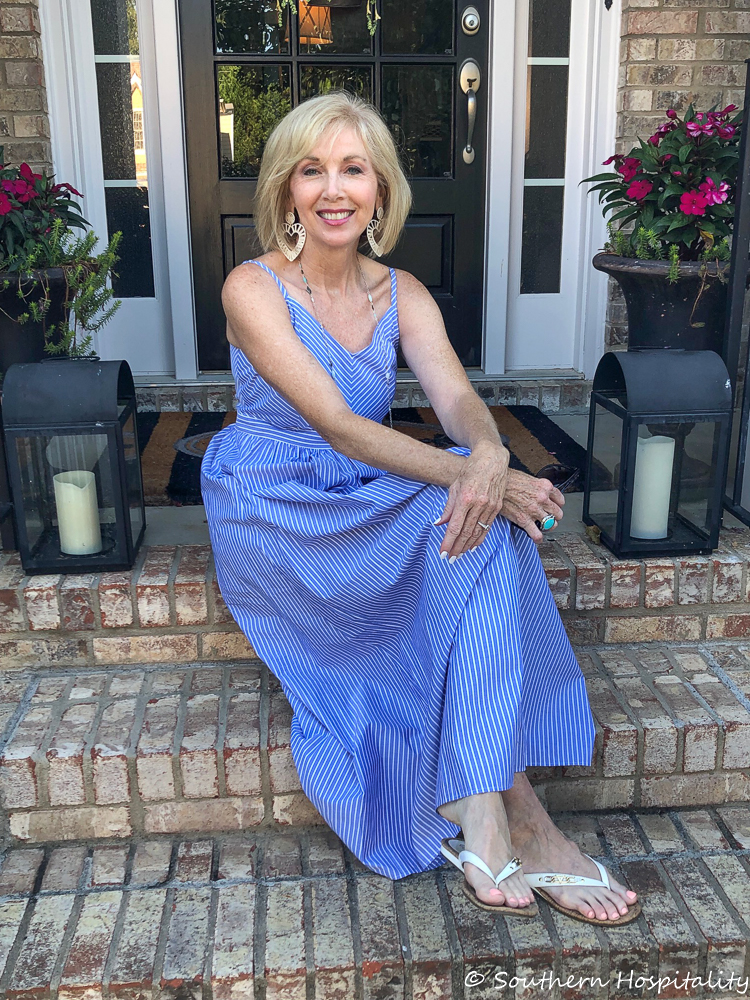 I know I'll get a lot of use out of this dress and it's on summer clearance right now so a good time to pick up things for end of summer and next year.
I'm wearing the Love Story necklace I got last year from James Avery. It's such a pretty piece! That link is all about how Mark and I met and our love story, so check it out if you haven't read it.
I wanted to show you these new earrings I got too. This is a new to me online shop that I saw on Instagram, Sea Marie Designs (affiliate link) and I loved what they had so much, I reached out and asked them if they would send me a few things to style in my Fashion over 50 posts. I chose these earrings and a few other things that I'll be sharing later, but check them out in the link above.
For 15% off, use code southernhospitality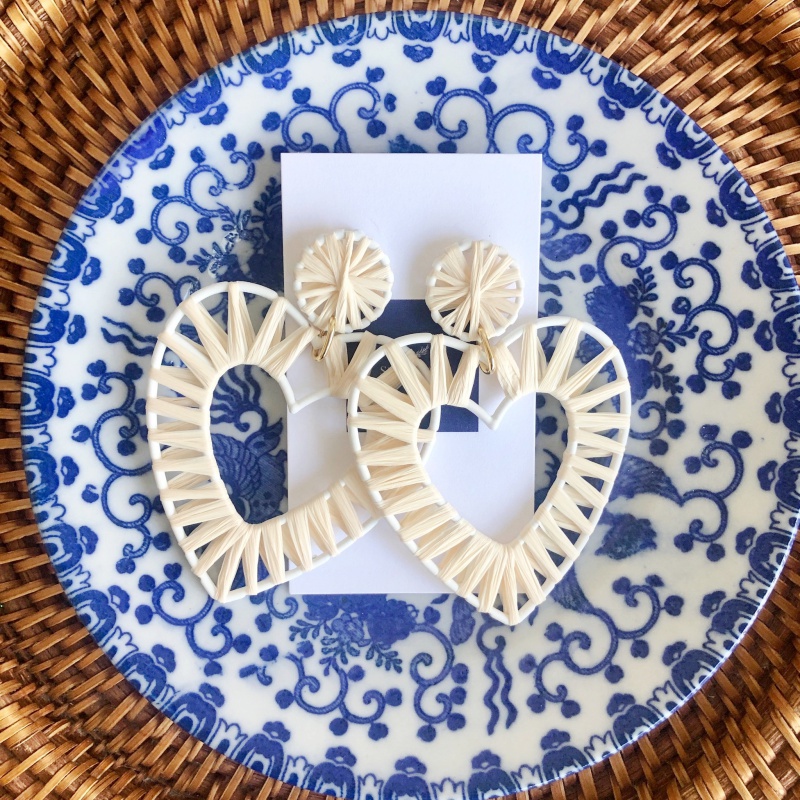 I love everything in their shop and got a couple of headbands I'll be showing you too. With my curly hair, I think they will be perfect. They aren't paying me, just sent me a few things to try out for myself and of course, I want to share with you all!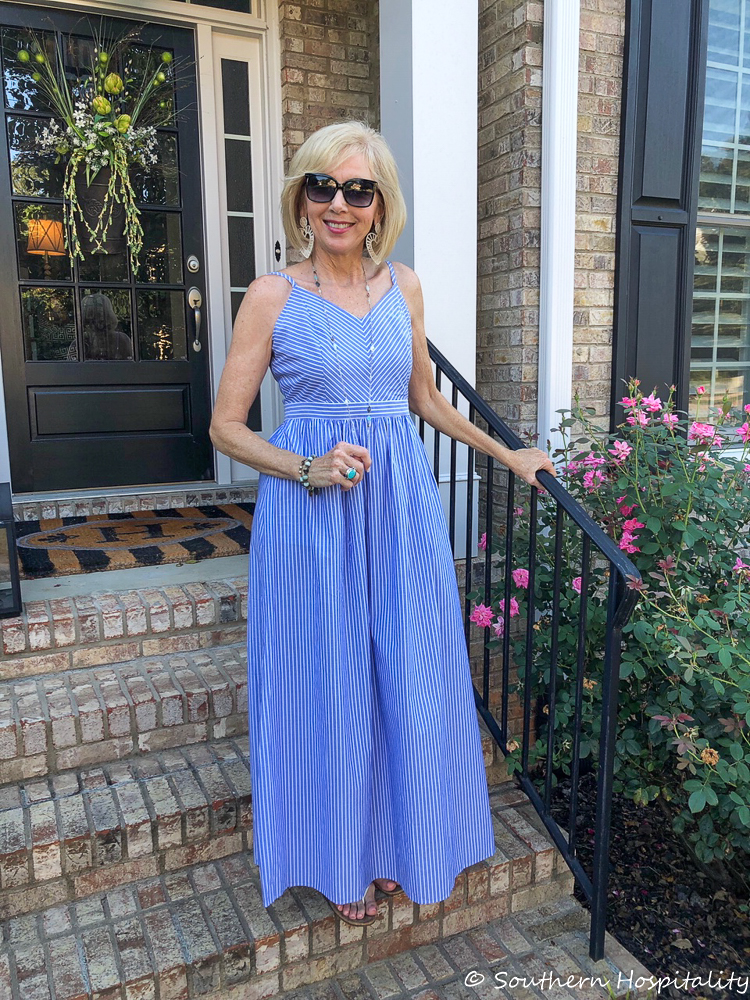 I will definitely be wearing this dress until it gets cooler. Mark and I are going to St. Simons Island next month and this dress will be perfect for that.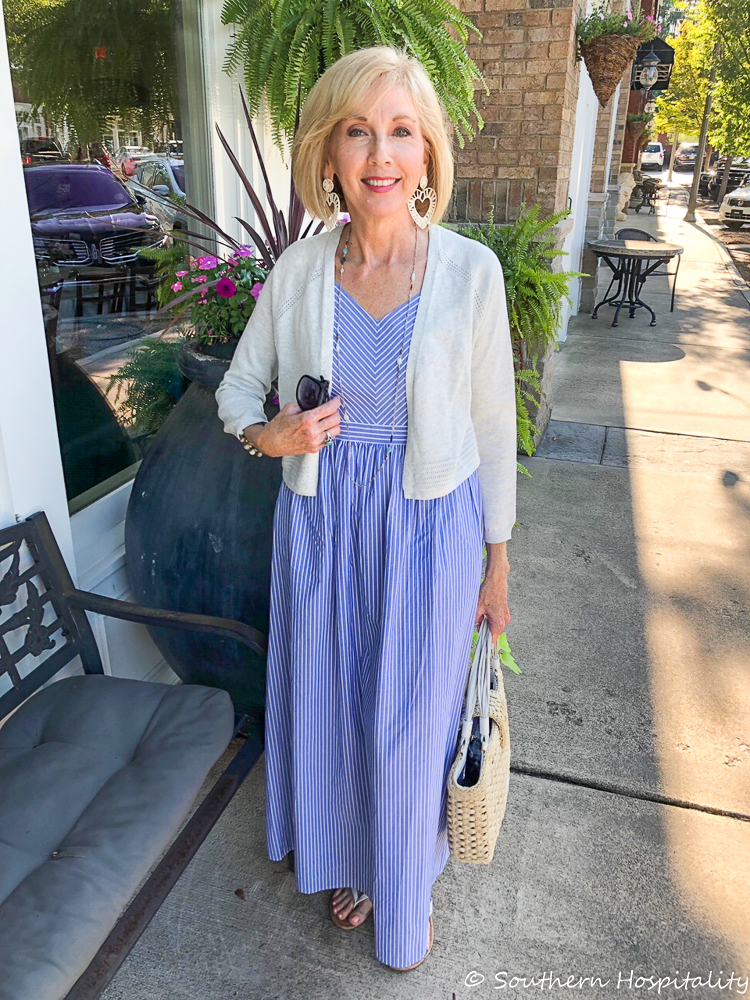 I also picked up this little shrug sweater to wear in the air conditioning. Sometimes restaurants are so cold and I needed a neutral little sweater to have around. This one is on clearance and comes in a few colors. It's sort of a gray/white blend.
That's it for today! I love this dress and hope you enjoyed this end of summer maxi dress. I'm so glad I picked it up on sale and it will be fun for next year too.
Here are links to what I'm wearing (affiliate links used) and similar flats:

Don't Miss a Post, join my list!