Happy Wednesday friends! It's another Fashion over 50 day and this outfit is end of summer white jeans and a colorful tunic top that I haven't shared with you before. This is the time of year when the weather starts changing now that September is here. I'll be thinking about Fall outfits in another month or so, but September is still very warm for us here in Georgia and this year the temps are still in the 90's! Way too hot for me, but hopefully it will start cooling down soon.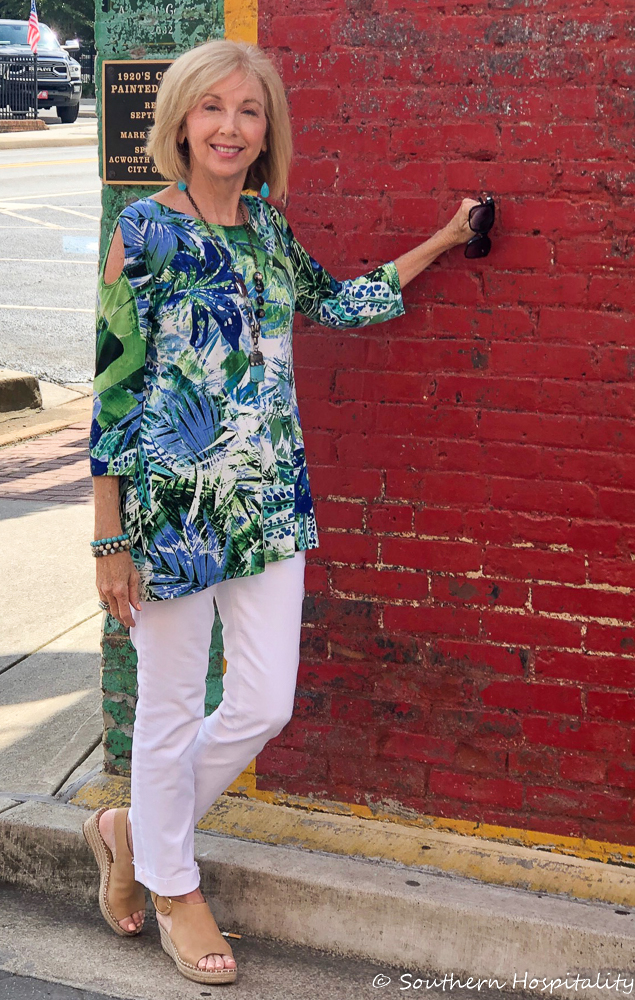 I picked up this tunic top in LA when I was down there in Spring visiting Lauren with my sister. We went to Covington and shopped at a place that we had been to before and we both bought this tunic. It's a knit fabric and easy wash and wear. The brand is Caribe Fashion and it has a slight cold shoulder, but not a big one.
I love easy flowing tops like this and of course, the colors drew me in with their beautiful blue and green hues.
These jeans I haven't shared yet either, but they are slim cut but not quite skinny jeans from Old Navy, called Power Straight. They are long so I turned up the raw edge hem and they are high waisted and fitted through the thighs, but not as tight on the bottom half. I have enjoyed these a lot as sometimes my other white skinny jeans from Old Navy are just too skinny and feel restricting.
This green brick wall downtown Acworth was the perfect backdrop for this top. I'll share the jewelry I'm wearing at the bottom of the post.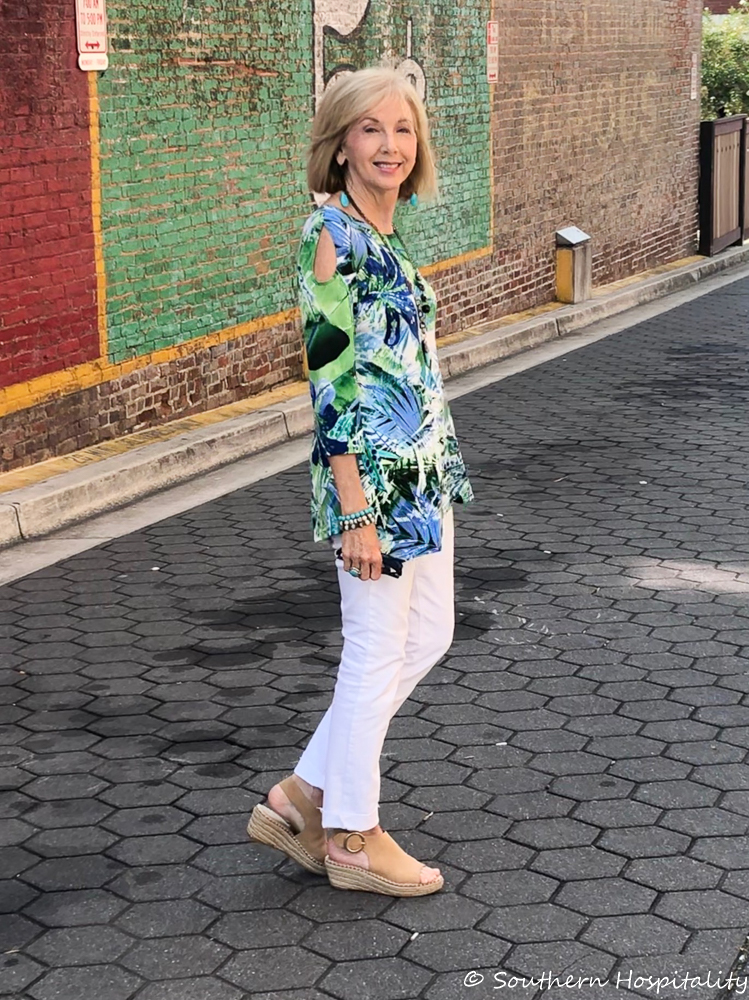 The tunic top is slightly longer in the back. I'm still loving these wedge shoes I shared awhile back. So comfortable and this color goes with everything.
I have a lot of turquoise shades in my jewelry stash and this necklace I found in Austin, TX last year and the bead stack bracelets are from all different sources. Blue earrings are from a local source, but I can't remember the name.
If you're interested in the jeans and shoes, I've linked them here (affiliate links used):

Here are a few tunics I found on Amazon by this same Caribe Fashion brand that you might like. I found a lot of them on Amazon. These knit fabrics are so easy to wear and wash up great!
Don't Miss a Post, join my list!