Welcome to Wednesday! I hope you all are enjoying this Christmas holiday season and not getting too stressed out.   I sure am enjoying things this year.
I have shared sweater dresses before and plenty of boots, but this is a little updated take on some of my sweater dress outfits, one that you've seen before.  Now that I have brown boots, black boots, and gray/taupe suede boots, it's fun to mix up outfits and make them feel new.
This is a sweater dress you haven't seen before. I think I got it at Ross a couple years ago and I like the color and stripes.
It's fitted and looks nice with black tights and black heeled boots, so I got out the heels for this outfit. These boots I have had a few years and they have heels, but they aren't too high.  The brand is BOC, Born Concept.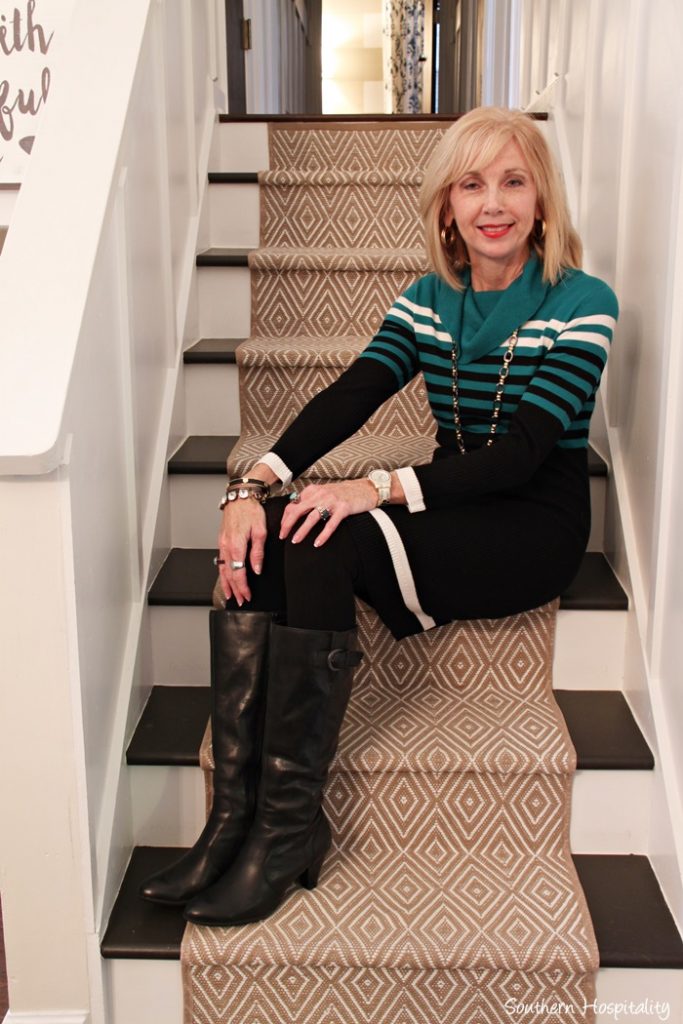 I added a few pieces of my gold jewelry and was ready for a Christmas party.
It was a little chilly out, so I went with my black and white houndstooth cape to keep the chill off.
Houndstooth black/white cape (affiliate link)
You've all seen this one before, but I love the gray/white houndstooth tunic dress (from C Wonder, out of business now) with gray tights and my gray/taupe boots.   Boots are no longer available.
A scarf finishes it off.
And for taking the chill off, this ruffled long sweater is perfect.  You've seen this before too, it's a piece I got at the Atlanta Mart earlier this year in the sample sales.
If you're still looking for some gift ideas, I'm still loving my Jord watch, which goes with so many things.
Here are some nice jewelry pieces that I thought would be great gift ideas for those women in your life:

Don't Miss a Post, join my list!