Alert the media! I got dressed and put on makeup! It actually felt good to put on some makeup, semi fix my hair and put on a pretty dress. It's been awhile and I can't wait to get back to looking cuter again. When we don't have anyplace to go except the grocery store and Home Depot, it makes us just a little slack on what we wear, doesn't it?
One of my friends, Jill, posted this dress on Instagram a few days ago from Target, so I immediately went online and looked it up. It's their Knox Rose brand and I thought it was so cute and it's on sale so I promptly bought it online for pickup at my local store the next day. I didn't even try it on until I got home and I just think it's so cute.
It would be a great 4th of July dress with the colors, but the floral is very happy and I like the way it's cut too. The banding around the bottom is flattering and I love the midi length, perfect on me. I don't like to show a lot of leg these days.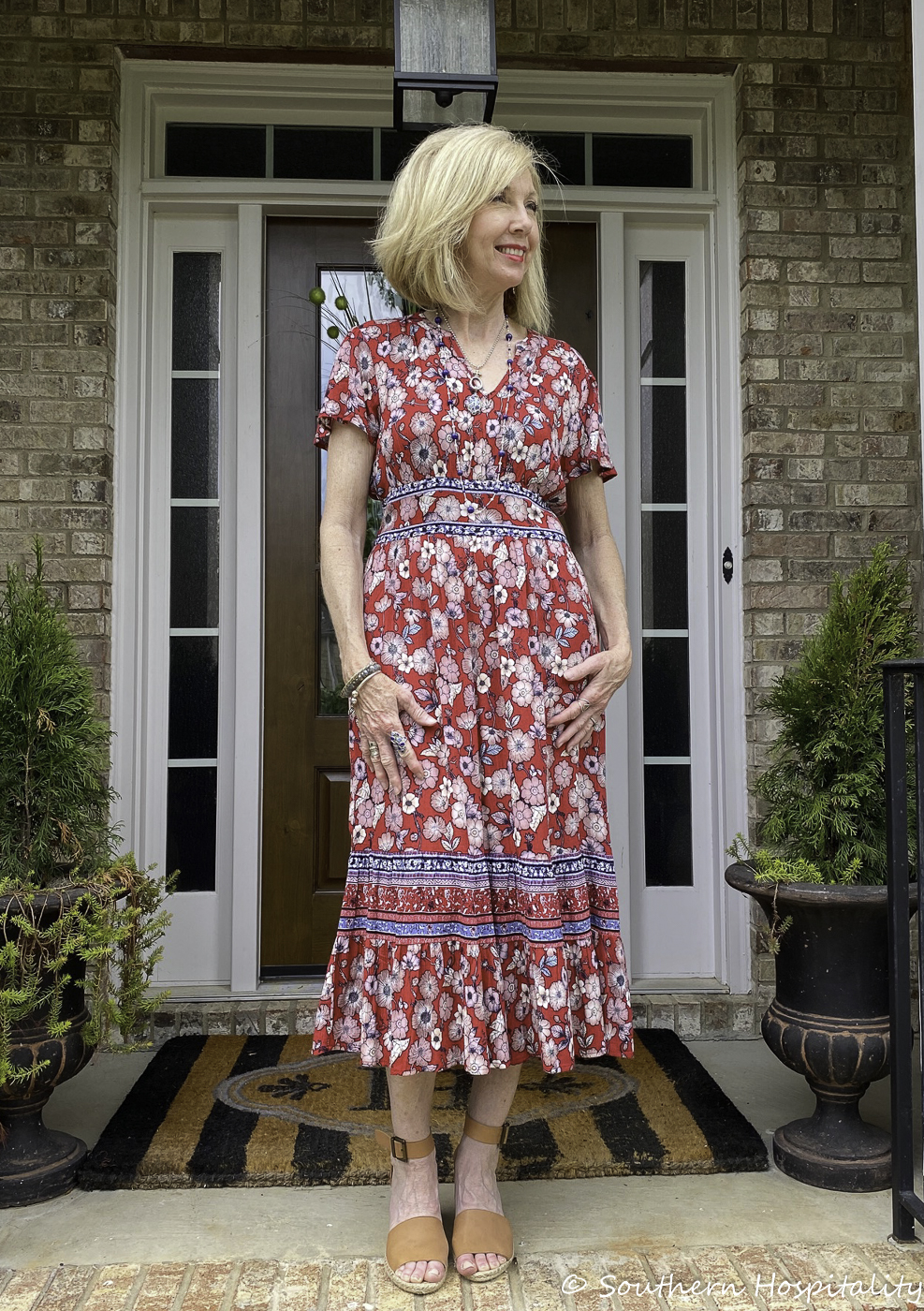 I like that it has a waistline and the bands accent that too. Very flattering, I think with a little slightly flutter sleeve.
Closer look at the pattern and jewelry.
I also got a new lipstick recently. One of my online friends posted about her new Mac lipstick that she bought called Sweet Sakura.  It's in the red family and I had been wanting a new red lipstick so I did the online try on session they offer at Mac and decided this color would work for me and my coloring. It's not too bright red, but a fresh look for summer with my coral reds. Here's a link to that if you want to check it out and go to Mac.com to virtual try on their lipsticks on your computer. It really did help. I found the best price at Belk, so ordered online.

Target has some really cute dresses right now and this one and several others are on sale for $27.99, so I was happy to find a cute floral summer midi dress for this price. It will be fun for summer! I can wear it with flat sandals too and a jeans jacket for a casual look. I'm wearing my Grace & Heart jewelry with the dress, so let me know if you're interested in shopping these pieces.
Here's a link to my Grace and Heart shopping page! Click the catalog to shop and let me know if you have questions. 
Here is the dress with other links as well as the sneakers below (affiliate links used). Just click the pics to shop!  

Also, I wanted to share these great no-show socks with you today! Sheec reached out to me and sent me several of their no-show socks to try out and I have to tell you, they are great. I'm not getting paid to say that, but this is an affiliate link that I'm sharing in case you want to try them too.
You can get 15% off by using the code SH15 on any orders you place (one time use only, so stock up if you want to try a few). I think you'll love them too!
The only pair from Sheec I have worn out of the house are these Active X socks and they work great with my tennis shoes that I want to wear socks with. The fabric is soft (made from modal, nylon & elastane), they have a silicone grip on the heel that keeps them in place. I have others that have that but don't always stay in place. These have been perfect with my sneakers!
From the side, these are Active X Mid Cut No-Show socks.
And here they are with my leopard sneakers. You can hardly see them peeking out. They come in other colors too like this khaki shade.
I'm super impressed with the way they feel on my feet and the fact that they stay in place is great.
Sheec sent me several other pair to try out and I can't wait to see how they work with different styles of shoes. The dressy no-shows come in low-cut, mid-cut, and high-cut. This fabric is a little different than the Active X pair I showed you, but still very soft and comfortable (Cotton, Nylon, Polyester Spandex Blend). These are more for dressy shoes.
They have so many speciality type socks like these ball of foot cushions.
Ultra low liners.
I wouldn't tell you I love them if I didn't and I really do love them. They aren't inexpensive but if you've tried other brands that didn't really work, I think you'll be pleased with these. They have something for every shoe in your close, so check out the Sheec socks women's collection. 
That's it for today's Fashion over 50, so thanks for stopping by!
Don't Miss a Post, join my list!