You all seemed to really like when I went to Target last time and shared a few things that I saw in new clothing. Spring is out now and there are lots of new items out there, so I stopped by my local Target to see what they had. I found a few things I could recommend if you're looking for a few inexpensive things this spring and summer.
First let's start with a couple of outfits from my closet I wore over the weekend.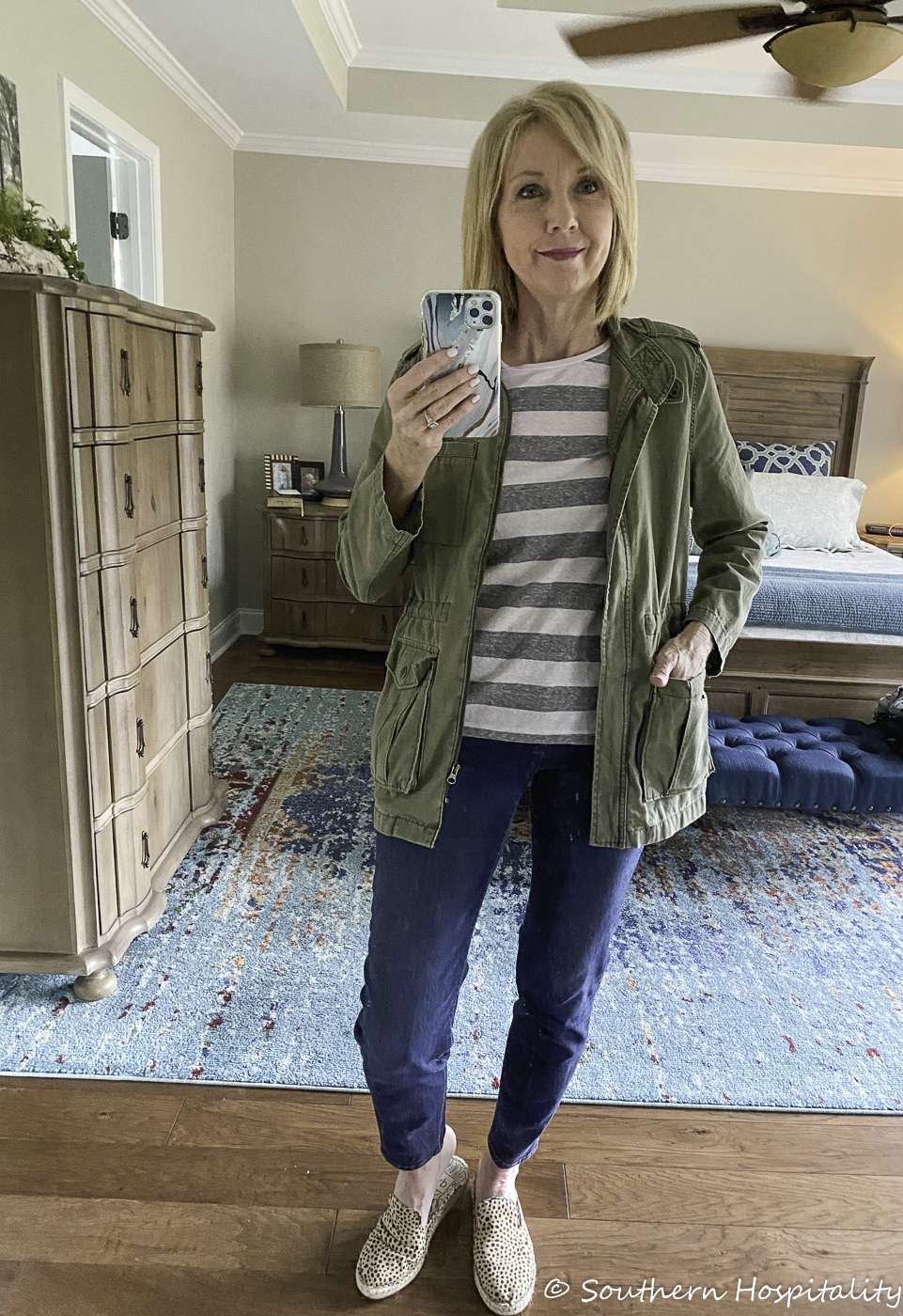 These are all pieces I've had awhile, jeans from Kut from the Kloth, t-shirt from Target, jacket is at least 2 years old. These shoes are from Target and I still love them. They have another version out this year that are very similar to these, so check them out below.
And I found a new pair of leopard sneakers that I couldn't resist, the brand is Blowfish and they are linked below too. I wore them for an outing over the weekend for St. Patricks Day and this green top from Covered Perfectly was a perfect green for the holiday.  Looks like the green is no longer available but there are several colors. I have several colors in this top and it's a great layering piece.
Now let's get to the Target items.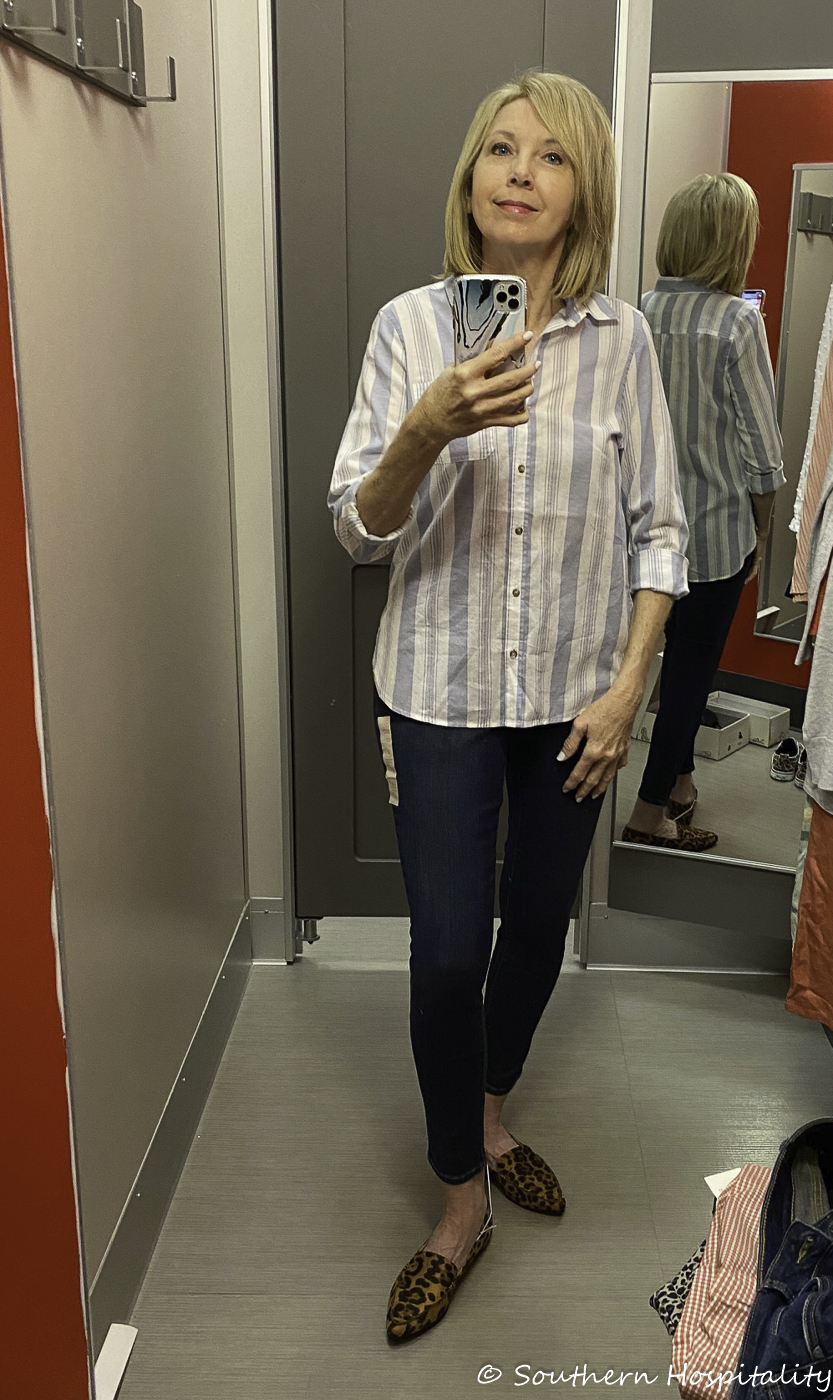 I picked up a pair of Universal Threads Jeggings to try on with the tops and they are a good buy for the money. The leopard shoes are also from Target. This blue and white striped top is a good one for a casual look. It comes in pink and blue.
One of my favorite pieces is this black and white linen blend jacket. It felt very nice and would be a great jacket to have in your closet. Black and white is always in style. I didn't get this one, but tempted to get it later. That black and white top underneath is good for layering too. Shoes from Target as well. I brought them in to try on with the outfits.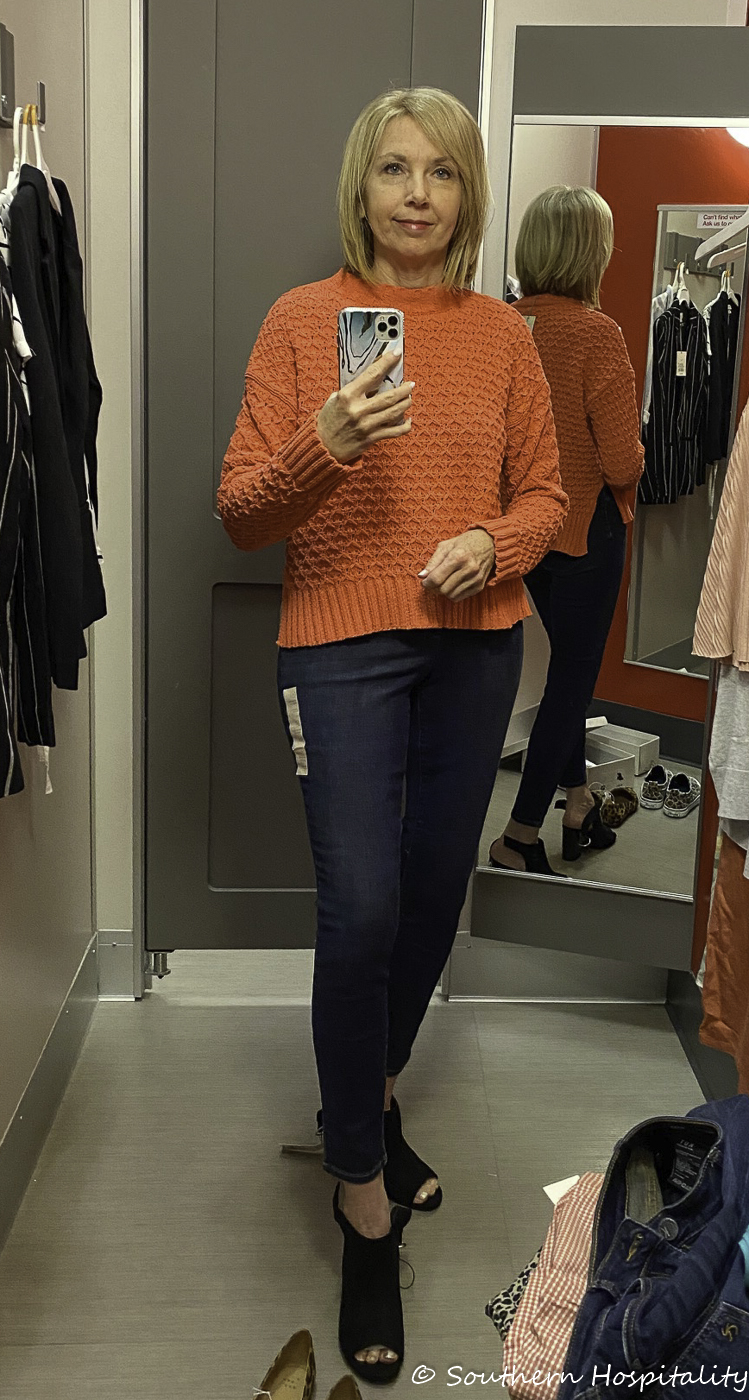 I really liked this coral sweater too, it was on sale for $20.
And it came in several colors in the store, but I don't see this pretty aqua shade online.
I loved all these pieces too. These red check pants I can't find online, but there were several patterns available, including the leopard ones below. Stretchy fit and the fabric feels great on. The sleeveless top underneath is only $8, so a good buy and that light gray cardigan was very cozy and comfy. Perfect layering piece too.
The pants are cropped so could be worn with heels or flats. This is the same pants in leopard and the black jacket is also A New Day and a pretty fabric that would be a versatile jacket to have. It's curved along the bottom and fitted.
This dress is a little young, but I thought it was cute. The fabric is flowy and it would be adorable for a summer outing with sandals or espadrilles. It's not too bare and the fabric felt nice too.
I picked up the cutest leopard belt from Target and I love that it's 1.25″ wide, not too big or small. It's a winner! Linked below!
So that's a look at a few things I saw at Target for spring. I hope you enjoyed this post and hopefully I can do more of them. I try to mix things up and even though I do like more expensive brands too, sometimes it's nice to fill in with budget busting pieces from Target and Old Navy.
Here are all of the items above, some may be shown in different colors. The leopard sneakers are not from Target, but are the same ones I'm wearing above from Blowfish. (affiliate links):

Don't Miss a Post, join my list!