How many little black dresses do you have and how many do you need? I definitely have a few and they range from very casual to super dressy, but they all have one thing in common. Little black dresses are versatile for all seasons and can be dressed up or down, that's the beauty of them. I love black anyway and feel that it's a good color on me as a fair skin blue eyed blonde. So black plays a prominent role in my closet and when I saw this dress being modeled by a couple of other ladies in my age group, I ordered it sight unseen online and picked it up at my local Target.
I have to say it's definitely a winner!
This midi dress is a ribbed knit mix of polyester and rayon with a touch of spandex. I ordered a Medium in this one and it fits great. I definitely didn't want this one skin tight. It has a racer back so I did wear my racer back bra with it, but it's not cut in too much.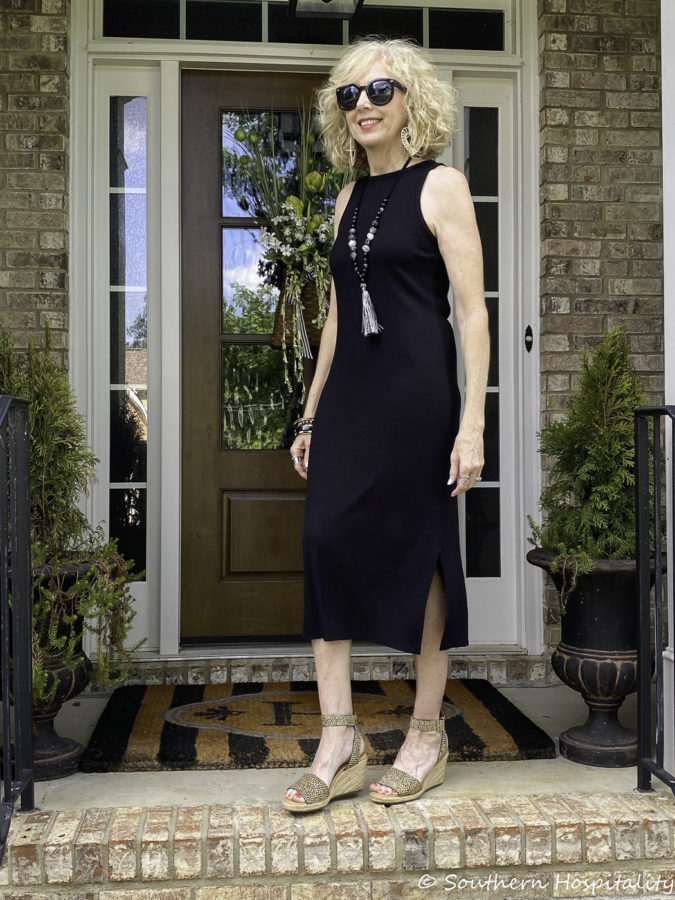 I paired it with these leopard wedge shoes, but will also wear it with casual flip flops and in fact did that this particular night when we went out to dinner with friends to Henry's for the first time since things have been closed. It sure was nice to go out to eat again! It has a slit on one side.
I should have turned around so you can see the the back, but check it out online. Unfortunately this one has been a big seller and looks like it's unavailable right now in black, but maybe it will come back in stock. It comes in a Brown color too with limited stock. Darn it, I wanted to share it with you all and sometimes it's too late to get in on the deals. This one is $19.99 so a good casual dress for summer. Maybe it will be back in stock soon!
The little black dress always works, doesn't it?! You can sort of see in this pic the racer back of the dress.
I'm wearing that Mac lipstick I got earlier, in Sweet Sakura. I love a fun bright lip for summer.
These heart rattan earrings I shared last year, from Sea Marie Designs (affiliate link). They are so cute!
I also want to share this turquoise special with you all from Grace & Heart! These are all such pretty pieces for summer. Take note that the whole bundle of all 4 pieces is $129! Great deal! Click my Grace & Heart link if you're interested in purchasing and shop from there.
Here's the dress linked below as well as the sunglasses (from Amazon) and lipstick. I'm also sharing a few good shoe options for summer (affiliate links used):
Don't Miss a Post, join my list!