While Beth and I were at the beach, we had a day of cloudy weather, so naturally we went shopping. What else do you do at the beach when it's not beach weather, right?  We spotted a thriftstore that I hadn't been in before, Haven House thrift and checked it out for a couple of hours.  I hadn't planned on finding more dresses, but that's the beauty of thrift shopping.  You never know what you'll find.
So, it ended up being Little Black Dress day for both of us.  Beth found 2 and so did I, so then we decided to do a photoshoot before we left the beach.  What better place to show off little black dresses?
Little black dresses are a staple in most women's wardrobe.  I have a couple of them already that I've had for years and you really can't go wrong with black.  It's elegant and sophisticated at the same time and you can dress them up or down, depending on the shoes paired and the jewelry worn.
Let's get started, shall we?
The first dress I found is an Ann Taylor little black dress for $10.  Excuse the wrinkles, we didn't get the iron out for this photoshoot, but the find is great.
I was thrilled with the length of this dress, just below the kneecap, since I don't really love showing my knees that much anymore.  These are the only heels I had with me, but they are Sam Edelman leopard wedges in camel and black.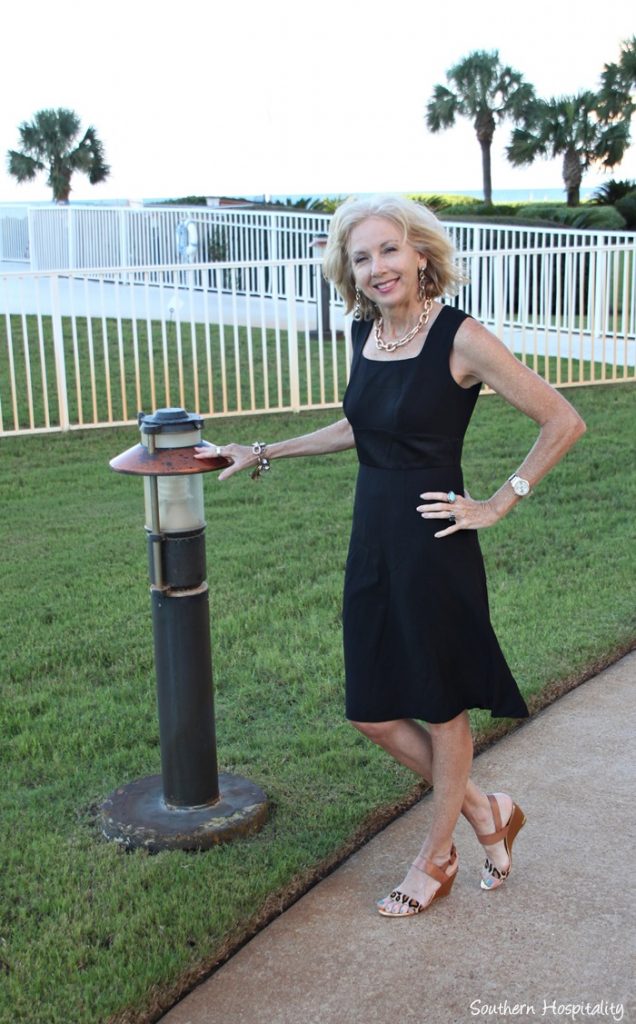 With gold jewelry, this dress would be perfect for most any outing.  It's hard to see here, but it's inset with a little different sheen fabric pieced on the waistband of the dress, which adds a little extra detail.  I can wear it with black pumps too for a dressier look.  I can see this at a Christmas party this year, along with a little black jacket. In fact, I've got a jacket in mind that I bought at the mart earlier this year and have never worn….with a leopard collar.
You can't go wrong with a little black dress, can you?
The back has a little keyhole effect, with black button at the top.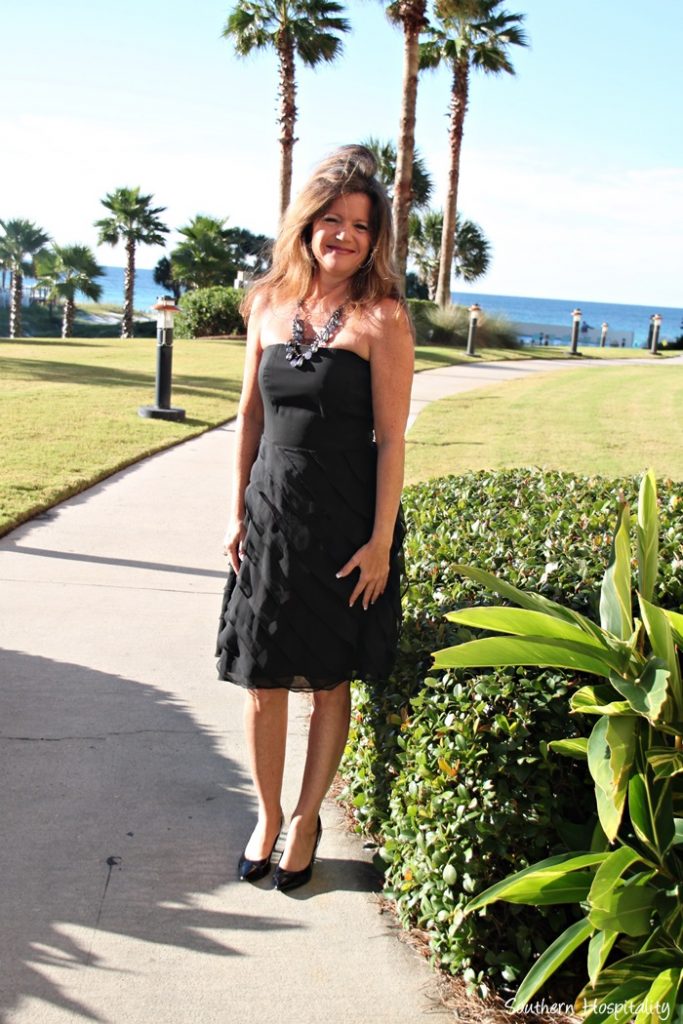 My friend, Beth, also found a bargain in this White House Black Market tiered ruffle dress that was $15.  What a steal!   Beth is 55 and lives in the Orlando area.  As I mentioned earlier, she grew up here in Marietta and we both have some of the same memories of places we both grew up going to.  She has a daughter about to graduate from the University of Florida, so she is a happy Gator mama.
It fits her great and she looks so sassy in her black pumps and black and silver necklace.  This will be a great party dress any time of the year.
We had fun with our photoshoot and hoped that no one walked by while we were posing and smiling, just like supermodels, ha!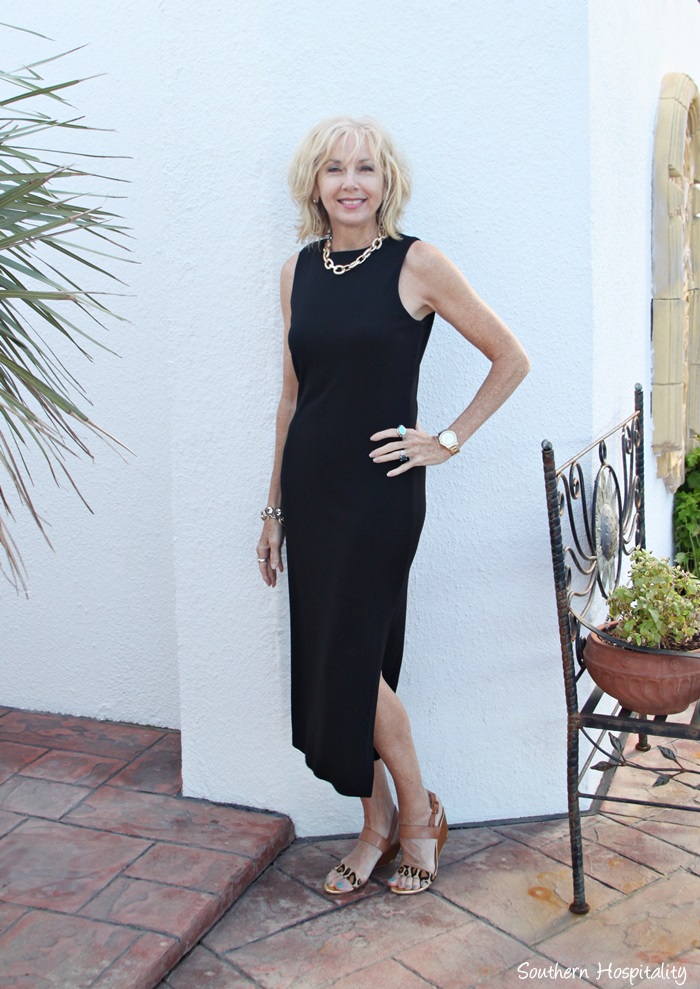 Next, I found this longer black sleeveless dress with slits on each side for $12.  It's by Moda International and really fits well.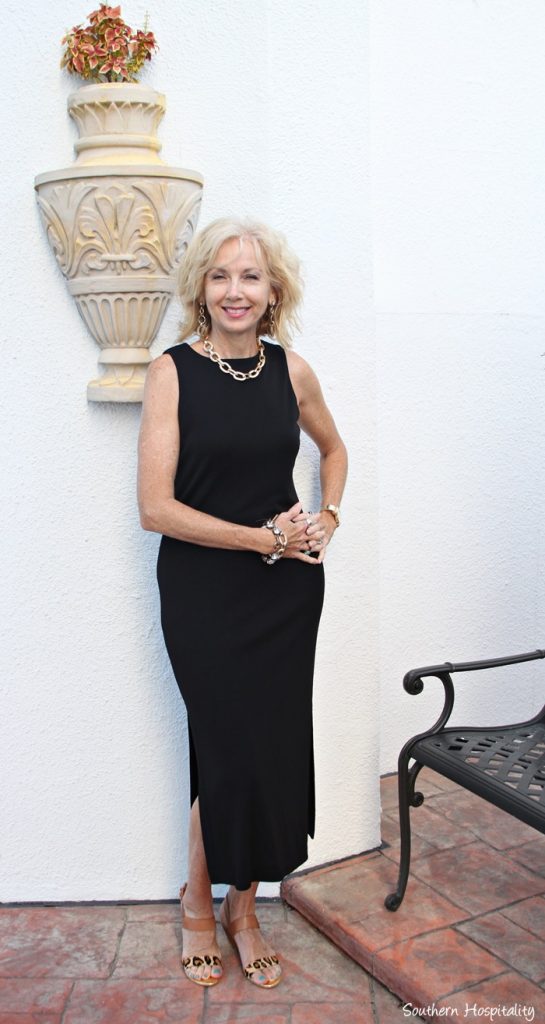 I kept on the same Sam Edelman wedge heels, along with the gold jewelry.  This dress will be fun to dress up and down too.
The slits make it fun and a little sexy for going out.  The fabric is a nice weight jersey like material.  Clingy, but not too clingy.  I'll get these both dry cleaned and ready to wear for the holiday season.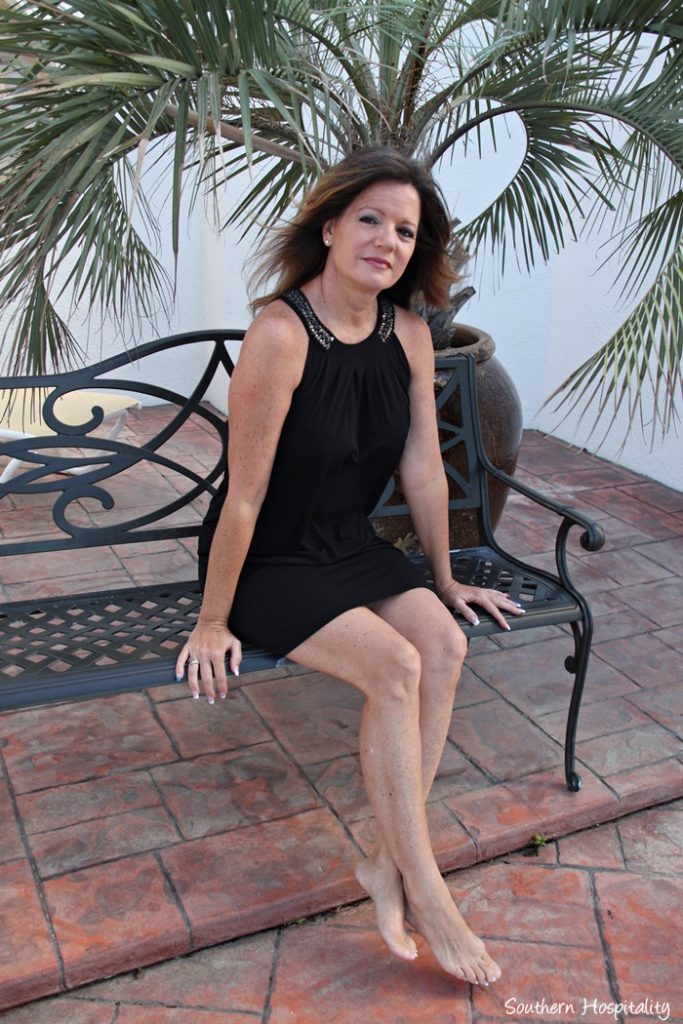 Beth's next dress is a little more casual, so she slipped off her black sandals and went barefoot. This brand is Sandra Darren.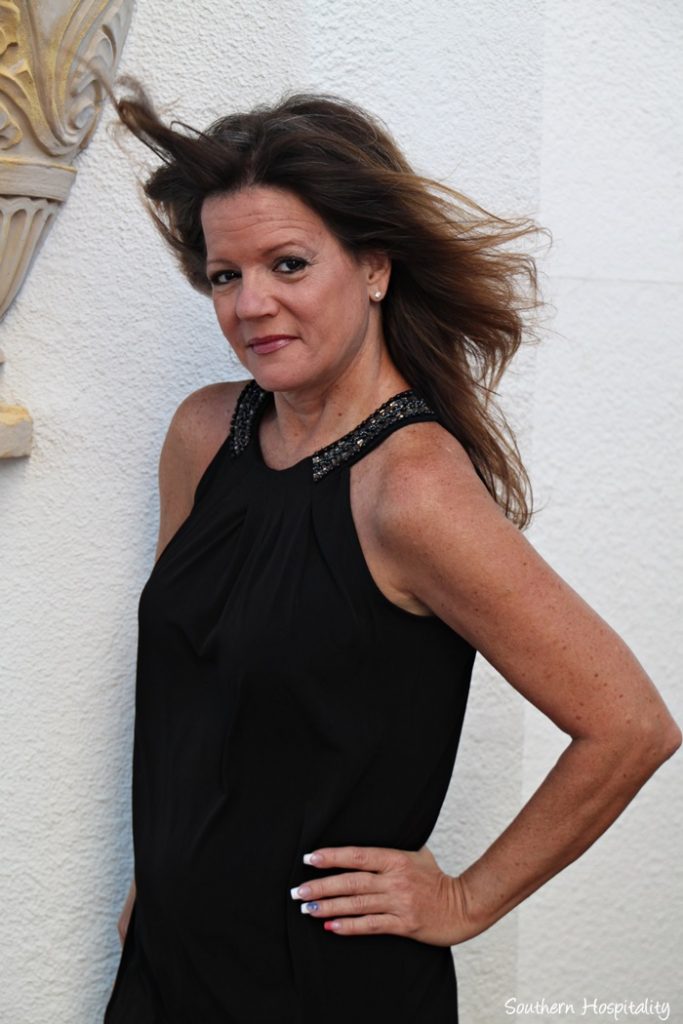 The beaded detailing on the cut-in top of the dress really made it.  This dress was $5, a real steal for sure!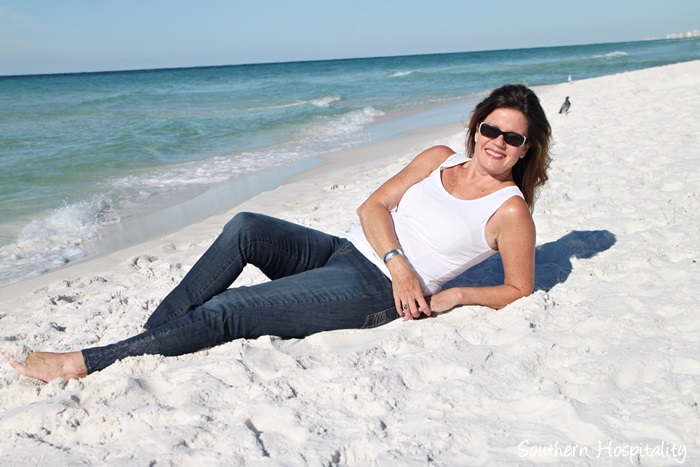 While we were shooting pics, we decided to do the denim and white top thing that you see at the beach a lot.  I used what I had brought and so did Beth and we did a little posing in the sand.  Beach girl style!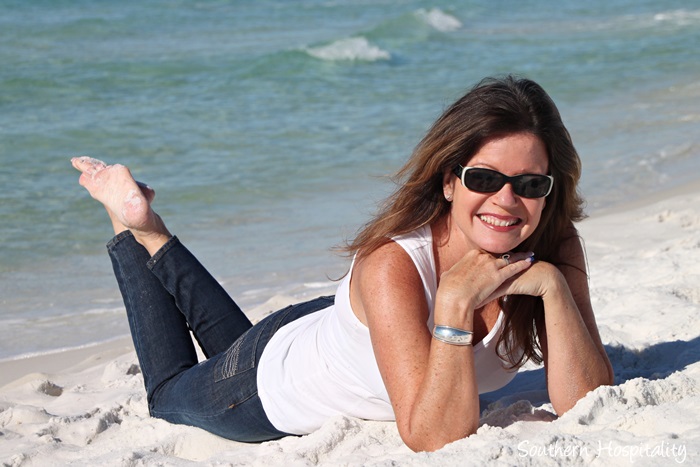 Looking cute and stylish!  What better backdrop than sand and sea?
Beth wanted to try a jumping shot and I captured it for her.
I had denim shorts and my boho top, so that's what I wore.  Shorts are from Old Navy.
Here's a Boho top and shorts that are very similar to mine:

It was fun to get some cute shots on the beach, because this background doesn't happen every day.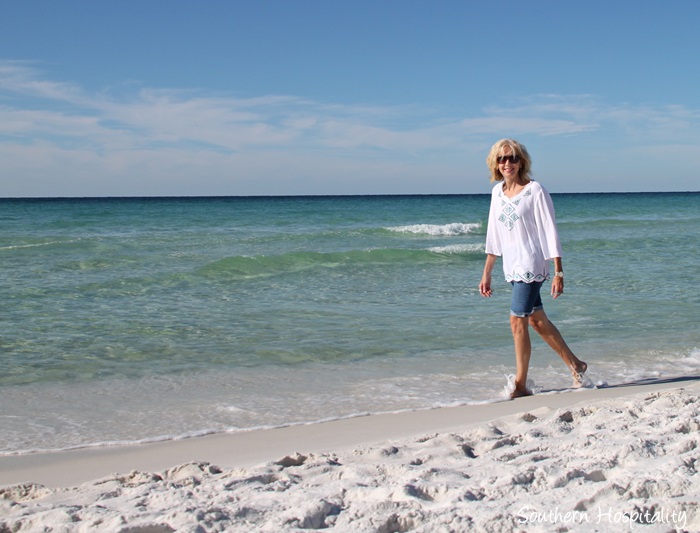 Walking in the water.
I'll leave you with a few more pics of the beach on that beautiful last day we were there. The sun was shining and it was a picture perfect day.
Edgewater beach condos where we stayed, from the beach side.  If you missed my post about that, you can find it here.
The water really does look like this when the sun is shining.  Nothing better!
And a sunny view from our condo balcony.  It was a fun vacation and finding some little black dresses was the icing on the cake.  So fun to thrift shop!
Here are a few little black dresses I found that you might like too (affiliate links in this post):