To mix things up a bit and share some different styles, my friend, Vicki, is back today to model a few things that she has found at the thriftstore.  She started shopping at the thriftstores many years ago and has found some great deals there, adding to her wardrobe at very little cost. She shared the brands she has found there and I too have found some good brands at the thriftstores. If you are willing to dig a little, treasures are there!
Vicki and I have been friends since we were 15 and she wrote this beautiful article about her weight journey through life and I just know that so many can relate to her words.  So, I'm going to let Vicki share her thoughts:
While browsing the clearance rack at Macy's I struck up a conversation with a fellow shopper. Imagine that! She commented how she was shopping for her mother-in-law and she wore a size "W" for WIDE! Yes, she said that! She was totally serious. She truly thought the W meant WIDE! Well, bless her heart! I almost slapped her. How could any woman in today's society be so uninformed about women's clothing sizes? Granted she appeared to have never experienced any sort of weight issue and I'm happy for her. Sort of! But what about the 100 million plus sized women who wear size 14-34? Yep, that's the figure quoted in an article by Margaret Bogenrief, December 21, 2012, Business Insider.
During my 30's and 40's, I took care of everyone but me and neglected my mental and physical health, resulting in obesity and a very negative body image. I just could not bring myself to spend money on fashionable clothing while so overweight. Maybe subconsciously I felt I didn't deserve to dress better, feeding into the self loathing overweight women fight everyday. I think it was more about being wasteful not wanting to invest in larger sized clothes because surely I would lose the weight just any day. Now in my late fifties, I have finally accepted myself, my body, and want to dress fashionably for my age and weight!
My life long friend, Rhoda, has always been very fashionable and trendy and I have learned a lot from her over the years. Specifically, Rhoda introduced me to shopping at thrift stores. Now, no matter my size, I can spend very little money on clothing but enjoy dressing in name brand quality pieces for a fraction of what they would cost at original retail price. About 75% of my clothes these days come from a thrift store. So as I lose weight and move into smaller clothing sizes, I'm confident I'm not being wasteful at all.
Accepting and loving myself while weighing over 200 pounds has been life changing. Consequently, I have begun to lose weight and feel so much better about my appearance as I dress for my size and age. For me, forgiving myself for the damage done was necessary for change. I encourage all women, no matter your age or size, to accept your bodies and work with where you are and what you have right now. Don't put off enjoying life until…you lose 5 or 50 pounds!
Dress to enhance your hair and eye color. Determine your best features and showcase them. One of my dear friends is about my size and age and she has great legs! She looks fabulous in shorter dresses and skirts, while I hide my knocked knees! Know your best colors, experiment with accessories or a new hair cut and color. You'll be surprised how a new shade of lipstick can brighten your smile and your face! Spring is a great time of year to try new pieces, new styles! You are worth any time or money you spend on yourself!
As for the "W", it represents "Woman"! I'm not sure what that says about all those who wear sizes 0-12! Happy Spring, y'all!
How I Shop:
I shop by color first. If the color catches my eye and is one that I feel compliments my hair and eye color, then I consider the garment. So I'm scanning the sale rack at Belk and the color and print of a dress caught my eye. I have a pair of brown leather boots that might work with this so I grabbed it and brought it home. The dress has chocolate brown trim so I found some chocolate brown tights to wear with my brown boots. I wore the outfit to church and definitely got the "wow" reaction from several friends. My daughter-in-law was the most enthusiastic with her encouragement. Mother Mom breaks out!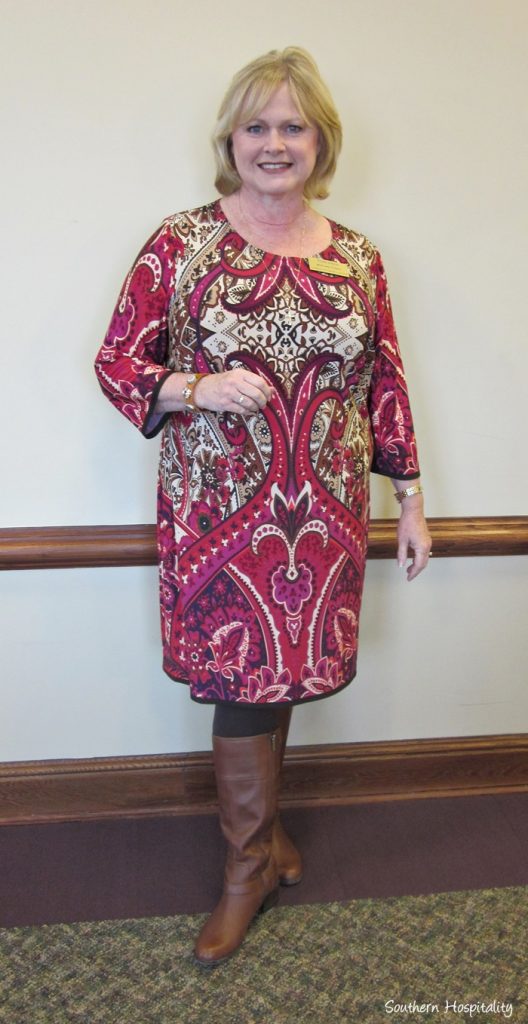 While I'm still over 200 pounds, my feelings about myself have improved from the positive changes in my style. My confidence is boosted and I'm encouraged as I begin a new project of self improvement…weight loss!
I loved hearing from Vicki's heart and I know many of you did too.  So today, we are going to share how just adding a colorful top with a basic pair of black pants can enhance your closet and allow you to mix things up for some fun just by adding different colors.  Black pants are also slenderizing.  This is especially good for this time of year, with Spring here now.
All of these thriftstore fashion items were found for under $10.  This cobalt blue tunic blouse came from the thriftstore and it is by Calvin Klein.
Adding simple jewelry dresses up a blouse.
Another find that Vicki scored thrifting is this aqua leather jacket by Dialogue.  Definitely her color (and mine) adding a pretty colorful scarf is a great way to bring color up to the face and highlights the hair and eyes.  Vicki said she has had this polkadot scarf for years and wears it with so many things.
Here it is again with a lime green blouse from Chico's.  So keep those scarves in mind to add punch to a spring outfit.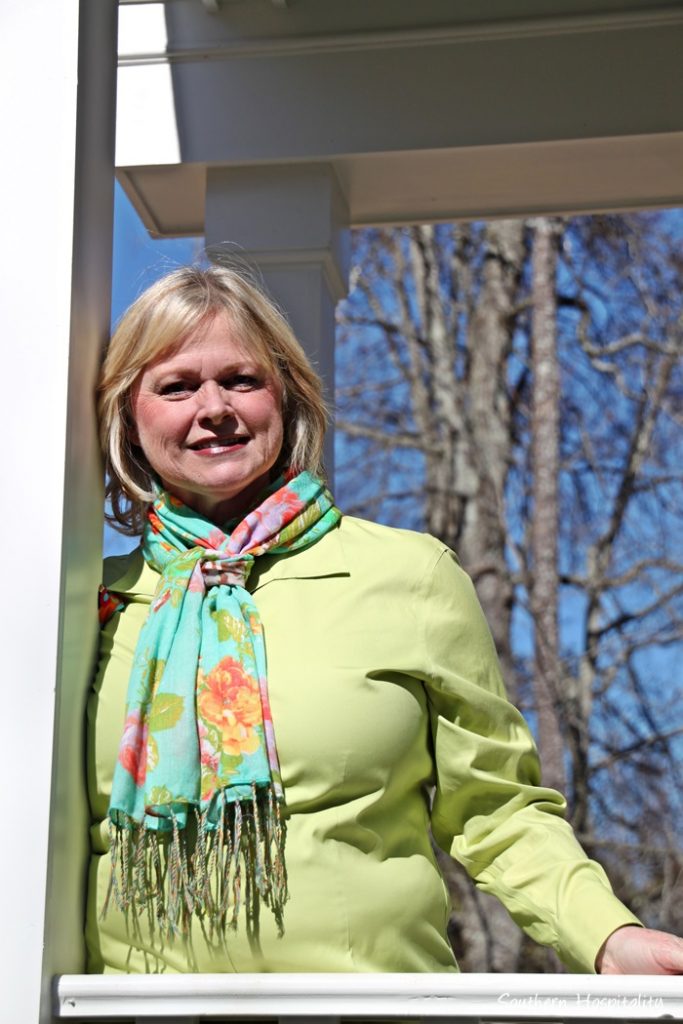 Another longer scarf with aqua, red and green really wakes up that lime green blouse.
So, get those spring colors out and wear them proudly right now.  They will wake up your complexion and make you feel better.  I love spring colors and adding jewelry and scarves to accessorizing.
Vicki is on a weight loss journey now and I can't wait to see where she lands!
Do you look for clothes at the thriftstore?
Don't Miss a Post, join my list!