Hey friends and Happy Wednesday!  We've been busy around our house and I haven't dressed up all that much lately, but managed to catch this outfit when I had it on, so here's to Fashion over 50 today.  I do enjoy getting dressed and looking nice, it just makes you feel better about yourself to get the makeup on and the hair fixed and put on a snazzy outfit, doesn't it?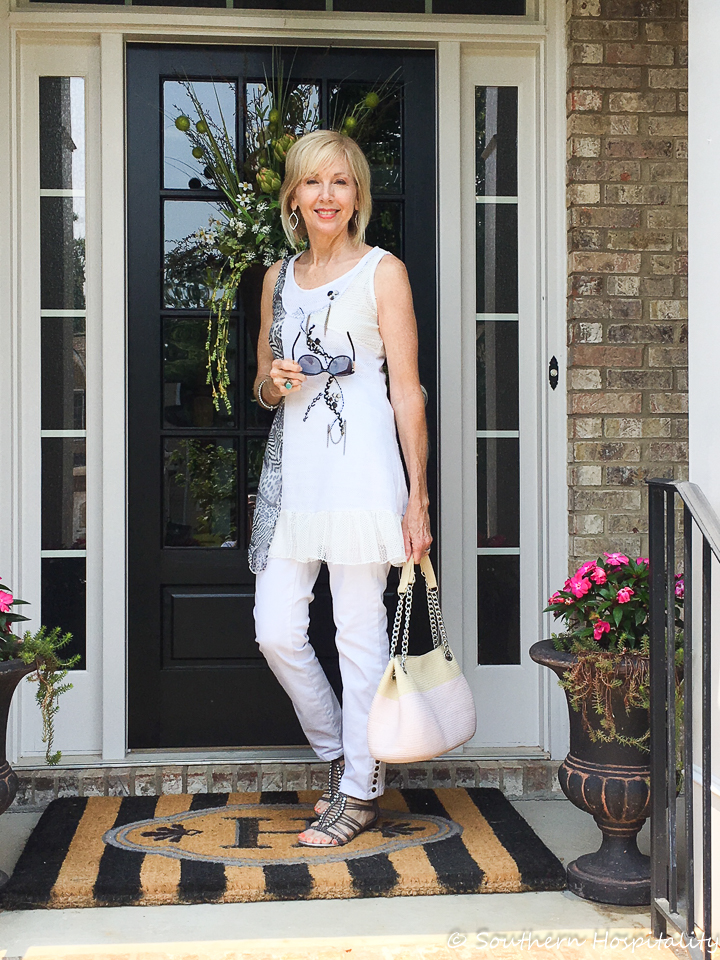 This one is not new, I've shared before, but it's worth sharing again.  I've had this white tunic top for a few years, at least 3 or 4 now and I think I found it at a shop in Woodstock called Branches. I was in there the other day and they still have affordable and very fashionable things.  I thought this top was very unique and I've never seen another one quite like it.
It's a mix of a mesh fabric, the white part and a light sheer leopard fabric in black and gray, with metallic accents all around. It's fully lined, so nice and cool, but still sheer.
Here's the animal print side.  I usually wear my really skinny white jeans with this top but decided to try it with my Soft Surroundings straight leg pants with the metal buttons on the bottom and I like it with those as well.
These metallic sandals I've had for a couple of seasons too, they are Guess gladiator sandals and no longer available, but I've really enjoyed them for summer wear.
I can't really link anything today, but I hope you got some ideas for yourself and you can always look in your closet and see what you have that might be a similar look.  It's fun to mix things up and wear them with different things. I do not change out my closet every year, nor my shoes, and I'm sure you don't either. If we are looking on social media day after day, it seems as if people get new clothes every single day, but that's not my reality so I share the old and new and how to mix them all. I can't keep up with that regimen in my closet and constant new clothes is not the norm for most of us.
Thank you as always for stopping by!
SaveSave
Don't Miss a Post, join my list!