Happy April Fools Day! I wish all of this was just a joke that is happening in our world right now, but we are living in unprecedented times. Regardless April is here and we must enjoy our Spring, so Happy Spring to you all!
Keeping up with fashion during this time is going to be a little challenging, since I'm not really getting dressed and going anywhere right now. I have a couple of outfits to share today along with a pair of new white jeans I just ordered and got in from Banana Republic. White jeans are always a great choice for spring so here are a couple of ways I will wear these jeans when we can go out again.
Going forward for the next few weeks, I will probably share some sale clothing that I see and like online and put some outfits together that way since my closet doesn't have new things constantly. I know there will be some new spring things out there and I'll look for eye catching things that you all might like too.
These sculpt skinny jeans from Banana Republic are nice and I really like them. They are almost high rise and very stretchy and feel good on. I think they will be my new faves. They are on sale for 60% off right now and at $35.99 are less than what I paid a couple weeks ago, so jump on them if you like them.
I bought this gray and white tunic top in Covington, LA last year when I was there visiting Lauren and forgot about it, so just getting it out to try on.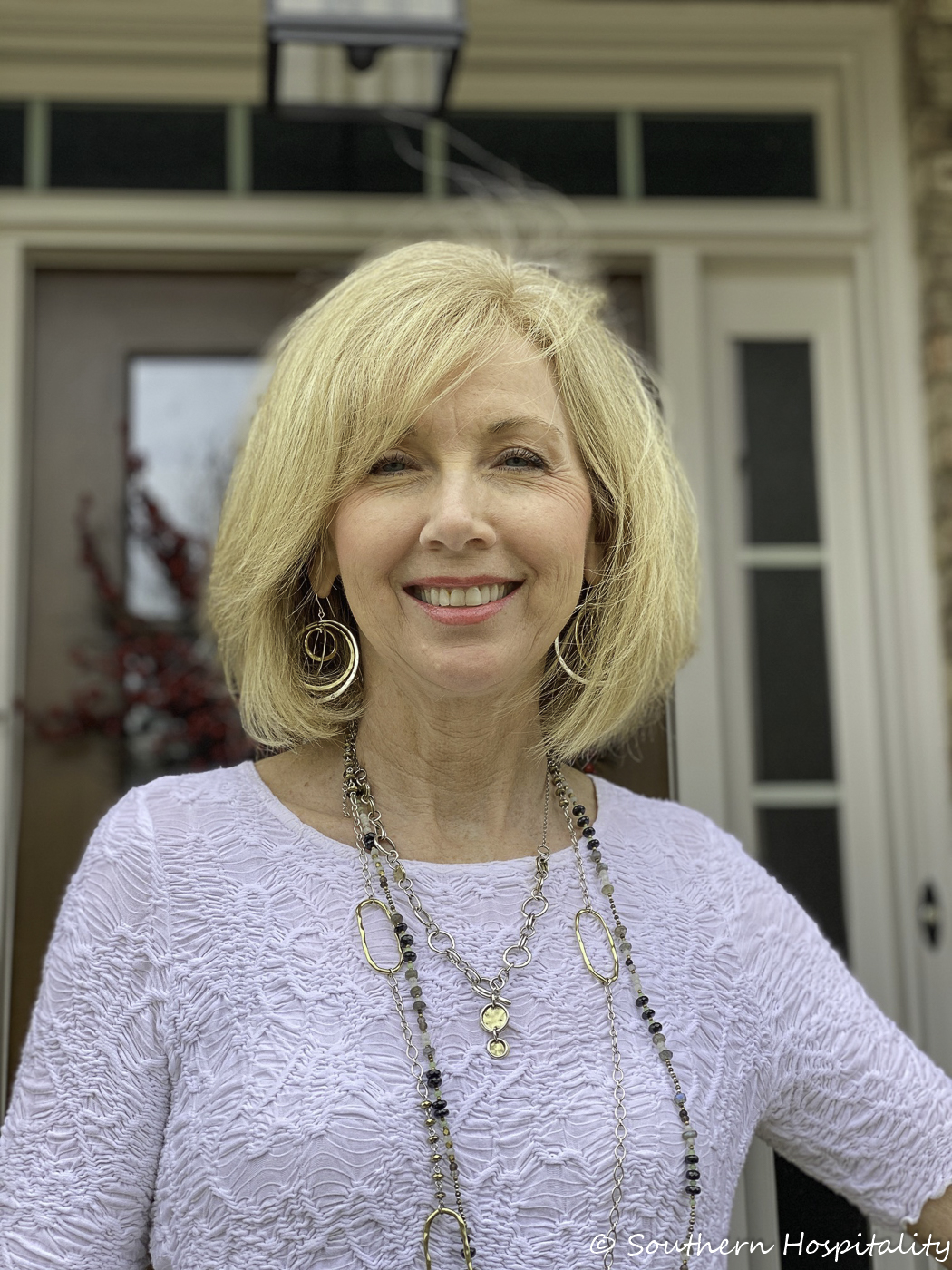 It's a stretchy top with lots of details, white on top and gray on bottom. I'm wearing some of my necklaces from Grace and Heart (affiliate link) as well as earrings and bracelets (I love stacking bracelets). If you're interested in checking out some of these pieces, you can shop through my link. There are always some great sale items too on deep discount, so check out those pages if you want some gift ideas. This jewelry is very high quality and I'm loving all the pieces I have.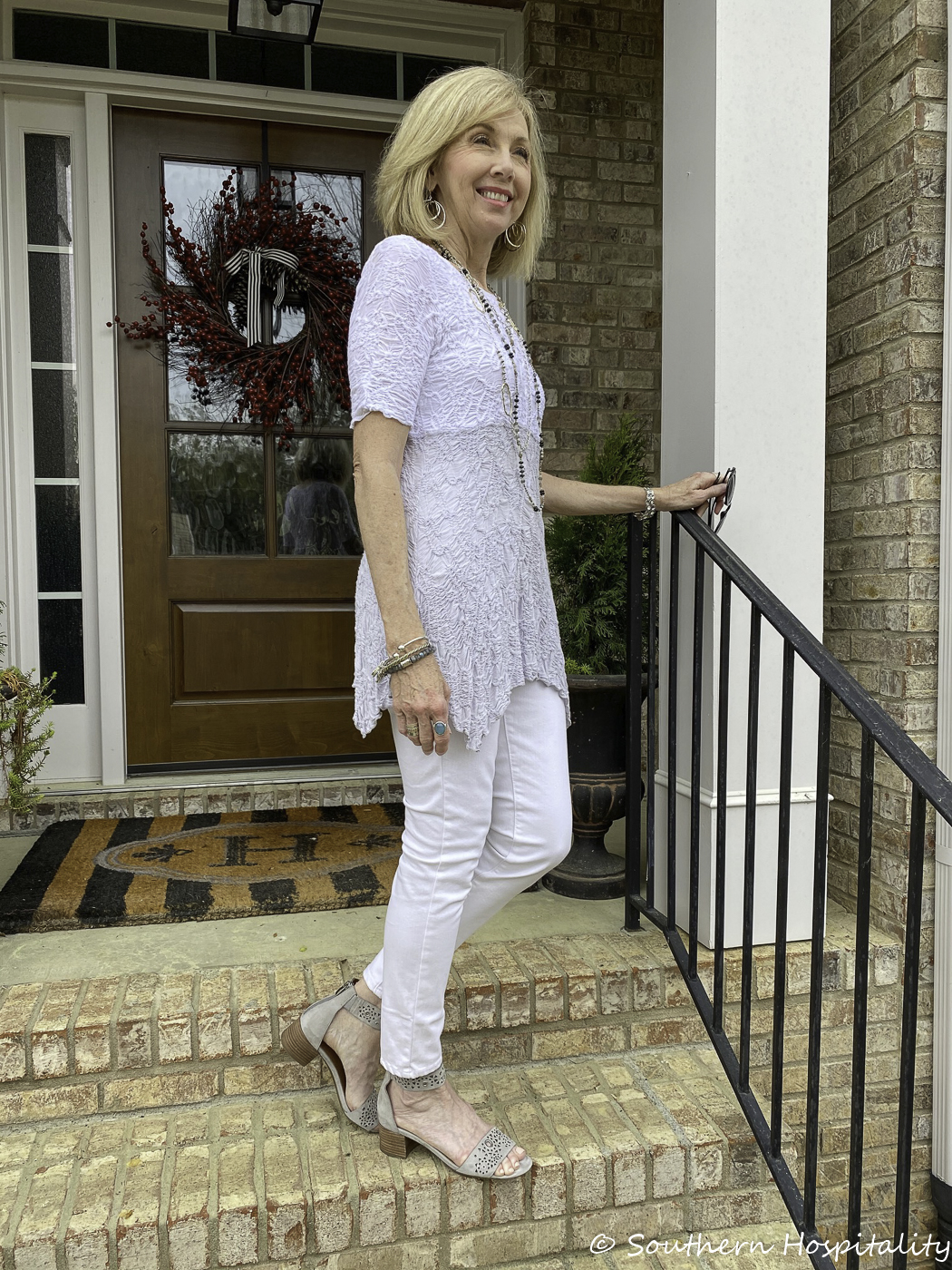 Gray and white is a nice combo too.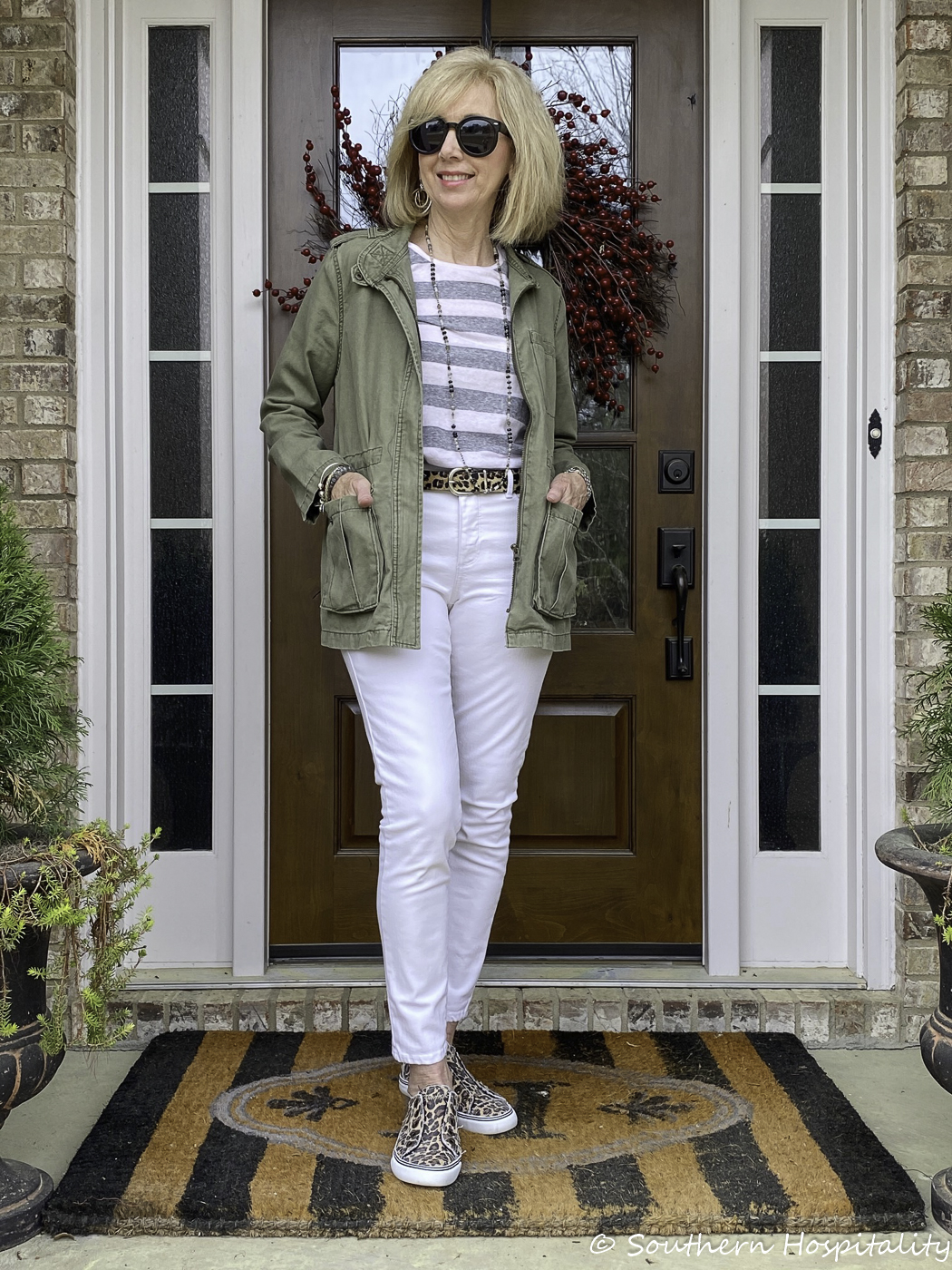 Next I paired the white jeans with my classic olive twill jacket that I've had for a few years. I've linked some similar below. I'm loving these leopard sneakers from Blowfish, so cute and comfy too. That's a new leopard belt too from Target and it's a good one for the money. I wanted one what was a little wider than my old one and a little longer, so I got a Large. I like being able to tuck in tops and wear belts for a more fitted look.
Perfect spring layering outfit. I think that t-shirt is from Target and I found one similar linked below.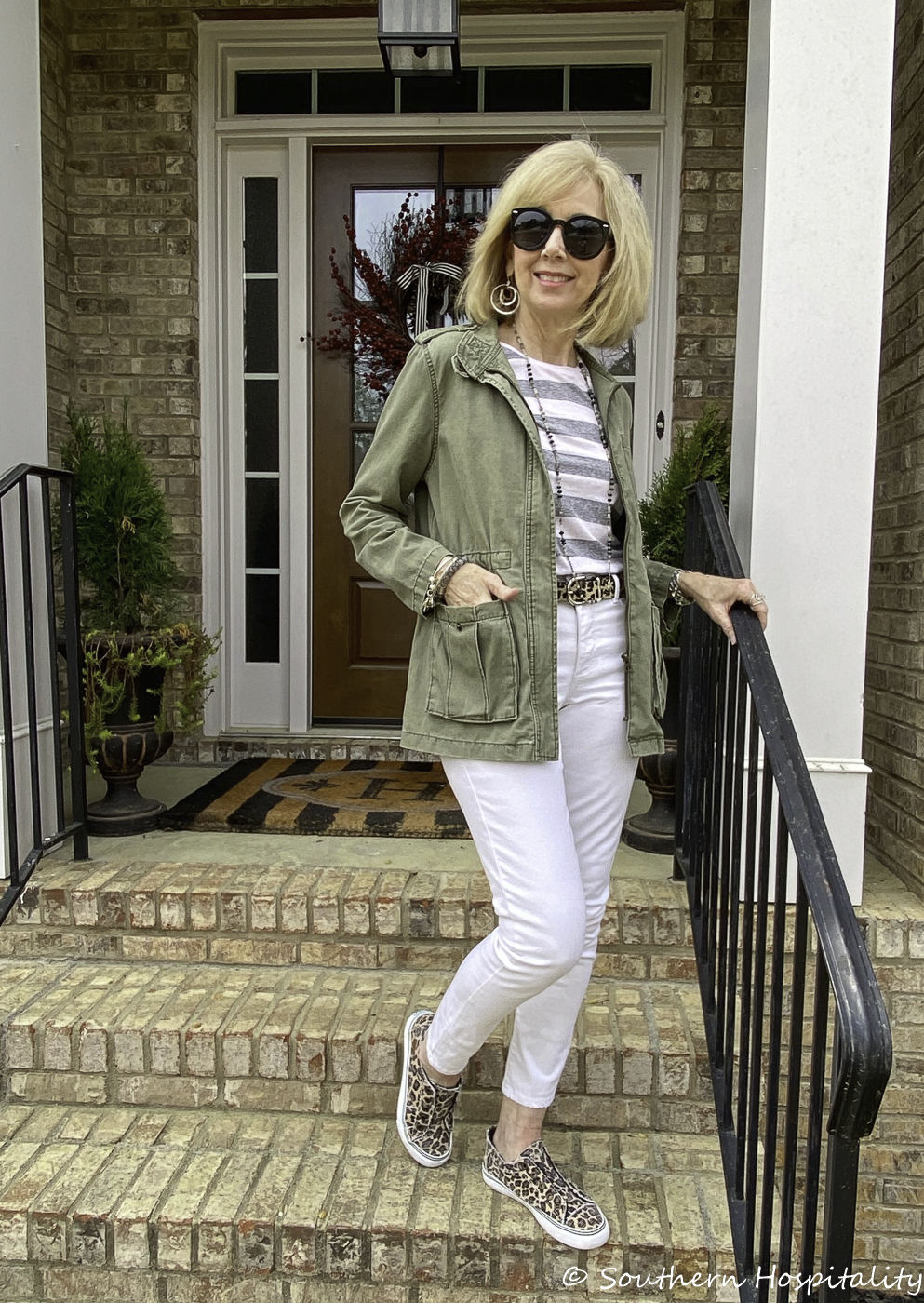 These are my go to looks for a casual spring look. I'll try to find more things like this to put together if you're like me and don't dress up that much (especially now!).
These sunglasses are new too from Amazon. I see other bloggers sharing things and try them too and this was one of those finds. I like that they are oversized and inexpensive too.
I also tried a new eye shadow palette that I saw someone using on Instagram. I loved the neutral colors and thought it would work for my coloring and it's really pretty and again, very inexpensive. The colors are saturated and very nice.
I found a great price on this from Amazon, linked below.
This palette is a mix of matte and a few metallic. I like metallic in moderation now, but it's fun to add a little sparkle on the eyelids.
Here are the white jeans from Banana Republic, as well as the leopard sneakers and the sunglasses I'm wearing from Amazon. The other items are similar to what I'm wearing.

And Banana Republic Factory has a 60% off sale this week with some nice basics at good prices including those white jeans!

Don't Miss a Post, join my list!