Spring is a great time to mix it up and look at your closet in a fresh way! Today I'm joining 7 other stylish ladies of a certain age and we are all sharing some fashion inspiration with you on each of our blogs. I hope you'll go and visit all of them, I know you'll enjoy getting some fashion advice from others and not just me, so check them all out at the bottom of the post.
Who doesn't have a pair of white jeans and a classic jeans jacket? Most of us do, so I decided to take a pair of white jeans that I've had for at least 5 years (Kut from the Cloth brand) and pair it with a Gap jeans jacket, creating 3 different outfits for spring. I hope you enjoy!
The first outfit is with a blue leopard top by Vince Camuto that I got awhile back. I can't really link any of this, but I'll try to find some similar items for you to shop if you're interested. The block heel open suede shoes are gray and I bought them in Louisiana a couple years ago. I've got on my Grace & Heart silver jewelry that I'm really loving too.
Here's a look at two necklaces from Grace & Heart, both with blue stones. I just love these pieces together and the earrings are new too.
Here's a better shot of the earrings. If you're interested in any of the Grade & Heart jewelry (I'm a consultant), I'll share a link so you can look and shop. This jewelry is really quality and I'm enjoying mixing it all up with my outfits.
Here's a look at all the pieces I have on. Again, my link to Grace & Heart is open for shopping if you want to take a look at any of these pieces and feel free to ask questions.
The next outfit is a casual one, white jeans and jacket mixed with an aqua top and a blue and green summer scarf. It's very casual with flat leopard espadrille mules from Target.
I've enjoyed these cute mules and just found out they are still in stock! Click here for the Target leopard mules! Affiliate links used!
My turquoise Grace & Heart jewelry is a great combo with these brighter pieces.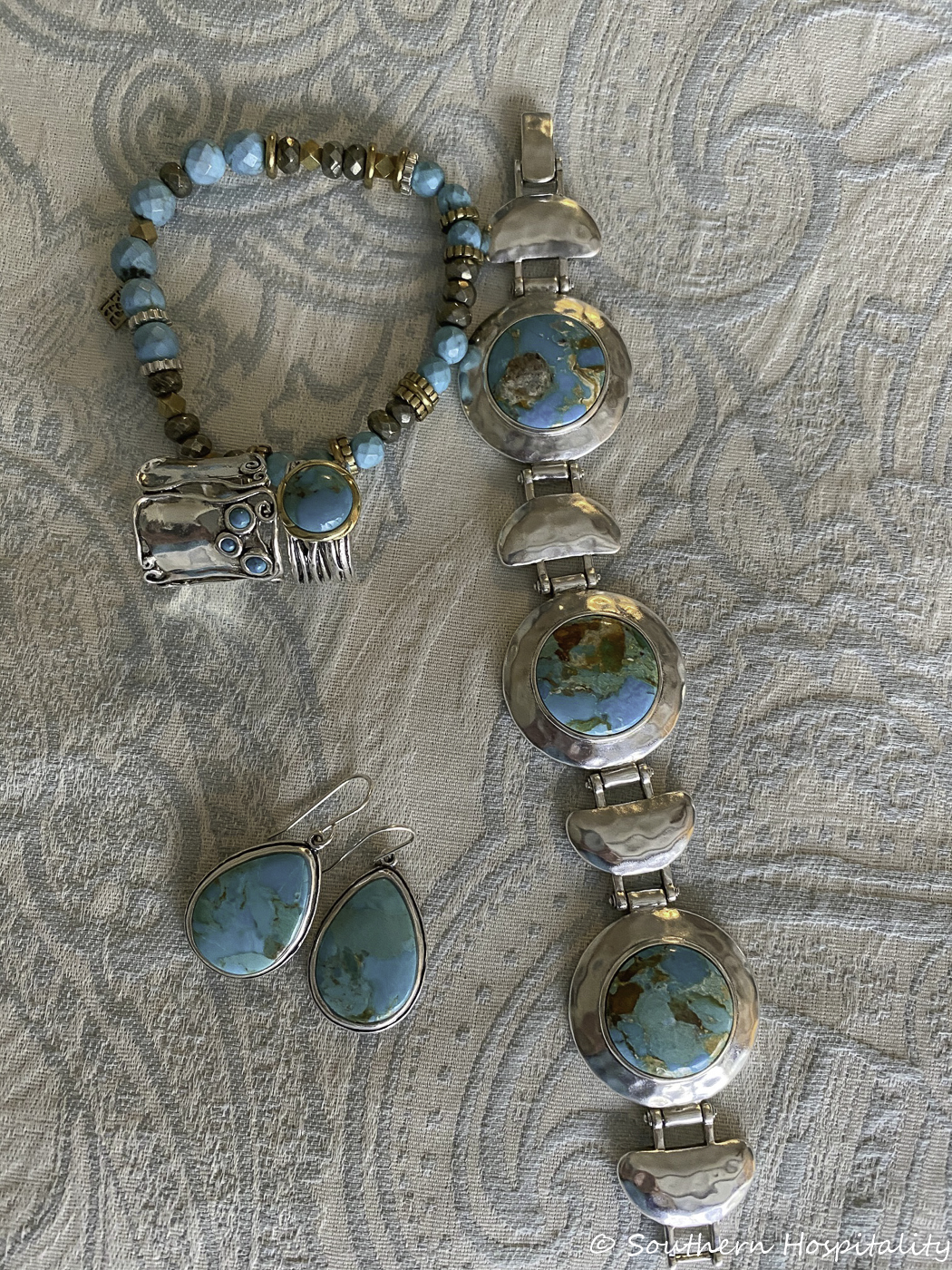 And here are all the pieces I'm wearing from Grace & Heart. Really turquoise goes with so many things.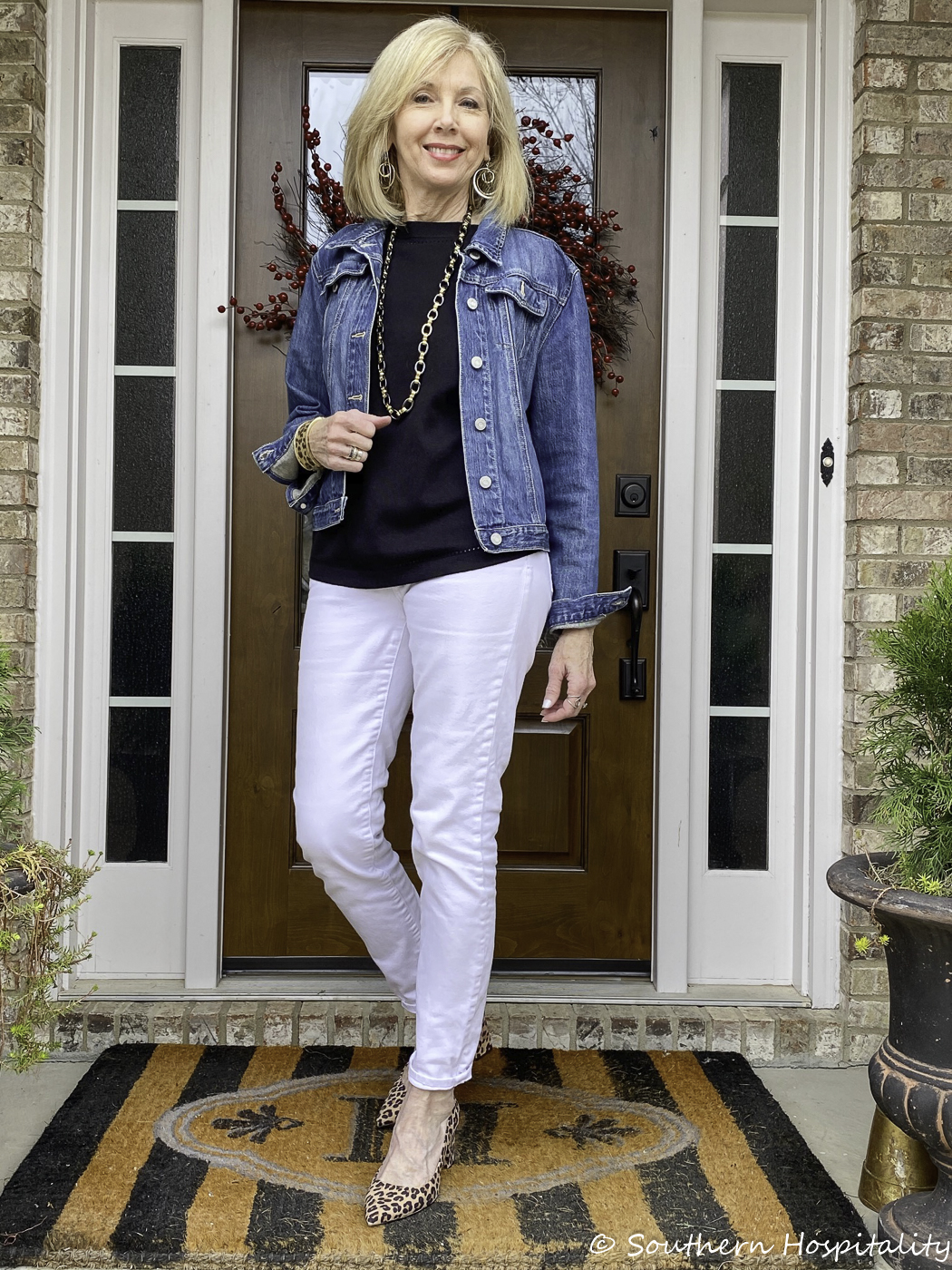 And the last outfit with the white jeans is a black knit top from Chico's paired with my leopard block heels. I love this look, a little bit casual and a bit dressed up.
With a simple leopard bracelet and a chunky silver and gold tone necklace, it's a simple look but could go anywhere. These jeans are getting a little old, so I'm going to be on the lookout for a fresh new pair this year. I'll keep you posted on what I find.
I'm loving those earrings, very bold and a mix of brass and sterling silver.
Here's this jewelry pairing for this outfit.
Please pin for future reference!
Here are a few similar jeans and jeans jackets if you're interested (affiliate links):

I hope you enjoyed my spring shares of white jeans and a classic jeans jacket. Now be sure and click over to all these other great fashionistas for lots more inspiration!
Don't Miss a Post, join my list!