Since I've been blogging for 10 years now, there have been a few changes in my decor habits over the years, as I'm sure has been the case for you too, right?  It's amazing how 10  years can really change the direction we take with our homes.
One of those big changes for me being fake plants.  I remember writing a blog post back in my early days of blogging when I  was considering being done with fake plants and one by one got rid of all of the ones in my house at the time. That was written 10 years ago this year.  I think so many of us used fake flower arrangements in our home back then and it was very popular at the time, but like many things we get tired of them.  I had my share of dusty ficus trees in the corner too as well as fake palm trees.  I can't imagine doing those again now!
That seems so long ago now, that type of decorating, but it was so popular at the time and most of my friends had these florals in their homes too.  There was some good discussion in the comments back in that post that's worth reading again if you want to go back and read it all.
Here's an example of one of my lovely (ahem) flower arrangements that I had in my house years ago.  Probably 20 years ago by now and I got rid of it after I moved to AL.  I definitely do not miss these big and fluffy fake flowers at all! They are dust catchers for sure! If you still have these in your house, I'm not throwing stones, I am speaking for myself here.  But, if you ask my opinion, I'll tell you what I think!
So, that being said, I still concur with with getting rid of the fakes for the most part and don't like many fake plants even now.  I do however, love real plants and have a bunch of those around my house. They do promote oxygen in the air and make a house more homey, no doubt about it.  I love to grow plants inside and outside and add many of them to my porch too. Real live plants have so many benefits and I'll always love them and they will be at the top of my list for making a house a home. Here's a post I did on some of my real plants.  Some of these made it and some did not, but I never give up on real plants, I still love them all over my house and porch.
Sometimes though, there are reasons to use a faux plant and I don't have a problem with some of the newer ones that are out now.  They have greatly improve, in my opinion and look much better than they used to look. Do you agree with that?
I'll share the ones I  have in my house now, these are all newer ones and I do think the quality has improved so much over the years.
This faux orchid came from Costco and I really loved it because it looked so real to me even in the store and  it was in a pretty blue and white pot.  Double win!
I picked up these 2 cute succulents up in TN at an antiques place, Scarlet Scales in Franklin.  Unfortunately, I don't see any of her faux plants online.  These succulents are really realistic looking and look nice plopped in a small planter.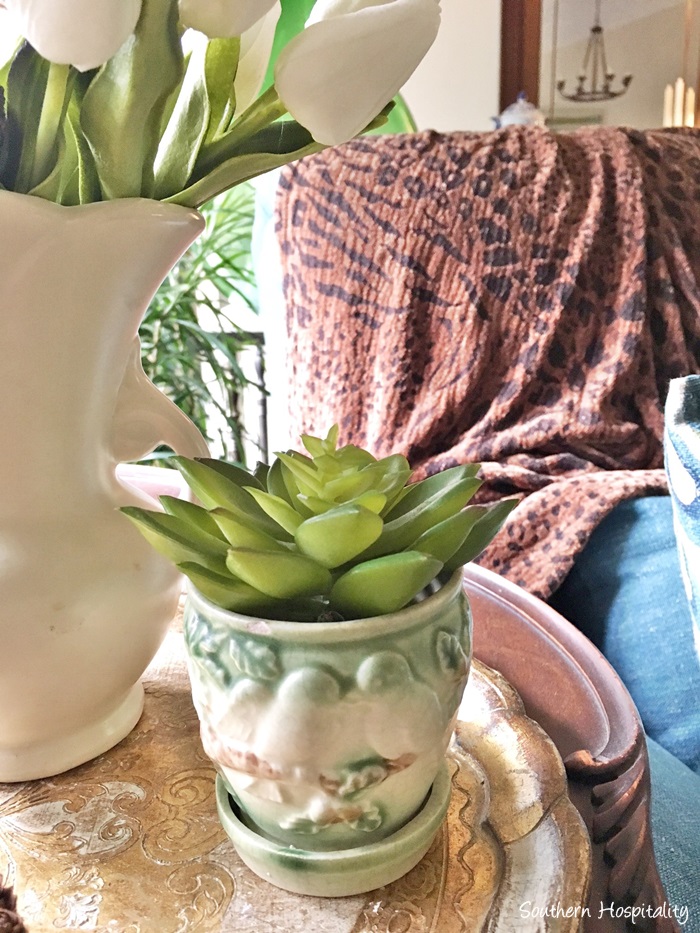 This is a tiny planter I picked up thrifting and added this cute hen and chicks succulent on top.  Totally looks real.
Here's what a real succulent looks like, trying to grow in a pot inside and this is in the window!  They do not do well inside, they require a lot of sunlight.  Look at all those babies trying to hatch.
This is a little faux fern I picked up while in Birmingham and it's been in this white planter for a few years. I still like it, it works fine on top of a bookcase or cabinet.
Preserved boxwood has my heart (not the plastic kind, please)!  Really, this trend is one I can get on board with and I have several preserved boxwood items around and they do add a lot of green and freshness to a space.  These small topiaries are great for a bookcase that needs perked up with greenery. Bookcases are a great place add these faux plants, since typically you're not going to get sunshine on them.
This larger one I have used several places and even though it's in a pot already, it fits nicely inside a thrifted brass pot I have too.  This one and the small one above are both from Birch Lane and they are listed below the post in the slideshow.
A taller boxwood topiary from Homegoods is another piece that is so versatile.  I'd like to find another of these so I'd have a pair. I've loved topiaries for a long time too!
Moss balls are another nice greenery item to decorate with and these are versatile as well in what you can do with them.  Put one one top of a candlestick for some added fresh green.
On my spring table I used a large one with my iron and glasses vases on the table.  Just a nice punch of texture and color for spring decorating when you want to add some plant like material around.  You can see I also have a square boxwood wreath that is fun to pull out and use too.
So, that's how I've used faux plants and greenery around my house. What do you think of faux now?  Still have any big floral arrangements or like me, have you tossed those to the curb for more simple plants and real greenery for the most part?  These fauxs I can live with, but I can't handle too much anymore.  I still love, love the real plants that I have better than ever!
I did a little shopping for you, in case you want to add a few faux green plants to your spaces.  These all look like great candidates to me.  Be aware on the boxwood greenery, there is preserved boxwood and plastic boxwood. You definitely want the preserved, it's real greenery that's been preserved for use:

Don't Miss a Post, join my list!