Picture me clapping my hands and smiling really big over this Feature Friday!  I know I say it a lot…but, you're in for a sweet treat today, directly from my hometown of Marietta, GA!
Last December, I took the tour of the Marietta Pilgrimage at Christmas, a yearly event highlighting several historical homes in the Marietta Square area.  I've always loved this tour and getting to peek inside the homes I've driven by since childhood is a thrill that I couldn't pass up.  Driving down Church Street into the Marietta Square, my face would be pressed to the glass of the car window, oohing and ahhing over the beautiful old historical homes.  I grew up in a regular house, but have always appreciated the beauty and stateliness of an older historical home.  Along Church Street are many kinds of architecture, from cottage style homes to Tudors and more.
I'm not an expert on home styles, but I know what I love and this one I love, a late Victorian beauty.  The Roland home was built in 1905 and the Rolands found the home in 2001, after keeping an eye on it for awhile.  Once it came up for sale and they purchased it, they added their own touches of renewing this historic charmer, embarking on a 2 year renovation.  They faced the reality of an older home, as everything but the plumbing had to be restored.  The initial renovation happened to the existing home, with a later addition adding a family room and master suite to the back of the house, when their family grew with 2 little boys.
Charming is definitely the word for his lovely Victorian with a white picket fence.  If that's not the ideal home in many of our minds, I don't know what is.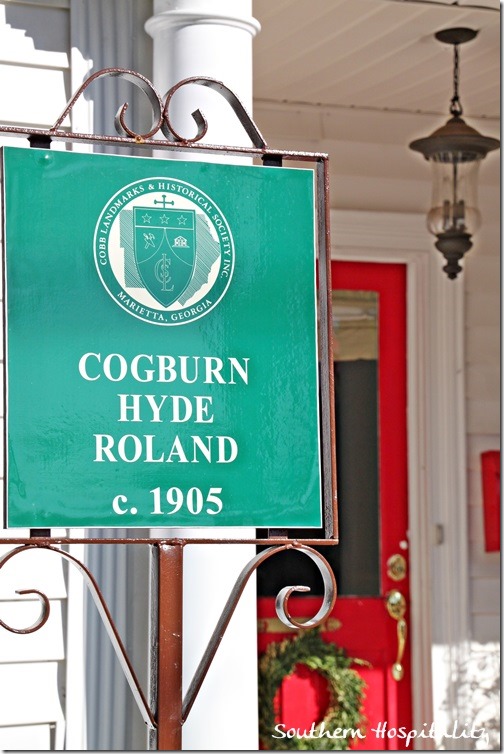 The Historic district of Marietta sports these pretty green signs in many of the front yards, proclaiming the history of the house and its owners.  This one has apparently had 3 owners, the Rolands being the last.
A red front door sets off the white clapboard house.
And this large and spacious wrap around porch is also charming and homey.
This sweet kitty was more than happy to pose for me.
Another look at the porch.
Front door from the inside.
Walking into the front door, this is the first view to see, a beautiful living room.
Sofa and chairs.  I love the way Ann mixes Traditional and modern in her spaces.
Like the modern painting, and leopard print, along with the vibrant colors.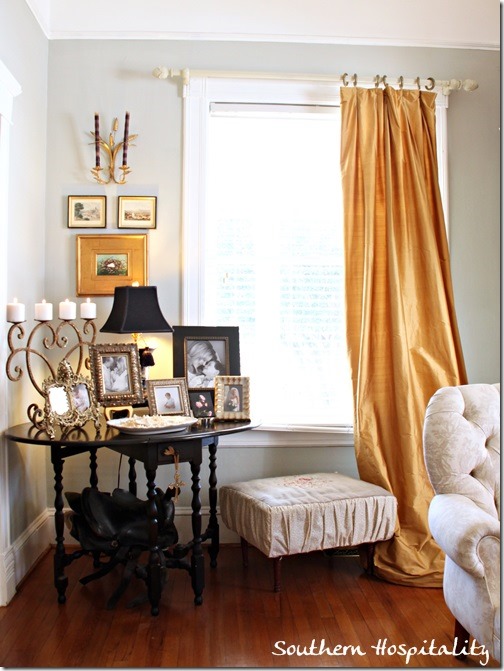 Side table with family pics in the living room.
Entry table in foyer.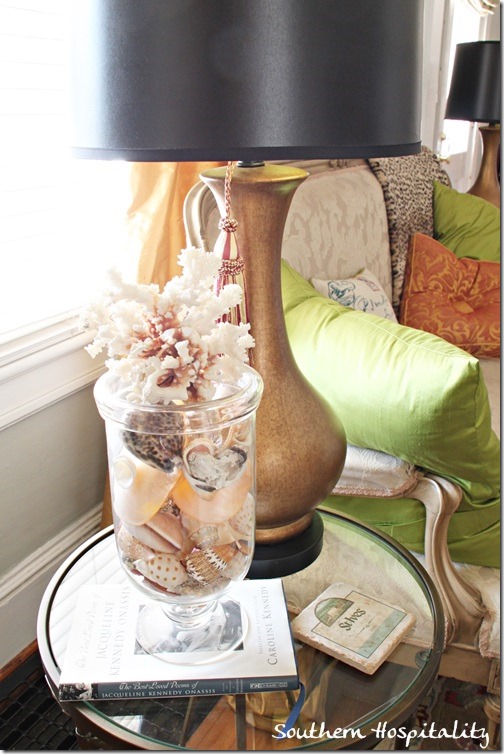 Side table with shells.
Living room to foyer view.  Ann has lots of beautiful antiques and knows how to mix it all without it ever feeling old and granny.
Nothing about this house is stuffy at all.  Ann has a great eye and is a self-taught decorator.
A vintage bullseye mirror in the foyer.
The dining room is spectacular, with a mix of painted and wood pieces.
This large mirror is definitely a focal point above the painted sideboard.
Drapes and toile shades.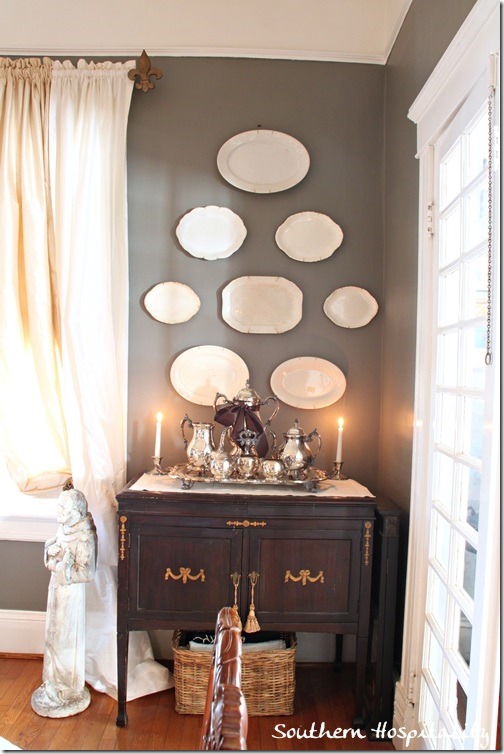 White plates on the wall.  I'm not the only one who loves white dishes.
More pretties atop this china cabinet.
Table set in these beautiful brown transferware dishes.
What a pretty dining room, don't you agree?
Moving on, Ann and her husband, Mark, have 2 sweet boys and they share a room.
Love how masculine the room is and it has a nice vintage feel too.
Shelf on the wall with numbered buckets.
Right next to the boy's room is their playroom.  I love, love how Ann added the numbered baskets in here.  So cute! Not sure if she made these or bought them.
It's such a sweet room, full of things for little boys.
Chalkboard and table with bookcase on one side of the room.
The boy's bedroom and this playroom both have a nautical feel.
So adorable!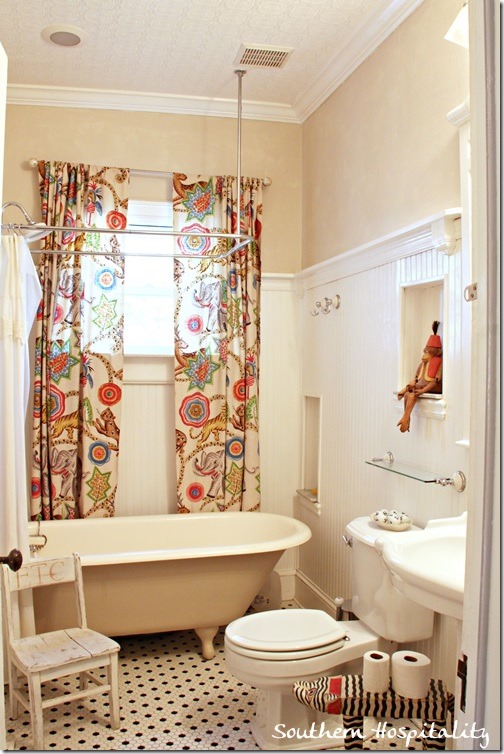 The boy's bathroom, with vintage hex tile and a clawfoot tub, sits off the main hallway.
Staircase in the middle of the house goes upstairs to the attic guestroom.
This is a spacious guest quarters, complete with bathroom suite.
Love those planked white painted ceilings.
The bathroom, in white and marble is so classic and airy.
Lovely touches all around.
The kitchen is cozy and charming.  They kept some existing cabinets and added to the kitchen's footprint.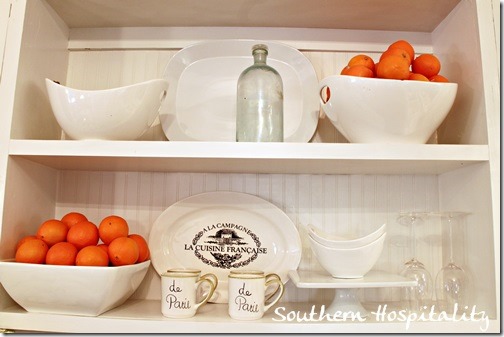 I found out too that Ann's kitchen, along with mine, will both be featured in an upcoming Better Homes and Gardens.  How exciting for both of us!
Such a charming vintage kitchen it is.
A built-in desk by the backdoor comes in handy.
This whole other section that I'm about to show you was an addition the Rolands added onto the house after they bought it.  This is a wonderful new space.
Breakfast area with built in bookcases at one end of the room, next to the kitchen.
Looking to the kitchen from the family room.
And this is the other end, a spacious family room, with fireplace, all part of the new addition.
This is such a gorgeous room and I love all the details that Ann has added. She has a great eye for details!   That door above on the left goes to the master suite.
I especially adore this collected gallery wall.  Ann has some great pieces on display and she really has an eye for antique collecting too.
Another pretty vintage antique displayed with collectibles.
The sofa, cozy and casual with a Union Jack pillow.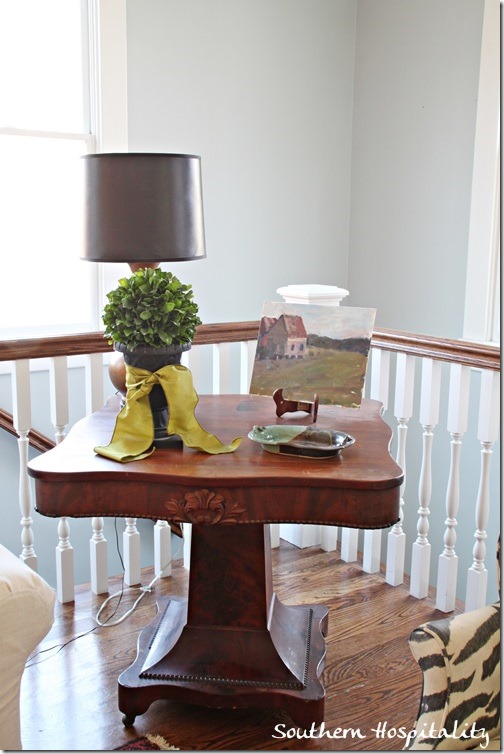 Another beautiful end table.
And yet another gorgeous table, she has so many pretty pieces.
A magnificent room full of personality and details.
Closer look at the breakfast area with built-in bookcase.
Moving on, the master suite just took my breath away.  I felt like I had stepped into a beach cottage when I went into this light-filled space with blues and greens.
Sitting area with white chairs and a beautiful painting.
The master bath suite is also a new addition and it is just stunning, with marble and white vanities, a wonderful retreat.
Again, so many beautiful details to take in, Ann and Mark really got it all right in their renovation.
I just love this master suite space.
Downstairs in the garage area is a cute little art room that Ann uses for arts and crafts.
So, I hope you enjoyed this beautiful tour of a Marietta historic home, in my hometown.  It was so much fun for me to get in there and takes pics to share with all of you.  I knew you'd love to see it and Ann was gracious to let me come by and take pics.  Thank you, Ann and Mark for letting me share your beautiful home with the world! 
Don't Miss a Post, join my list!