I know I say this a lot, but you really are in for a treat today!  I have a friend here in town, Betsy, who came to my first open house 5 years ago with her mom, Jeanette, and they both live in West Cobb.  Betsy has been reading my blog since I lived in Birmingham and recently told me that she came to one of my early yardsales over there before I moved back here (when I did a yardsale with my buddy, Layla, years ago!), so that's how far back we go.  They are just a delightful mother and daughter duo and it was so nice to meet them and to get to revisit with them again recently.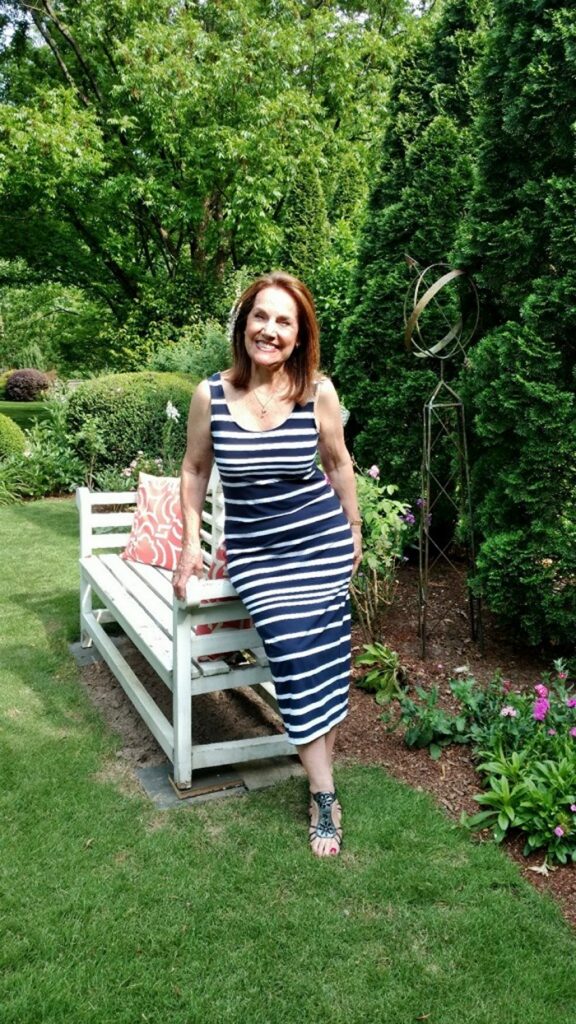 Jeanette the Master Gardener. 
Betsy and I follow each other on Instagram and I've seen snippets of her mom's house and garden on there and I always hinted that I'd love to come over and visit it in person.  Jeanette is a Master Gardener and I knew that it would be beautiful and from the glimpse of the stately red brick Colonial home that I saw in Betsy's posts, I knew I would just eat it up!  And so they invited me over recently and I asked if I could photograph it all to share with y'all and Jeanette was gracious to say yes!
So you are in for a treat!  If you love traditional brick Colonial homes, which I do, you will love this one.  Jeanette also is a collector of antiques and other beautiful objects and her home is a treasure trove of gorgeous things that she has collected over the years.  She loves Traditional style and vintage things and so her home is a testimony of her own aesthetic of beauty and not the trends that take over today.  She walks her own path and I admire that, it's a refined and elegant home!  Betsy, the daughter, loves design as well and the apple doesn't fall far from that tree.
They built this custom home in 1981 and when they moved here to West Cobb back then, it wasn't the booming metropolis it is now. It was still very much country back then.  I was expecting stateliness, but this front yard is something else, isn't it?  I asked them about the mowing and they do hire it out now, but she said they mowed (and even she mowed) for years and it didn't take that long considering how big it is.
The house closer up.  The wing on the right which you can't see that well here, was added on in 2009, I think she told me and it fits right in with the house and looks like it's always been there. You'll get a better look at this beautiful sunroom addition later.
I love the elegance of a Traditional front door like this and we'll go inside in a minute, but first let's tour the beautiful garden that Jeanette built on her own.  As a Master Gardener, that means she is always puttering in the garden and her home has been on garden tours in the past.
We walked through the early morning dew and she pointed out all sorts of plants to me and gave their names, but I won't attempt to remember them all.  She has old fashioned pass along plants, so now I know where I need to go for some shares!  She did send me home with an Iris plant to go in my little garden.
Green space with grass planted with surrounding beds of flowers and hedges.
The spring blooms were still looking gorgeous and colorful.
She did say these pretty pink/purple flowers are Sweet William and I do remember those from long ago.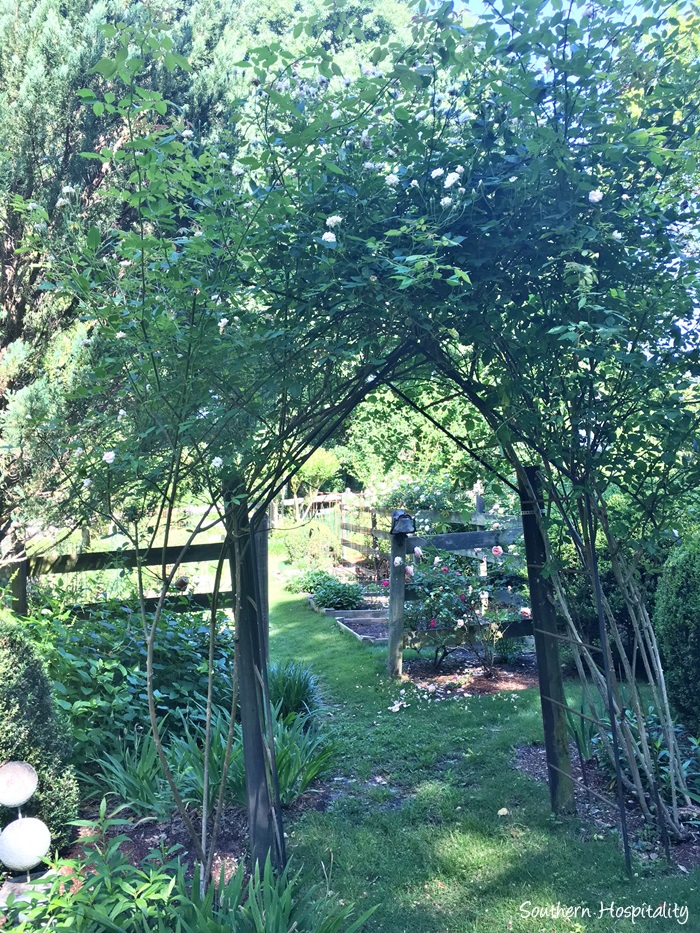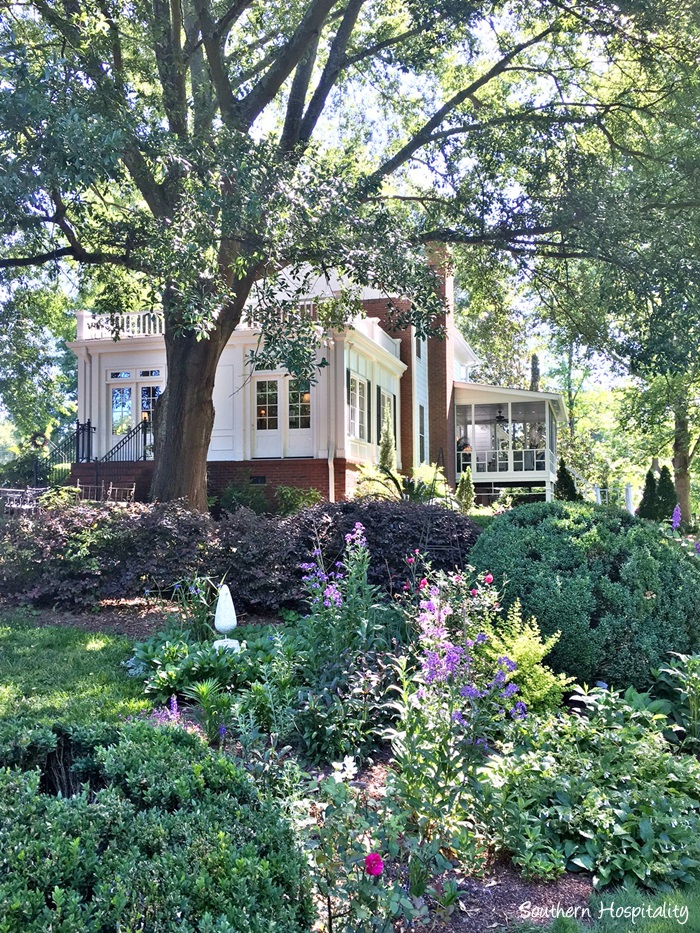 Looking back at the house you can see the addition from here and isn't it just beautiful?  I love that railing around the top, such a Southern statement.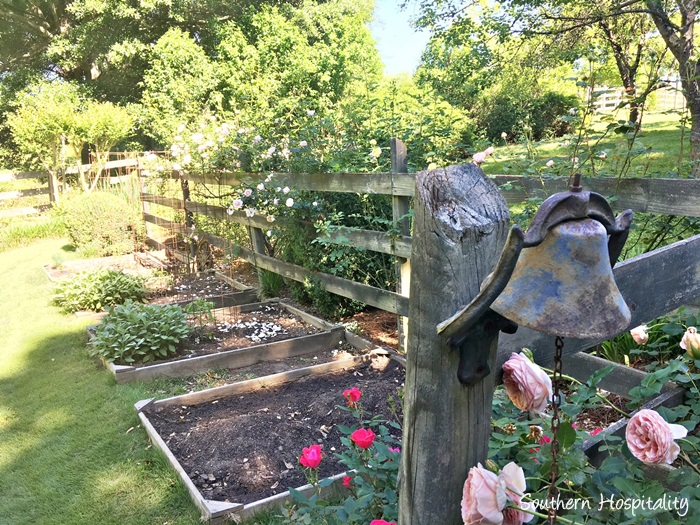 She has a few raised beds back here with herbs and veggies.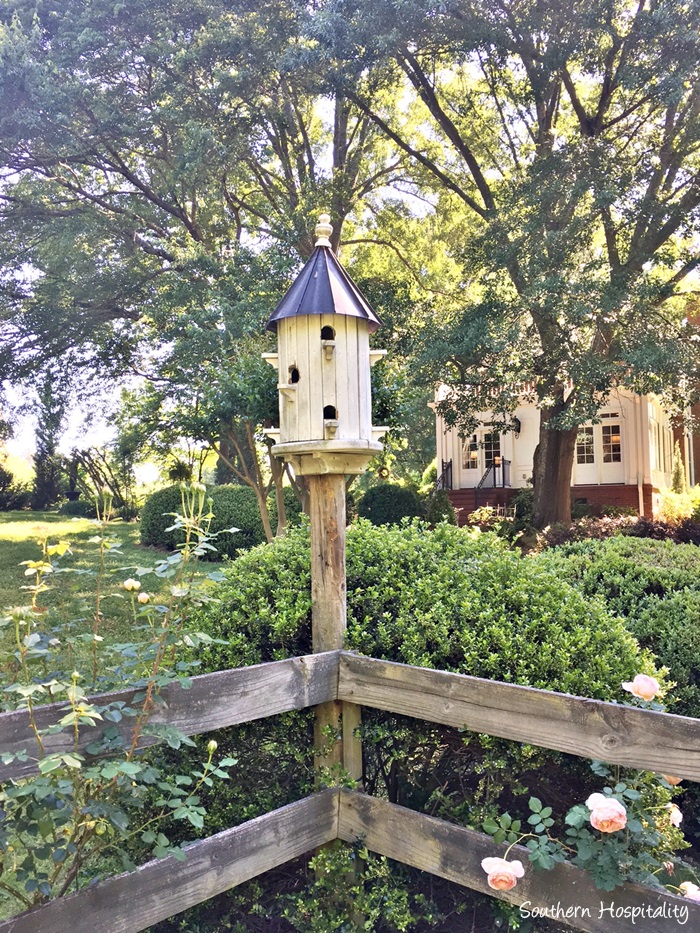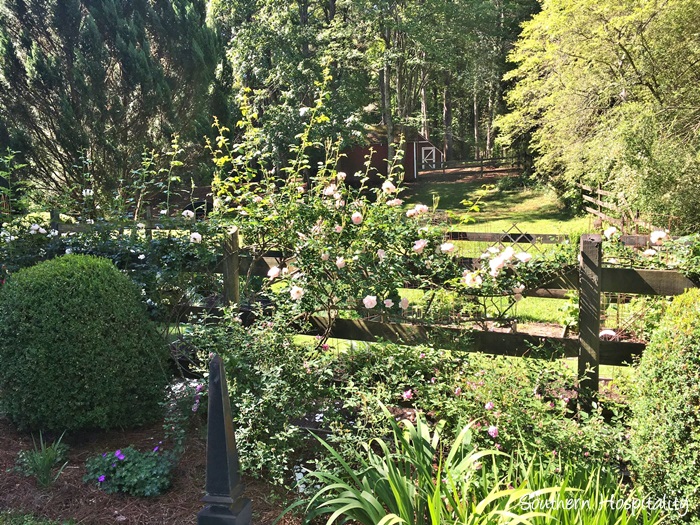 Roses growing on a fence.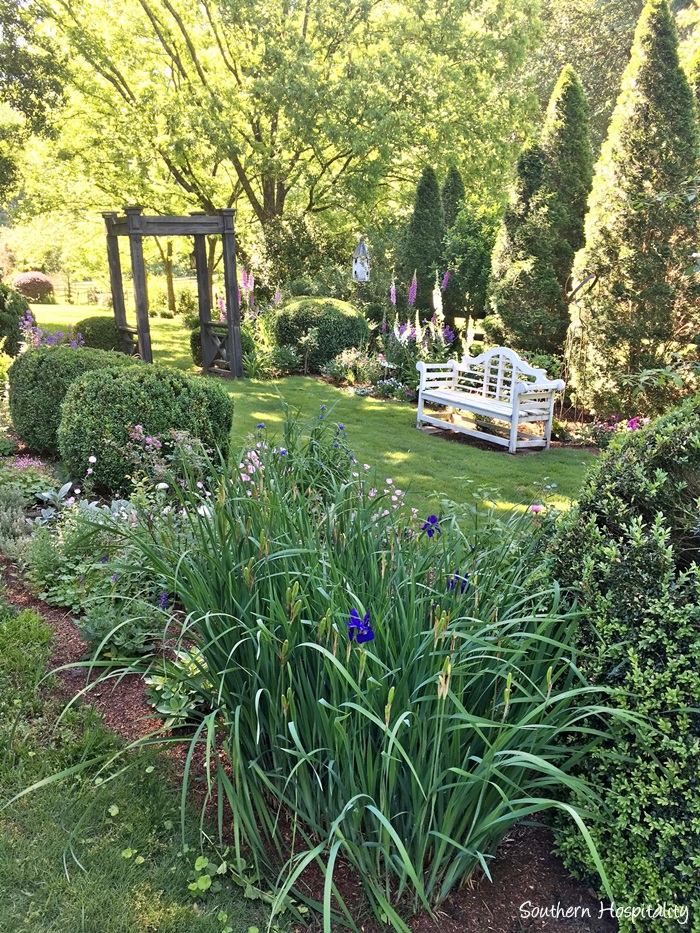 A pretty white Chippendale bench accents the yard.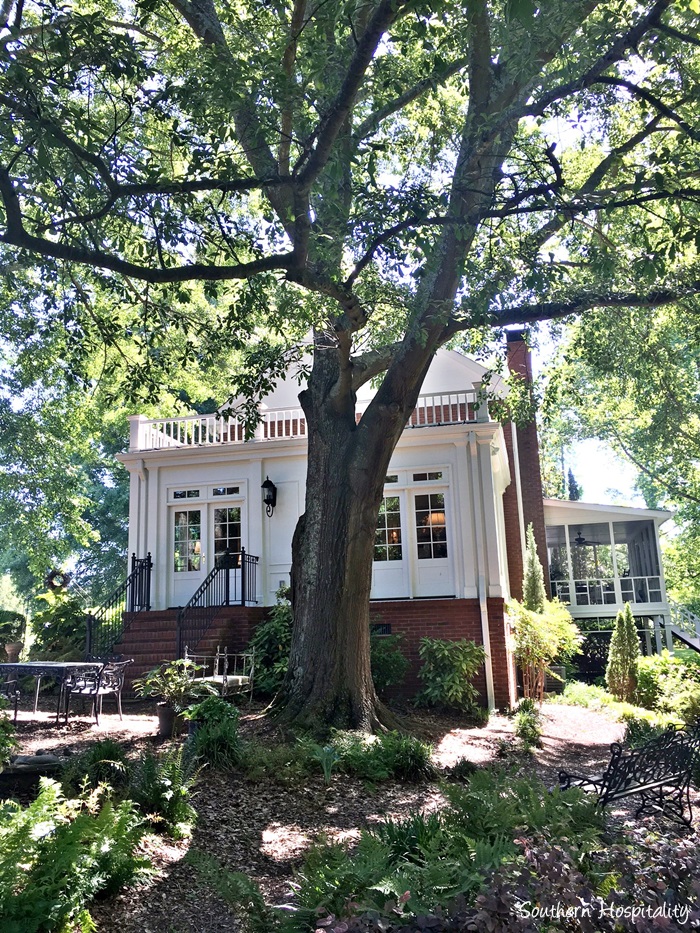 Another look at the sunroom with the brick stairs leading down to the garden.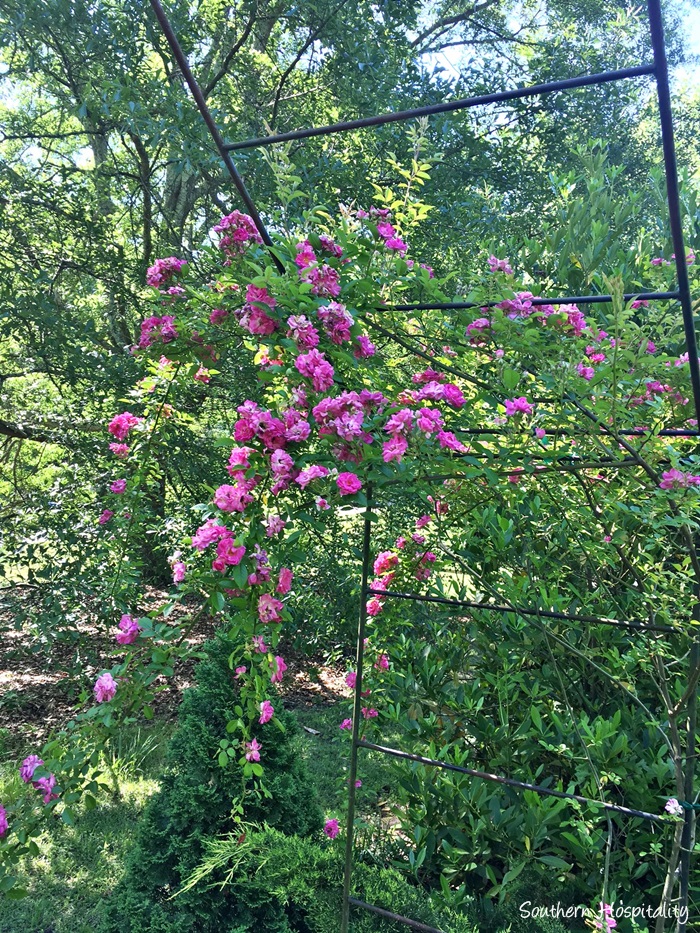 More climbing roses.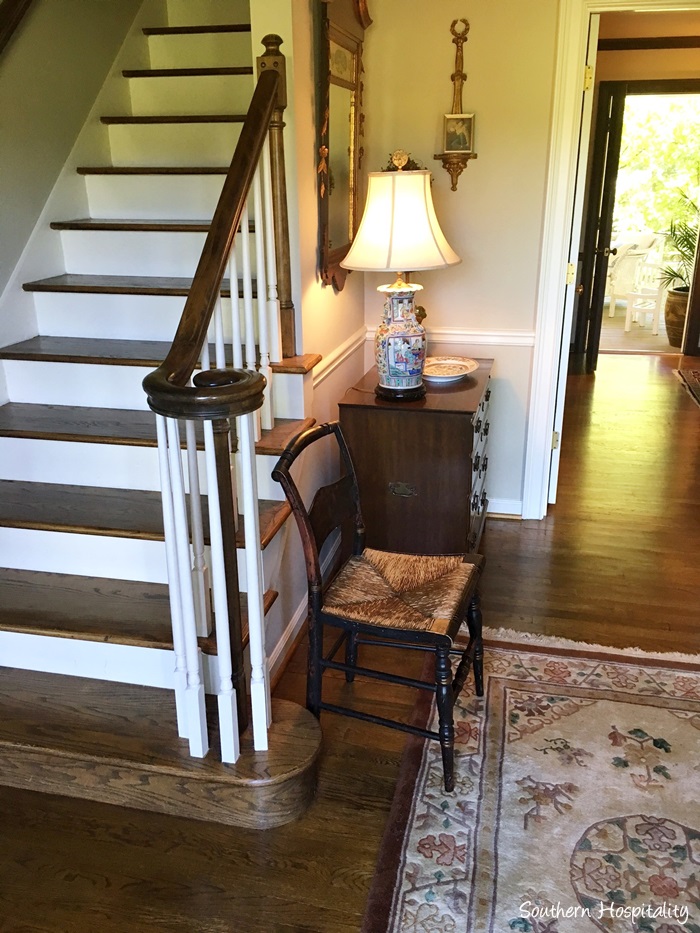 Now, let's go inside and see her treasures.  This is a center hall Colonial with the dining room on the left and the living room on the right.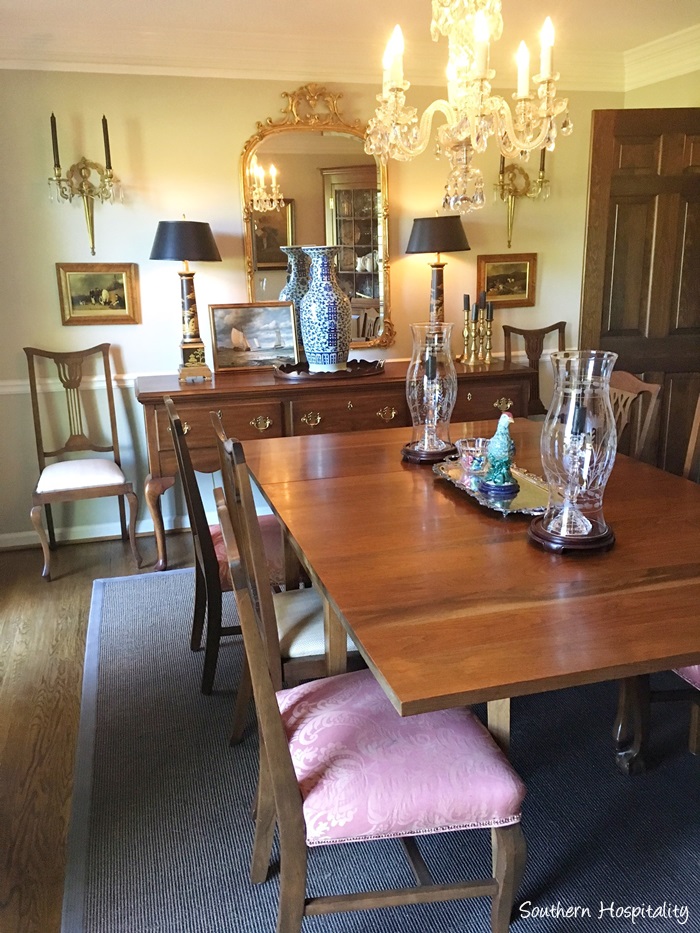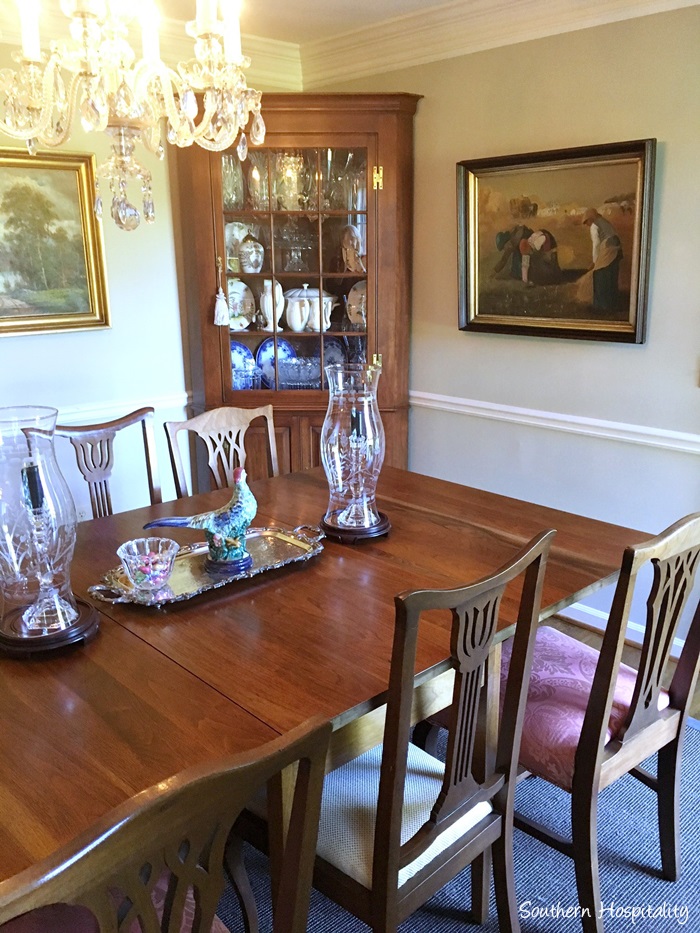 Notice all of Jeanette's beautiful antiques that she has collected for  many years.
The living room peeks through to the new addition of the sunroom, which she said is now their favorite place to gather and hang out as a family. I can certainly see why!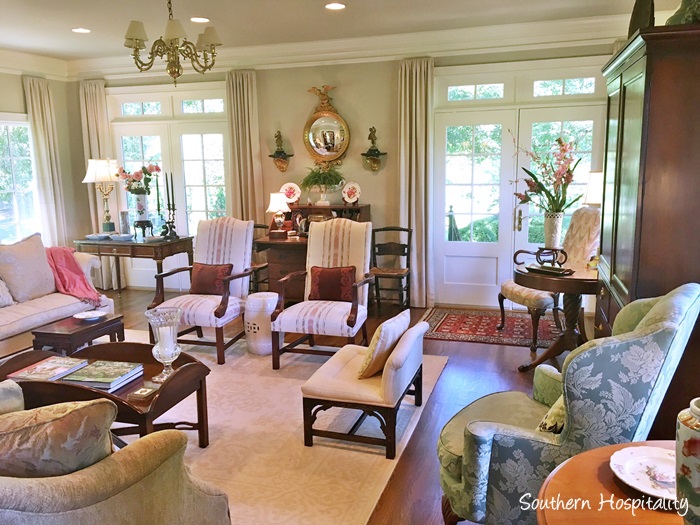 She has 3 grown children and several grandchildren and I can imagine that they love to come here. I just love the French doors and transoms.
Such a beautiful and elegant room.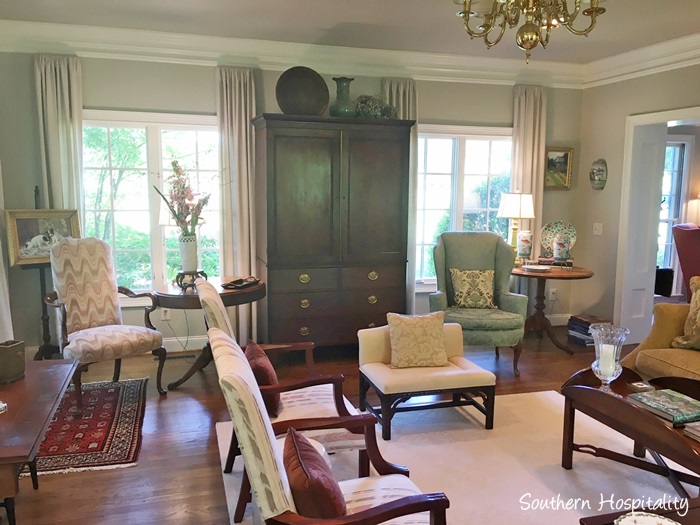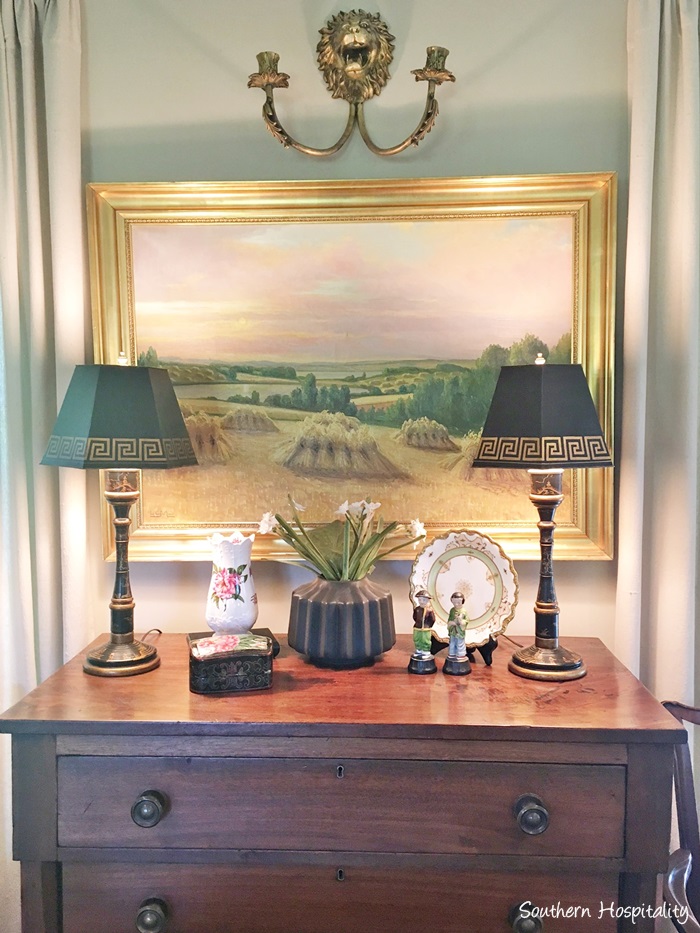 Jeanette is also a talented artist and paints beautiful paintings.  I can't remember if this is one of hers or not, but she pointed out several.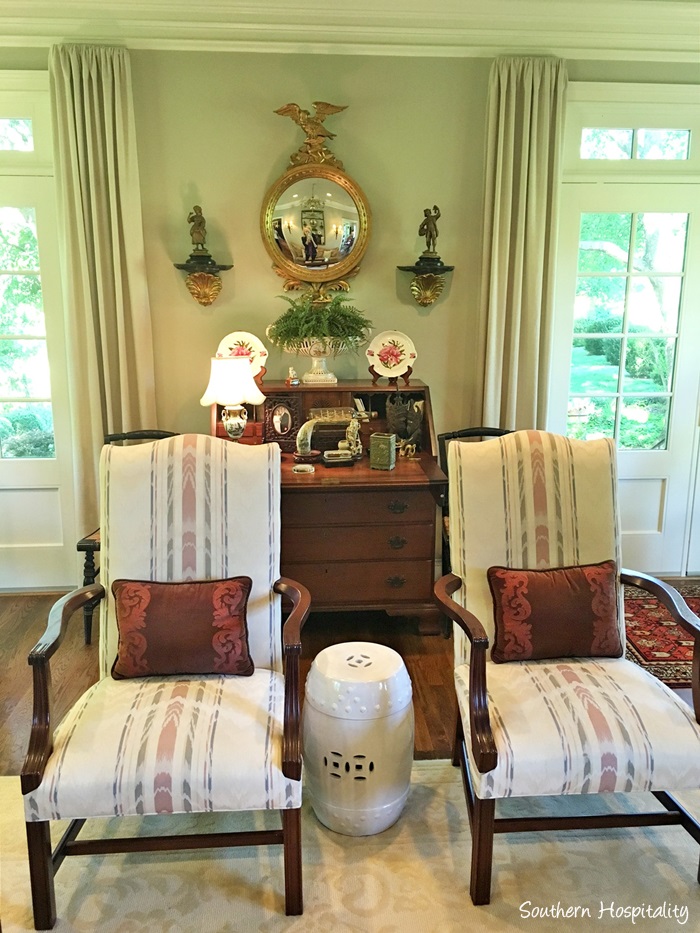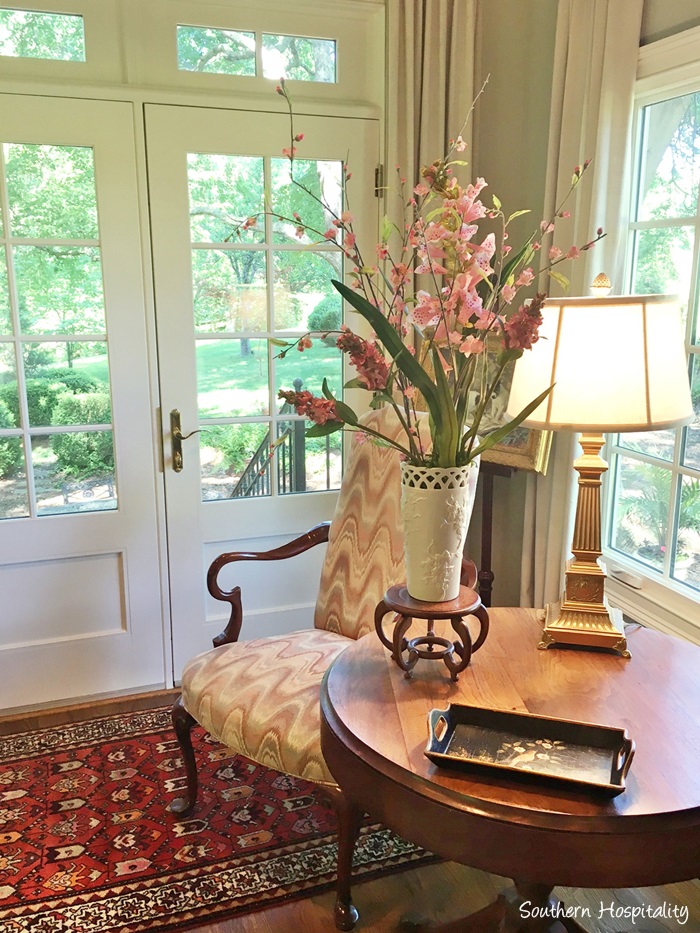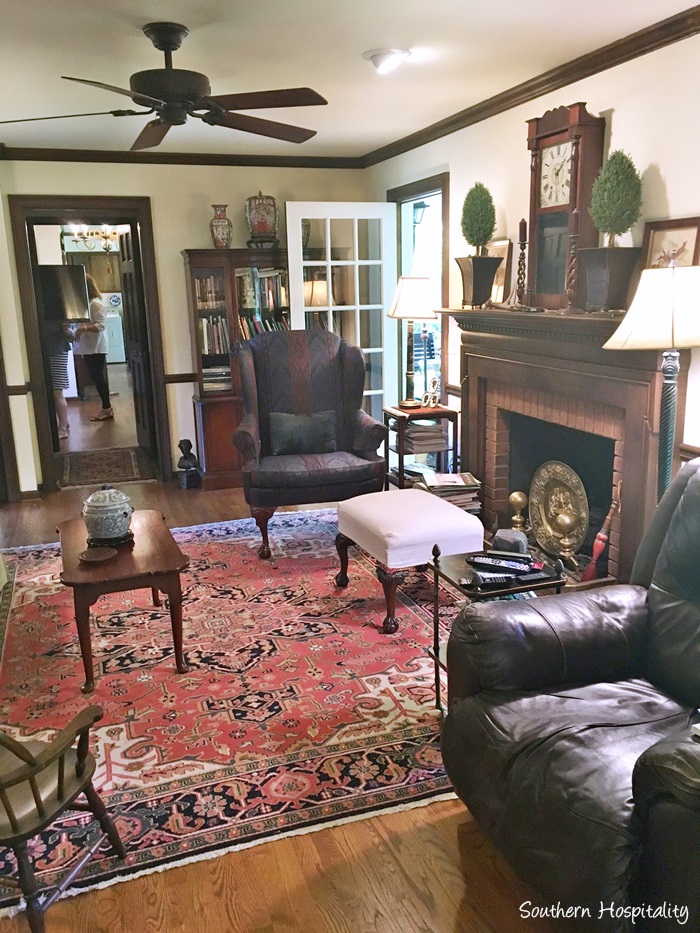 The next room around the corner is the den with a comfy leather chair for hubby and a fireplace perfect for a cozy spot by the fire.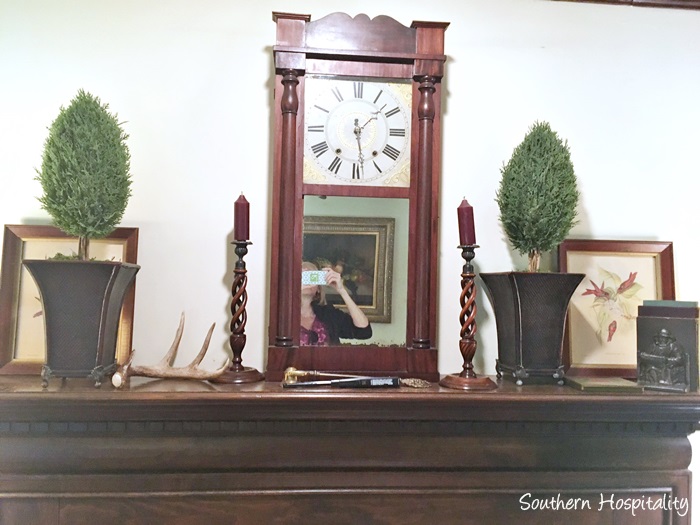 Looking back to the sunroom.  She has some gorgeous Persian rugs too.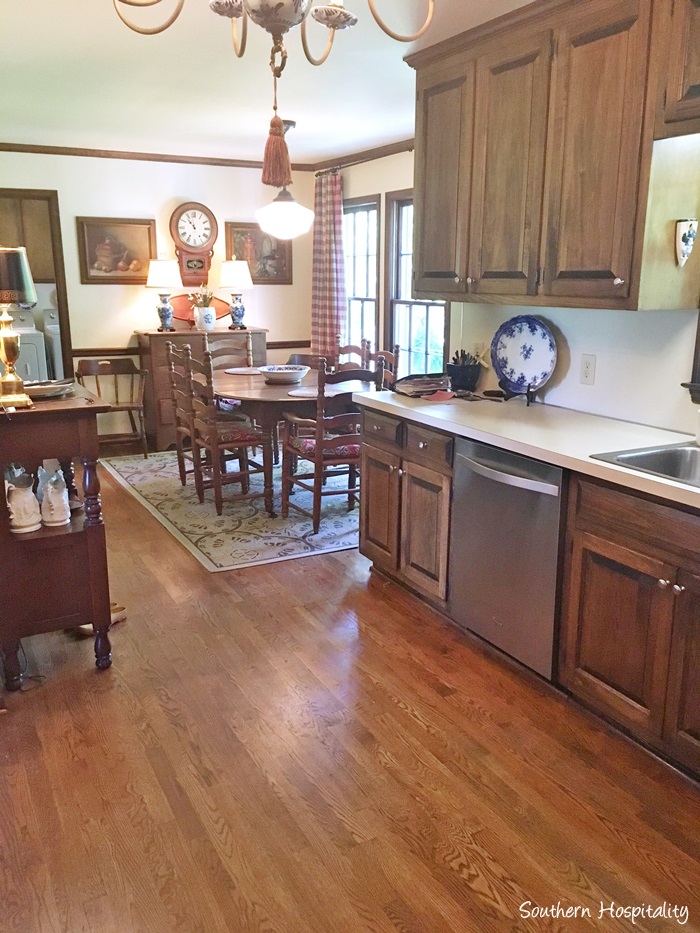 And a peek at the kitchen, which she says is original. She hasn't succumbed to the designer kitchens like so many people do today, but I know that there is so much love in this kitchen that it doesn't matter.  Bravo for that!  My mom still has her original kitchen too.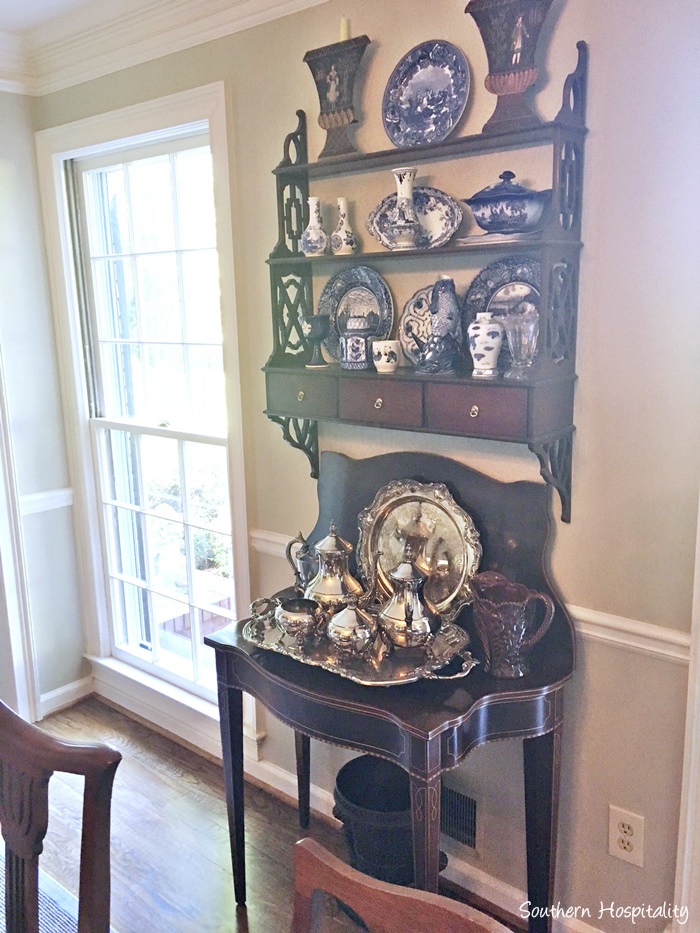 More collectibles in the breakfast room.
Now here is one of my favorite spots, the screened porch.  I just love myself a screened porch and when there is a swing on it, all the better. This one is cozy and oh so Southern, I just loved it. We could hear the birds chirping and it was so quiet and peaceful on this porch.
It oozes Southern charm and comfort.
She loves blue and white too.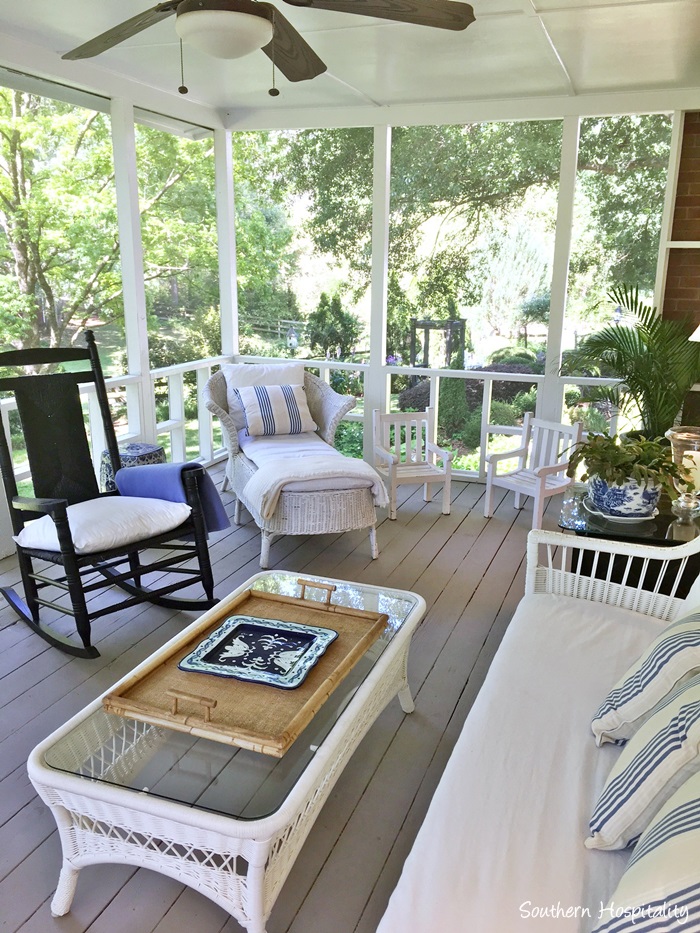 We sat here and finished up our conversation with a cool glass of water, before I headed out for the day, happy to have seen this beautiful home in person. It screams Southern hospitality and I can imagine all the hours spent outdoors soaking up the sunshine in that beautiful backyard.  These two ladies are so charming and beautiful and I'm so glad that we met. I just knew that all of you would enjoy seeing this home as much as I did and I'm glad Jeanette gave me a yes on that and happy that Betsy got it all set up for me.
Happy Friday from a gorgeous Southern charmer of a home!
Don't Miss a Post, join my list!