Today's Feature Friday is a traditional style home right here in my area of Atlanta, in fact not far from my own neighborhood.  Robin, from All Things Heart and Home, is a super sweet blogger who loves doing home projects with her hubby, Mike. They are quite the DIY team, making improvements and adding character to their new/old house.   The house is not old, old, but had enough age on it that they wanted to make some changes to fit their needs and personalities, so lots of projects have been happening since they moved in almost 2 years ago.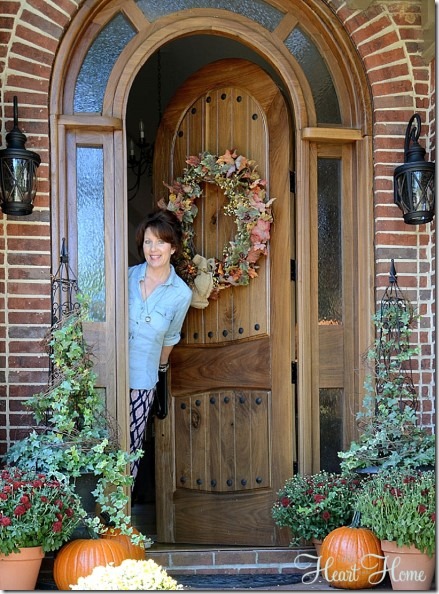 Here's Robin at the beautiful new Tudor door of their traditional brick house.  One of the coolest things I've seen in blogland is this door.
Her super talented husband, Mike, MADE the tudor door himself and installed in in place. They already had the arched doorway, but he built the entire door an frame.  How impressive is that??  You can see all the details on Robin's blog.
Coming in the front door, he also made this large rustic leaning mirror.
The family room with a floor to ceiling rock fireplace sets the causal and rustic tone of the room.
Looks like a wonderful place to relax.
Looking from the breakfast area to the kitchen is a pretty sight.  Mike also made this table too.  Wow, the talent!
They do a lot of things with rustic reclaimed wood, this table being one of them.
Another great idea was taking this area of the kitchen cabinets and removing the top doors, making open shelving with beadboard behind.  So cottage like.  This created a space for the microwave too, which they moved from above the stove.
Before and Afters are so fun to see. This one is beautiful!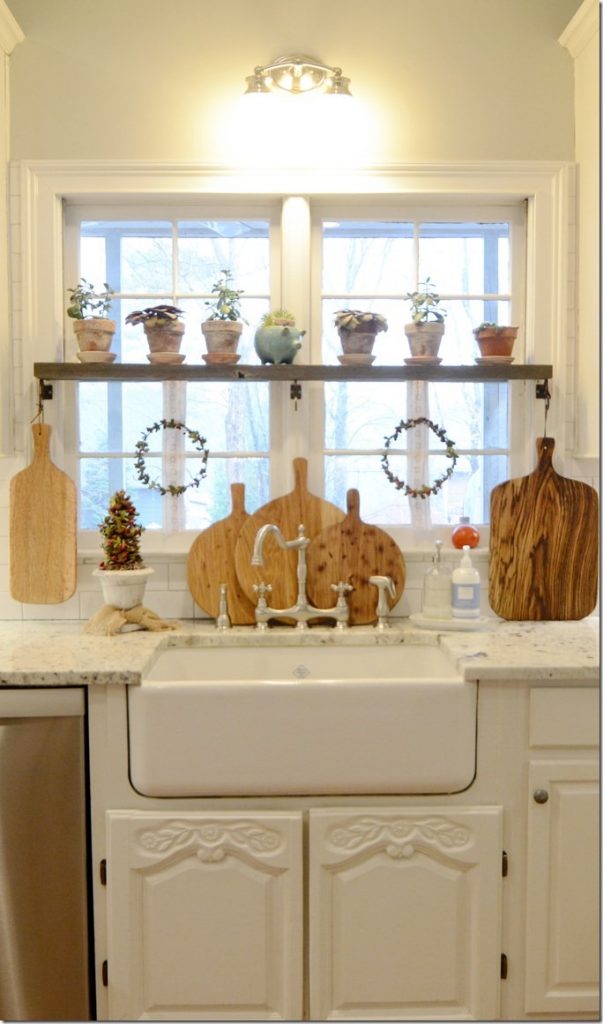 The farmhouse sink is dreamy and those hand-made cutting boards are too.  Another beautiful project by Mike, such a talented guy.  Robin, you are one blessed lady!   And of course, he made that plant shelf up there too. What a fun way to display plants.
Another plant shelf is nearby in the breakfast area, with lots of light coming in.  All those windows are so nice!
Out on the screened porch, Robin has spruced it up too, with rug, furniture and general coziness.  What a fun place to hang out!
I notice this is the same furniture that we put on my parent's back porch makeover and I know for a fact how comfy it is.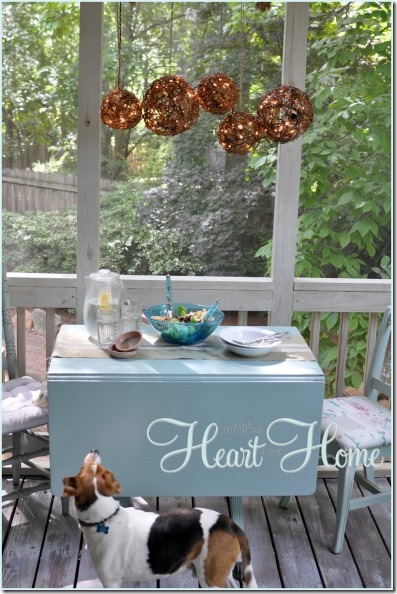 A drop leaf table makes a nice place for breakfast outdoors.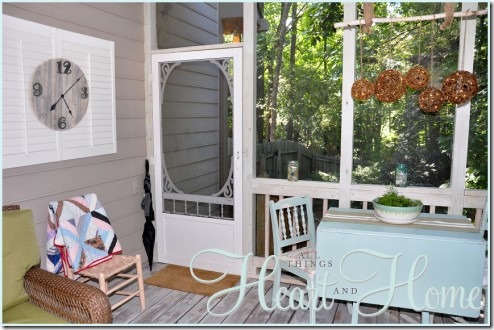 Sweet outdoor porch spaces get me every time.
Robin does so many DIY projects and this mason jar lantern is one of them. I bet this casts a wonderful glow at night.
Upstairs, they have a fun little playroom for their 4 granddaughters.
The master bedroom is on the main floor.
The master bath is still a work in progress but very pretty with this painted armoire.
They've been working extra hard out in the backyard too.  Wait til you see this paradise behind the rustic gate that yes, Mike built.
They added pavers under the deck creating a huge area for many seating spaces.  A pondless waterfall is a key feature in the backyard too.
Wow, I wouldn't ever want to leave home with this in my backyard.
So cozy with the vintage chairs out there around the firepit.
I just might have to get a firepit one day. I'd love to have a patio like this out my backdoor too.
Listening to the waterfall must be so calming and peaceful in the backyard.
Robin and Mike, you two have created a wonderful home for your family in the short time you've been in your house.  It looks amazing and I hope all of you enjoyed the tour of Robin's All Things Heart and Home.  Stop over and stay hello, she is so friendly and sweet!
I'm leaving today for a big adventure in New Orleans.  My sister and I are going down to stay with Lauren and family.  That baby girl is just starting to walk by herself, so we can't wait to see that in person.  I've got some fun things lined up to blog about (hopefully a house tour from the Garden District in New Orleans) and this time will be getting out and about in New Orleans seeing sights and eating some good food, so I'll have plenty to share while I'm there for several days.  I'll be sharing day to day adventures from New Orleans on Instagram and Facebook, so if you want to follow along live, I hope you will.  
Don't Miss a Post, join my list!