My friend, Angela, and her family have a beautiful cottage in the mountains of NC.  Waynesville to be exact.  I had never been to Waynesville, but it is a beautiful part of the state and not far from Asheville, another beautiful NC city.  NC is near and dear to my heart, as I grew up going to this fair state during my childhood years in Georgia.
Before I go any further, I'll tell you that the cottage is available for rentals also, so if you are looking for a mountain getaway, this cottage is remarkable! Thank you, Angela, for inviting us on this fun weekend excursion.
Angela told us that they bought the 1981 cottage in 2008 and pretty much everything but the timber ceilings, hardwood floors, and stone work were redone from top to bottom.  You can read more about how the cottage looked at the beginning over at Angela's with some great Before and After pics!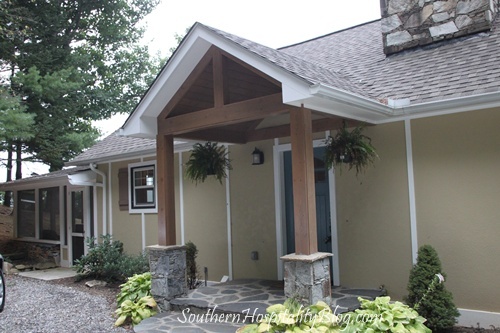 I took about a zillion photos, but my skills are not up to par.  You can, however, catch this beautiful cottage in the October issue of Cottages and Bungalows.  My friends, Layla and Kevin, photographed the cottage last Fall and it has just landed in the magazine.  They did a fantastic job with this cottage storybook!  Layla talked about the magazine shoot just this week!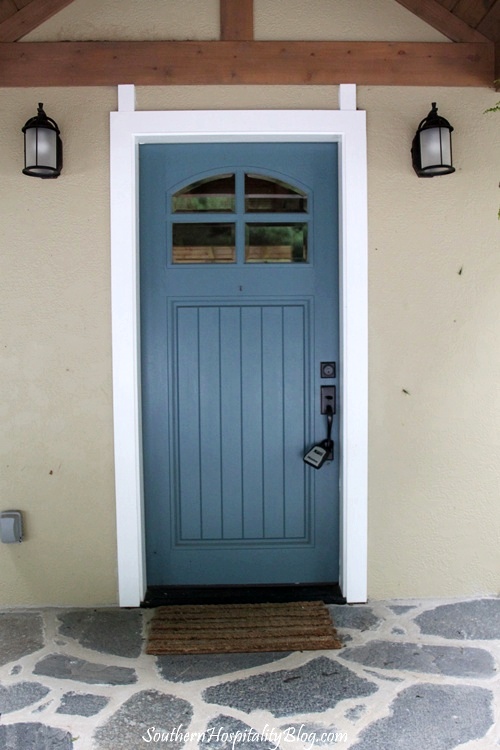 Coming in the beautiful blue front door.
Looking back at the door from inside.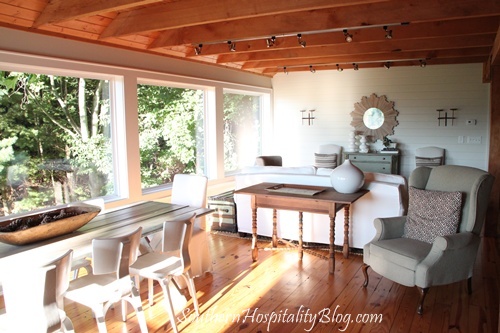 A sweeping view of the greatroom and dining area. Angela talks all about how she furnished the cottage on a budget in this post.  You will love reading all about it!  No wonder we get along so well.   Read about the Pottery Barn sofa she found for $10 at a yardsale.  All it needed was a new slipcover. 
And this rustic table was found for $35 and Angela painted and distressed it.  Those windows let in a TON of light and it feels so light and airy in here.  Notice the beamed ceiling.  So rustic and beautiful!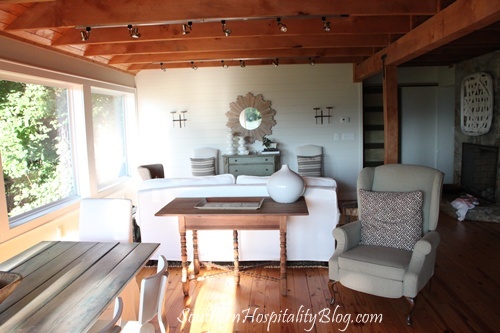 Another view of the living room.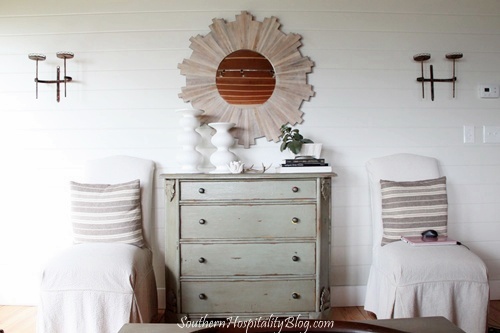 Angela kept the decor simple, but elegant.  Not a lot of accessories or stuff, just the right amount.
I loved this old gray-green chest that she found.  Many of her finds were from vintage stores and some new things.  It's a happy mix of eclectic, the very best way to decorate.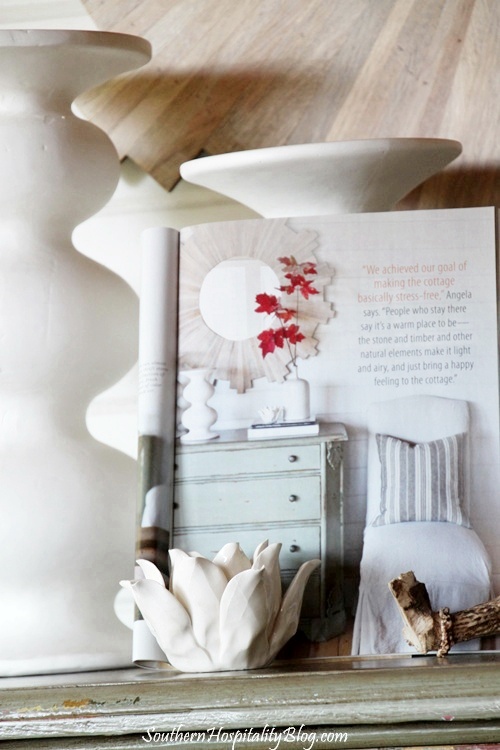 We had a copy of the magazine, so couldn't help but do a photo shoot with it in the pic.
From the greatroom looking back to the kitchen.  I love the open feel it has. 
Beautiful Angela!  She is a natural beauty, very tall and very sweet.  So glad we met and became friends!  She reminds me of Audrey Hepburn with her classic style and looks.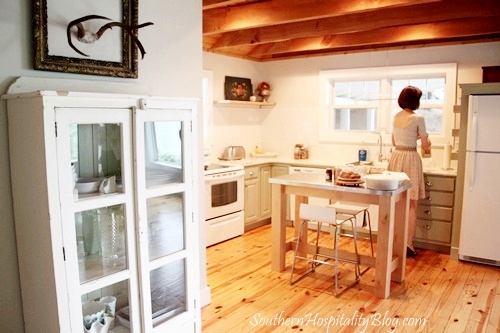 We were geting ready that morning to leave for Cashiers for the showhouse.
I think Angela said she picked this up at the Tobacco Barn in Asheville.  We got to visit there too, so I'll share pics of that fun place later on.  I hear there were some treasures brought home after I left to drive back home. 🙂
Love these antlers set off by an old frame.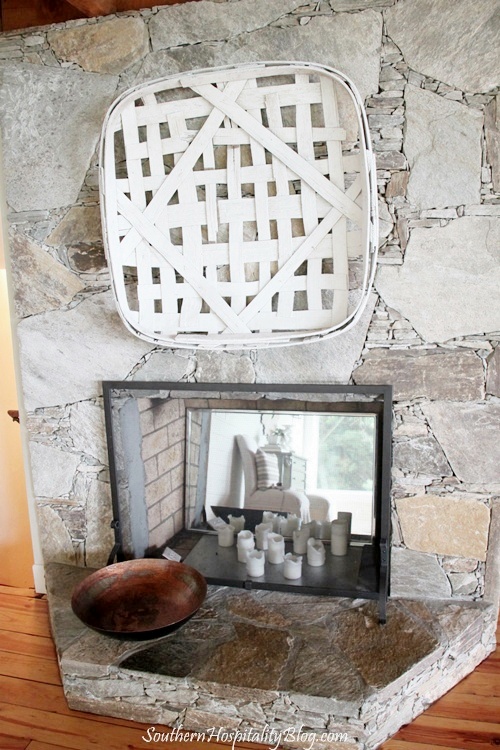 A tobacco basket sits above the fireplace.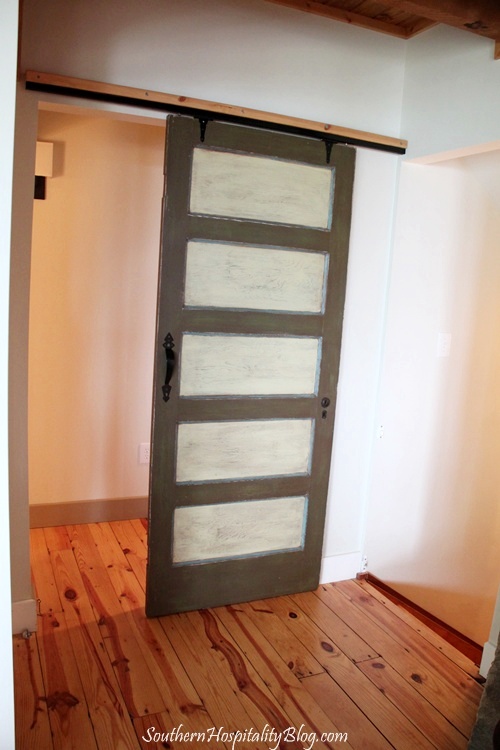 A barn door was added going into the master suite.  Notice the beautiful pine floors.
The master suite is spacious and comfortable.   I love the colors she used throughout.   Very soothing and calm.
Side table in master.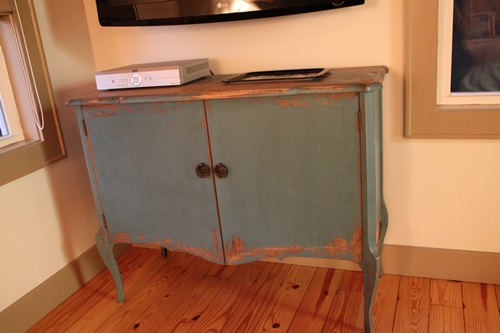 This looks like an antique, but it came from Homegoods.  Perfect with the TV over it.
Master bath is gorgeous.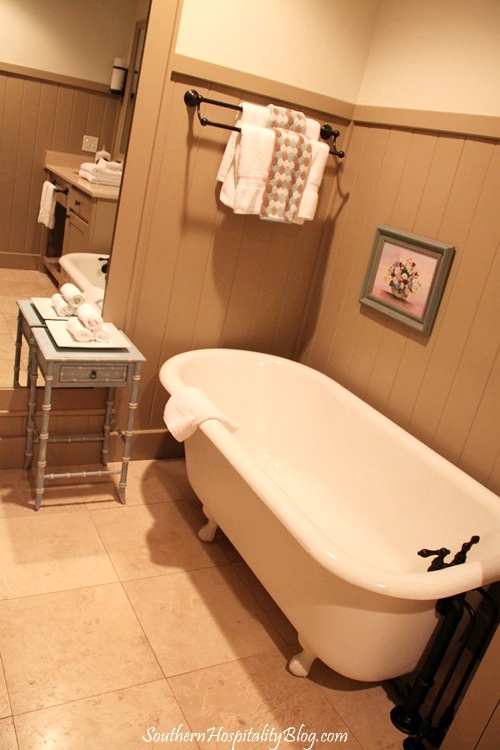 With a tub and shower, you are covered in here.
Heading downstairs….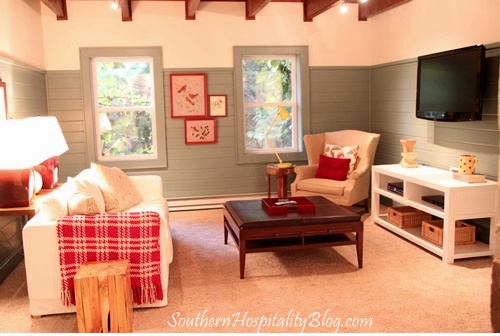 This beautiful and comfortable family room awaits with a large screen TV.  You can see how great it would be to take a family here. 
Another fireplace downstairs.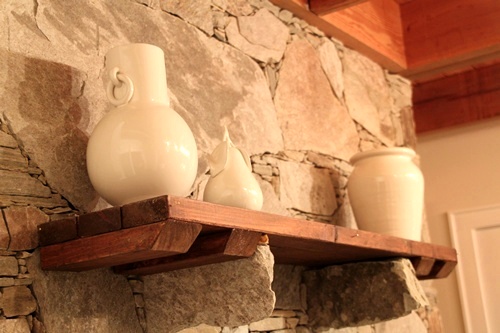 Lovely!
Lamps behind the sofa.
Needlepoint birds on the wall add some vintage charm.
The queen size room downstairs is also spacious.   Love the striped rug.
A thriftstore dresser gets a paint job. 
Comfortable bed and bedding.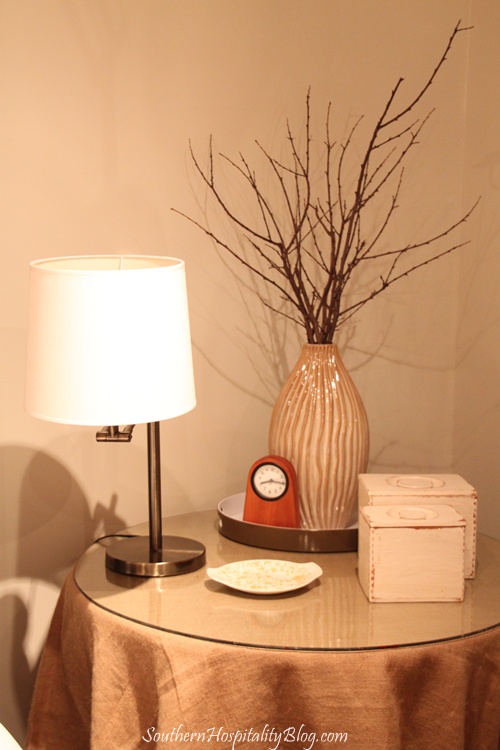 Lovely side table.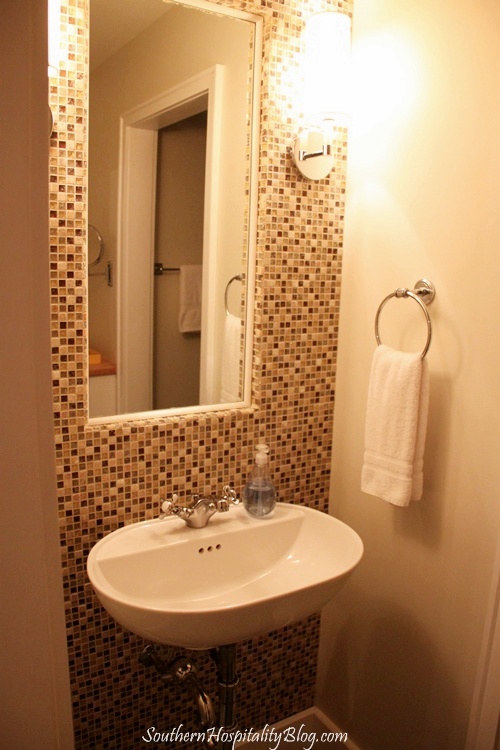 Bathroom for this room.
Notice all downstairs is this beautiful turquoise stained concrete.  I absolutely LOVED it!  They did this themselves.  If I had carpet, I would so rip it up and do this.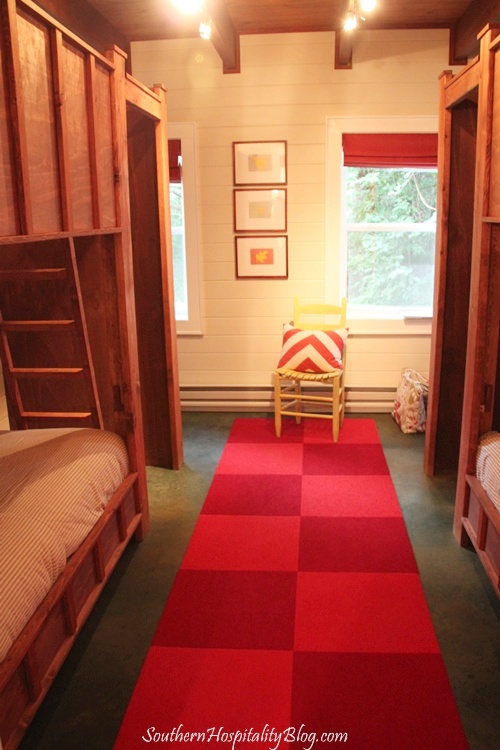 On the other side of the family room downstairs is this bunkroom that holds 4.  Four of us slept in here and were quite comfortable.  Of course, it would be perfect for kids. I love the Flor carpet tiles.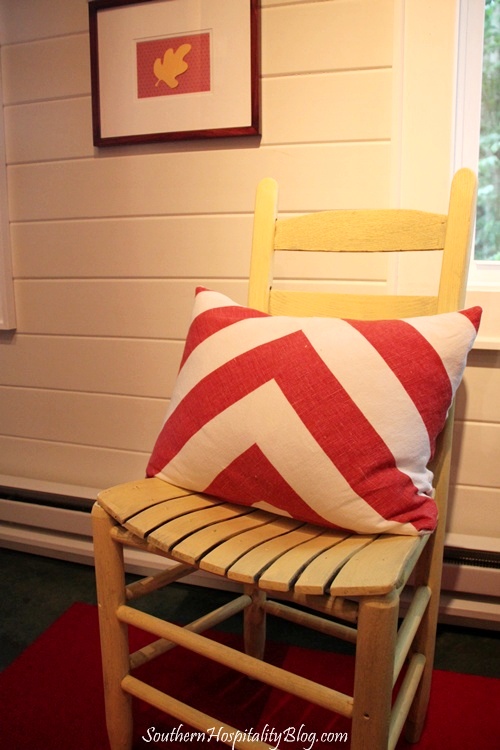 A cute little side chair and pillow.
And the adjoining bathroom for this room.
We had dinner around the table the first night. 
Right off the kitchen is a huge screened porch. 
Angela has put so  many details into this cottage. It's just adorable.
Take a look at this view!!!  Wowza, is it spectacular of those NC mountains.  I never get tired of looking at this.
We got in a little chill time before heading out for the day.
I know you enjoyed going on this trip with me!  We all enjoyed our visit so much and hope to go back.
If your family is looking for a NC rental, check out Angela's cottage!  It's a dreamy mountain paradise!

I'm sharing over at Homemaker on a Dime today about advertising and blogging if you're interested in reading!
Don't Miss a Post, join my list!