I'm starting Feature Friday a day early this week and you are in for a treat!
The Atlanta Symphony has been doing a showhouse for years now and I don't always make it out to see these stunning homes, but this year I got a media invitation to preview the house and they let us take all the pics we wanted.  How could I pass that up?  I knew y'all would love seeing this too, so I took a ton of pics and I'm going to share them in 2 parts.  I usually take way to many pics, but I can't seem to help myself.  It's so much fun to see these grand old houses up close and personal.
This magnificent Italian Baroque-styled masterpiece in Atlanta is in the heart of Buckhead on West Paces Ferry Road and was built in the 1920's for the Rhodes family. It is affectionately known as The Pink Palace because of it's former pink stucco and pink dogwood trees.
So, get ready to enjoy the tour, it is big and grand and everything you'd expect a mansion in Buckhead to be.  I grew up in Atlanta, but I haven't been in many Buckhead mansions, so this was a special treat for me too.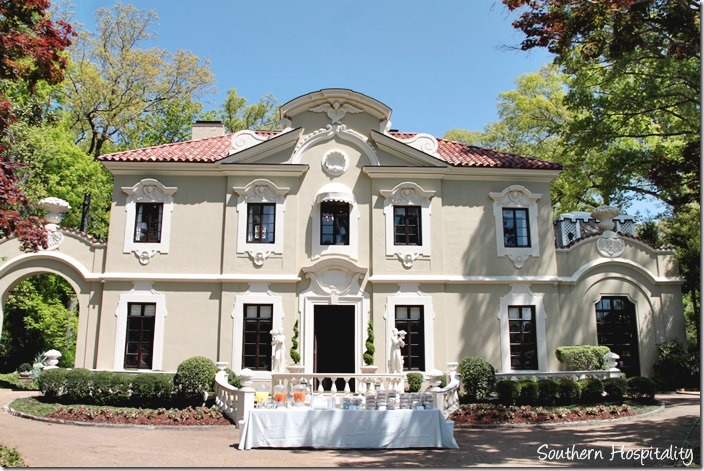 The beautiful Pink Palace, which isn't pink anymore.  They treated us to a nice lunch outside under the trees and it was such a gorgeous spring day, perfect for touring.
The house has so many outstanding details.
Picture perfect front entry.
Pool in backyard, they were still working on getting all of this landscaped and set up just so.
The family living room was designed by Timothy Corrigan and it was especially pretty in blue and white.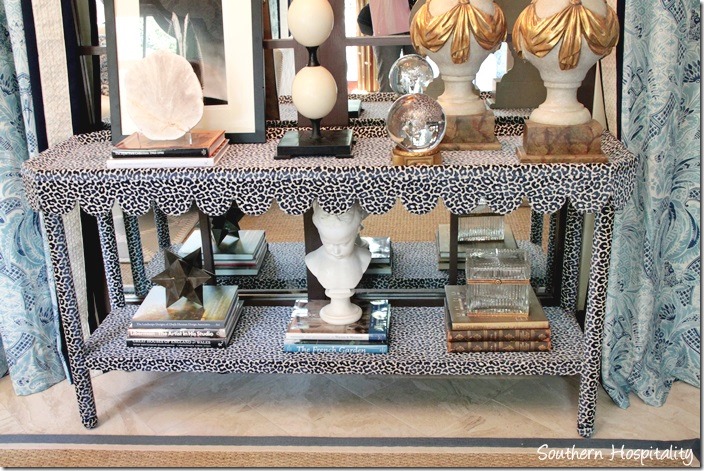 One of the beautiful light fixtures in the house, all lighting is from Circa Lighting.
The breakfast room was designed beautifully by McLaurin Interiors with Clay McLaurin Studio.
The beautiful kitchen was designed by Design Galleria Kitchen and Bath Studio.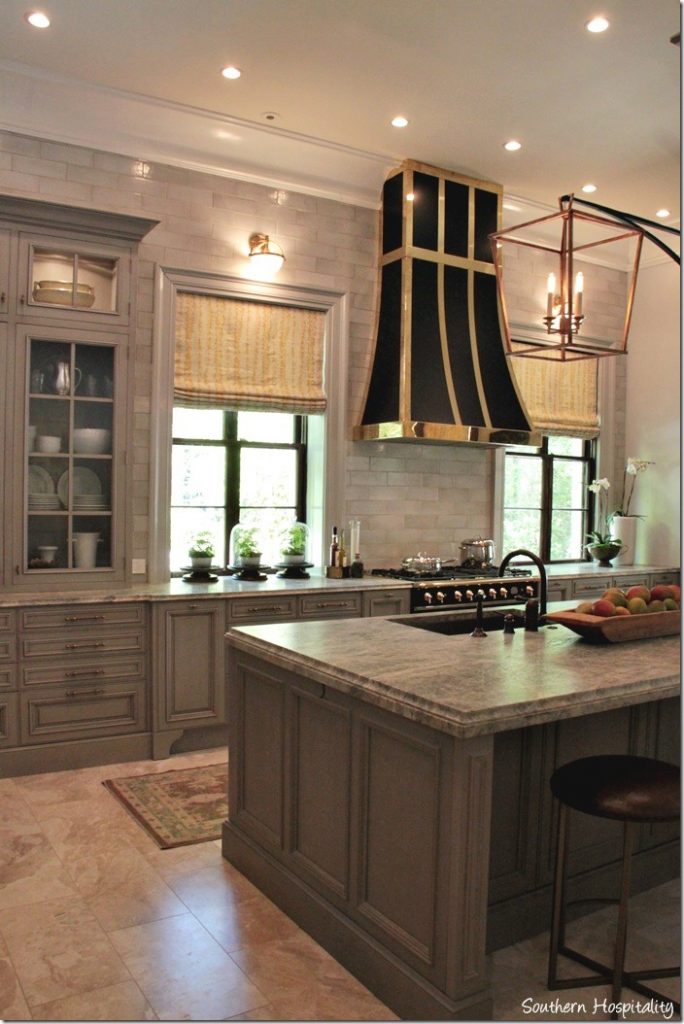 I asked about the counters and he said they are leathered onyx.  How pretty is this?  I had never seen this before.
I loved the gray cabinets and the pretty burnished brass handles.
This wall of cabinets hides the refrigerator, oven, and lots more and the walk in pantry is through that door.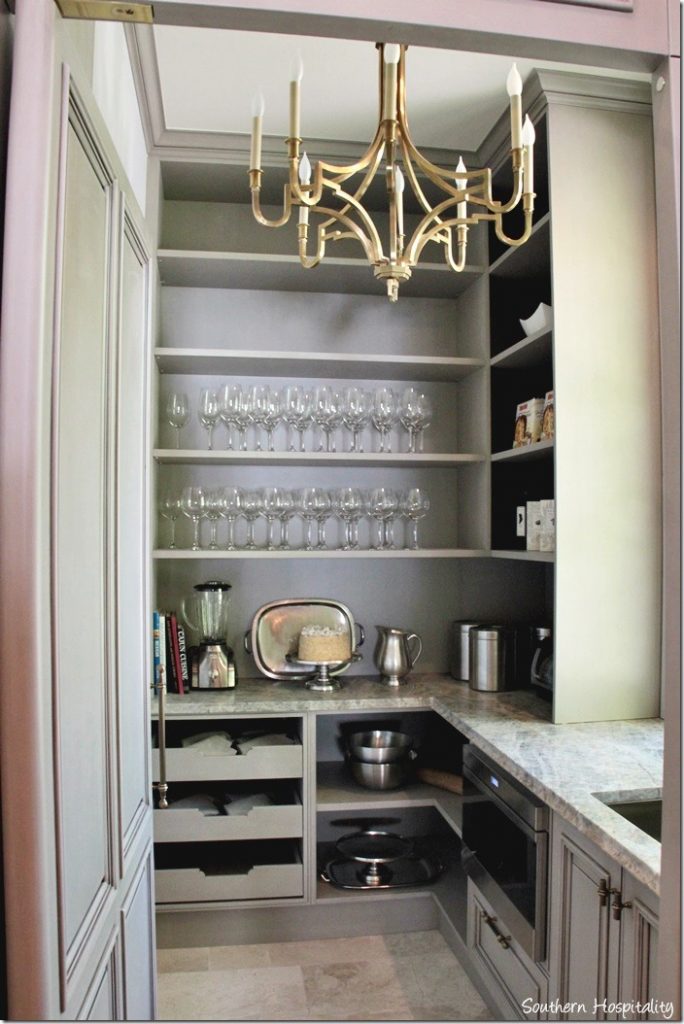 Cloche jars from my fave friends, Ballard Designs.
This is a customized coffee station.
Family hallway with mirrored wall.
Dining room designed by Melanie Turner Interiors.  It was a lovely space.
Grand Salon at the very front of the house, designed by Westbrook Interiors, Barbara Westbrook.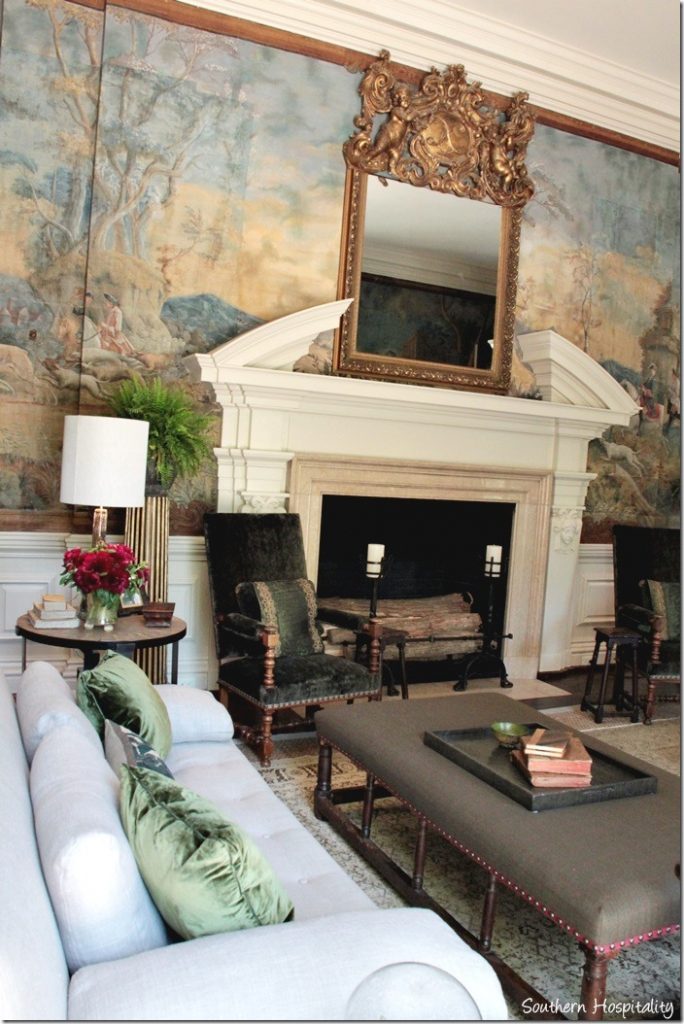 The muraled wallpaper on the walls was very elegant in here.  Loved this room.
Just seeing the architecture of a home like this is awe-inspiring.  And the fact that it's almost a 100 year old house is amazing too.
The solarium was designed by Robert Brown Interior Design.
The morning room designed by Oetgen Design Inc.
The study designed by Stan Topol and Associates.
Carriage entry and hall designed by Boxwoods Gardens and Gifts (one of my personal favorite stores).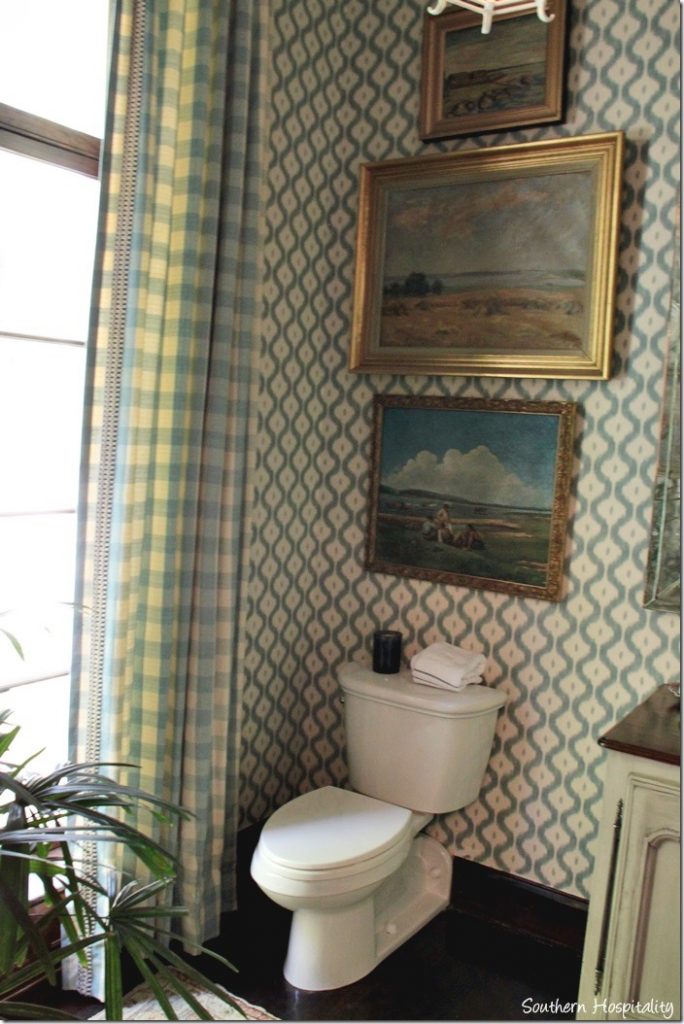 And that's the first floor tour this week.  Come back next week for Part 2 of the Atlanta Symphony Showhouse 2014.  It truly is a gorgeous and stunning home and I loved being in there and seeing it all in person.  I'm glad they gave us a map and all the particulars, because when you are wandering around a house this big, it's easy to lose track of which room is which.  At least I had a map to go back and identify my pictures.
Hope you enjoyed this magnificent home in Buckhead!
For lots more information, check out the Atlanta Symphony Showhousewebsite with all the details on each of the 30 designers.  The home is open from April 26 to May 18, so if you are in the Atlanta area, I'd highly recommend taking the tour. 
Don't Miss a Post, join my list!