A couple of weeks ago, I got invited to a preview party of the new Ballard Designs Bosch Net Zero house in Serenbe.  Net Zero means all sorts of green living and high-tech, energy saving devices in this house, but I went to see the pretties.  If Ballard is involved, I know it will be pretty!
And it was!
Come along for the tour!  As usual, I couldn't stop taking pics.  You don't mind, do you if we do it in two parts again?  I didn't think so!  The outside of the house is very charming and cottagey.
Sponsored by Bosch
Designed by this cute lady, Jill Sharp Brinson, Creative Director at Ballard Designs. It was great to meet her and she was very friendly.
Loved this touch of the black and white paper lanterns on the front porch.  Cute, cute!
These hanging vases in fishing net was an extra special touch as well.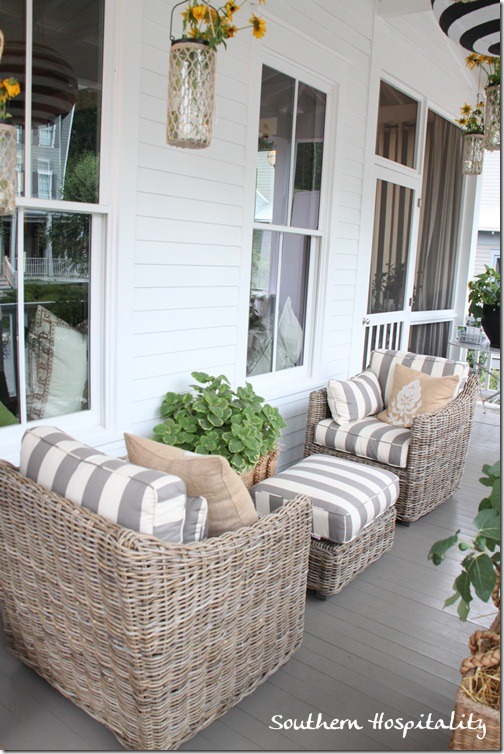 Overall, a very inviting porch.  And I happen to love inviting porches, don't you?
A hanging swing on the side porch creates almost a hidden little room.
All cozied up with Ballard pretties and you have a winner in these accessories.
Wouldn't you love to while away some free time here?
Inside the living room is cozy and textural too.
Loved the fabric on these chairs.
Lots of textures going on with this rustic coffee table and fabrics around the room.  Neutrals with pops of color.
Graphic fabrics are really catching my eye these days, so expect to see some of this in my new house.
That looked like wallpaper on this wall in the dining area and it was very striking.
How pretty is that Ballard's light fixture?  Love it!
Inside the front door is this pretty iron and wood bakers rack.
Loaded with all sorts of glassware and practical storage pieces.  Open shelving can be a good thing.
In the kitchen, there's more open shelving.
Those are my friends in the kitchen chatting it up with the Bosch rep, as I was busy snapping pics.  That's my friend, Ruby, Debbie and my sister, Renee.  I'm not sure what was so funny.
The kitchen was spacious and pretty at the same time.
Loved the big island in the middle with open shelves below.
Open shelves with fabric or wallpaper behind.  Love this look!
This room was one of my faves.  I love green anyway, so this one made me say "ahhhhh".  I'm loving Ikat fabrics now too.  They seem to be classic fabrics, but I sure don't remember seeing them before now, but I love their textural feel and how they look.  I'm getting some Ikat too!  This green really makes me smile.
There's that beautiful lantern again that I bought for my dining room.  Sigh….love it still!  Can't wait to get it hanging in my house.  Isn't this bed gorgeous?
All this green just makes me happy!
I also want a leaning mirror in my house.  That's on my list too for my bedroom.
Love how that artwork is displayed on the wall.
Another pretty Ballard's mirror.
This sconce is pretty cute too with the moss ball on top.
A cozy little porch off this room is a nice retreat.
Hope you enjoyed Part 1, I'll be back next week with Part 2 of this beautiful house in Serenbe.
Don't Miss a Post, join my list!