This blogworld is just the funniest thing.  We meet folks from all over the country and sometimes even end up at their house without even knowing it.  Such was the case with Dana Wolter, well-known interior designer in Birmingham.  She is a Twitter friend of another of my Birmingham blog friends,  fabulous food blogger Alison Lewis, and somehow Dana and I started tweeting each other.  I clicked over to her blog and knew that she was in an entirely different league than I am with decorating, but yet she has always been so friendly and gracious.
Somewhere along the line, I read an article about Dana's design business in the Birmingham Home and Garden magazine, showing her stunningly beautiful home and putting two and two together, I figured out that I had been yardsaling at her house in Mountain Brook two years ago with my niece, Lauren.
Now, I ask you, how funny is that?
Dana confirmed it when I sent her to this post to see the pic I took of the front of her house.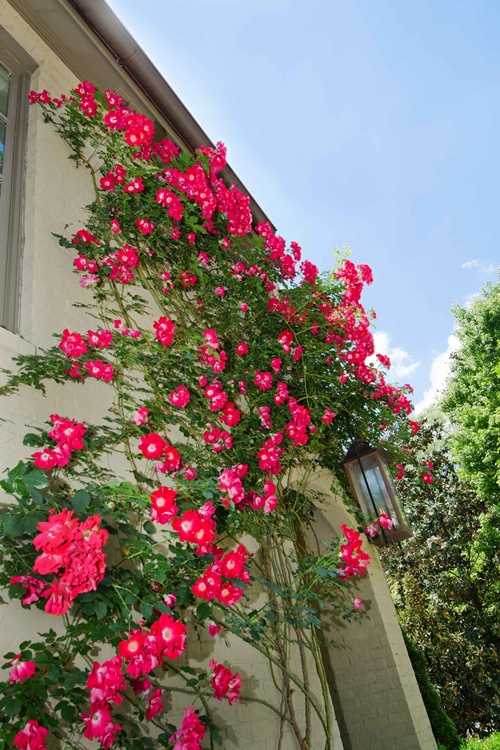 Dana sent me an updated shot of her roses above the front door.
I'd like to welcome Dana today as my guest.  I love hearing how designers got their start and Dana is sharing some of her design tips with us.  Take it away, Dana!
As a new blogger, imagine my excitement when asked to guest-post by someone so highly regarded in the blog world as Rhoda!  We "met" on Twitter but soon realized she had been to my home for a garage sale a few years ago.  After getting to know Rhoda through her tweets and posts, I now understand why she has such an incredible following.
Though the road to becoming a professional designer has been a winding one for me, I have been arranging furniture and choosing paint colors for as long as I can remember.  Even when I was fourteen years old my dad allowed me to choose the interior colors for a house he was selling.  (It was in the early 80s, and the house ended up looking like a variety of Easter eggs!)  After college, I worked for several years in the corporate world but never lost my love for design. My friends started asking me to help them with their own homes, and before I knew it, my little business had begun and was growing through referrals.  Six years and a few employees later, I am working throughout the Southeast and as far away as Chicago.  I'm also a contributor on NBC-13's television show, Daytime Alabama, which airs in Birmingham and surrounding areas, where I provide design tips and ideas for the home.
More importantly, I am a wife and mother of three great kids who keep me busy and grounded.  I love that we have a revolving front door as I understand the importance of having a functional, beautiful, yet child-friendly home.
I would describe my style as classic with a modern edge.  I always try to include a bit of the unexpected in a room without being too trendy.  I love the concept of layering and integrating the shell with the interiors of the home through the use of wood, iron, stone, fabric, and upholstery.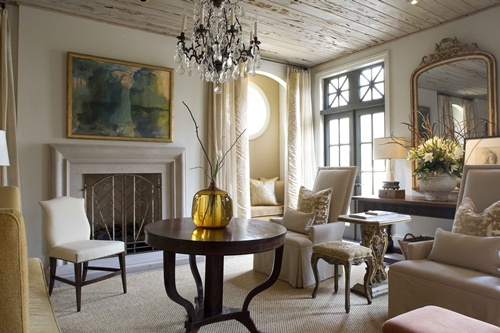 I also like mixing timeless pieces with modern ones and softening a room with drapes, throws, rugs, and built-ins.
Notice the layering of the cowhide rugs in my foyer, and imagine what the room would look like without it!  It softens the space with its curvy shape, soft texture, and light colors.  I also used a combination of old and new – vintage chairs and an antique table with the more modern custom built-in and stools.
Homes are filled with many hard surfaces and one way to making them warm and inviting is by balancing them with soft surfaces.  This does not mean a room has to have a lot of clutter — quite the opposite.  The tension created is deliberate and keeps the space fresh.
Kitchens, for instance, are filled with hard surfaces – countertops, back-splashes, appliances, etc.  To make them more inviting, I incorporate texture and softness through rugs, window treatments, and banquettes.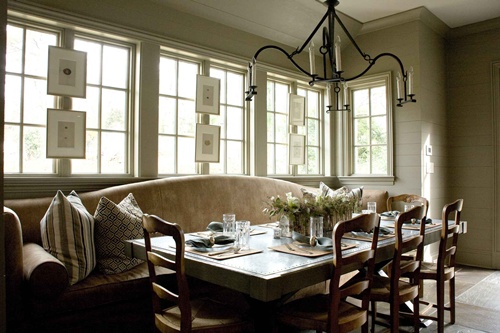 My island is another example of how mixing the elements can have a nice, subtle effect on a room.  I mixed textures by choosing a waxed pecky cypress island with a marble countertop on top of a stone floor.  I even took it a step further by adding an old antique wooden washboard as an accessory.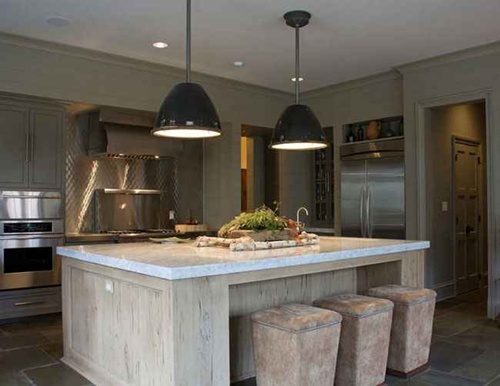 The cushioned barstools were purposefully chosen over metal ones.  The edges are rounded, and I chose a muted earth tone for color as I wanted them to blend into my island finish while providing another soft surface for the space.
It is the details that make the difference in a space.  Accessories do not have to be expensive, they just need to balance out the elements already in the room.
In my client's foyer, I designed a console table out of some wood her brother-in-law found while hunting.   We played off the rough texture by hanging a shiny mirror above and placing a ceramic cherub on top of old leather books.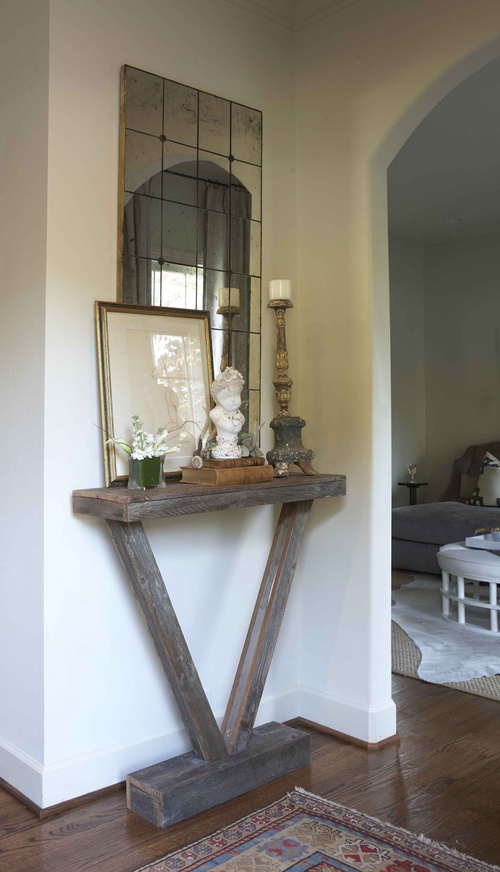 (via Jean Allsopp)
By layering hard and soft, shiny and dull finishes, you can create a beautiful, pulled-together space in no time at all.
Thanks Dana, for dropping by and sharing your expertise with us.  I love learning all about design principles and all the ways we can make our homes better.  Adding layers and soft textures is a great way to improve a space.
Don't Miss a Post, join my list!