You all loved this feature of Loren's cute cottage home, so I'm sharing it again today!
****************************************
Today's Feature Friday is a fun share. I met Loren on Instagram, she doesn't have a blog, but she has a pretty page on Instagram called Blue Barn and Cottage. I just love her story and her cute ranch home that she's completely renovated and I knew you all would too. I've asked Loren to introduce herself, so here she is!
Hi, my name is Loren, and I'm honored to be featured on Rhoda's blog.   We've lived in our current home for just over two years. I'm a single mama to a sweet girl and a pup.  I work as a teacher and just recently started a new adventure of renovating another home. For the first time, we won't be moving into the home though.  I'm partnering with a family friend/investor and it's truly been a dream come true for me to get to "re-love" this home. It's one I've walked by and prayed to be able to restore for three years now. The owner turned me down numerous times, but this past fall things came together to be able to purchase it.
Our current home is the third one I've renovated, and with each one I gain a little more confidence and take a few more risks. When I bought our last home, I was coming out of a difficult season of divorce and the remodel process was a tangible reminder for me that God works through messiness and brokenness and makes it something beautiful in time (even though it looks anything but beautiful during demo and construction). I sold our last home as an investment and purchased our current home just over a year ago (it's just a few houses up the road). I don't have any formal training in design or construction, but I think it's just in my blood. My dad, grandfather and great-grandfather were custom home builders. New construction isn't as appealing to me as homes with history though. I've been fascinated by historic homes in need of re-loving for as long as I can remember. There's something so special and almost therapeutic to me about giving a home new life.
I haven't made major changes to the exterior of our home, but I removed some of the overgrown shrubs, dark tinted screens, added window boxes, and painted the shutters and porch floor.  The floor was a fun project. I decided I wanted it to look like wood planks so a friend and I taped it off with ⅛" painter's tape and spent a few days completing it. I couldn't be happier with it.   I also replaced our front door.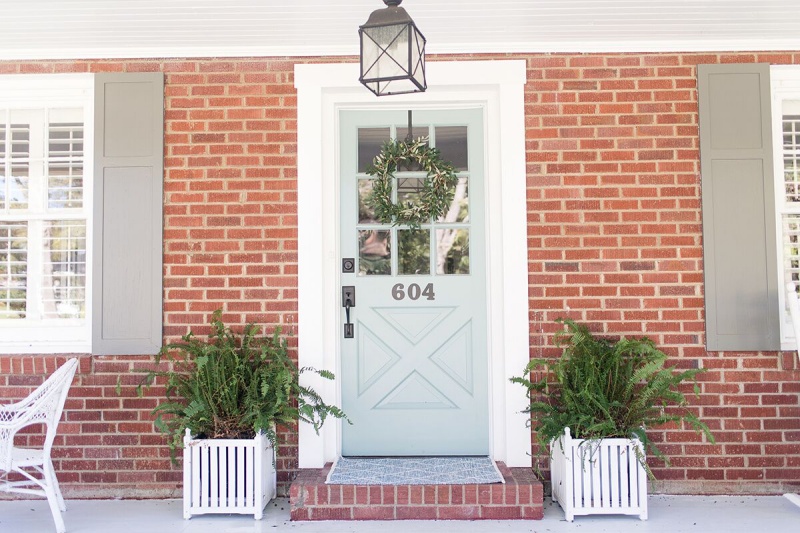 I found our front door during a very stressful time in the remodel.  I was feeling overwhelmed and very stressed about the budget. I had taken a screenshot of an identical door days before I found it for $10 at a thrift store.  I truly feel it was a gift from God to remind me that He would provide. It needed lots of love but it's still one of my favorite things about our home and a daily reminder that God provides.
People usually refer to remodels, with plans to eventually sell, as "flips" but I consider it more "re-loving" a home.  I try to keep as much of the original character and charm as possible. Features like phone nooks, hex tiles, glass door knobs, original hardwood floors, and even sometimes wallpaper, are like found treasure.  
And one of my favorite things to do is add more character and charm along the way. I love whites paired with rich, warm tones, textures like tongue-and-groove ceilings, and wainscoting. I think they bring softness, warmth, and depth to help create the cozy feelings of home.  I do my best to find budget-friendly options, including repurposed or thrifted items and do-it-yourself projects. A large part of the reason I was drawn to our current home is because of the century-old barn situated on a hill in our backyard. I have dreamed of owning a barn-store for years.  I'm slowly developing a vision for it and hope to start working on it this year. .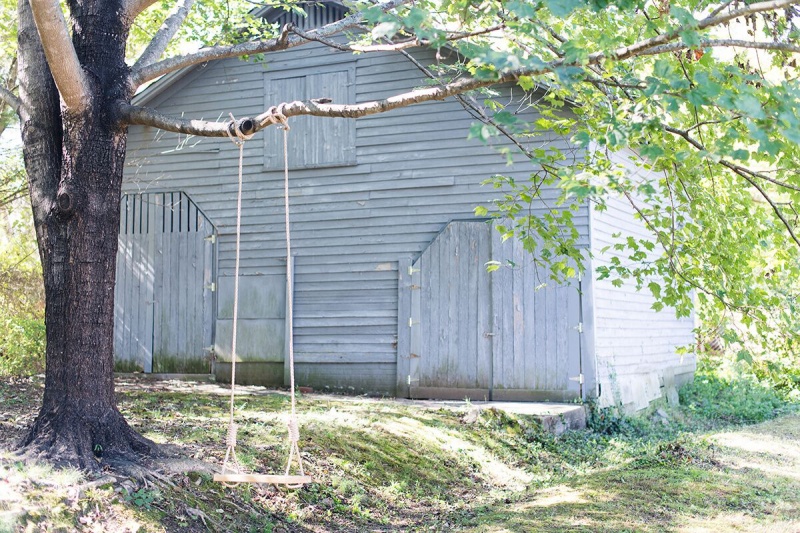 My favorite room in our home is the kitchen and it's undergone the most drastic changes.  The kitchen was originally a galley-style and was divided into three separate spaces – kitchen, dining room, and breakfast room.  From day one,I knew I wanted to remove the dividing walls to make it one large space. I also removed a closet and opened the wall to the living room. I worked within a very tight budget and was able to complete the kitchen space for around $10,000.  
I opted for laminate countertops with the look of marble (rather than the real thing) and our kitchen island is a DIY project using a double-vanity I found on Craigslist. 
With the help of a friend, we added the shiplap, baseboards, and a butcher block top.  I don't think anyone would know now that it was originally a bathroom vanity.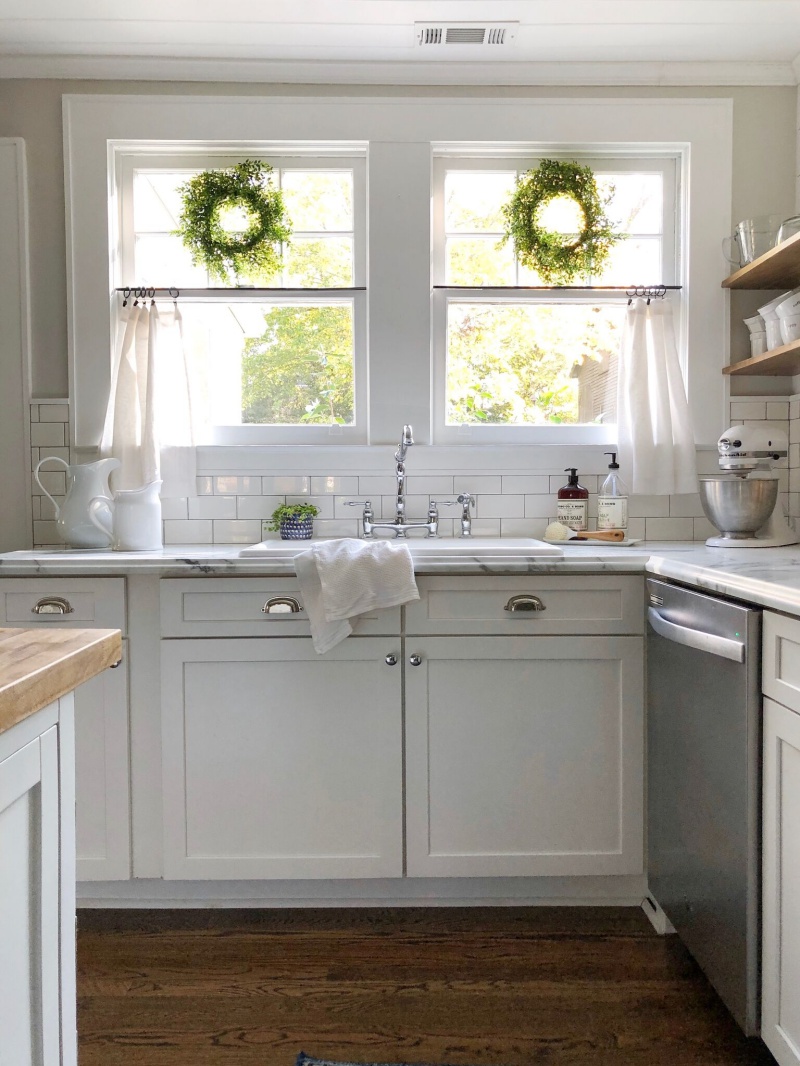 The hood and open shelves were also DIY projects. I think together they give the space more of a custom-look without the cost. I opted to splurge on a few things like glass doors, a full-depth refrigerator cabinet, full height cabinets, and tongue-and-groove ceilings, but saved by not adding a lot of drawers or extra bells and whistles.  I wanted the space to be timeless and open, but also feel warm and inviting.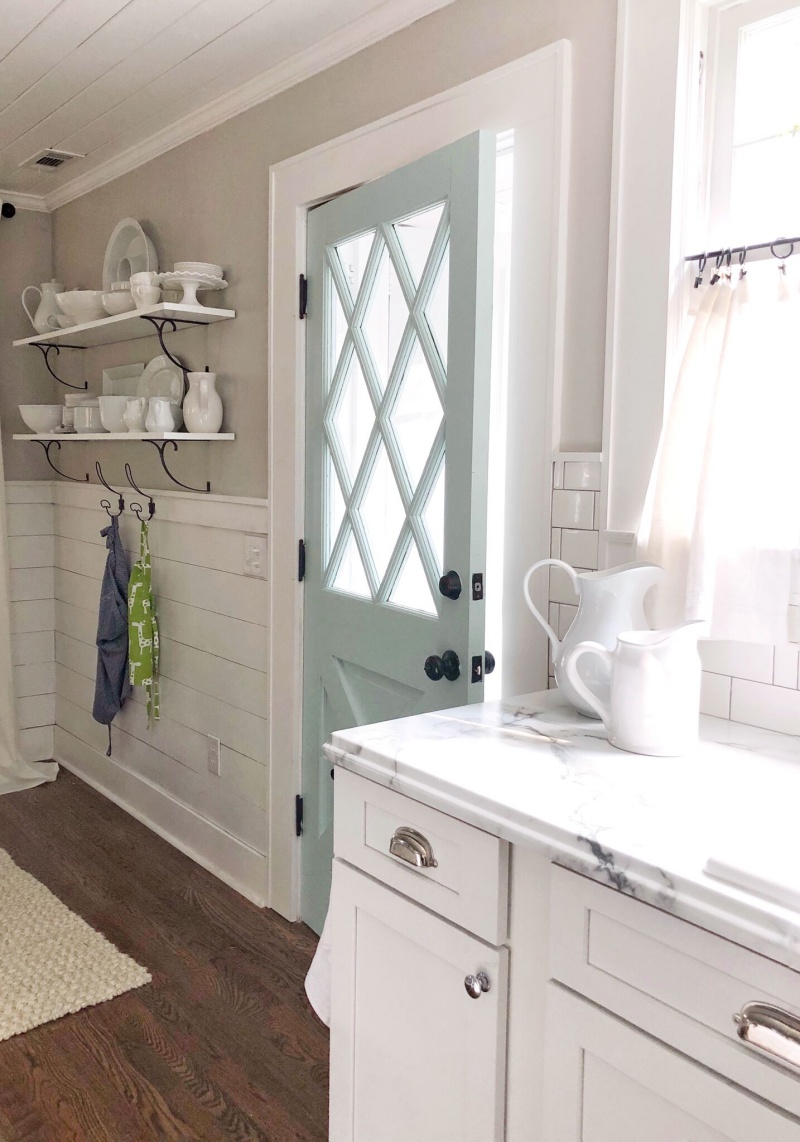 I saw this diamond door propped up on the side of a local thrift store months after we moved in.  I knew I wanted a door with a diagonal pattern to break up the vertical lines in our kitchen.  I measured the door with a piece of paper that day (it was all I had) and it was a fit! I left a note asking them to please hold it for me because they were closed at the time, and sure enough they did! I'm convinced it's the girlfriend of our front door – It has a more feminine look with the diagonal window panes, but they have matching X-patterns on the bottom. It's like they were made for this home and each other.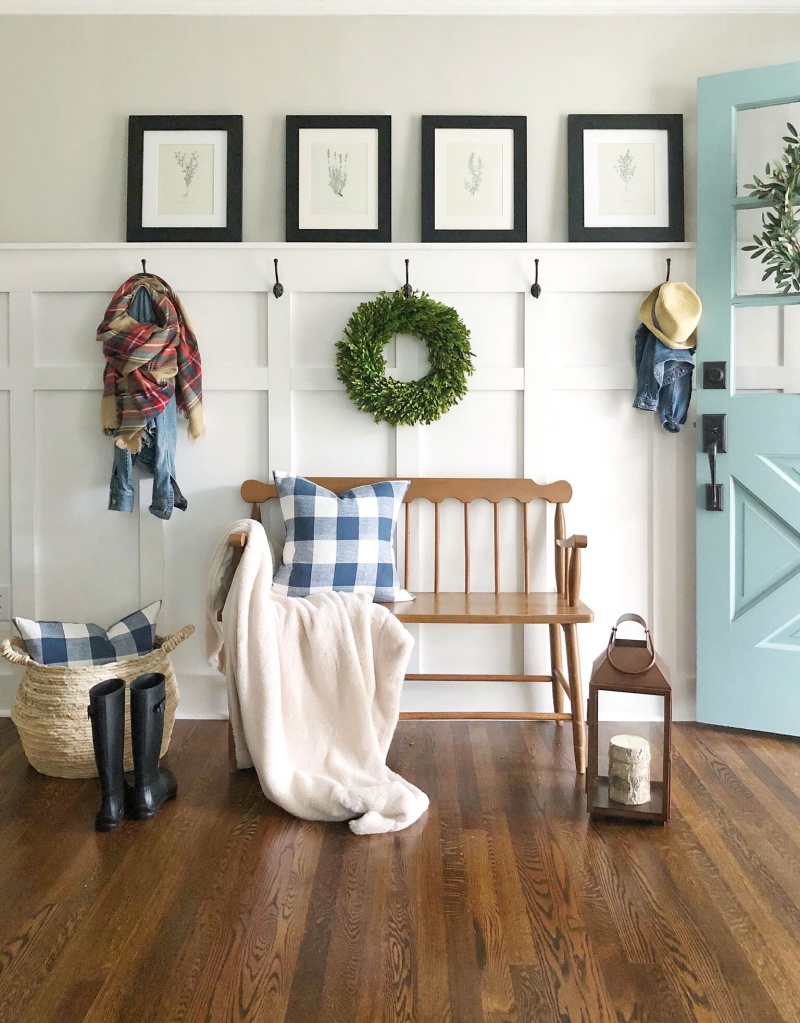 I added board and batten with hooks to the living room and it gives the feel of an entryway without actually having one.  The front door opens directly into the living room.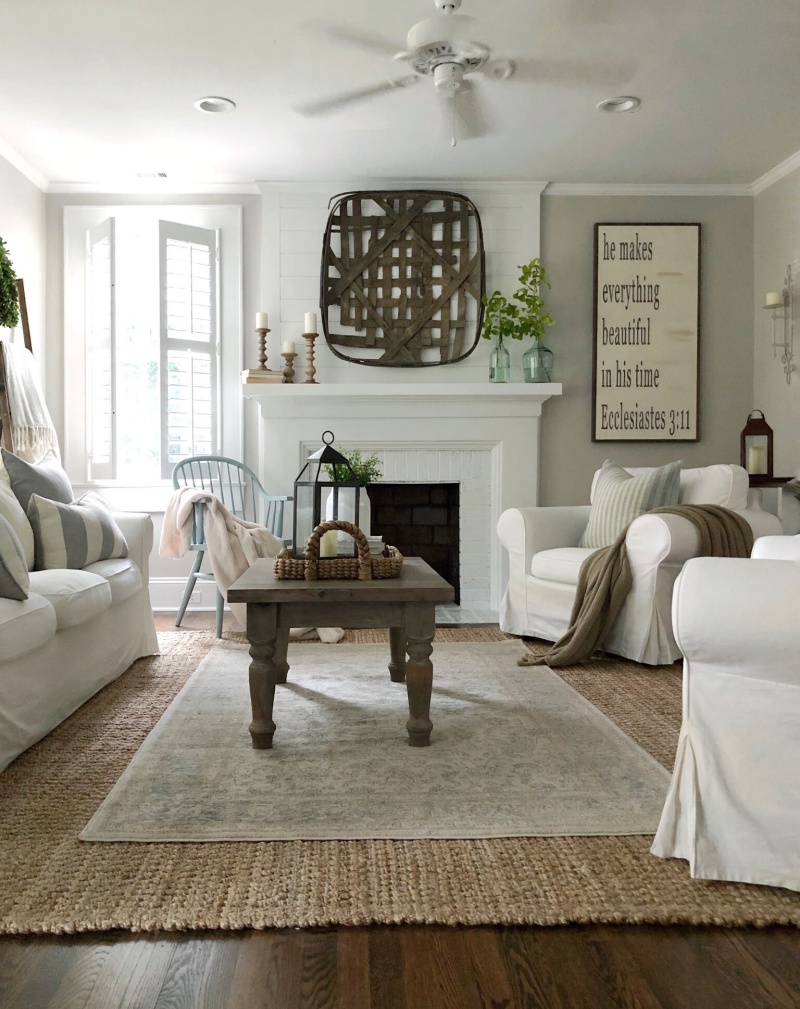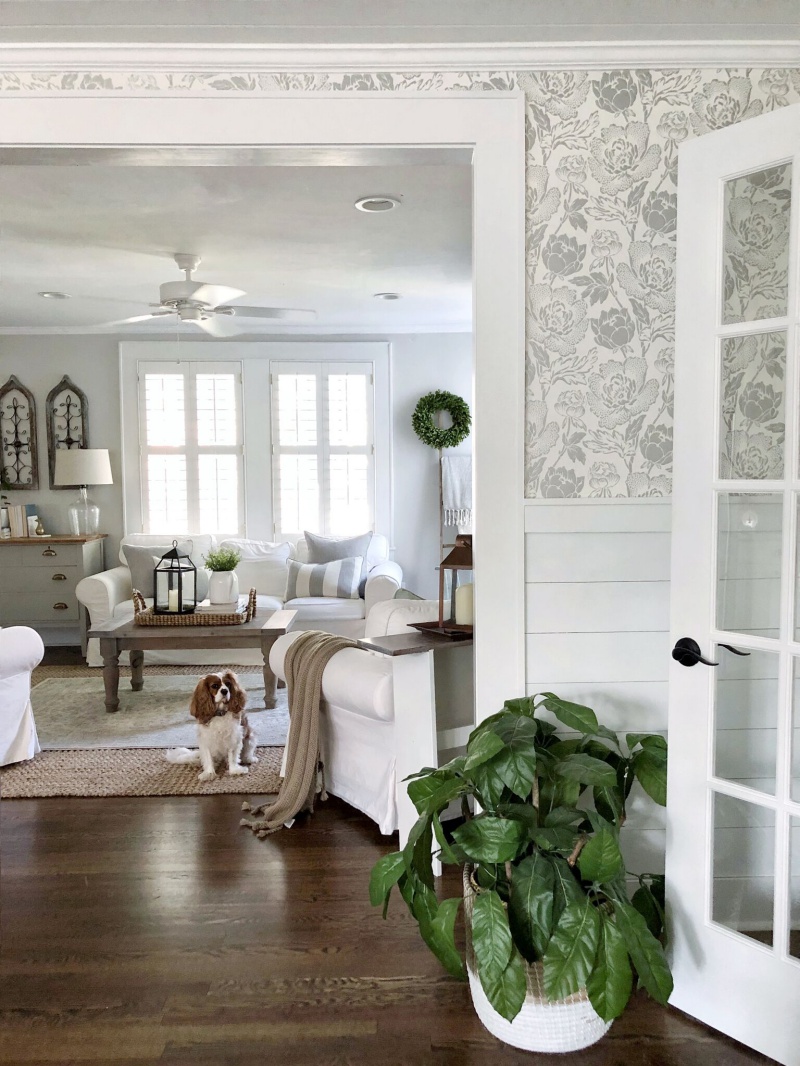 I opened the wall from the living room to the kitchen, which allows for easy entertaining.  I added tongue and groove above the mantel, recessed lighting, and painted the fireplace hearth tiles using a stencil. There were original hardwood floors under the carpeting and they came out beautifully. I chose to use a dark walnut stain to and depth and warmth since I use so many light tones on the walls and furniture.  With layered rugs, shades of white, gray and blue/green, the room feels calming and peaceful.
I kept our bathroom as original to the home as possible.  I'm thankful for timeless styles like black and white tiles, because it allows for an updated look without having to spend a lot  I added the plantation shutters, beadboard, shelves and paint, but everything else is original. I had to get a little creative to cover the holes from the previous radiator – Rather than trying to patch the tile, I added the small bookcase to cover the patching.
Ellie's room is one of my favorite rooms in the house.  It gets the best (magical) sunlight. I recently added the wallpaper from Wallpaperie in the 'Amara Floral' print and photos can't quite capture its loveliness  Her bedskirt and precious pink buffalo check ruffled pillow were sewn by a talented friend, Tracy at Tracey's Feathered Nest.
Master bedroom, another cozy space.
It was love at first sight with the guest room. I love the corner windows and coziness of this space.  It previously had blue carpeting but I tore it out and left it as is. I debated stripping the wallpaper but decided to keep it – It gives this room such a soft, nostalgic feel. There is a small bathroom attached, but I haven't started this remodel yet.
Our den had very dark wood paneling with blue carpeting when I purchased the home.  I painted the paneling Alabaster white and recently updated the fireplace with a DIY German Schmear technique.  We love the gas logs and carpeting in this room. I also added the french doors between the kitchen and den which is nice when guests stay with us.  They're able to close the doors if needed since the guest room is off the den.
I hope you all enjoyed this beautiful ranch home tour of Loren's home! It is so charming and cottagey and I love every little detail she has done to this house. Loren seems like such a sweet gal and her little girl is precious, so check her out on Instagram too!
Don't Miss a Post, join my list!