Here's a repeat from 5 years ago, so please enjoy this ranch house share again. Many people live in ranch homes and there is so much potential in these iconic houses that are across our country.
******************************************
One of the things I love about blogging is the multitude of different and unique houses all over the country and on the internet.  I love featuring the big, the small, and everything in between house here on my blog, because I know that y'all appreciate that.  Everyone doesn't live in a big ole' mansion and so many of us live in regular, everyday houses that aren't grand or huge. Katrina packs a punch in her 1200 s.f. house.
Meet Katrina, of Chic Little House.  She's since changed her blog name to her own name of Katrina Blair, but still lives in the same house. She lives in Sacramento, CA with her husband and two children in a 1956 ranch home, that they bought in 2009.  After a devastating house fire destroyed part of their house and much of their belongings in 2012, they rebuilt even better than ever. I love a silver lining story!  Katrina has made this house into the cutest little house ever and they even added on some extra square footage while they were at it.
Katrina calls her style California Modern Casual, a mix of Classic, Modern and Vintage with a relaxed California vibe.  Never feeling overly stuffy!  You'll see what she means when you go inside this cute, cute home!
Stepping inside the Craftsman style front door, you can just feel the charm.
Here's Katrina in an HGTV magazine spread.  They featured her adorable bungalow in the magazine.
Here's a brand new update shot of her living room as it is now, after adding those fabulous DIY built in bookcases It looks like a million bucks now!
Katrina is a wonderful stylist and her home just exudes charm and beauty.
Fresh flowers make any space look better.
Peeking into the breakfast room banquette.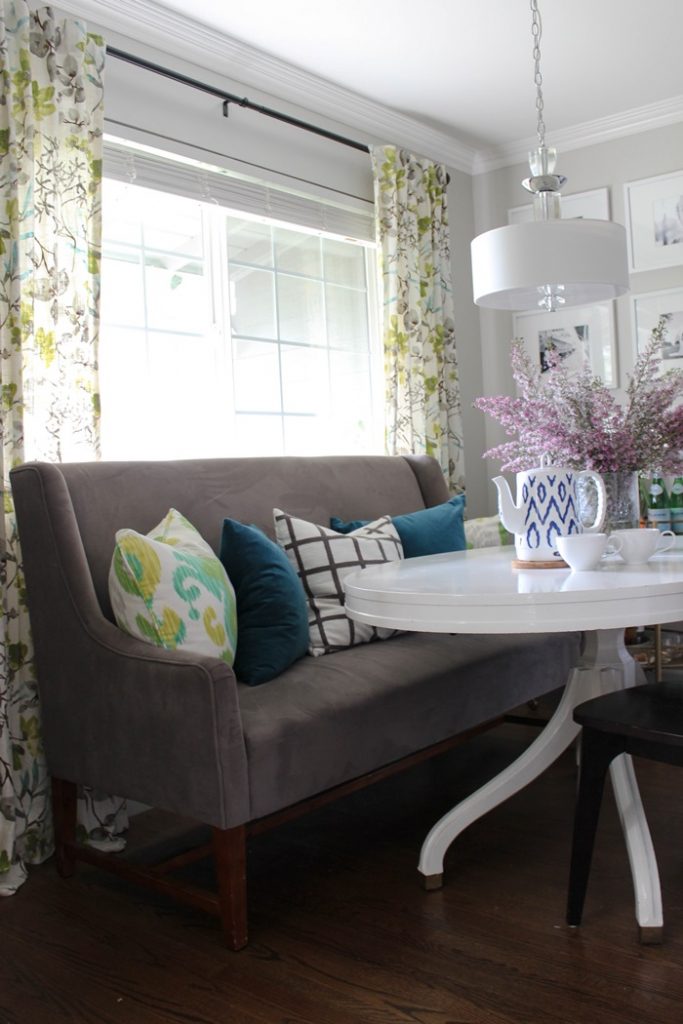 Another magazine shot with family and fresh flowers.  What a cute family she has too.
The kitchen is light, bright and airy which so appeals to me.  They did a wonderful job of rebuilding this house and have been back in there since late 2013.
What a beautiful sink and window to look outside.
Pretty sure this is the master bedroom.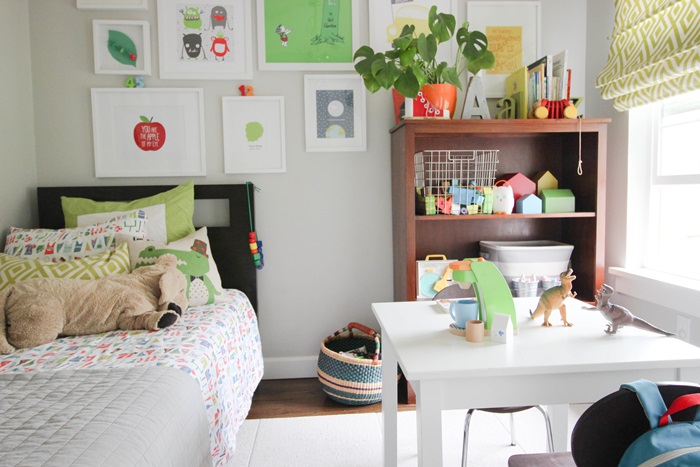 This room has to be the smallest boy's room, so cute and charming.
Great job on organization and adding such personal touches to his room.
Another well decorated bedroom, which I imagine is the teen boy's room.
I just love Katrina's adorable ranch house and knew that y'all would too!  Katrina has a beautiful blog, Chic Little House, so be sure and go by for a visit. She has great taste and lots of fun projects on her blog. And she's made even more updates in the last 5 years since I featured her, so be sure and go to her blog to see more beautiful updated shots!
Don't Miss a Post, join my list!