One of the huge perks of being a design blogger is getting opportunities to visit places that I might not otherwise see.  Even though I grew up in Atlanta, I had never been to Christmas at Callanwolde.  I had heard about it and knew that it must be a delightful event for the holidays, but just never made it down there.
When I got an email recently with a personal invitation to tour Callanwolde and take photos, I jumped at the chance.  I decided that my birthday would be the perfect day to go.  What a treat for me and my sister!  We went to Callanwolde in the morning, stopped in at Mary Mac's for lunch, and took a stroll through Ikea on the way home.  Quite a fun birthday outing!  I'll report in on those other events later too.
Callanwolde is in the Druid Hills area of Atlanta, the same area that Driving Miss Daisy was filmed and it is truly gorgeous. My sister and I got a personal tour from Jerry Poole, the President of the Board and it was such a fun treat.  We enjoyed every minute inside this beautiful Tudor mansion.  In case you didn't know that The Coca-Cola Company was started right here in Atlanta, Georgia, this house is associated with that family.
I'll share some of the history from the Callanwolde Christmas brochere I received:
This 27,000 s.f. historic mansion was transformed for the holidays by Atlanta's top interior and floral designers.  Period furniture, designer treasures, fine art and breathtaking Christmas trees reflect a glorious era when the Candler family lived in the mansion from the 1920's to the 1950's.  With music playing on the Aeolian pipe organ, it's a sight to behold.
The magnificent Gothic Tudor mansion, set on 12.5 acres in Atlanta's Druid hills neighborhood, was built in 1920 as the home of Charles Howard Candler, the eldest son of The Coca-Cola Company founder, Asa Candler.  The mansion, centered around a large courtyard, is listed on the National Register of Historic Places.  The immaculate attention to detail throughout the home is evident in the excellent craftsmanship of the walnut paneling, stained-glass windows, bronze balustrades, delicate ceiling and fireplace reliefs.
This is the back side of the magnificent house.
A greenhouse and pottery is in the back also.
Front doors of the house.  Isn't this gorgeous?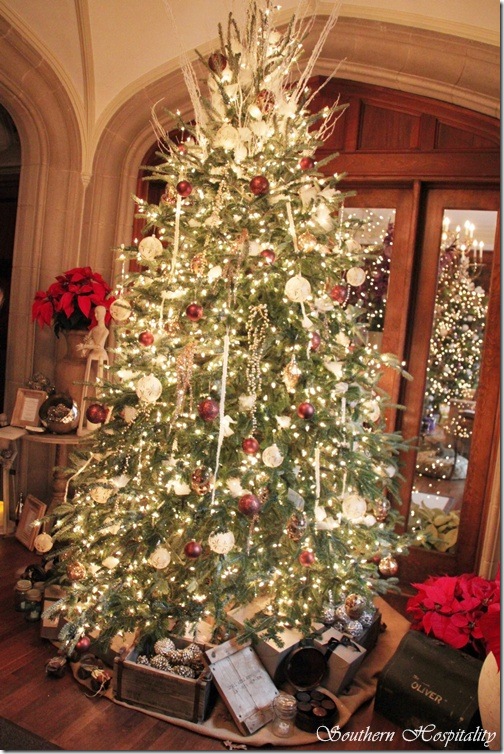 Inside the house are trees everywhere. This one is a beautiful example of the trees you'll see in the house.
The foyer is filled with trees too.
Part of the gorgeous vignettes in the Great Hall.
Beautiful walnut paneling and priceless antiques are in the house.  Loved this special piece, a bar with running water.
Another sideboard filled with bountiful splendor for the season.
We loved this moss bowl.
Looking towards the grand stairway.
Close-up look at one of the natural trees decorated by designers.
Love the hydrangea, ribbon and natural feel.
See, they do paperwhites too!
A wall in the hallway.  Decked out for Christmas.
This side area is called the Porte Cochere, coming in the side door.
The winter living room.  No furniture in here, but there is a magnificent fireplace and what a view with those windows.
Breathtaking fireplace.
This is one big living room, with all the beams on the ceiling, quite a sight to behold.
Original floors have seen a lot of love and families living here.
The library is off the main hallway and it was decorated beautifully.
Sofa table with natural greens and glitz.
The fireplace mantel was so beautiful.
Draped natural greens, stockings and a lot of natural elements.
So pretty, don't you think?  Mercury glass is popular with this designer too.

This purple centerpiece was so delightful to the senses.
Purple ribbons add a festive touch.
One bookcase all decked out for the Holidays, with live poinsettias and lots of pretties.
Another live natural tree in this room was bedecked beautifully.
Lovely ornaments.
We will stop the tour here for the moment and I'll be back this weekend with Parts 2 and 3.  This house is so magnificent and I don't want to leave anything out, so breaking it up in 3 parts will work best.
If you live in the Atlanta area and have never been to Christmas at Callanwolde, I would strongly urge you to do so.  It's $20 for the tour and you will be delighted with this grand house, especially at the most wonderful time of the year. 
It is open through this weekend, December 18th for the Holiday season and you can check out the Callanwolde Fine Arts website for all the details.  I'm so appreciative to Katie, who is on the board and invited me for a personal tour of the house.  We SO enjoyed every bit of it and I'm so glad I finally got to see this fabulous Atlanta mansion in person. 
Stay tuned for Part 2 and 3 coming this weekend!
Designers on this part of the tour:
Entrance Foyer:  David Williams D'Ambrosio, Redefined Home Boutique
Great Hall:  Sharon Anderson, Allied ASID, Sharon's Interior Images
Library:  Lathem Gordon, Allied ASID, Clayton Bond, Allied ASID, John Ishmael, Nandina Home & Design
Living Room and Main Entrance:  Sumaya Maghariaf, Julep's Home decor
Porte Cochere:  Ann Wisniewski, ASID; Theresa Druckenmiller, IFDA, DOWNsize Design
Porte Cochere Florals:  Cornelia Ohl, Cornelia Design
Don't Miss a Post, join my list!