I know I say this just about every Friday, but you are really going to love this one!  I know, I know, there's so much talent out there in blogland and so many folks who love their homes and want them to be the best they can be. We are not alone with our home obsessions and it's so fun to see others who have worked hard on their homes and it shows so much.   Jennifer from The Chronicles of Home is one of those bloggers, the ones who take DIYing to heart are not afraid to jump in and do whatever it takes in order to get something done.  I love that there are so many other women out there like me (like those of you who read my blog!), we love our homes and strive to make them home, sweet home, a place to kick back and relax.  Jennifer has a keen eye for style and details and she has a wonderful design esthetic.
Hailing from the Boston area and after looking at and falling in love with several houses along the way, Jennifer and her hubby didn't fall in love with their house at first sight, but something about it really drew them in and they decided to go for it.  It's a beauty of a cottage style home and wait til you see what they've done with it the last 5 years.  Originally built in 1954, with a 1980's kitchen add-on, they have totally renovated this home into a real showplace and cozy, casual residence.
Jennifer shows before and after pics of the exterior of their house and of course, this is the after with that beautiful rock wall that her hubby built rock by rock.  I love stone wall exteriors and this one is so quaint and gorgeous.  Totally makes the house and wow, what curb appeal now.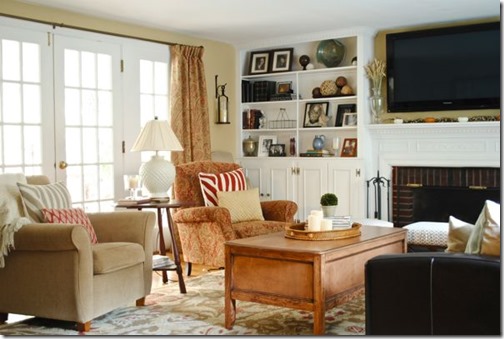 Inside, Jennifer's keen eye for design has built a beautiful living room that anyone would enjoy. It's traditional, yet warm, welcoming, and casual at the same time.
Her choice of fabrics add a lot of texture and vibrancy to the room.
Doesn't this just pull you into this room?  Love those built-ins too.
The dining room with wainscoting on the walls that was added by them as well.
Their 1980's kitchen got a complete overhaul by shopping at Home Depot and doing most of the work themselves.  Instead of ripping out the old dark cabinets, they updated with white paint, new granite countertops, backsplash and floor.  What a difference it makes!
This is one gorgeous kitchen now.
They also added glass front doors to some of the upper cabinets to really update and lighten it up.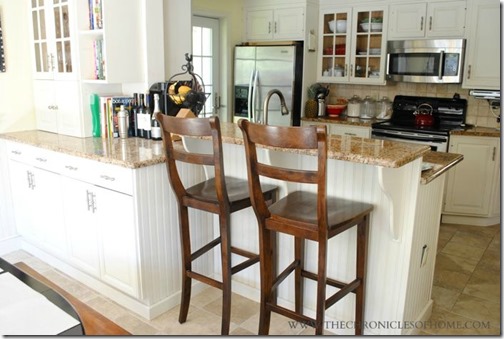 I love how they wrapped that bar area with beadboard all the way around to the built in storage cabinet.
Which ties in with the beadboard in the breakfast nook. Love those pretty neutral drapes!
What a sweet room this is with those big windows. I'm a sucker for windows and light.
The guest room is cozy and comfy as well.
Soothing tones of grays and white in this guestbath are just stunning.
Another bathroom got a nice update too.
The master bedroom has a pretty wall treatment with moldings and her colors of blue and orange are bold and beautiful.
Lovely room
The dark tones on the dresser are a nice contrast to all the light and bright fabrics and walls.
What a master bath! Love the seamless shower and that vanity, be still my heart.  Along with the backsplash glass tile, wow it's gorgeous.
Love the updated tiled shower. You can see that this couple has been busy the last 5 years or so. It takes a lot of work to do all of this.
She even has a cute playroom for her 2 girls.  Love this space!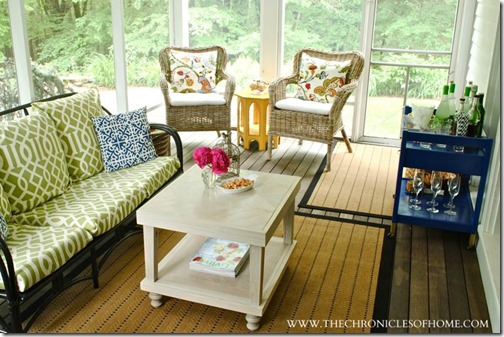 And of course, we can't forget the screened porch.  Porches are always at the top of my list and this one is stunning.
She refurbished lots of 2nd hand pieces to get this look, including painting an old wicker round side table in gold.  How pretty!
I especially love her choice of green and white fabrics.  This is one cozy porch.
Check out that wall all open to the trees. I know they have to love this space and use it often.
Thank you Jennifer for letting me share your beautiful home. It's obvious that you and your hubby are quite the DIY team!  Job well done on a completely inviting home, stop on over and visit Jennifer, you'll love her blog.
Don't Miss a Post, join my list!