What do you get when you mix City, Suburb, and Sanity?  Why, Ciburbanity, of course!  Meet Charlotte.  After living 10 years in New York City, she and her family moved in 2012 to the suburbs in Connecticut and bought a 100 year old house.  She's enjoying decorating it and fixing it up for her lifestyle and family, which consists of 4 kids under the age of 5.  Now, that's a handful!
Charlotte says her design style is frugal, repurposed and eclectic.  My kind of girl!
Charlotte with her hubby and 4 adorable kids.
The circa 1900's house in Connecticut that they moved to in 2012 from the city.  Love it!
They did some outdoor work too and added this beautiful patio to the rear of the house.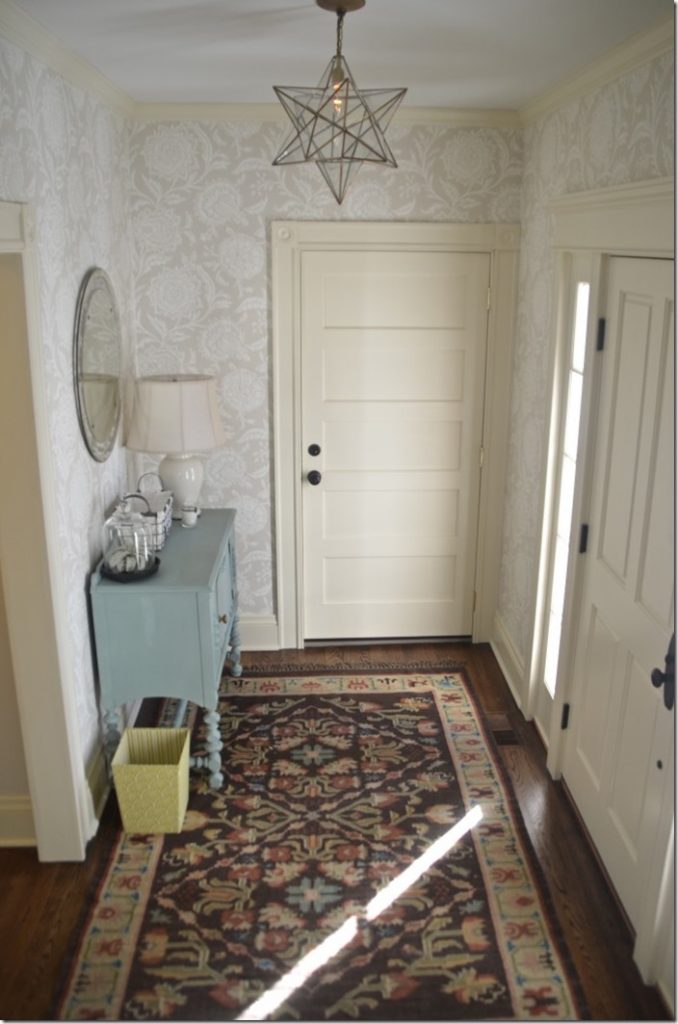 The foyer coming in.
Charlotte loves finding old pieces and reviving them with paint, like so many of us bloggers do.
Her living room in soft greens and blues.
Love the globe collection on the fireplace.
Beautiful room filled with light.
They rebuilt the kitchen island with a wood top.
And added a kitchen command center.  With 4 kids, I imagine this is a necessity.
The eclectic dining room with antique furniture and a card catalog repurposed piece.
Love the vintage plate wall.
They've recently gone the Billy bookcase route in their library and added those on either side of the window, with a window seat in the middle.  So cute!
Always a great idea to add Billy bookcases from Ikea!
The master bedroom is soothing and serene.
More of Charlotte's paint projects.
A peek of the staircase coming in the front door and headed upstairs.
Two of the kids share a room upstairs.
So cute!
Personalized space for her kiddos.
A 3rd floor bedroom.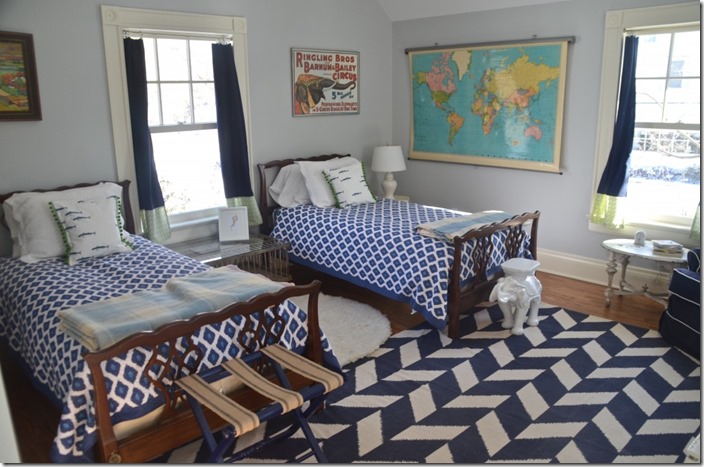 They were running out of space, so added on another guest room/nursery above their garage and it was recently completed.  I love it!
Guest room linens.
And the new guest bath.
Charlotte has certainly found her element, in this beautiful old Connecticut house and I love how she has put her stamp on it with all her flea market finds and repurposing furniture.  I love to see houses that aren't cookie cutter, but the homeowner has taken her space and really added that personal touch and I think Charlotte has certainly achieved that.  I so love to see how other people live and decorate their homes and I know you do too!
Stop over and say hello to Charlotte at Ciburbanity!
Don't Miss a Post, join my list!