I've got a brand new Feature Friday for you today. Meet Cindy from Cindy Hattersley Design. Cindy is a very talented lady, a designer, blogger, and fashion gal who has a beautiful home in CA in the San Francisco area. I've gotten to know her a bit in the last few years, since there are now many over 50 bloggers out there in the home and fashion arena. Her home is 30 years old and has a vintage European feel, like an Italian villa with gardens to match. You are going to love her garden tour as well as inside the house. They have 10 acres with their home and it is just stunning with all the plants and flowers around their house.
Cindy is super stylish herself and I love her fashion sense.
The house with all the gardens surrounding it. Their garden is a collected look with meandering paths of pea gravel, stained concrete and saltillo tiles. We'll tour the garden at the end of the post.
Front door in a beautiful shade of aqua.
One of the living areas, with a beautiful bank of windows.
Family room with beams and rustic fireplace.
Cindy has a beautiful style of decorating, with antiques, vintage pieces and a collected over time look which is the best way to decorate a home with personal taste.
She has so many interesting things to look at.
Dining room
That corner cabinet is gorgeous.
Her kitchen is original to the house and she painted it white, tiled the backsplash and added concrete countertops. So charming!
It really fits the feel of her European style home.
Breakfast area.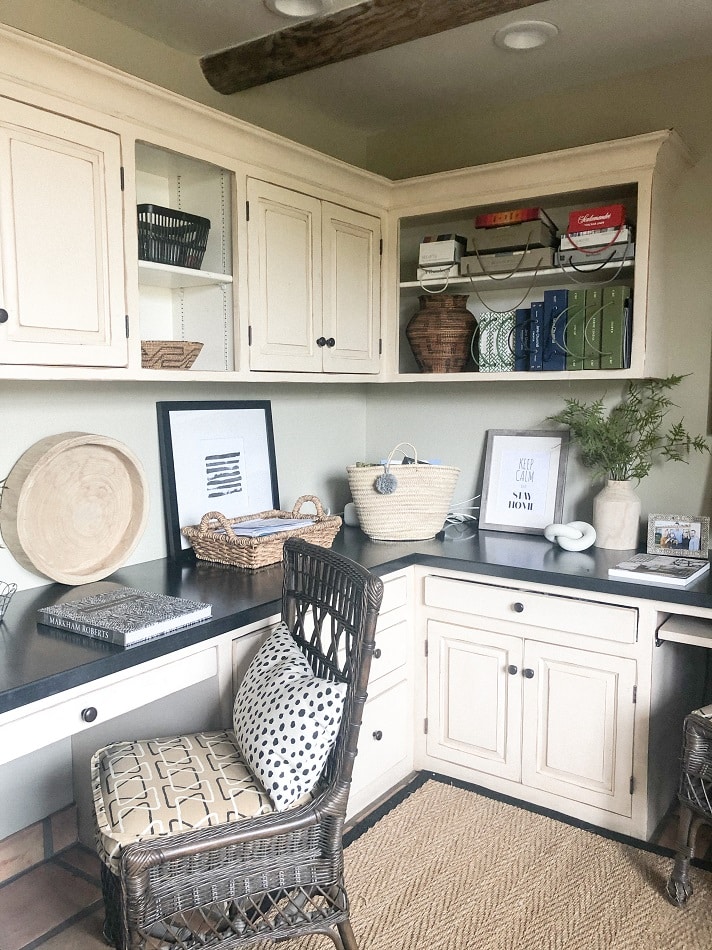 Carved out office space
Laundry space
I think this is the master bedroom.
A guest room/nursery combo. Grandmothers do what they need to do.
Such a lovely space.
Complete with day bed.
Now let's go outside, your jaw is going to drop on this one. They have a beautiful backyard pool and the gardens are spectacular.
Outdoor fireplace and lots of seating.
I imagine they spend a lot of time out here.
Cindy has collected many vintage garden pieces for her vast garden spaces and all of those pieces are special.
Outdoor dining area.
Isn't that garden just stunning? I knew you would love Cindy's home as much as I do. She has really put her own stamp on it and it feels like a European home inside and out, with so much charm and character. Be sure and follow Cindy on her blog as well, she shares lots of great ideas over there.
Have a great weekend!
Don't Miss a Post, join my list!