Happy Friday! Welcome to another Feature Friday. Today I've got a fun treat from Instagram and a gal I met there recently. I saw her house and love her classic style and she lives in a historical home in upstate NY. When I inquired further with CJ Swank about her house she gave me the background of purchasing her home and how she's furnished it which you all will find very interesting. I'll let CJ share her own words below, so enjoy the tour of her charming historic home. She tells a great story!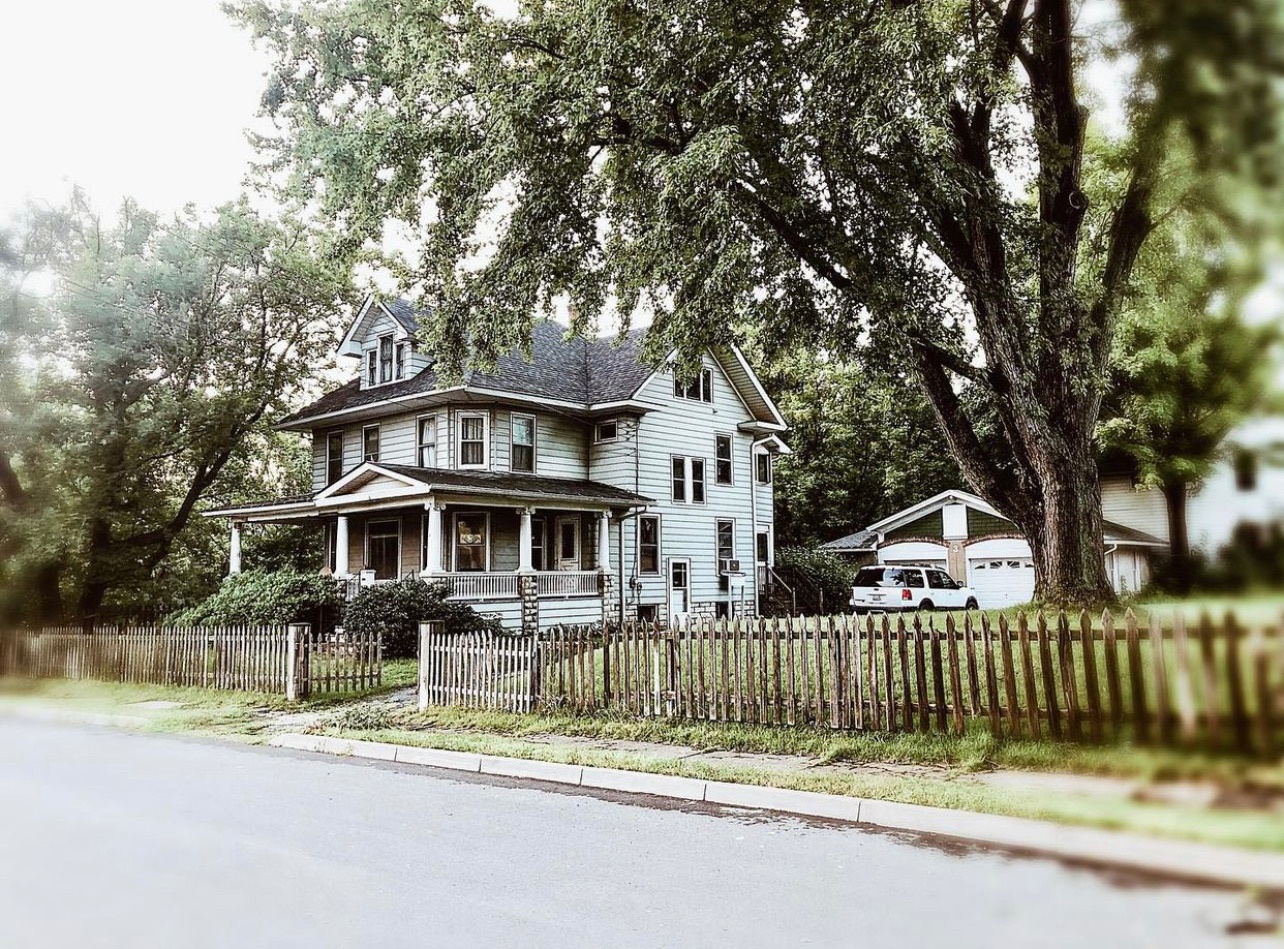 I bought my 110 year old farmhouse sight unseen at an auction just minutes after I saw the listing. I'd  been there before. No inspections were made, no friends or family were in the area. There was nothing to reassure me I was making the right decision with y life savings. My dream was to own a piece of land with an idyllic setting, water views, and a feeling of privacy, a classic affordable farmhouse to become my forever home. I didn't hesitate. I was willing to take the risk. 
After moving across country from Seattle to New York a few weeks later, the very first thing I did was get myself a dog, a Golden Retriever I named Skye, who quickly became my shadow and likes to walk himself. Life on the farm was not as idyllic as I'd fantasized. It had been vandalized in the decade it was uninhabited. Copper pipes were long since gone, and so was the plumbing, heating, hot water, electricity, gas, and much, much more. Appliances had been stolen Walls were unmercifully painted with slop. Weeds and wildflowers adorned the landscape. Time had ravaged this once magical farmhouse. But I was undeterred. I saw past the neglect to its beauty, and knew "Riverview Farm" was home. These days, Skye and I explore the fields, fences, riverbank, and wildlife like a land baron. It's not much, but it's ours. 
I enlisted in the Air Force right out of high school at the tail end of the Vietnam War. I wasn't being overly patriotic or anything. I just couldn't wait to escape my small town and see the world. After being one of 16 kids in my Catholic school class, my parents had picked out a small Catholic college and I wasn't having any of it. I served my 5 years as a Command Post Controller, married an AF pilot, and enjoyed being an officer's wife during which time I traveled the world extensively. The marriage didn't last, but my love for travel has. 
So has my love for porcelain coffee cups from which I drink my morning coffee. 30 years after falling in love with Royal Worcester while visiting London my collection is now rather vast. Covered in the most gorgeous 18th C fruit sprays, it has graced every holiday table I've ever set. Now that I live alone, 2000 miles from my only child and grandchild, it's probably seen its last formal table. But it's still the only thing I reach for when the coffee is done brewing. 
I had to replace all my furniture last year, second hand and during a pandemic on a limited budget. I collected one piece at a time via Facebook Marketplace and had to be flexible. There was no design board or plan just a phone screen to scout the local area for whatever was being offered that day. One of the first pieces I found was this 1960's brass coffee table for $30! It's so vintage the feet have verdigreed into a bright turquoise. Turns out, there's a name for  my collected, curated, vintage style – it's grandmillennial!
I furnished my entire house last year on an extremely limited budget (2,500 s.f. for under $4K). I shopped entirely off of Facebook Marketplace, consignment stores, and just collected whatever fell into my lap that day. I buy what I love, and make it work somewhere, anywhere. Gotta stay fluid!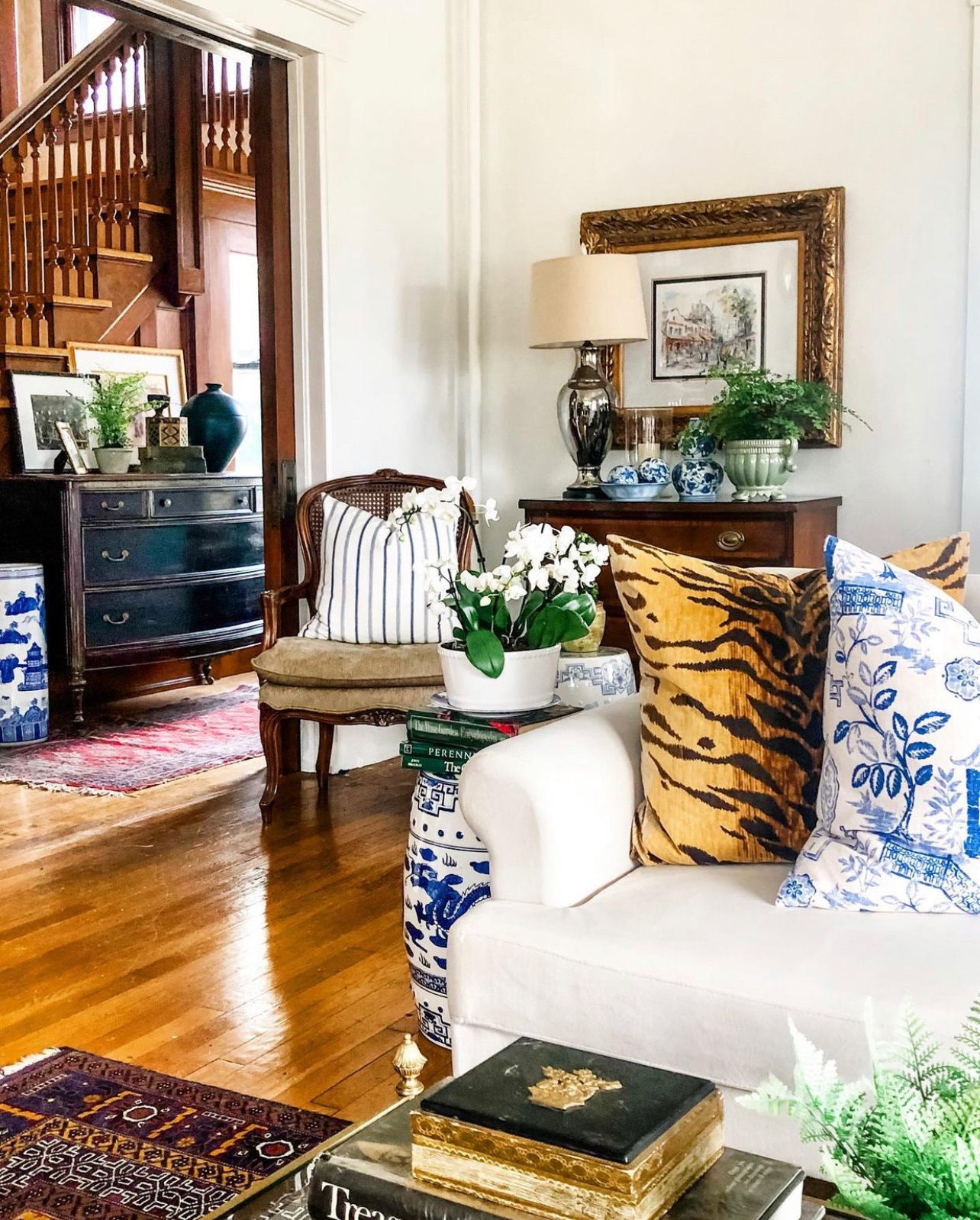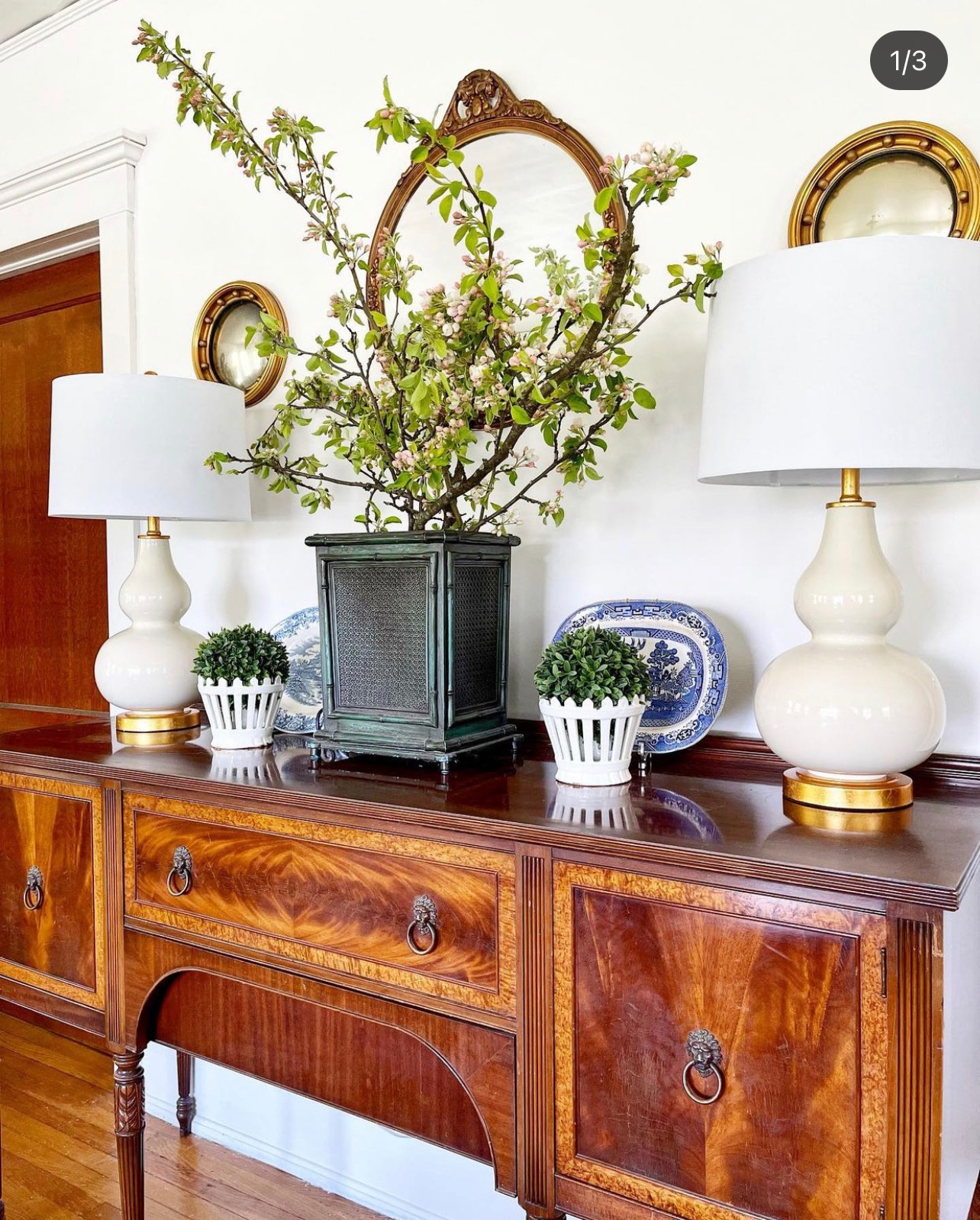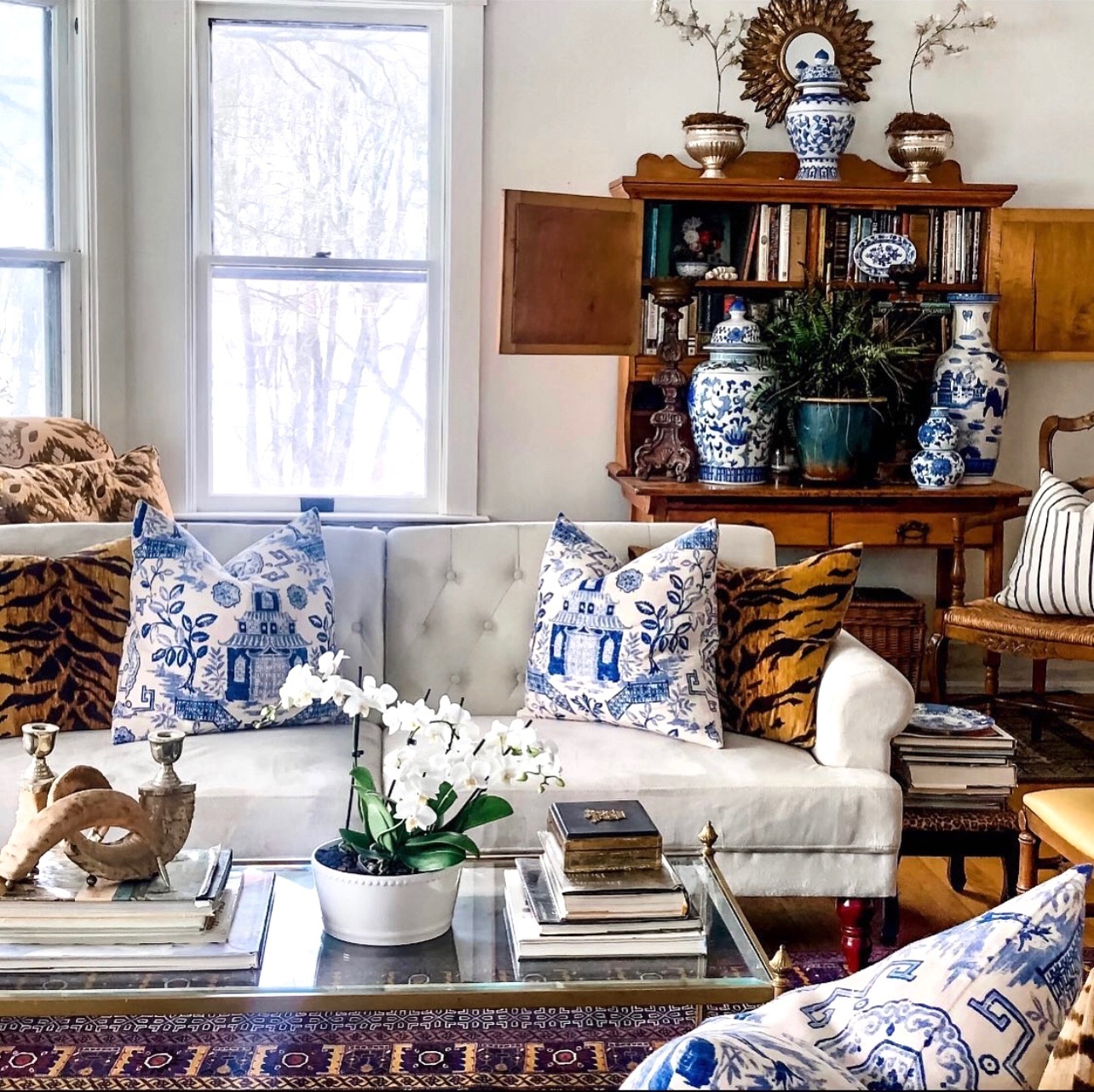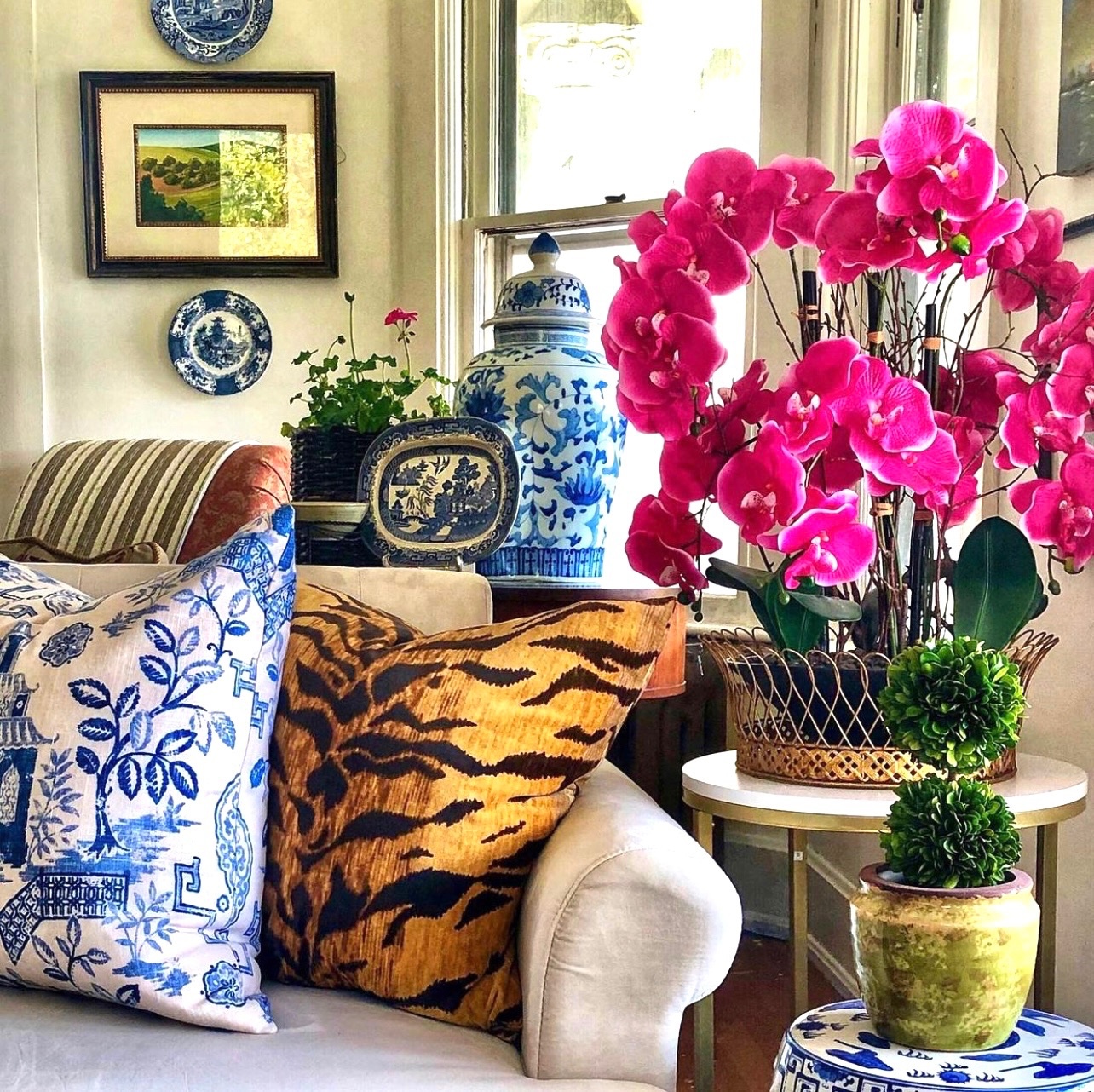 Wasn't that a great tour? I knew you all would love seeing CJ's home in NY. What a treasure she has found and I love the story of how she furnished it all. She's my kind of lady and grandmillennial is definitely my style too, I identify with all the pieces she has put together to make her house a home. Gorgeous and classic! If you're on Instagram be sure to follow CJ there too. She's a great story teller and shares the most beautiful pics. Once I spotted her, I can't stop watching!
Don't Miss a Post, join my list!