You are in for another treat today.  Former attorney turned designer and  blogger, Stacy from Conspicuous Style is a mom of 2 and a design consultant in MA.  She has a magnificent traditional, but modern home that I'm sharing with you today. This is a style I love, mixing the two so well.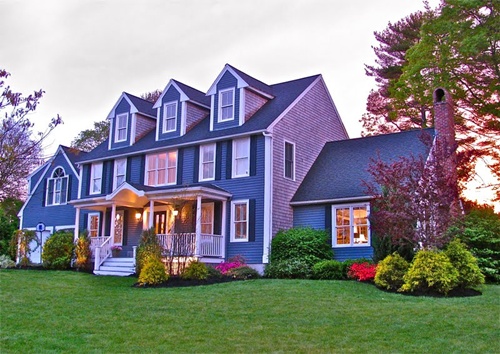 Stacy's house is picture perfect.  Look at the glowing lights inside, how pretty.
A welcoming entryway.
Again, Stacy's style is beautiful and one that I would enjoy myself.  I have my Traditional furniture, but I love the mix of modern simplicity too.
She obviously has great taste.
And knows a thing or 2 about putting a room together.
Is this a WOW kitchen, or what?  
Lovely, traditional, elegant, all sorts of adjectives come to mind.
The dining room is so pretty too. This reminds me a bit of my round dining table.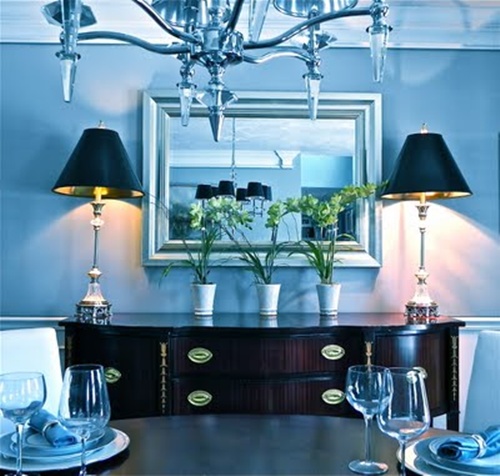 This buffet is so similar to mine too.  Great mix of it all.
Stacy might have painted this with chalk paint, it's all the rage in blogland these days.  In fact, I just got some chalk paint to try out, so I will keep you posted on that.   This is the Before of Stacy's dining room, which is just gorgeous, but look at what she has done recently.  Painted it black!
Isn't that pretty?  I remember seeing some black rooms starting to show up a few years ago and love the wow factor that they bring.
Another beautiful eating area, this is off the kitchen. 
Looking into the master bedroom, isn't this gorgeous?
Zebra rug, luxury linens and a room that comes alive with interest and texture.
I do believe this is a guest room and it is equally lovely.
Stacy mentioned that this is the master before she added the zebra to it.  Both lovely!
Stacy has done a magnificent job on her home, don't you think?  I love sharing all sorts of homes around the country, from simple and casual, to more elaborately decorated houses.  It's fun to see them all!
I hope you enjoyed this feature of Stacy's house. Go over and say hello, she's a very nice person and would love to hear from you.
Don't Miss a Post, join my list!