Sometimes it pays to have a friend who doesn't meet a stranger.  I'm not particularly shy myself, but don't usually invite myself in someone's home right off the bat. 🙂
Vicki and I were out one afternoon riding bikes on a nice paved bike/walking path near their house in Port St. Joe and passed a cute girl jogging with a Weimaraner dog, which so happens to be the breed of dog that Vicki owns.  They struck up a conversation about their beloved pets.
All because I wanted to photograph a  pretty white church that I had spotted, we stopped by there the next day.  Right across the street outside in the yard was the cute girl with said dog and hubby, so of course Vicki talked to them again, especially since she had her dog in the car too.  We were headed to the beach.  Vicki talked the cute young couple, Wes and Lindsay, into showing us around and told them all about my blog, telling them that I would love to show their house off on my blog.
Of course, I told them I would love to photograph their cute beachy cottage and feature it on my blog and they seemed excited about the prospect.  When we went inside, I went ahhhhhhh.  My fave paint color of the moment happens to be Sea Salt and their entire cottage is painted with Sherwin Williams Sea Salt.
They have been working hard on their little cottage since last December when they moved from Georgia to be full-time residents of Port St. Joe.  They are young and cute urban professionals and didn't want to wait until they retired to move to the beach.  So, they came early.
Wait til you see this one!  You'll love it too.  This is a spur of the moment, photo-taking opportunity with a real-life DIY couple.  Those are the best kinds of ops!
Right now, it's a pink cottage, soon to be painted a beautiful shade of olive-y green, which they tried out in paint swatches on the side.
See how adorable it is?
This is the side entrance and we were invited in here.
When we stepped inside, this is the first thing we saw.  Talk about beautiful! Love the Sea Salt color and how beachy coastal it all feels.  They have fantastic taste and are making it all their own.
Check out the staircase.
To the left is the living room coming in the front door.  So pretty!
Inside the front door, sits this pretty chest.
How perfect is this stained glass front door?   Love, love it!
A pretty framed grouper in luscious shades of blue.
This is a great idea for an old mirror that might have lost its glass.
Home is Where your Story Begins, beautiful on a piece of driftwood.
Looking into the kitchen. They showed us the before pics on the kitchen and it was very dark and dated when they bought the place.  You can see it has changed drastically now.
Swoon, check out those ceilings with the painted white boards.  So pretty!
Peeking into the kitchen.
New granite countertops and painted white cabinets, a winning combo.
I love Lindsay's seashell display on the island.  A girl after my own heart.
This is one beautiful kitchen now.
Looking back towards the living room.
Pretty blue canisters.
And the oven and fridge wall.
Just past the kitchen is their little eating area.  Love these table and chairs.
With a cute painted sideboard.
Down the hall is the guest bath, which is been completely renovated.  So pretty, fresh and clean.
Here's the master bedroom.
Pretty coverlet.
The large master bath is one area that they are still working on.   A true work in progress.  Did you notice the arrow pointing to the toilet.  Uh, yeah…apparently the former owners thought that was a good idea.  🙂   This tile will all be going and I'm sure this space will soon be drool-worthy too.  It's a nice large bath area.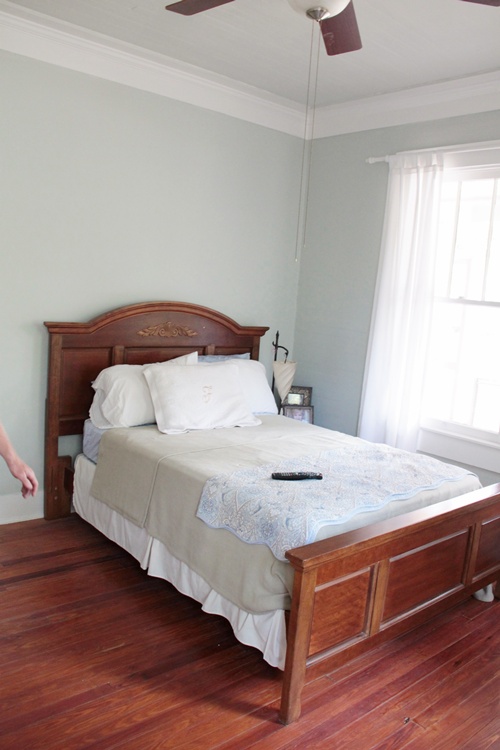 The guest room is very soothing and pretty too.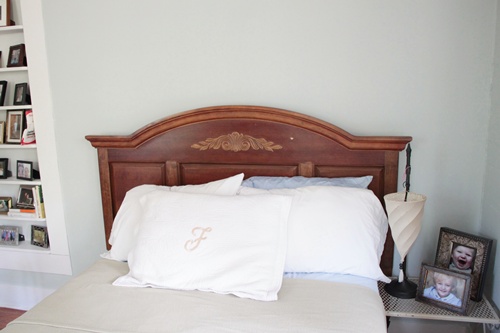 Lovely bed.
Charming built-ins.
Birdhouse on top of an armoire.
And a sweet little vintage chair propped in the corner.
They then took us out back, where there is a small one bedroom apartment and wait til you see how cute it is!
Beadboard which will be kept natural and check out the ceiling, done in vintage and rusty tin.  I just love that!  It has a great feel to it.  They are renting this space out.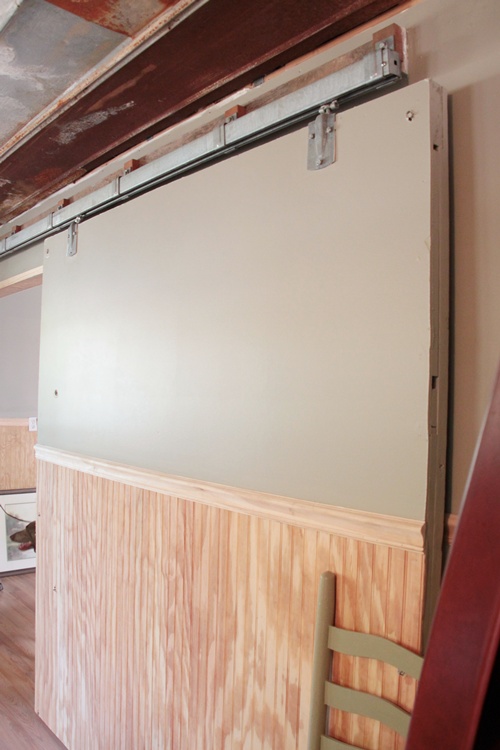 The bedroom has a sliding barn door to close it off from the living room area.
A totally cool space, the bedroom is tucked away in an alcove and how dreamy is that bed?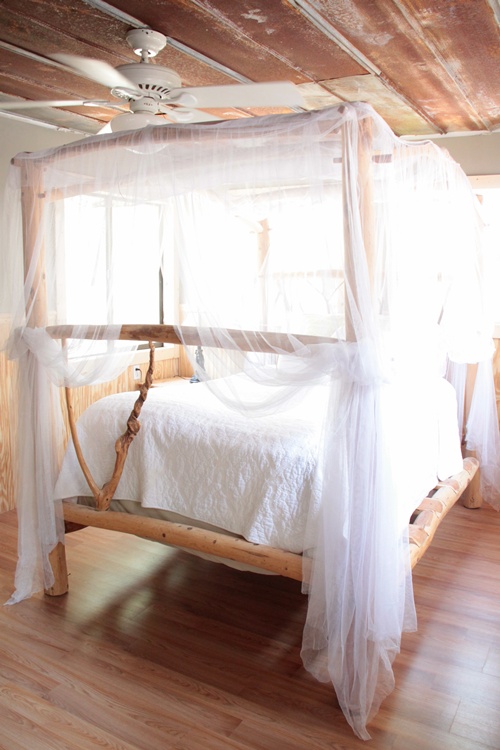 Vintage tin ceiling and such pretty simple bedding make this one gorgeous space.
The kitchen area is simple, but practical.
As is the bathroom.
Thanks Wes and Lindsay, for letting me crash your house and showing it off on the internet.  I know everyone will love your home as much as I did!
At the end of their street is a beautiful view of the bay.
Life in a small beach town.  Heavenly!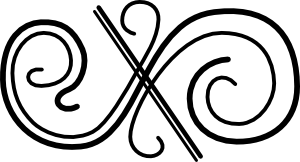 Thrifty Treasures is back!  I asked and you answered, so we'll start the party again this weekend.  The post will be up Sunday night at 6 pm EST, so get ready to share your treasures.  I'll be highlighting some of my faves in the upcoming parties!

Don't Miss a Post, join my list!