With Fall approaching, this is a good time to feature my next blogger, Selina with Creative Juices Décor.  From the state of Idaho, Selina and her hubby have just this year completed their dream home, an Italian villa that looks like it would be right at home in Tuscany (an American version anyway).  Selina is an interior designer and her hubby a structural engineer, so the home they created together is a wonderful showcase of their talent and design ideas.
Selina is an American Clay artist and her entire house (I think most of it) is done with this unique clay application on the walls.  I wasn't familiar with American Clay, but it is very pretty and gives a rustic vibe to the house.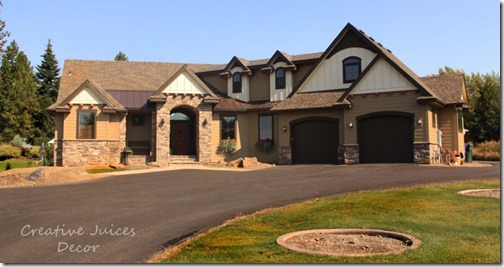 With stone, siding and extra special details, this is one special dream home.
Selina and her hubby should be very proud of their creation.
Inside the foyer, you can see the American Clay treatment on the walls.  Gives the house a rustic, but yet refined ambience.
Beams, plaster and warm earthy colors are at the heart of Selina's home.
Living room with dark leather and pretty rugs, lot of wood tones make this an autumn feel home.
Looking back towards the entry way from the living room.
From the kitchen to the living room.  Selina's home looks like a place to get cozy for the winter months and I imagine they get some cold weather in Idaho.
Love the warmth of the stone fireplace.
There's nothing like a fire in the winter.  I can't wait to use mine either.
Dining room is earthy and cozy as well.
And the kitchen with alder cabinets, honed granite and a tumbled marble backsplash is very inviting.
Love this honed granite and I do believe Selina's sink is granite too (what I'm getting as well).
She thought of everything, even a built in dog bowl.  How cute is this?!
Barstools lined up and waiting.
The master bedroom with Pottery Barn linens is warm and cozy.
The clay treatment on the walls really envelopes the space.
The master bathroom has the same Tuscan feel too.
And it is beautiful.
Her daughter's room even has pink American Clay on the walls.
And her son's room rounds out the tour of her beautiful Tuscan style home in Idaho.
Hope you enjoyed seeing how another blogger lives and what her dream home looks like.  Hope you'll stop by and say hello, I know Selina would love to meet you all.  It's always fun for me to see how other bloggers across the country live in their homes.  That's the beauty of the internet, we can all take a peek behind the doors of so many homes and see inside!
Don't Miss a Post, join my list!